Since its inception in 2015, Discord has become one of the most popular hangouts for gamers and developers on the internet. Its robust selection of networks and channels are often used for gaming communities and for chatting. Still unknown to many is the untapped potential of the cross-platform site for digital marketing and community building.
If you run your own discord server (or you plan to), you know that it is difficult to moderate things all of the time because there is often a lot going on. People might be breaking the rules by misbehaving or spamming, and if you focus all of your attention on that may detract from you building your online community.
This is where getting a discord bot will benefit you and your user base greatly. This article looks to discuss what Discord bots are and will discuss 8 of the best bots to use in various scenarios. Each of the bots below has its unique ways of managing and moderating your user base and ultimately making your discord server a more enjoyable place.
What does a discord bot do?
A discord bot is a third-party tool that looks to streamline the user experience on a discord channel and make life easier for the server's owner. It does this through a host of functions.
They can play music, track statistics and offer you insights into how well your server is performing, they can do giveaways if programmed to do so, and they can moderate the rules of your server and kick or reprimand anyone that breaks them.
They act as secretaries that look to make your life easier and make your server a more welcoming and enjoyable place to be. The best part is, the bots are free and easy to install and program to suit your server.
1. MEE6
Mee6 is one of the most comprehensive bots on the entire server. It scans for any spam, outside links and possible spoilers on the server and will discipline accordingly by either warning, muting, kicking or banning, depending on your preference.
Mee6 does not just moderate for rule violations. However, you can play music, set quizzes and play pre-recorded audio. For many, this is seen as the best bot because of the high level of customization available. It acts as a personal secretary that looks to create a more active and well-connected community.
2. Dank Memer
You may think that memes are not an effective means of connecting and engaging a community; however, they are a powerful and relatable tool for marketing and are great for promoting and engaging certain parts of your server. Using a bot like Dank Memer shows your community that you don't take yourself too seriously and that can be refreshing.
In saying that, there are still a variety of commands that you can give your bot, from commanding it to send funny pictures every time someone logs in, to challenging users to games and quizzes. It is not as comprehensive a bot as Mee6, but it is a far more light-hearted and fun way of engaging your community.
3. Musibeth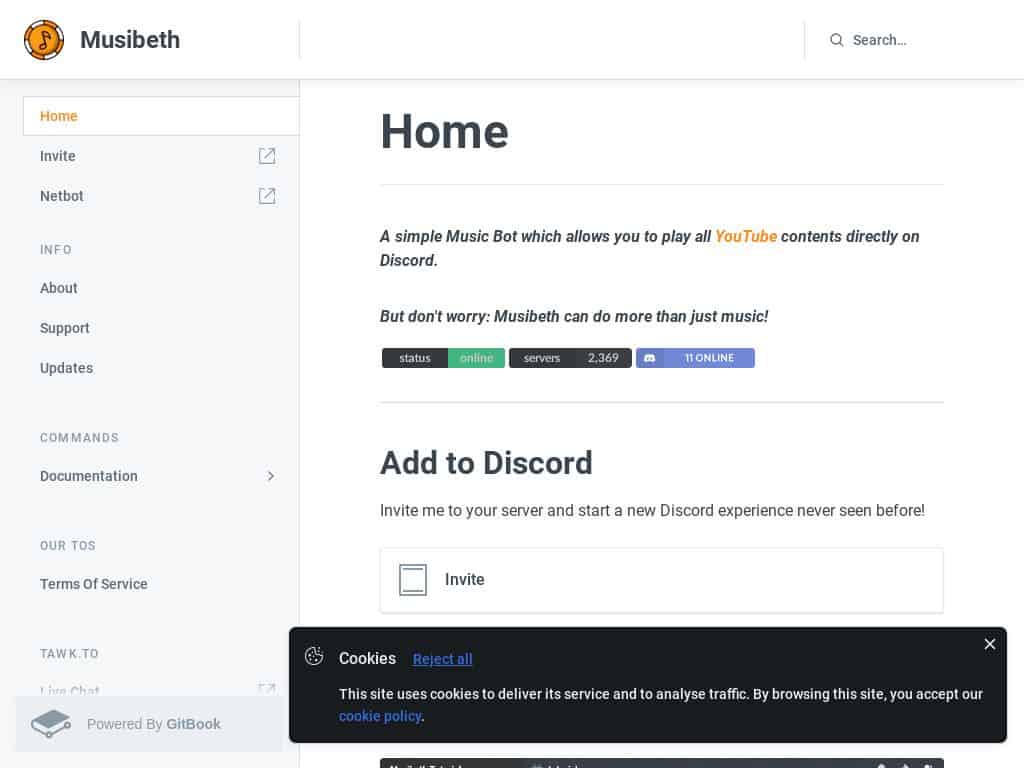 The beauty of the Musibeth bot is that it lets you play YouTube content on your server. It also allows you to share videos with members. This is the ultimate bot if you have your own YouTube channel and wish to do some cross-promotion.
You can set up many different commands and upload a video answering Frequently asked questions on the server or explaining the server's rules. Of course, you can also play music from a host of streaming services, which is ideal for creating a more relaxed environment for your community
4. Quillbot
As the name suggests, Quillbot is ideal for server owners that focus their content on writing or content creation. The bot itself allows you to paraphrase quotes or sayings to avoid plagiarism. It does this through its "word flipping" mechanism, which can also be used as a fun way to change all synonyms in a sentence. It is by no means the most comprehensive of bots on the list, but it does serve a specific niche and is excellent for those who focus on writing to keep their community engaged.
5. Voicy
With so many server owners utilizing basic bots to monitor their community, doing something a little out of the box is a perfect way to optimize your users' experience. Voicy allows you to use over 50,000 different sound effects and sounds that will actively engage and speak to your users. The engagement that the bot provides is excellent for creating a more close-knit community
6. Giveaway Bot
Who doesn't love a giveaway? One of the best ways to promote your server to new users and keep your current fan base engaged is to run giveaways. This is perhaps the essential bot for digital marketing because it is the most active and engaging way to interact with your fans and ensure successful interaction.
Having your current users share the discord server as part of the competition will organically bring in new users and grow your community, as well as keep them engaged.
7. Dyno Bot
If you want a bot that can efficiently moderate your channel, then Dyno bot is a perfect option. With Dyno bot, you can assign roles or permissions to specific users, making them mini admins. It also gives you the power to screen people who want to join your channel are people you trust.
Its host of moderation tools, music services and embedded commands give you excellent levels of customization and ensure that your server flows as smooth as possible. You can also set the bot to create polls, notes, link YouTube videos and Twitch streams and play games. It is a comprehensive both that moderates your server well and creatively engage your core user base.
8. Owo Bot
Owo Bot is similar to Mee6 in that it allows you to organically create your own rules and create guidelines for your server. It is easy to use and is ideal for any server owner. There are many game types like blackjack, roulette, and slot machines that users can use real money to play and win. Its ability to link your Patreon, social media channels and give you detailed insights ensures that you are consistently promoting yourself to your users.
You can add emojis, memes and gifs and even link videos. Owo is a comprehensive and fun bot that is easy to use and connects your community to you in a variety of different ways