Last Updated on May 24, 2021
With the ongoing COVID-19 pandemic, health experts have been urging the public to practice good hygiene and heightened social distancing measures to curb the spread of the deadly virus. But since everyone has been urged to stay at home indefinitely, the next thing on the list is to maintain a clean and germ-free living space.
So what are some of the easy ways that you can do to clean and disinfect your home? In this article, we'll show you 7 best practices to tidy up your own space and eliminate harmful bacteria and germs in the process.
Clean and sanitize high-traffic areas in your house with a powerful disinfectant
High-traffic areas in your house include the porch, entryways, doors, table, and countertops. As for high-touch surfaces, these consist of doorknobs, faucets, light switches, remote controllers, game controllers, etc. To prevent the spread of harmful pathogens and sickness-causing germs, you need to get a multi surface cleaner and a clean cloth to wipe at these surfaces on a daily basis. Just allot 10-15 minutes to thoroughly clean each surface and you can eliminate a large host of these germs in one swipe.
If you want to ensure that you're getting the most thorough disinfection process, you can always hire a cleaning services company and request for a full deep cleaning package.
Clean your kitchen space using an all-purpose spray cleaner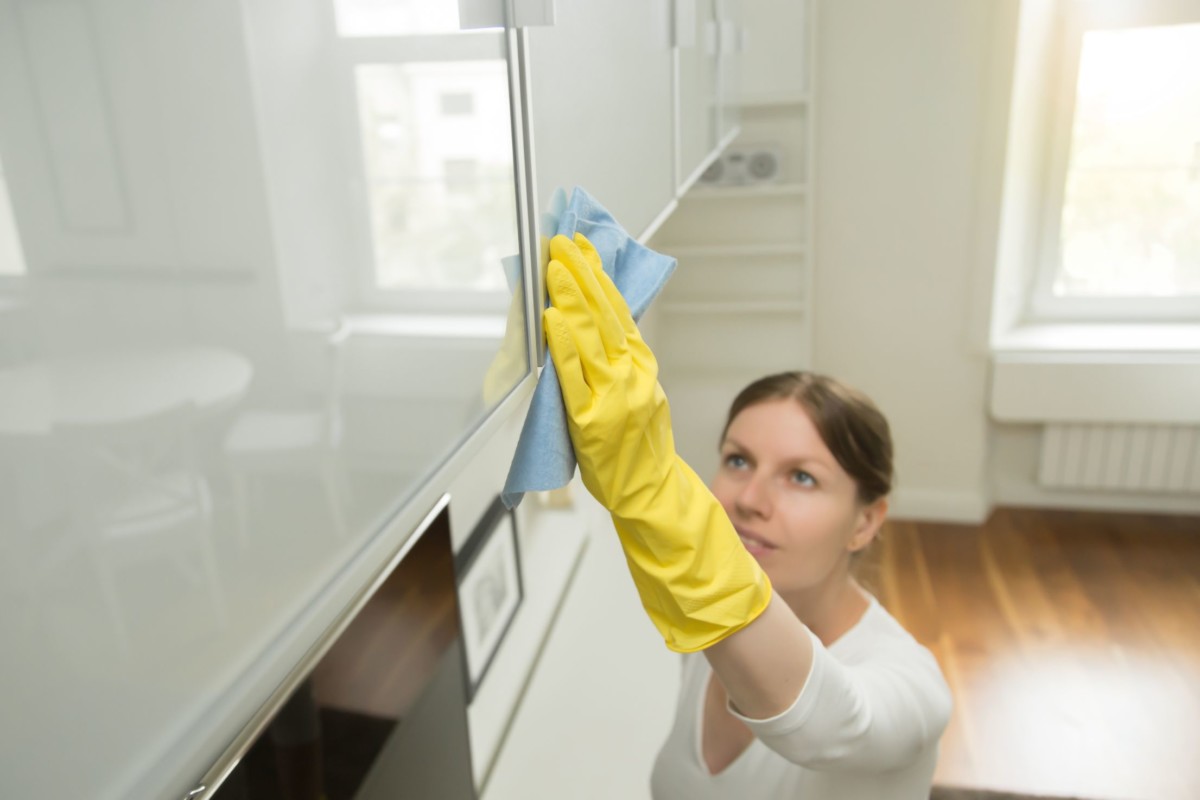 Are you the type to spend all day in the kitchen preparing and cooking meals? Then you might want to pay extra attention to the different items and surfaces found in the space. Just get an all-purpose spray cleaner and begin spritzing every corner and surface.
Afterwards, do the same process on the items and accessories found in the kitchen. You can do this in 20-30 minutes, depending on the number of things that you need to clean.
Wash your sheets and fabrics regularly
Because you're at home 24/7, you are spending most of your time relaxing and lounging at home. This includes lying down in bed or sitting on the sofa, whatever way you like to spend your day working and cooling down. But this also requires you to wash your sheets and fabrics regularly.
To make sure you're keeping things extra clean, change the sheets at least once or twice a week. For your fabrics, it's best to change them after every use for hygiene purposes. Then always make the time to clean these two materials every day.
Place an alcohol or sanitizer spray by the entryways
In order to keep your home clean and germ-free, it's always a good idea to practice prevention in the form of personal disinfectant solutions. So if your house has a lot of family members, put alcohol or sanitizer by the door or any entry point. Encourage everyone entering your home to disinfect their hands to curb the spread of viruses.
Disinfect parcels and packages before bringing them inside the house
Are you a take-out fanatic or an online shopping enthusiast? Then this one's for you. To prevent the spread of virus transmission from the outside world, make sure to wipe and disinfect each parcel or package before taking them inside the house.
This is an important safety measure that you can do to avoid getting any virus while inside the confines of your home.
Disinfect your mobile phones and keys
Your mobile devices and keys can be a host to a lot of germs and viruses. When left unsanitized, they can pose a serious health threat and result in different sicknesses. That's why it's important to regularly disinfect these items — especially when you're returning from the grocery or a morning run outside the house.
There are a lot of UV cleaning boxes available online that you can check out for this. But if you're on a tight budget, we recommended just wiping them with alcohol or sanitizer wipes.
Wash your hands regularly and practice good hygiene
Aside from keeping your home clean at all times, the most important measure that you can do is to extend the same favor to your own personal hygiene. Always wash your hands for 20-30 seconds with soap and water and wear a face mask, especially when going outside. Doing this, coupled with the other must-dos in the list, will be ideal in keeping you and your family safe in this uncertain period of our history.