Looking for Instagram Story ideas to spice up your marketing strategy? With 500 million daily users, Instagram Stories are an excellent place to promote your eCommerce store. But it's not all about the sales — posting authentic, behind-the-scenes content on Stories is also important to help foster a feeling of trust with consumers.
If you don't know where to start, we're breaking down the 10 best Instagram Story ideas for eCommerce stores. But first, let's take a look at why exactly IG Stories are so essential.
Why Instagram Stories Are Great For Ecommerce
If you aren't already using Instagram for your eCommerce store, now's the time to start. 59% of U.S. adults use Instagram every day. 50% of people use Instagram to discover new brands, and IG's shopping features are becoming more and more popular, too: 44% of people use this platform to shop every week.
Instagram lets users post multiple types of content, including in-feed posts, Stories, Reels, and IGTV videos. While all of these content pieces belong in an overall strategy for Instagram promotion, Stories are often overlooked but have a lot of power and influence over your audience.
The benefits of Instagram Stories include brand visibility and reach. Stories are a great way to interact with your audience, engaging people through features like polls or question stickers. You can build relationships and strengthen trust with existing customers, or with potential customers who might need a nudge to buy.
The interactive nature of Instagram Stories means this is also a great place to learn about your audience — their likes, dislikes, buying preferences, and more. And if you're low on time, you can create Instagram Stories "on the go." They don't need to be as polished as other types of content.
And of course, Stories are good for boosting eCommerce revenue, too. 58% of users say they're more interested in a brand after seeing it on a Story, and an additional 50% say they've visited a website to purchase a product or service after initially seeing it on Instagram Stories!
10 Creative Instagram Story Ideas For Ecommerce
Are you feeling short on Instagram Story ideas? There are countless ways to make your IG Stories more creative and interactive — boosting engagement for your account and traffic for your eCommerce store. If you're low on inspiration, check out these 10 real-life Instagram Story ideas from accounts we love.
#1. Create A Catalog
When Instagram added product stickers, the options for creators and brands on the platform skyrocketed! Instagram's shopping sticker makes it easy for you to tag your products. Your followers can then tap on the sticker and view product details — even purchasing the item with just a few clicks if they choose.
Creating a product catalog on Instagram Stories is a great way to showcase your products and encourage people to shop. It also helps mix things up rather than always posting products in your feed.
Take a look at this example from @madebymary, an Instagram account of a small jewelry brand. The brand recently shared a pair of earrings along with a customer testimonial. In the Instagram Story, you can see a product sticker tagging the Mini Hoop Earrings, as well as an arrow directing the viewer's gaze down to see the earrings, read the testimonial, and even swipe up to view the shop.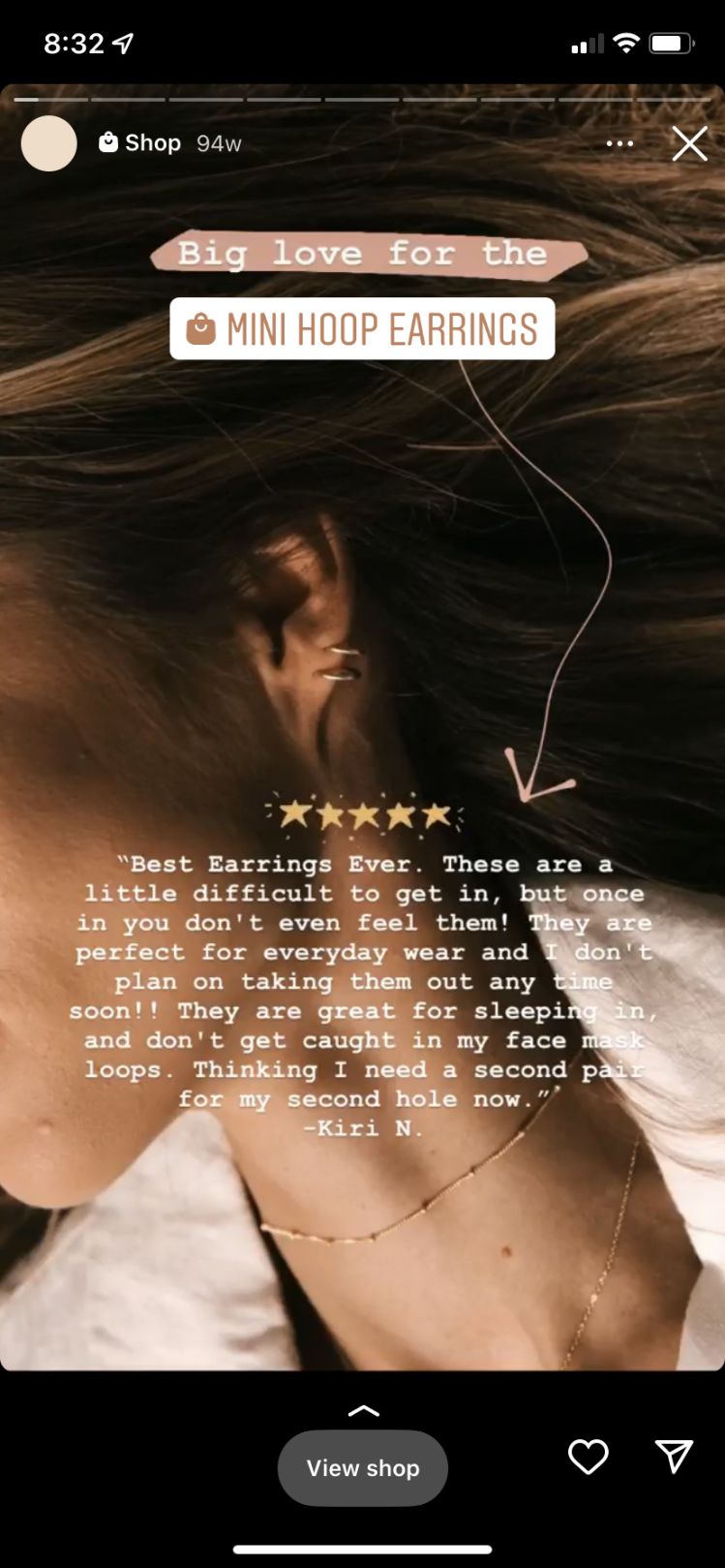 #2. Use Instagram Story Polls
Instagram Story polls provide a plethora of ways to engage your followers on the 'gram. The options are truly endless — and best of all, polls also hold benefits for you as a brand or creator. When you post polls about your products, you'll receive valuable information from your audience about their buying preferences.
In this example, a wedding hair and makeup company @theeffortlessbeauty posted a series of This or That polls, including this slide asking if viewers preferred cupcakes or wedding cake. The company used Instagram's Layout feature to combine two photos from weddings its employees had worked.
#3. Feature Customer Testimonials
Customer testimonials can be hugely effective in convincing new followers to buy. Just take a look at these statistics:
72% of consumers

 will take action

only

 after reading a positive review

70% of people

 trust reviews and recommendations from strangers

Using customer testimonials regularly can generate approximately

62% more revenue

Customers who interact with reviews spend

3% more on average

 per order

9 out of 10 consumers

 say they trust a customer's reviews about a business more than what that business says about itself
If you want to boost your revenue, it's clear that customer testimonials are the best place to start. And your Instagram Story is the perfect vehicle to share these testimonials.
This example from @madebymary shows how to do it. The review is short enough to read quickly and includes the customer's first name, the product name, and a photo of the product (adding a product tag or link is important, too). The brand also created a Story Highlight called Reviews. This is a smart idea — when someone visits your profile for the first time, they'll be able to click on this Highlight and tap through reviews.
If you don't have any customer testimonials, you can also use your Stories to ask for testimonials from past customers. While this might not be as effective as emailing those customers directly, it could still generate some helpful testimonials.
Provide a link where people can go to your website and leave a review or fill out a form. Alternatively, you could also post a question sticker where people can leave short testimonials about their experience for you to reshare.
#4. Provide How-To Tips
Our next Instagram Story idea: Tell your followers how to do something. How-to content performs well because it provides value to your audience, answering their questions and solving their problems. Do you commonly receive questions about how to use a certain product? Take to Instagram Stories to offer some pro tips.
Here, event planner Bashify posted a photo showing the instructions that come with each product. This puts consumers' minds at rest knowing they'll have help if they need a tutorial.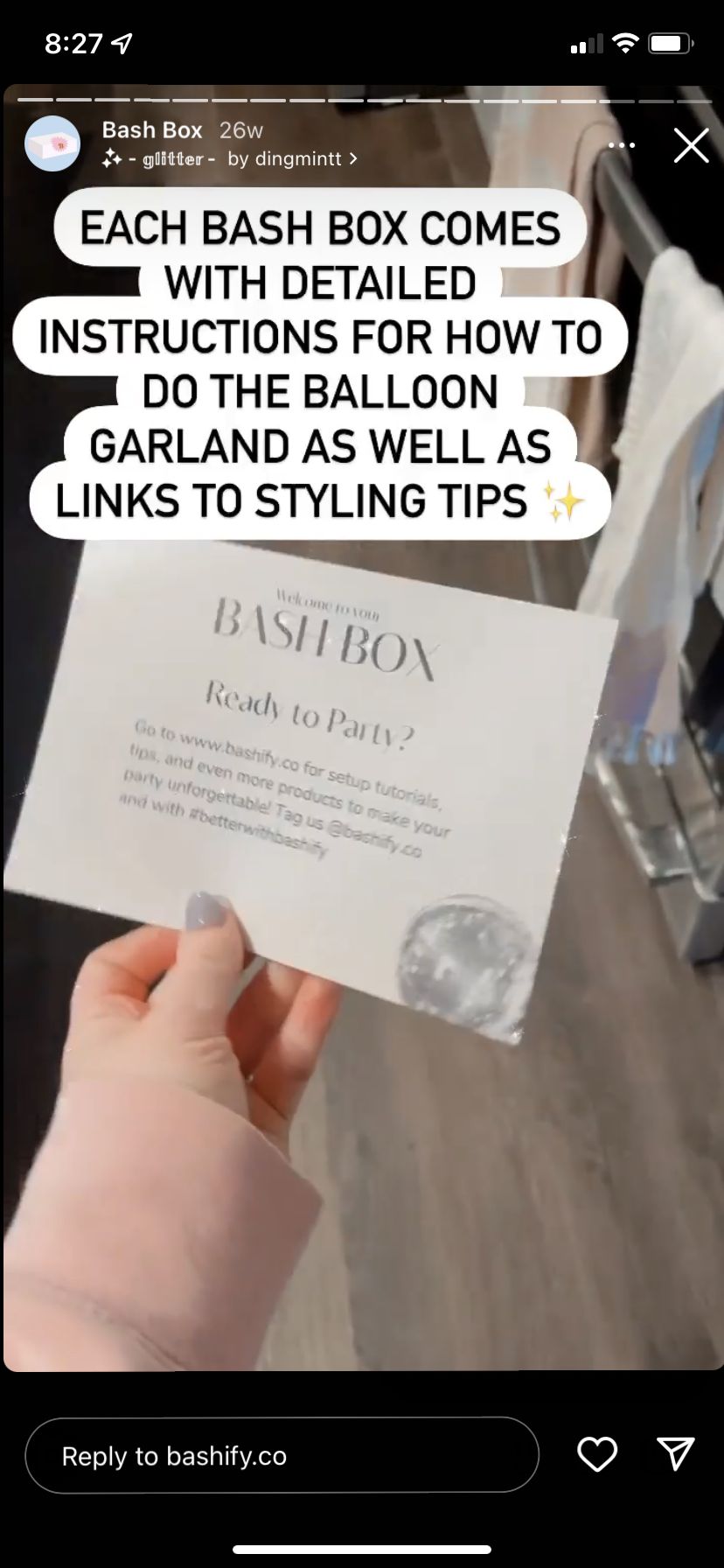 #5. Post About A Product Launch
Are you launching a new product soon? Create hype on your Instagram Stories! Some of the best strategies for product launch marketing include:
Influencer marketing

Giveaways

Countdowns and teasers

Launch event

Pre-orders

Branded hashtag

Behind-the-scenes content

Videos

Tell a story about your product
And with a little creativity, these can all be accomplished via your Instagram Story.
In another example from Bashify, this event planning company shared a sneak peek of an upcoming design.
#6. Use Different Fonts & Handwriting
Use Instagram fonts to make your content stand out, or add a humanizing touch to your Story with handwriting. Fonts are an important component of marketing and design. Your font choice has a major impact on how your audience perceives your messaging. 75% of consumers say they judge a business by its website design, and 72% say packaging design influences their purchasing decisions.
While Instagram Stories does provide different font options, these are limited. Consider creating your Stories on a third-party app that offers additional choices for fonts. This will make your Stories stand out. Easy-to-use apps with more fonts include:
Canva

Over

StoryArt

Colorcinch
Graphic designer @juliakenyon added a logo sticker to this Instagram Story, making the post stand out because of the unique font used for her name.
#7. Use Stories To Promote A Sale
Your Instagram Stories are the perfect place to advertise a sale — especially a flash sale that will be over too quickly to post in your feed.
Get your inspiration from Roolee. The women's clothing brand shared a photo of this pleated dress (including text with a creative font), letting its followers know the dress was marked down from $49.99 to $24.95. The swipe-up link led users to a landing page for the dress on Roolee's website.
Make use of visual aids wherever you can to help get the message across for your sale. For instance, here, Roolee crossed out the original price in red and listed the new price in larger text.
You can also add filter to your photos using a service like Picsart. This Roolee photo uses warm tones to cater to the autumn leaves in the background.
#8. Host An Influencer Takeover
Influencer marketing is a majorly effective Instagram tactic. 90% of marketers say influencer marketing works. It has a high ROI, with businesses earning $18 for every dollar invested. And Instagram is the most popular platform for influencer marketing. That's why we had to include influencer takeovers as one of the top Instagram Story ideas.
Give an influencer the key to your IG account for the day and let them do a takeover on your Instagram Stories. Here, small business Bates Sisters Boutique gave free rein to influencer Karly Porter, who did a try-on haul. She shared how she styled some of the boutique's products, adding product stickers on each slide.
#9. Have A Q&A Session
Q&A's are highly engaging, which makes them a great fit for IG Stories. Have an influencer answer questions or pop on yourself. It's always good to put a face to your brand! The Bates Sisters Boutique has a highlight saved on their profile specifically for Q&A's.
You can answer questions about your products and your brand, using your Stories almost like customer service. Or, keep things lighthearted and solicit questions about your hobbies or favorite ice cream flavor.
#10. Showcase Behind the Scenes of Production
Our final item on this list of Instagram Story ideas is to take your followers behind the scenes of production. Show customers how the magic happens! If you're a business, walk through the office and show step-by-step how your product is made. If you're a solopreneur, share a day in your life and explain how you schedule your workday. BTS content helps build trust between you and your audience because it's transparent and real.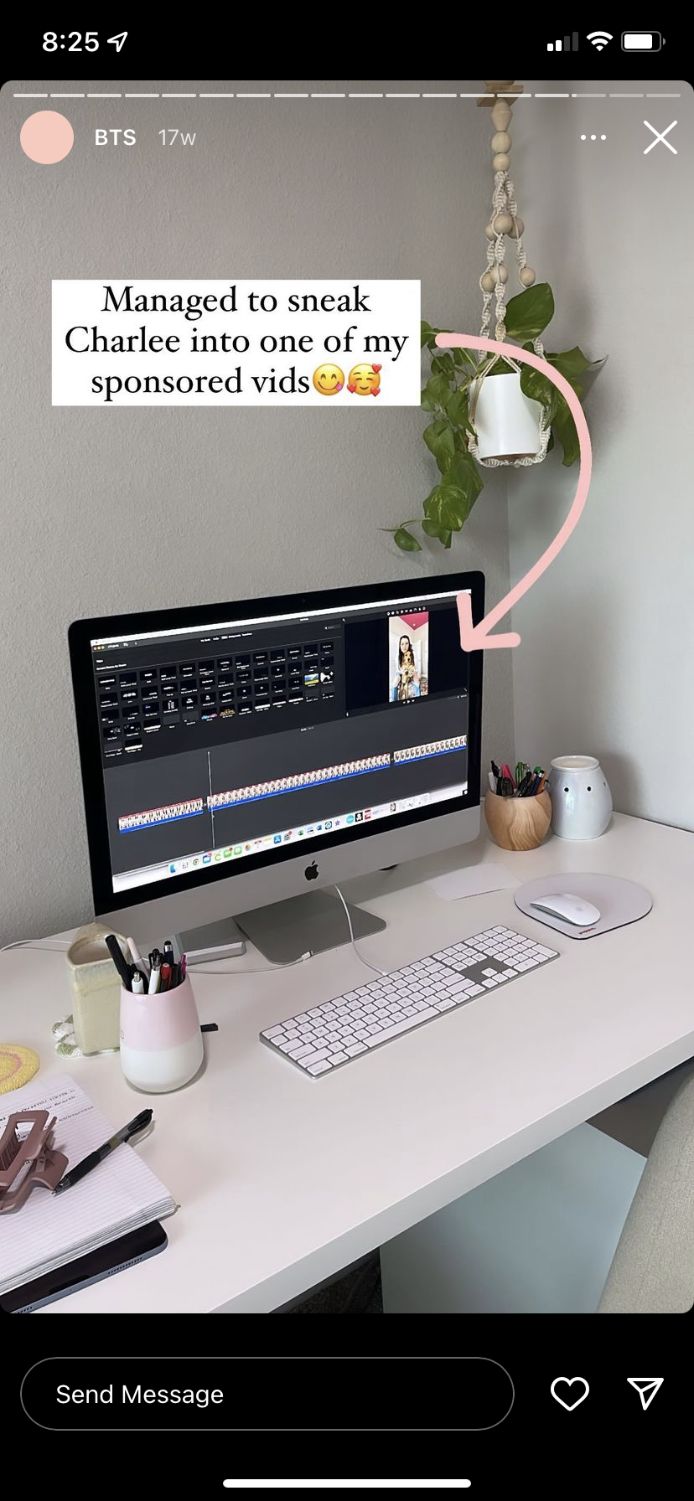 Recreate These Instagram Story Ideas
You've seen how it can look, and now you're ready to put these Instagram Story ideas into practice. Don't overthink it — just start posting! Make a quick behind-the-scenes video today, or put up a question box so you can answer questions tomorrow. Over time, your Stories will get better and better. And your eCommerce store will see major growth as a result.