Last Updated on June 14, 2021
Ah, the great outdoors—the smell of fresh pine, the crackling of the fire, a weekend spent hiking and exploring with the ones you love. 
For any camping aficionado, outdoor cooking is an absolute must. Ask any expert camper, and they'll tell you their favorite meals were hand-prepared in the middle of the woods with no more than a fireplace as a source of heat. Despite popular misconceptions from misinformed homebodies, you can make excellent al fresco food over a crackling campfire, but you'll need the proper equipment.
Not sure where to shop? Self Reliance Outfitters offers high-quality, campfire-friendly gear that'll help you prepare delicious meals while experiencing the bliss of Mother Nature. With outdoor-friendly cookware at your fingertips, you can wave goodbye to days of freeze-dried stroganoff. For those ready to reach camp chef status, here are some of the camping cookware must-haves you'll need.
Cast-iron skillet
In al fresco dining or outdoor dining at the campfire, the cast-iron skillet is a well-loved, outdoor kitchen staple. These incredibly sturdy pieces of cookware are also highly versatile. For example, you can use a cast-iron skillet to prepare many ingenious camping meals. Whether you're pan-frying vegetables or making intricate baked dishes, hot coals and a cast iron cover will work wonders in the kitchen. 
Portable dishes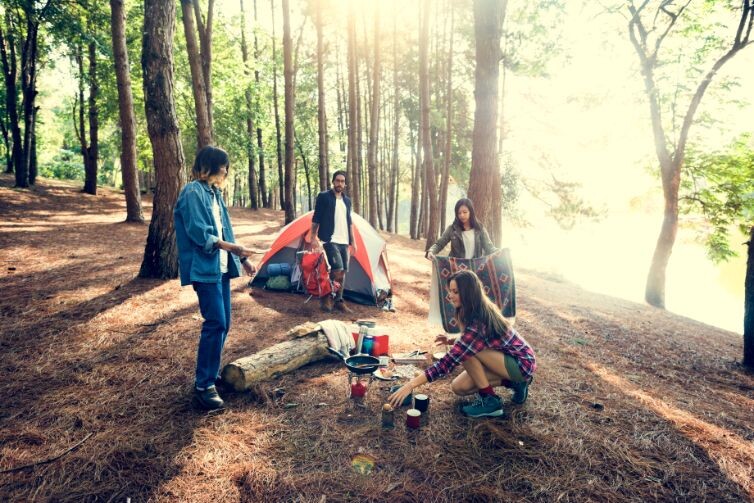 When planning an outing in the great outdoors, sometimes the outlandishness of the affair can distract from the basics. Common is the camper who brings the cast iron skillet, the meat and veggies, and fancy extras but forgets the dishware. Many highly portable dishwares are expandable and therefore easily transportable outdoors. 
Dish brush/scraper
When outdoor dining, many campsites (especially in the United States) don't have access to reliable running water — at least not enough to reliably do the dishes. A dish brush/scraper can come in handy on camping trips, both long and short. 
Cooler
Many of the best camping-friendly dishes require perishable ingredients. That said, don't forget your cooler when going out camping. Otherwise, plan to revert to freeze-dried alternatives. 
Coffee percolator (or another coffee maker) and mugs
Very little scratches the itch for a perfect morning outdoors than a hot cup of coffee around the campfire. Make sure if you're a coffee drinker, you bring the beans, the mugs, and your coffee maker of choice. 
When connecting with Mother Nature, there are many different ways to make coffee, but your options are more limited when camping. A percolator or a pour-over maker are great options. Then again, you could always have cowboy coffee.
Silverware
Whether your silverware is silver, stainless steel, or made from a reusable, lightweight material like hard plastic, don't forget it.
Skewers
Whether your love of camp food takes the form of a melty-yet-crispy marshmallow sandwiched between graham crackers and chocolate or a good old-fashioned American hot dog on a squishy potato bun, skewers are your friend on any camping trip. These kitchen must-haves are lightweight and highly useful whether you're savoring the taste of charcoal smoke-roasted vegetables or roasting marshmallows. 
Camping Cookware Can't-Forgets
When planning a camping trip, there's plenty to plan: sleeping bags, extra clothes, toothbrushes, and park maps. Don't forget your camping cookware, the quiet hero of camping trips everywhere.