Last Updated on April 5, 2023
A new season calls for a wardrobe refresh, and spring is no different. Well, if we'd a magic crystal ball, we'd gaze into it for what's going to be hot and fashionable come next season, but our next best bet is to get inspiration from the top looks of Spring 2022 Runways.
That's right! The outfits from resort catwalks of Paris, Milan, London, New York, and others are some of the best ways to predict the trends that'll stock up your wardrobe in spring 2022. Designers brought back some oldie-but-goodie trends from the 1990s and 2000s but with a contemporary twist for the nostalgic type — think sweet cardigans, crocheted beauties, squad shorts, flip-flops, dress-friendly pants, and bucket hats.
By reviving these past silhouettes and favorites, designers provide us with new and more exciting ways to style our outfits for the season while staying in vogue. And for the trend-setter, there are tons of new goodies to look forward to, from colorful matching sets to classy biker woman shorts that combine everyday athleisure with the ultimate in comfort.
More than that, there's a bevy of bright, bold hues and prints you'll love styling all season long —imagine green, blue, lilac, leopard prints, and more on your shirts and suits. If the runway shows are spot-on on this one, then we're in for a special spring.
Ready to update your closet for the spring season? Ahead, we've put together some of the sizzling hot trends and fashion hits you'll be witnessing throughout spring 2022.
Colorful Suits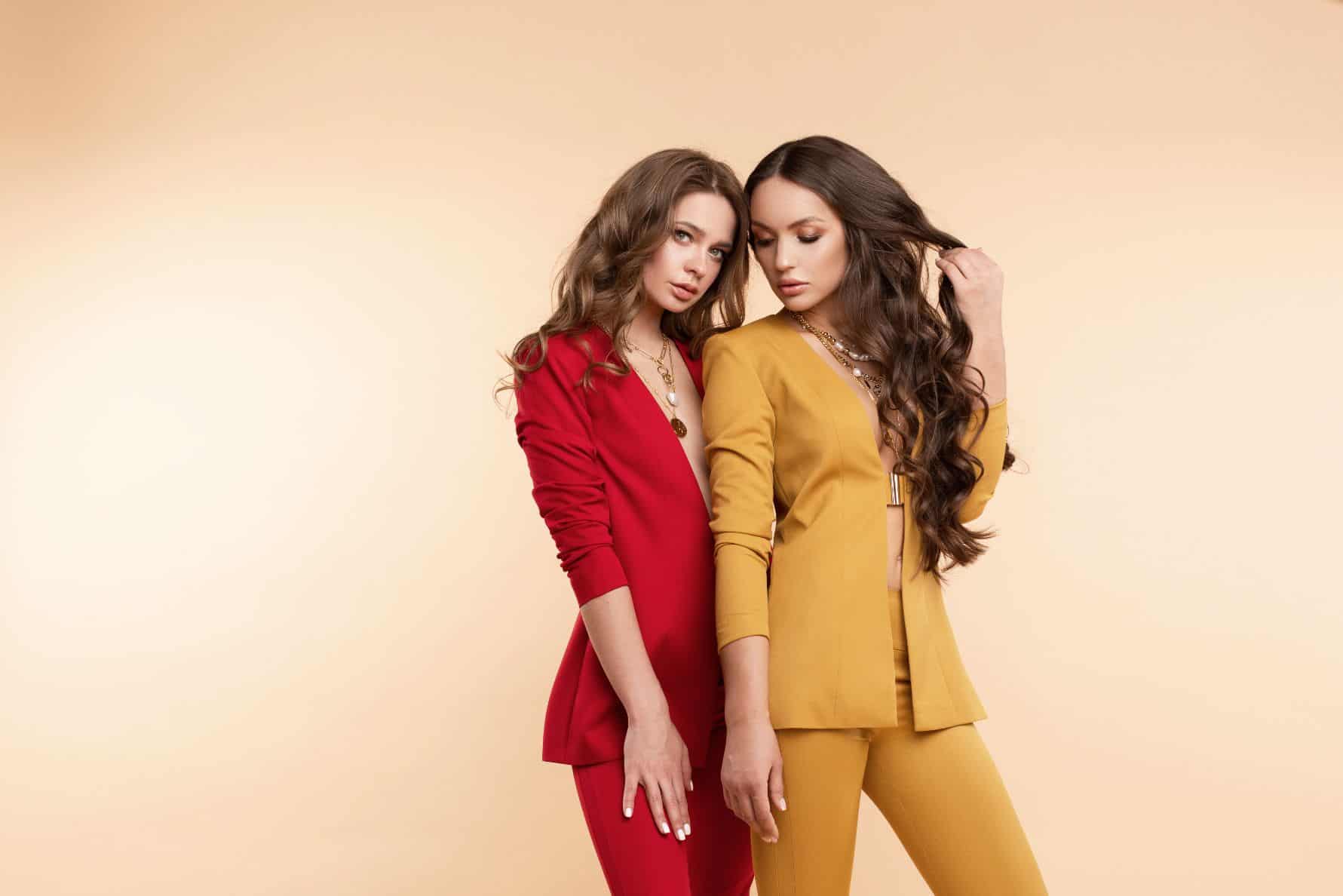 Suiting is an evergreen trend that seems to take on more fun and fashionable twists from season to season. This spring, colorful hues are coming to suiting, and we love the resort trend. Colorful suits not only draw attention but also offer up a new way to show off your color identity and either dress up or dress down your spring outfits.
However, it is worth noting that designers have shied away from the oversized, loose-fitting, and baggy cuts that we have seen in previous seasons. Expect to see less oversized and a little slimmer colorful suits throughout the spring season. And for the win, opt for straight-cut blazers and flowy pants in brighter, bolder shades, such as hot pink, lilac, green, purple, and even warm blue. The only question that remains is: how do you finish off a colorful suiting look?
Add a white, long sleeve blouse and a pair of black leather heeled sandals to infuse your styling range with some polish for a sleek and professional business look. A black leather clutch and a pair of brown sunglasses are a surefire way to complete this ensemble.
The Return of Shorts
The pandemic has taught us a valuable lesson about everyday athleisure and elevated comfort, no matter the occasion or outfit. The chances are high that your closet is lined with a variety of athleisure pieces, ranging from shape-hugging leggings to bike shorts and joggers. It's time to bust them out or refresh your wardrobe for spring with several pieces.
During the 2022 spring fashion shows, designers proved to us that athleisure shorts could go beyond the gym and workouts. As the Sanctuary Clothing collection demonstrates, there are dazzling and high-fashion ways to wear these shorts in spring.
For instance, a pairing of leopard biker shorts and a blue denim jacket is a beautiful idea for a casual look when spring arrives. Then, upgrade your get-up with a white crew-neck t-shirt and mint athletic shoes. 
Likewise, you can pair beige squad shorts with a gray trench coat. You can play down the casualness of this ultra-functional look with a pair of white leather ankle boots. The spring-friendly outfit could also use a white short-sleeve blouse and a pair of black sunglasses.
Comfortable Dressing
Elevated comfort is a trend that keeps on giving, especially since the pandemic ushered in the rise of working from home. In the last summer, fall, and winter, comfort was considered the focal point of all outfits, and that isn't changing anytime soon.
Fashion brands and designers are taking a more directional take on comfort dressing this spring. This rings particularly true when it comes to tops and bottoms — here, think relaxed-style linen suits, wide-leg ribbed pants, button-knit dresses, and crop knit trousers, and knit matching sets that give a whole new meaning to practical fashion.
Comfort comes before everything else when styling these pieces, too. For instance, you can marry tan ribbed pants with a matching tan cape coat – these two pieces will fit nicely and comfortably together. And if you want to effortlessly upgrade this ensemble with a single addition, complement your look with a pair of gray suede low-top sneakers.
Illuminating Popcorn Yellow
Pantone has declared popcorn (12-0825; a cheery shade of yellow) one of the 2022 Colors of the Year, and we are super excited about this illuminating hue. Exuding optimism and boldness, this amazing hue will lift your spirits in an instant this spring.
You can wear this cheery color head to toe, setting up an illuminating monochrome look that will get everyone talking wherever you go. For instance, a casual and classic combo of popcorn pants and a yellow blazer paired with a pink short-sleeved button-down blouse will take your spring style to the next level. Then, switch up your outfit a little by rounding it off with a pair of white leather pumps.
If you aren't into yellow in a big way, you can incorporate the popcorn hue into your spring closet with accessories, including tote bags, belts, bracelets, or wristwatches.
Party Dresses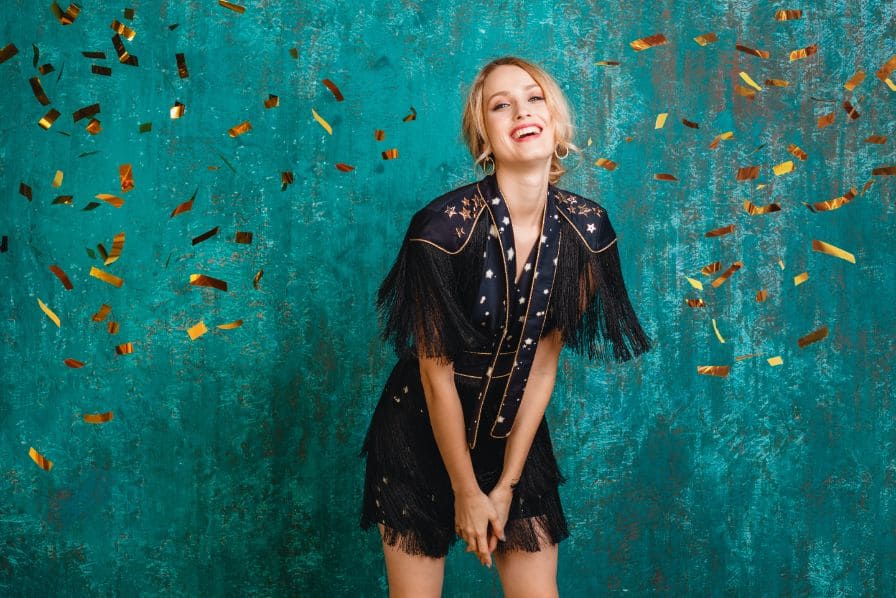 Dresses come out to play in spring, and this season designers are banking on party dresses to become an instant hit. While wearing dresses over pants and pedal pushers made a comeback from the 2000s, party attire is clearly winning the race for the best pieces to wear when spring rolls around and things go back to normal again.
From dramatic gowns with bubble hems to mini dresses with major fringe and other eye-catching details, party dresses are back, baby, and they are easier to pull off than ever before. For a casual look with lots of glam factors, opt for a tan leopard fur coat with a party dress – the two items pair perfectly. Finish off the look with tan leather pumps.
A white dress shirt and a party dress teamed up will be absolute eye candy for the seeker of super-cool styles. And for the footwear, round off the outfit with a pair of black satin pumps.
There you go – five fashion trends that you will likely see all over spring 2022. Also, expect to see statement cutouts, the return of cargo shorts/pants, solid-colored bra tops, and cold-shoulder cutouts. Remember, this is the season of shorts, and you can't go wrong with any pair that combines comfort and style.