Last Updated on April 11, 2022
Presenting data might be tedious work, especially if you will be laying them down as is. This where the importance of flow charts and diagrams comes in – these two make the incomprehensible understandable. They make complex numbers, data, and statistics easy to understand using various shapes and colors representing each detail and information provided.

Of course, you can make your diagrams from scratch, but this would take a lot of your time – time you could have spent doing other important tasks. Modern technology has brought us different software designed precisely for this to help you relay data faster, easier, and hassle-free. All you must do is input the details in the templates of these charts and diagrams, and voila – your work is done in a matter of minutes.
Before we go into the list of software that can help you accomplish your work efficiently and effectively, let us first look at the features that these applications and software must have to be "one of the best":
A variety of options.

The app or software must offer you various options you can choose from – from the shapes you can use to their style and color.

A wide array of templates.

Having a template from which you can start can help you finish faster and save you more time than if you make your own or start from scratch. 

User-friendly interface.

An application or software's interface must be user-friendly to have difficulties when using it to accomplish tasks.
Here are some of the best flow chart and diagramming tools we found and compiled for you:
Price: starts at $4.95 and offers a free trial
Named as one of the top tools used for flow charts and diagrams, Lucidchart offers a free trial wherein you can create your diagrams in a matter of minutes! Lucidchart is web-based, and they provide a vast library of templates you can choose from – flow charts, shapes, colors, and even software mock-ups.
If you want to go for something more traditional and stay in your comfort zone, Lucidchart is the software for you. The software can be used easily even by someone who does not have advanced skills and is very friendly, even for beginners.
You can even use it to import files from other flowcharts and diagramming tools like Draw.io, Gliffy, Microsoft Visio, and OmniGraffle. This software is versatile as it also offers you an option to export files into JPEG, PDF, and vectors. Are you looking to collaborate with your teammates on a specific project? Say no more! With Lucidchart, you can collaborate with your team in real-time – like how you can do so in Google Docs or Google Sheets.
Price Range:
Standard use for Windows (one-time purchase) $250

Professional use for Windows (one-time purchase) $480 – offers additional features like more shape designs and data visualization features

Subscription to the Windows version $15 per month

Subscription for Visio Online $5 per month 
With Microsoft Visio, you can make diagrams and flowcharts for almost anything using this software – from floor plans, software mock-ups, diagrams for engineering, flow charts for business, and much more! There is a vast library of templates, different shapes perfect for almost anything you need to create, and the ease of use is also outstanding. You can also export your outputs into JPEG and SVG Vectors. 
One of the best features they are offering is the sorting of the flowcharts automatically. For instance, you do not know how you will present your data in a more organized and understandable way. Visio can help you arrange your data, and the flow charts themselves for it to be more presentable and easily understandable.
However, it cannot be all "pros." One con of this software is that it costs twice as much as the others in the market. Although there are options in the subscriptions, you can avail of them. Only the most expensive one will offer you Windows access to Visio – all others will only offer you a web-based version. The good thing about this is that they offer a 14-day trial, which is perfect if you want to look at its interface first before availing of the software.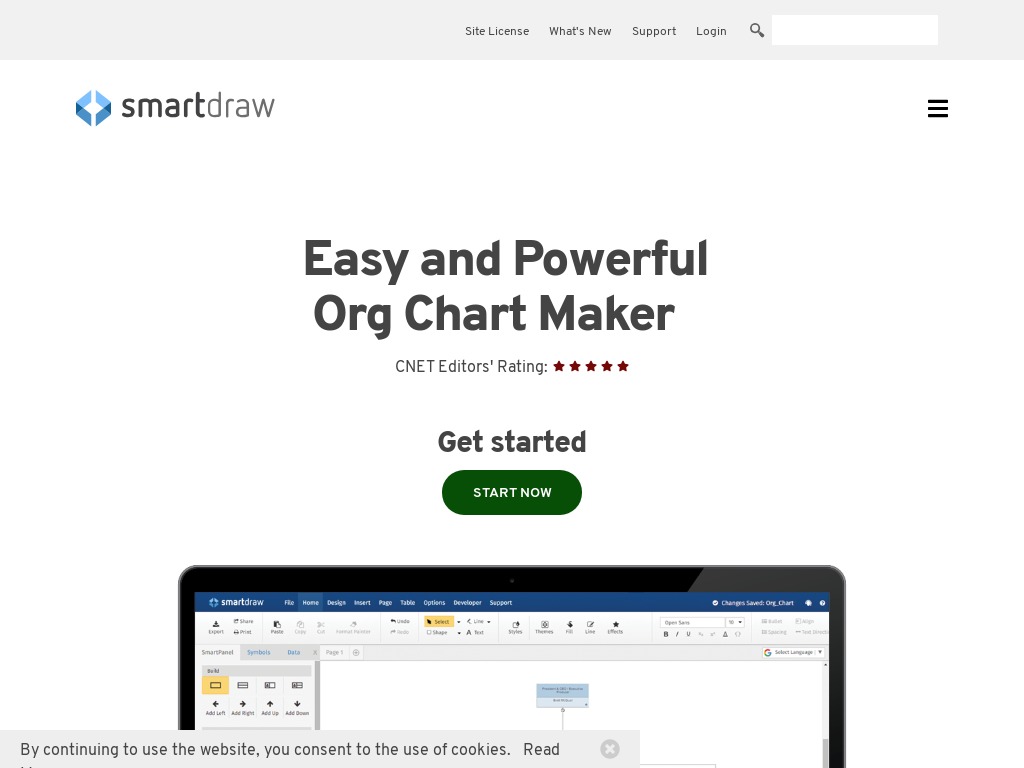 Price: $9.95 per month, offers a 7-day free trial.
If versatility is what you are after, then SmartDraw is the software for you! This software can help you save more time and effort because they offer a wide range of templates you can choose from. You can even use maps of Europe and Canada in creating your output. You can also save your work in Dropbox, Google Drive, OneDrive, and Box. You can also choose to save your file as JPEG or as SVG Vector. 
The only con is that it is a "teeny bit" hard to figure out its interface, unlike Microsoft Visio or Lucidchart. As you use the software more often, you will probably figure out how to run things smoothly, but if you are using it for the first time, it will surely take up your time. If you want to figure out if it is worth it before paying the monthly subscription fee, you can avail of their 7-day free trial first. 
Price: $4.99 per month, offers a 14-day free trial.
If you are looking for a flow chart and diagramming tool that is easy to navigate and presents a simple and easy to understand interface, then you should try out Gliffy Diagram! All you must do is choose a template, click and drag, input the necessary data, and done! You can even add your icons to the template you chose.  
Keeping shapes in line is also not a problem because the software has a built-in grid, which will serve as your guide as you click and drag shapes. Aside from that, you can also export your output into JPEG and SVG Vectors. 
One of the best features of this software is that they have their management software (Jira and Confluence), which will help you create flow charts and diagrams quickly using the information these two provide.
Price: Free (but you can also avail of the optional paid JIRA and Confluence hosting) 
Draw.io is very user friendly. You do not need to create an account to get started, and most of all, it is free! Its interface is almost too easy to understand because it is quite the same as some of Google's online office applications. You can arrange the shapes in how you want it, choose the colors you want to use, and although it is free, it still offers that high-quality output we all are looking for! 
Of course, it also has its downside, like the fact that it does not offer automatic arrangement, unlike the other paid flow charts and diagramming software we have tried. Another thing is that the templates and the options you can choose from are limited, but if it gets the job done, we think it is worth giving a shot!
The best thing about Draw.io is that it offers an offline version, which means you can use it even without an internet connection if you saved your output on the device you are using and not in the cloud. 
Conclusion
Making flowcharts and diagrams can be quite a tedious task if you do not have the right tools. Whether you want to use for free for a lifetime, avail of premium features for a limited amount of time, or pay monthly to enjoy the tool's full experience is up to you to decide.