People working on their own graphics aren't uncommon today anymore. Both pros and amateurs have their favorites when it comes to photo-editing tools. While Photoshop remains to be a household name, not everyone is a savvy user.
Most folks prefer simpler features because they only need it on occasion. Others can't be bothered with heavy downloads or a subscription. Even people who work online want something simple and uncomplicated.
Here's where FotoJet comes in. An all-in-one free online tool developed by PearlMountain Limited, it's your new buddy for creating stunning collages, editing photos, or designing professional-looking projects.
Here are more reasons to try FotoJet today.
Fotojet Features You Will Love
Sometimes, you just need a new social media header on the go. It's a bummer if your online graphics tool still needs a subscription or worse – payment – before you even begin. FotoJet removes this headache by offering services for FREE. No need to sign up or pay anything upfront.
Simply choose from among their three basic features: create a design, make a collage, or edit a photo. You'll then be taken to a dashboard for customization. FotoJet keeps it simple with a clutter-free layout and easily-recognizable menus and options.
For example: if you want to make a collage, you'll be presented with pre-made templates. All you need to do is upload your own images OR search the Web directly from your dashboard (they use Pixabay, so it's royalty-free). Feel free to touch up on details such as adding filters or adjusting other aspects (hue, saturation, opacity, etc.) of the photo.
You'll find more fun add-ons like clip arts and text to add impact to your projects. They also have a neat collection of free frames and backgrounds.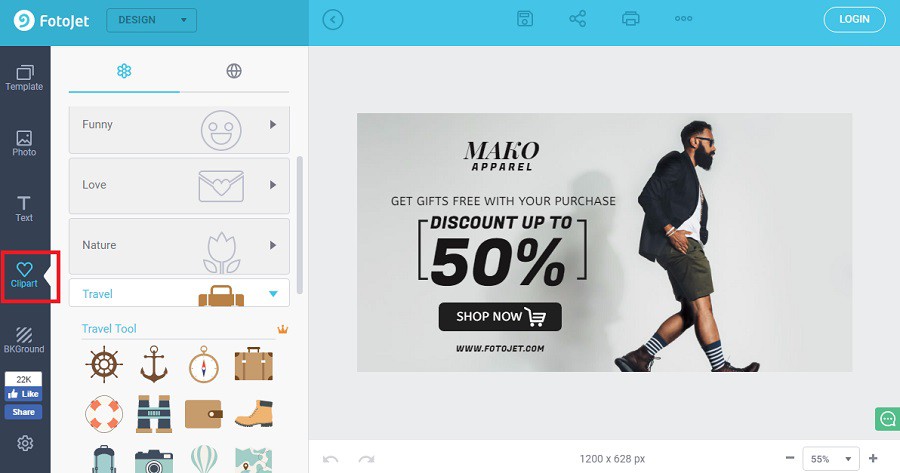 If you just need to edit photos, FotoJet also makes this task super quick and easy. Select their Edit a Photo option, upload your image, and start enhancing. Get your hands on their Overlay option to instantly add a quirky, fun, or romantic atmosphere to any image. Choose from a wide array of effects like Space, Montage, Burst, Paint, and Metal.
You can spend hours on FotoJet! But before getting carried away with all their cool photo-editing features, don't forget to save, print, or share your work on social media. That's right: with just ONE click, you're done.
How Much Does an All-In-One Free Online Tool Cost?
Although their FREE version lets you enjoy most of its cool services, signing up opens more exclusive features just for you. Imagine more overlay themes, templates, and special effects that you can add to your design projects.
Interested in getting the advanced editing tools, plus 800+ premium templates, 300+ clip art images, as well as new content and priority support? In less than $35 a year (that's $2.91 a month), you can with FotoJet Plus. This will save you as much as 40 percent!
As a new user, you can also try their premium feature for 30 days by simply telling your friends about FotoJet on social media. How cool is that? That's 30 days of awesome collages, designing professional-looking artworks, and editing photos like a pro.
The only difference is that you're doing it faster and easier.
Create Your Best Design Yet with Fotojet
Whether you're a blogger, digital marketer, or you simply enjoying editing photos, FotoJet can shave off minutes from your workload.
The clean, fuss-free dashboard will allow you to see everything at a glance, with no need to fumble over icons you don't even recognize. Plus, uploading and downloading images is a breeze. New to design and need a little help? From creating cards to posters, you can check out FotoJet's tips and tutorials for more info.
Remember: this all-in-one free online tool aims to make your design experience as enjoyable as possible. After all, creating stunning collages doesn't have to take hours or cost a lot either.
Need a new email header for your corporate newsletter? How about a pretty 'thank you' card for your guests? Pressed for time to create the perfect flyer for tonight's event? Don't worry: FotoJet is here to save the day. Click, create, then save – it's that simple.
Don't just take our word for it: head on over to FotoJet today and take it for a spin.