Last Updated on March 8, 2022
In the digital world, images rule. It is not an overstatement at all. People love to see images rather than reading long posts. With an effective and high-resolution image, you can convey anything. Even your customers would love to see visual content with high definition images whether it is a business pamphlet or your official business page on social media platforms.

Photo editor applications are conceptualized for this purpose only. You can edit images effortlessly and simply with such amazing photo editor apps that are available online. These apps are free and you don't require any specific skills to edit photos. With a seamless user interface and easy-to-use functionalities, you can edit photos for your personal and professional requirements.
Today we will discuss 4 unique photo editing applications that have carved a niche for themselves by offering unparalleled and impressive photo editing possibilities.
Pixlr is a comprehensive photo editing tool with some exceptional functionalities. Marketers and professional photographers use this app to make changes in images.
Pixlr Express offers a fast solution to fix and enhance the image with overlays and borders. The Pixlr Editor is an advanced version and can help you with image layering, object transformation, and color replacements.
This app features a pixelate tool too which allows a user to transform a part or the entire image. Even you can find many gaming applications using this feature to offer a magnificent virtual effect to the users. It is a must app if you love photo editing.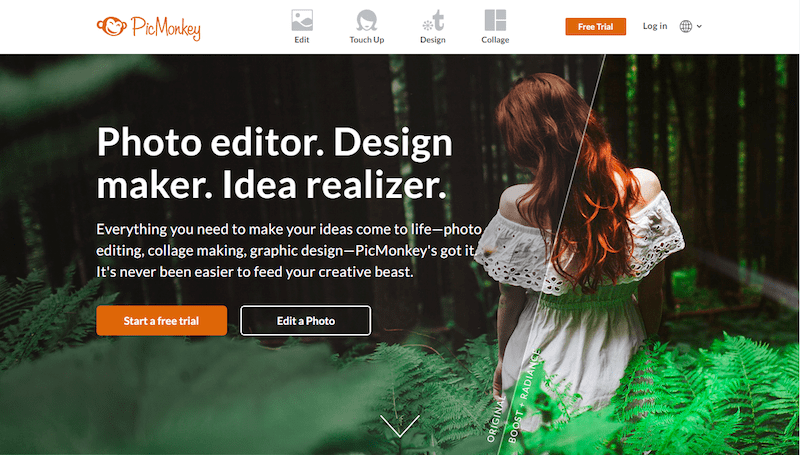 Picmonkey is also one of the most amazing photo editing apps that has set a benchmark by offering various photo editing functionalities for users. It gives perfect graphics and contrasts colors for the improvement of an image. If you need a few quick alteration or adjustments in your image, this tool can help you with it.
Some of the fascinating features PicMonkey offers are effects like sepia and improving pictures with commands like wrinkle remover, teeth whitening, blemish fixing, etc. You can add your logo and other graphical information in the image too.
The tool also helps you to catch customers attention by adding a call to action on the top of the image. It is believed to be the best for making small yet high-quality modifications to your social media or marketing posts.
Vsco is renowned for its filters and presets and if you have noticed ever on Instagram, you would have found plenty of Vsco hashtags. It is undoubtedly used by several pro accounts on Instagram instead of the regular filters.
It works best for images captured with professional cameras such as Fuji, Nikon, Canon, Olympus, Leica, and Sony. Generally, photo editors use this app for professional photography of items such as jewellery, fashion accessories and others.
A number of different tools can help you to edit an image with its exposure, alignment, and contrast. It ultimately assists you to keep an object of a picture distinct than its backdrop. You can also take a cache of RAW photos and create a masterpiece out of it.
PhotoScope X is also one of the most promising photo editing apps that is used by novices. If you are just getting to know this entire photo editing procedure, it is for you. You can easily create edited pictures, and GIFs and can add a flare of fresh creativity to your feed.
Along with fundamental photo editing, this tool is perfect to create slide-shows and animated GIFs that flaunt your creative ideas. Explore the options PhotoScape X offers when it comes to giving highlights, modifications, and transition effects to the GIFs. Moreover, you can choose the exact size too.
Make your task easier and simpler by using above given photo editing tools. The best part about them is, they are absolutely free of cost. Even though, if you ever need to buy superior photo editing tools, you can refer to couponobox.com where you can find coupons for shopping tools at the most affordable rates.