People are visual creatures. We tend to understand things faster if there are pictures to support them. So, it's not a surprise that it's crucial you use the right photos for your website. Images do not only add life to a webpage, they can also convert potential customers into real clients. Photography is an excellent technique to connect and interact with your target market.
Yes, your site visitors would like to read what you can offer or do, but they would like it better if you can show them your product or service. Also, it's easier to convince hesitant buyers if you have pictures as proof on how your business can provide solutions to their problem.
There are different ways to acquire photos for your website. You can:
Take the pictures yourself (usually done with a point-and-shoot camera).

Have a professional photographer do a photo shoot for your site.

Use stock photos available online.
Stock Photos for Your Creative Project
Stock photos are photos taken by individuals, usually sold royalty-free. They can be reused for different commercial purposes once bought.
They are often compiled in e-commerce sites that developed for those who need specific photographs for a particular purpose, such as web design, advertising or presentations. If you need a specific picture, chances are, you'll find it in the form of stock photos.
Typically, a stock photo website provides a variety of categories of photos available in the stock collection. This means you have a broad range of choices – some are free of charge (public domain) while others require a minimal fee (based on the license acquired).  
Stock photography has vastly improved over the years. Today, it's possible to find high-quality photos for your creative project. Even free stock photos now are nothing to sneeze at.
When you use stock photos for your website, you save time and money. It's less expensive to buy stock photos than to hire a photographer to take the pictures you need.
Stock photo resources today have a wide selection of images, so it's also easy to find what you need. Also, using stock photos is fast and straightforward. When you find the picture you need, you can download it in minutes.
Depending on how they're used, stock photos go through an extensive editing process. As such, pictures in stock libraries have higher quality that those taken on assignment.
By browsing through stock image resources online, you can effectively get inspiration or a better idea of what will work (and what will not) for your project.
Advantages of Using Stock Photos 
They are cost-effective.
If you're a startup company with a limited budget and are in need of an image for your website or for marketing purposes, it's a practical choice to use stock photos.
Majority of these photos don't cost a thing, and the premium ones are budget-friendly. They can be bought individually or as a package. Also, most stock images today have high resolution, so you will not be sacrificing the quality of the photos for the cost.
They are accessible.
There are a lot of stock image resources online. All you need to do is find a reputable one, search through its database, and buy or download the photo of your choice. You can do this in a day and from the comfort of your home.
They have it all.
Photos are typically submitted to stock image websites by photographers from all over the world. It's very rare these days to look for a specific photo and not find it online. Because of the enormous number of stock images available, you have options to choose the best ones for your project.
They are high-quality.
Thanks to the upsurge of digital cameras and advanced camera phones, you can expect the stock photos to be clear and crisp. Some photos are even in HD. Premium licensed photos need to pass a set of requirements with regards to their quality.
Tips on How to Effectively Use Stock Photos
Choosing the right photos for your website has a huge impact on how the site visitors will understand the site's content. If you make the right choice, the photos can help with audience engagement and supplement your copy. Here's how to choose and use stock photos to your advantage:
Begin with a plan.
What type of image do you need? Is your photograph going to be literal or metaphoric?  Are photos better? How about illustrations?  What style of photos best suit your design? Do they have to be colored? How about black-and-white? Do you need vertical or horizontal pictures? Or maybe, a flatlay? These are just sample questions on how you can figure out the best photos for your website.
When you have a plan, it'll be easier for you to find the correct pictures since you have established guidelines. You won't have an excuse for downloading or buying the first photo that catches your attention or matches your keyword search.
Use "Advanced Filters."
Most stock photo websites offer additional filters you can use during your search to ensure you get the best results. With advanced filters, you're able to limit the results to a particular photo orientation, demographics, the relation of your search to a niche (if applicable) and so on. The filters can also help you get rid of unnecessary images promptly so you can save time.
Experimenting with the filters may take some time, but it can be a big help. For example, if you love a photo but hate its square shape, you can buy a slightly bigger version so you can crop it according to your needs.
Take full advantage of the search button.
Search by Color – 

This is one of the best ways to make stock photos appear custom-made for your website. By looking for pictures that have a particular color, the results you get are images that will likely fit your web design.

Search by Collection – 

The leading stock photo websites deliver specific collections visitors can look through. The collections typically contain curated photos or photographers. These pictures tend to have a more artistic approach to the theme and are less used or seen online. The downside to these photos is their value – they are usually more expensive than royalty-free images. But, in most cases, the HD quality of the photos justifies the cost.

Search by Orientation – The composition of a photo to seamlessly blend in a vertical space is different than one that is horizontal. Searching by orientation will help you focus on the right structured images without you worrying on how they'll look if you have to fit them into different spaces.
Search by People – 

A good number of stock photo websites will let you pin down your results by the "people factor" in the picture: the number of people on it, their age/s and even gender. Pictures of people on your website help your target audience imagine themselves as your customer. The photos give them an element to connect with.
Focus on the contrast of your photos.
Identify the areas of low contrast on your image if you want to add text or graphics to it. For example, when you need to add an overlay on your image to add a quote or an announcement blurb. The optimal stock images for this design are the ones with areas of low contrast so the text will have an even and consistent background.
Look for an image that supports the message of your project.
Eye-catching photos are great, as long as they don't draw attention away from the central message of your design. Generally, stock images are universal and abstract enough they can capture the eye of viewers without hoarding too much attention.
When selecting a stock photo, pick one that puts emphasis on the message of your website. The photos you put on your site should enhance your content and copy, and not overpower them.
Let a pro do the search for you.
If you're having a difficult time finding the right photo for your project, you can look for a site that lets an expert do the job for you. For instance, Getty Images clients can ask the site to do the search for them free of charge.
You only need to give them details of the photo you want such as the theme, how you'll use it or your budget. In return, they'll send you a curated collection of photos that fits your criteria.
Make your own adjustments.
Stock photos today are not just of excellent quality, they're also beautiful and attention-grabbing. But still, sometimes, you need to tweak the picture here and there for it to fit your design perfectly. This is the advantage of free stock photos – you can download as many photos as you want and do your adjustment without shelling out money. By making your own modifications, you can turn a generic stock photo into something like a customized image for your website.
Free Stock Photo Websites
There are hundreds of stock photo resources online. Some only offer free images while others only feature premium ones. Some allow users to download photos one at a time while others let visitors get an entire package. With the vast selection of stock photos online, you'll surely find the images you need. To kick off your search, here are 45 of the leading free stock photo websites today:
Vecteezy offers a massive selection of free stock photos, 4K videos, and unique vectors. One of the key ways that Vecteezy stands out is by offering free images with signed model releases. This provides a level of legal protection to users that's uncommon with free photos. The search and filtering capabilities also exceed what's typical with free photo sites, making it easier to find what you want.
Moose is a stock photos resource that offers both free and premium images. With a free membership, you can use all the photos for free for a link back to Moose. To use the photos without attribution, you should get a paid subscription for $13/month or $119/year fees.
PEXELS provides free stock photos to help creators worldwide to make unique products and beautiful designs. It offers high-quality free stock photos under the CC0 license. All photos are tagged and easily searchable.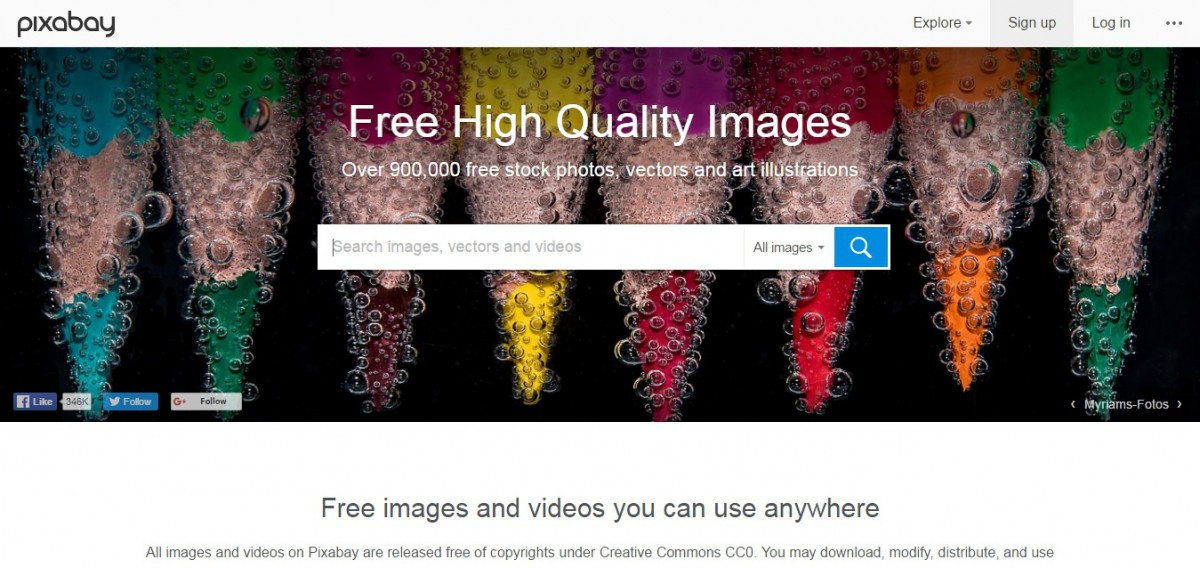 Pixabay provides stock images free of copyright. All photos on the site are licensed under the Creative Commons CC0. Users can copy, edit, share and use the stock photos, even for commercial purposes. A mobile version of the program is also available for iOS and Android.
StockSnap features hundreds of beautiful stock photos free from copyright restrictions. The site offers an easy-to-search function. All StockSnap photos are properly tagged.
Kaboom Pics offers breathtaking stock photos available for professional and personal use. The pictures are divided into five main categories: Abstract, City & Architecture, Fashion, Food & Drinks and Nature.
Unplash is a relatively new stock photo website founded just three years ago. Starting as a Tumblr blog, Unplash is now an industry-leading photography community. Users can explore the site's collections of stunning photos for free under the Unsplash License.
ISO Republic, founded by Tom Eversley, offers free stock photos for the creatives. The site has over 1,000 free images and counting. All photos on the sites are high-res, free and suitable for commercial and personal projects.
FoodiesFeed offers stock photos primarily centered on food. For easy search, the pictures are divided into categories such as Coffee & Drinks, Fruits & Vegetables, Breakfast and Desserts, Cooking & Baking, Grocery & Ingredients and so on.
PicJumbo provides stock photos for professional and personal use. The majority of the collections of photos is available for free. Users need to pay a small amount for the premium ones.
Gratisography provides high-resolution stock photos free of charge. All images are free of copyright restrictions and can be used for business or personal projects. New photos are added every week.
Negative Space is a community-based website that offers stock photos for free. It's a platform where photographers around the world can share their share their photography. All images are available for commercial and personal use under CC0 License.
Superfamous Studios is a media design practice headquartered in Los Angeles. The site aims to provide creatives with high-res photos. All images are under the Creative Commons Attribution 3.0 license – users can use the photos for their own purposes as long as credit is provided.
SplitShare aims to help designers, bloggers, web creators, social marketing specialists and entrepreneurs find the best images to boost their content. Users may also submit and share their own photos to the SplitShare community.
ImCreator is photo-centric website that offers free and premium stock photos. All images are curated for web design and commercial use. The photo categories include Templates, People, Icons, Technology, Health, Food & Drinks, Objects & Items and so on.
Little Visuals has a collection of photos of different subjects. The site's young creator, Nic, died in 2013. The photos on the site are available for free, but his family asks if the downloaders would consider making a small donation to the Hand on Heart Charity.
New Old Stock, as the name suggests, is a collection of old photos newly available to the public. The site features vintage photos – some never before seen – from the public archives. All images are without copyright restrictions.
Compfight is a search engine for photos tailored to efficiently search and locate images for research, inspiration, blogs and companies. The site follows the Flickr API but is not affiliated with the image hosting site.
Life of Pix is high-resolution photography website. The site highlights a new photographer each week. Users can also submit their photos and videos.
Death to Stock features a collection of over 1500 photos and videos for the creatives. All multimedia files are available for commercial and personal projects. The majority of the photos for free. Limited premium images and videos are also available.
Public Domain Archive presents 100% free stock photos every week. Creatives can access different free stock resources through the site. Premium HD photos are also available.
StockPhotos.io offers public domain and Creative Common licensed photos allowed for commercial and personal use. All images on the site are downloadable for free. Credit to the original photographer is highly recommended.
MMT Stock delivers free photos for commercial use: websites, templates, themes, social media posts, print materials and so on. All images are under the CC0 license. New photos are uploaded every week.
DesignersPics.com offers free high-resolution photos for business and personal design projects. The use of the images doesn't require any attribution. All photos are divided into categories for easy search.
Raumrot features over 1000 handpicked and curated photos for creatives around the world. The images are sectioned into categories such as Seasonal, Transport, Hipster, Muscle Cars, Logistics and Marketing. The site also offers access to its stock-archives.
Jay Mantri has a collection of top-quality photos available for anyone to download and use. All images are under the CC0 license.
GetRefe is a Tumblr-hosted stock photo resource. The site features images about every subject under the sun. For easy navigation, all photos are tagged.
Glyphs.co is a platform for beautiful and unique free stock photos. All images are available for commercial use under the CC0 license. The photos can be searched by categories, URL or colors.
StickPNG, as the name suggests, is a resource for the latest and high-resolution PNG images. The site has about 15,000 transparent PNGs available for download. All images are free of charge.
Nomad.Pictures offers stock photos that can be copied, modified, saved and shared for commercial purposes. The images are divided into seven major categories: Food, Animals, City, Nature, Objects, Sunset and Tech.
Barn Images is a brainchild of two photographers from Latvia, Igor Trepeshchenok and Roman Drits. The website aims to redefine traditional stock photos. Barn Images collection is called "non-stock."
Every Pixel is a stock photo search engine that filters unnecessary images. Users can use the site to search for over 50 reputable stock image agencies.
Free Nature Stock is a photography website that primarily features nature shots. Photos of stars, sunsets and mountains are omnipresent on the site's popular tags.
Took a Pic is a well-curated stock photo resource. The images are divided into two main sections: collections and categories. The majority of the photos are free of charge. Premium HD images are also available.
SSYER is arguably the best stock photo resource in China. The website features curated pictures of category.
JeShoots is a free resource of over a hundred stock images for commercial purposes. For easy research, all photos are tagged. Users can also do a search by keyword or key phrase.
Travel Coffee Book is a quaint website that features travel, coffee and book photos. All images are listed under the CC0 license.
SkitterPhoto provides a wide variety of stock images free of charge. All photos released are under the Creative Commons CC0.
MoveEast is a travel project/photography website by designer Joao Pacheco. All photos on the site are photographed by Pacheco. And everything is available for download free of charge.
Startup Stock Photos, as the name suggest, is a resource of quality photos intended for startups, bloggers, web designers, developers and creators. All images are licensed under CC0 regulation.
Diverse UI is a photography website that offers images that represent a diverse population, hence the name. All photos on the site can be used in every state of the user's design process. Images are available for free, although users can make a donation to cover the site's hosting/database cost.
Picography features gorgeous free stock photos submitted by different professional photographers worldwide. All images released are under the CC0 license.
FreeStockImages
FreeStockImages is a Russian photography website. It offers over 15, 000 curated images.
Zoommy 3.0 delivers unique, high-resolution stock photos for creatives. The site has over 50,000 CC0 and public domain photos from 50 of the leading stock image resources.
Magdeleine posts one high-resolution photo each day that is available free of charge. The site also allows access to its full repository of pictures. For easy research, use the filters provided to find the photos that are public domain or that require attributions.
Visual Hunt is an image resource website that helps users find the best stock photo for their project. For easy search, all images are curated by category.
LibreStock is a resource site for creatives looking for high-quality images. Users can choose from over 60,000 images under 47 stock photo resources for free.
If you enjoyed this article and found it useful, please share it with your friends who would benefit from this resource.