Google Hangouts is a widely used instant messaging, audio calling, and video calling platform. It has been around for many years and is popular for personal or casual use, for video meets in colleges and schools, and small-scale businesses or startups. You will love its convenient UI, social media resembling design, and easy accessibility.
Since Google Hangouts is an old platform, many competitors in the market have advanced features and a better UI.

The Best Google Hangouts Alternatives
Are you looking at a good Google Hangout alternative? Here are a few you may want to consider.
1. GoToMeeting
GoToMeeting is one of the best replacements for Google Hangouts – it is ideal for small and medium scale enterprises, educational use in colleges and schools, personal use, and government agencies or organizations.
Some perks that highlight this software's performance – you can integrate 25 HD webcams for conducting high-quality video conferences, drawing tools that bring attention to data shared on conference calls, and an enterprise-level sign-in option for a comfortable experience.
Online meetings or video conferences are essential – you come across valuable feedback from customers, your superiors, and experienced veterans who share their knowledge in webinars. Record these vital moments with this Movavi software – a premium screen recording and video sharing software. You can capture the entire screen or a specific part during screen recording – also, instantly share your projects with your associates.
Pros:
Host 250 participants with GoToMeeting – a perfect solution for small and medium scale enterprises.

Quickly start a video conference from your mobile device with the mobile app.

Study quality-based performance metrics for each participant with the in-built diagnostic tools.

As an admin – download admin reports and keep track of management logs & updates made to the GoTo room environment.

Create a custom meeting link, share it with your peers or co-workers, and schedule and attend meets comfortably – this link never expires.

GoToMeeting is integrated with Office 365 plugin – share files from MS Office programs and other allied programs like OneNote and OneDrive easily.
Cons:
GoToMeeting can take a lot of bandwidth.

The chat feature has limited perks and has improvement potential.
2. Zoom
Zoom is considered the market leader and best video conferencing platform right now – it features seamless UI, appealing graphics, multiple utility functions – serving corporates, industries, education institutes, small businesses, and personal users.
Outstanding features give Zoom the edge over its competitors and make it an ideal replacement for Google Hangouts. Screen sharing for multiple participants and co-annotation, schedule meets with integration tools like Outlook and Gmail, background noise suppression, and interactive video filters.
Zoom is the perfect work from home tool, available for all OS systems and versions – chat with your co-workers, customers, and suppliers with the Zoom chat feature.
Pros:
Track user participation, engagement, and other miscellaneous trends with integrated analytical tools for enterprises.

Select and set a virtual background for your Zoom meet – no matter which part of the world you are in.

Share slides and presentations as per your professional needs with integrated support for Microsoft 365

Record your meetings

to the cloud – generate transcripts in real-time.

Zoom provides support for 1000 video participants – suitable for large scale organizations.

Remotely manage tasks, share files with users in proximity, and integrate with audio-visual room system – with premium Zoom Room subscription – for enterprises.
Cons:
Zoombombing – Unwanted and uninvited individuals enter Zoom con-call and disrupting activities.

The files saved on the cloud are inconsistent in size.
3. Skype
You are probably familiar with Skype – for a long time, it has been used for staying connected with your friends & family. Skype is also popular for small business owners, freelancers, bloggers, and marketing executives – connecting with their co-workers, clients, and aides – making it an ideal Google Hangouts Alternative.
What features does Skype give? You can give engaging and custom reactions to messages and video chats with the smart messaging feature. Although not suitable for large organizations, screen sharing is possible with Skype; it can be utilized to share presentations and data slides within startup-sized enterprises.
You can get a local phone number on Skype – use this number as your business number. You can also get an international number by subscribing to the international calling program – call to more than 25 countries at a low subscription price.
Pros:
Host and make HD audio and video calls with Skype.

Skype call recording is a vital function – record business audio calls and get back to them for feedback later.

Keep your private chats safe with end-to-end encryption.

Skype support video calling up to 50 people – the best software for small scale organization.

Get prompt customer support from Skype.

Windows delegates timely updates of the software – ensuring the best UI & UX.
Cons:
Skype does not have a translational feature for chats and video calls.

It is not an ideal software for you if you own a large organization.
4. WhatsApp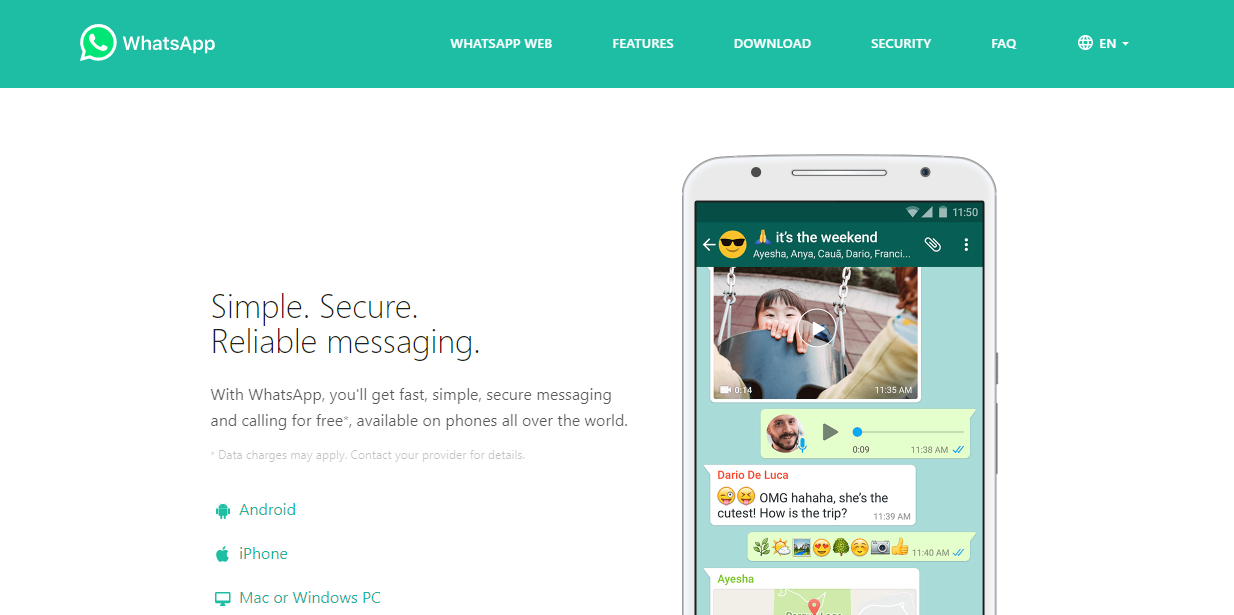 Who doesn't know about WhatsApp, right? We have all used it to stay in touch and regularly contact our friends, family, and peers. WhatsApp is not just an informal messaging application – despite popular belief.
When it comes to casual use – WhatsApp is loaded with group messaging features, online voice calling, interactive messages, sharing of images and video files, and group video calls. These features can also help small businesses – especially the video calling, audio calling, and document sharing options.
WhatsApp for business or business app is a specially designed app for small business owners. As a small business owner, you can share the portfolio of your products, services, and offers. Create an interactive business profile so that your customers know you better.
Pros:
Customize automated messages with WhatsApp for business.

Instantly deliver automated messages to people inquiring about your services.

Share essential documents and images in various formats like PDF, EPUB, XLS, PPT, JPG, PNG, and more.

WhatsApp is a free alternative to Google Hangouts – it gets the task done within the budget.

The platform features end-to-end encryption – this feature protects your sensitive data.

WhatsApp is integrated for desktop use with Mac, Windows, and Linux as WhatsApp Web – engage your clients while you simultaneously work on your projects on the PC.
Cons:
WhatsApp doesn't provide virtual assistant support.

WhatsApp video calling is limited by the number of participants – not more than 8.
5. Facebook Messenger
Facebook Messenger is an informal way of engaging with your customer – but it gets the job done. When it comes to everyday use – Facebook messenger is perfect for connecting with friends & family – share your favorite photos and react with emojis.
Facebook Messenger is one of the best avenues for e-commerce businesses and digital marketing agencies to connect with their client – this makes it an ideal replacement for Google Hangouts.
You can showcase your unique products to clients, customers, agencies, designers, bloggers, and partners. Organize your product and service portfolio with the Facebook business account. You can communicate with your client over a video conference.
Pros:
Facebook is integrated with Instagram – your e-commerce or online business can see huge potential with these two apps.

Choose custom chat themes.

Protect your Facebook Messenger account with your device's FaceID or screen lock feature.

Your private chats are protected by end-to-end encryption.

You can pay your friend, family, and even customers or supplies with integrated payment options.

Create a messenger room and share the link with your co-workers.
Cons:
Facebook Messenger is not the preferred mode of communication in businesses.

The app can occupy a lot of space in your device and lag.
Conclusion
Google Hangouts is a simple application – it connects you with your potential clients, friends, family, co-workers, and partners – but it is an old application.
The programs we reviewed in this list are some of the best Google Hangouts replacement apps – we are sure they will increase your business reach.