Customer service is forever expanding and becoming more important. As a business owner, it is always best practice to have quality tools at your disposal in order to attract customers, keep them and not lose them.
Whilst chatbots and online customer service is becoming more popular, actually speaking to a company representative over the phone can be far more reassuring for the customer. The VoIP market has grown exponentially over the last decade and more companies have started to use Google Voice, an internet-based service that connects one number to a host of phones, making it easier for a more specific department to communicate to a customer.
Google Voice itself can compete with many phone service providers in that it offers free SMS, free local and overseas calls for the US and Canada, as well as competitively cheap international calls. It looks to save businesses a lot of money. However, much like any successful product, there will always be alternatives made. This article looks to showcase 10 of the best alternatives to the Google Voice platform and the benefits that each service provides its users. 
Why a Google Voice Alternative? 
As a service, Google voice has a lot of what you need, it has email to voicemail capabilities, SMS to customer capability, as well as the ability to handle high call volumes and allow you to make calls in a different state from a local number.
However, if you are a professional business that wants the most usable and robust software possible, then Google voice may not be the best option, or even if it is, it is always best to shop around and see if any other services can do something better.
The only issue is that Google Voice is a free service and many of the good alternatives to it are not. But don't let that put you off, there are a host of benefits associated with the paid services that you or your company will be sure to enjoy.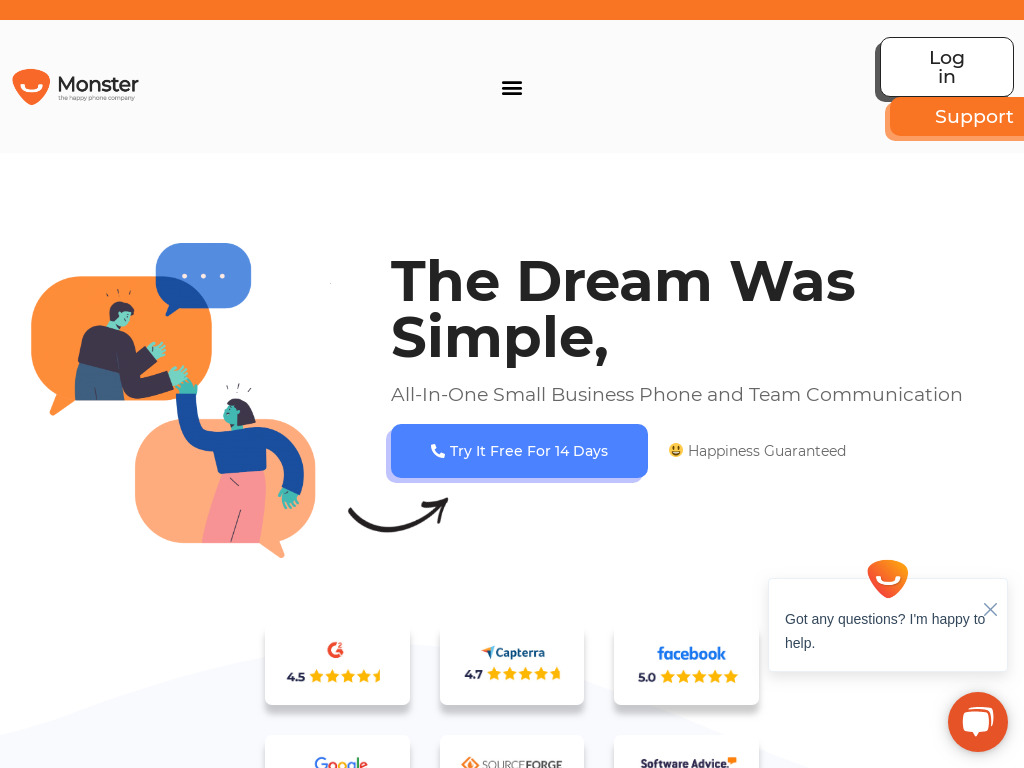 Perhaps the most well-rounded and feature packed of all Google Voice Alternatives, Monster VoIP is one of the few services that delivers on each and every one of its promises. It updates regularly with the best communication services and provides integration, unlimited calls and texts, low international fees, and a stable, secure connection.
For $27 per month you don't only get a quality service, but you get premium customer support, set-up assistance and CRM integration. Monster VoIP understands what it is that small and large businesses need and strives to give it to them.
Their services are used and highly reviewed by leading communications companies like Facebook and Google, and they offer a 14-day free trial and give you a free second month when you sign up on the first call.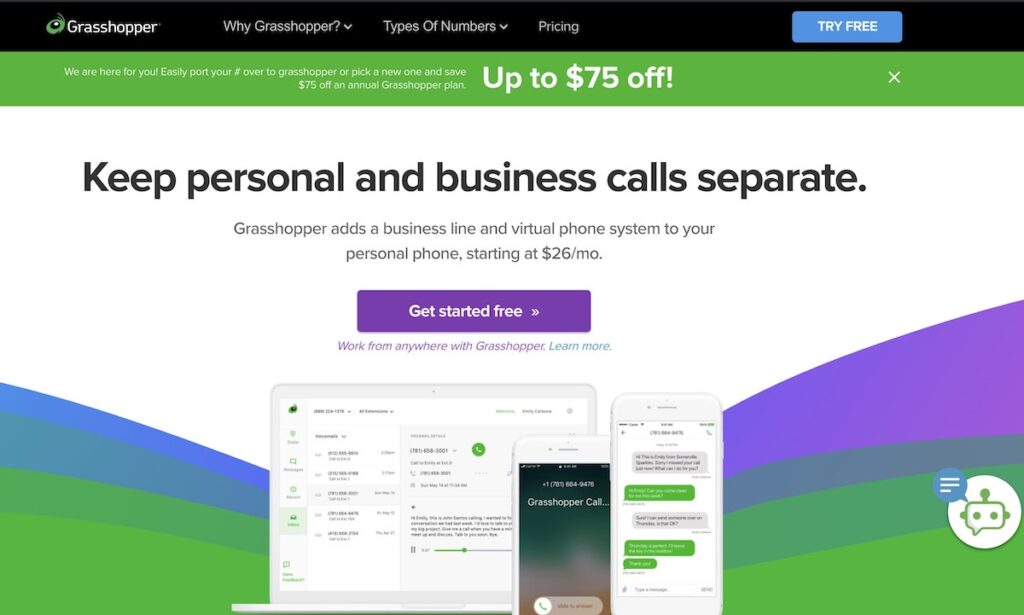 Although more expensive than some others, starting at $26 per month Grasshopper is one of the most comprehensive phone service systems available on the market. Choose between a local, a toll-free or a vanity number as you need them and utilize their newer 844 number series to keep your business up to date.
Their website is user friendly and easy to navigate, highlighting the fact that with them, you save money, can set up a dedicated business number to keep work life and personal life separate, as well as create custom greetings and extensions to give your brand or business a more professional feel.
One of the main selling points of Grasshopper over Google Voice is the functionality of the mobile app. With the mobile and desktop app, you get access to features like mobile fax signatures, fax to PDF or email conversion and auto attendant or employee extension numbers. You can also add agents or departments to your extension and add their numbers too so that everything is in one place. This can add a fluidity to your business that looks organized and professional.
The basic package of $26 per month can also be upgraded to a $44 per month package or an $80 per month package. If you are a freelancer or a small business owner that is looking for a vanity number, then Grasshopper is ideal. It is user friendly, has a great app alongside it and is reliable in its features and its customer service. 
One of the best solutions for keeping customer data safe and secure, Nextiva prides itself on being the most effective communications platform that a business can use. Offering text, fax and live customer chat software, the focus is truly placed on ensuring that your users maintain a solid experience.
The App allows you to keep your office with you on the go and offers analytics and insights into your customer base and call logs. Its integration and multiple ways of contacting customers allows a business, both large and small to communicate quickly and effortlessly with its users, and at a starting price of $19.95 per month, it is competitively priced. 
If you don't like Google Voice but also don't want to pay for another service, then Skype might be the best option for you. It is a little older than most on the list, but is still an efficient, free, and easy to use call management software.
Its servers are among the most robust, supporting up to 250 people in a conference call, meeting or video chat. It has a convenient app also that allows for video and text communication. 
Offering an affordable entry point at $20 per month, Mighty Call looks to optimize communications within small businesses. The beauty of this service is that most of its premium features are available within a budget and you won't have to pay hefty prices to access them.
Their plans come with unlimited extensions and users, but minutes and phone numbers will cost you. It has fantastic integration capability and not only offers email and phone or SMS communication, but social media integration too.
Meaning that your company can reach its users in more ways than ever before. $20 per month gets you 5,000 minutes and 2 phone numbers, as well as all of the features, perfect for the smaller business. Larger business can also avail of Mighty Calls services, with a $99 per month plan with 15,000 minutes and 10 phone numbers. 
Yet another cloud-based phone system that can save freelancers or companies time and money is Telzio. The pure feature packed functionality is what sells this service. For $1 per month, a business can have a US number. For an extra $5 per month, you can add a toll-free or fax number, and for $50 you get 1000 free minutes. They also offer unlimited extensions, calls, and SIP accounts.
The beauty of this is that every employee can have their own extension, making the operation of business and customer service smooth and efficient. They also include free call recording for quality control purposes, a web-based control panel and an easy to use and navigate website that makes understanding their platform simple.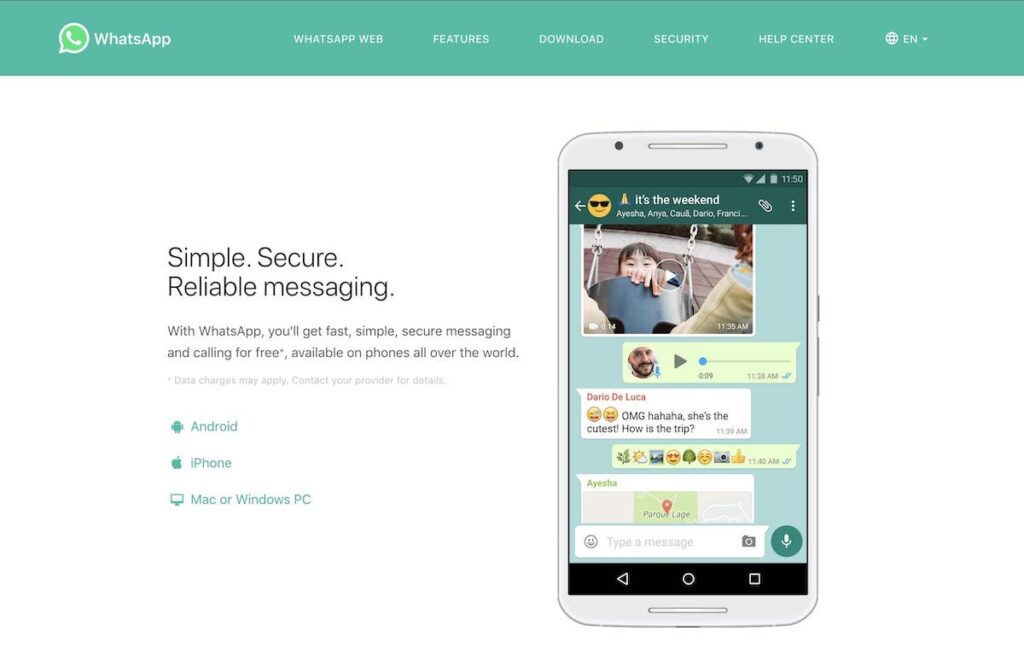 If you are a newer business that is looking for a free and easy to use communication service, then WhatsApp is not to be discounted. It allows for easy call management, messaging and supports group and conference calls. You can make calls for free and send and receive PDFs, messages and files or pictures. The app is also extremely easy to set up and use. Not as feature packed as the others on the list but a quick and convenient portal of communication nonetheless. 
One of the most similar services to Google Voice is Line 2. It offers free call and SMS features to American and Canadian receivers and lets you choose your number, giving you toll-free options too. However, they do take some of the positive qualities from other companies on the list like picture messaging, group chatting and conference calling and incorporate it into an easy to use and affordable service.
There are three plans, the standard at $9.95, giving you unlimited calls and texts to US and Canada, allows for call forwarding, low international rates and group calling capability. The Pro plan at $14.95 per month adds features like auto attendant, after hours call handling and dial by name directories. They are not essential, but nice organizational perks.
The Elite plan comes in at $19.95 per month and provides online faxing, toll-free numbers for your entire team as well as premium customer support. This is the full package and is ideal for businesses looking to streamline customer support and communications for a good price. 
There are a few excellent features associated with DingTone that I feel make it a worthy contender to be on the top 10 list. What I like most is its integration with Facebook messenger, a service that is used by hundreds of millions of people and is a perfect portal through which a company can engage and offer support to its user base.
The mobile application is what syncs best with Facebook and its services, however there is more to love about DingTone than its integration capabilities alone. You can send and receive SMS for free and can also share your location and send pictures.
Furthermore, its servers, unlike Google Voice are extremely reliable and robust and can accommodate group chats or conference calls with hundreds of participants, all of this without losing signal or quality.
It also provides phone numbers for countries outside of the US or Canada, allowing for a wider user base, with options for Chinese, British or European extensions, meaning that users outside of the US are not excluded. International calls and text prices depend largely on the country you are contacting, but with over 160 countries supported, there are plenty of options. 
Recently introducing a free plan for up to 100 users, OnSip is one of the industry leaders and the most popular alternative to Google Voice right now, providing free video and voice calls as well as unlimited extensions. It has its own chrome extension as well as integration with business communication apps like Slack.
If you are looking for a budget alternative to Google Voice, then OnSip is the ideal option, you can also get a metered plan for $8.95 per user per month and an unlimited user plan for $25 per user per month, however OnSip and its quality SIP to SIP communication capabilities, is best utilized for its free version.