Ever wrote something – an email, manuscript, or business proposal – only to be horrified later on because you found grammar or spelling mistakes? Even the most experienced of writers are not immune to this dilemma. That is why proofreading your work is a MUST before sending anything.
But in today's hectic world, who has the time? Plus, there's always that one kink you might miss. Good thing there are grammar and spell checkers nowadays. Aside from convenience, many of them are free to use and act like your personal editor.
So whenever you need to polish a resume or do last minute touch-ups on a research assignment, you can count on these powerful grammar tools to help you out.
11 of the Best Grammar Tools
1. Grammarly
There's a reason why it's one of the most popular grammar apps today.
Aside from checking grammar and spelling errors, Grammarly can also make recommendations on style, tone, and vocabulary. Just copy-and-paste your work, or upload it, and let the app do the rest. This user-friendly interface is also one of the main reasons why folks from freelancers to teachers love this app!
The basic features are FREE, while the Premium version includes more helpful services such as plagiarism detector as well as MS and Outlook integration.
2. Hemingway App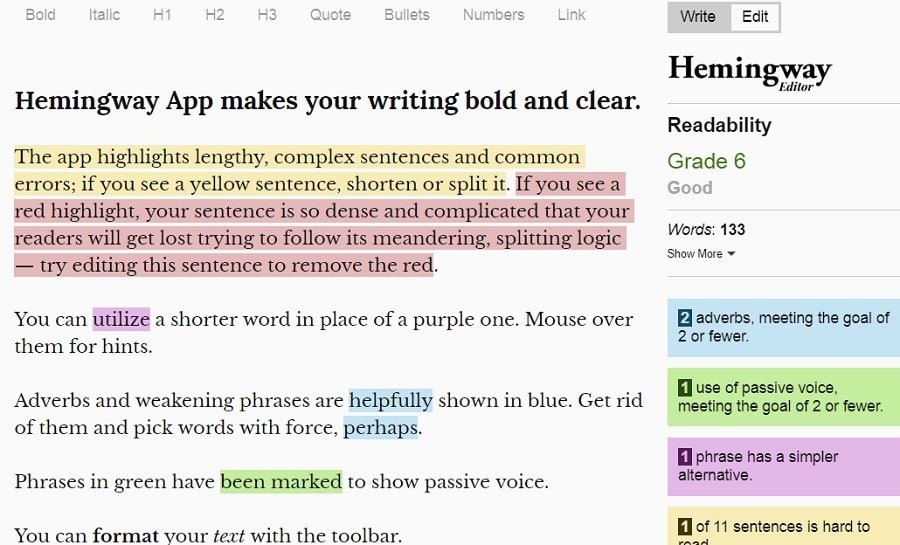 It's not enough to know you've nailed your grammar, spelling, and punctuations. Understanding the readability of your craft is just as important, if not vital, to getting your message across. And no app does it better than Hemingway App.
Using it is FREE, but their PC and MAC desktop app will cost you $19.99. It's definitely worth it though, especially if you're trying to sound relatable to your audiences. Don't just avoid jargon – make your writing worth reading.
3. Trinka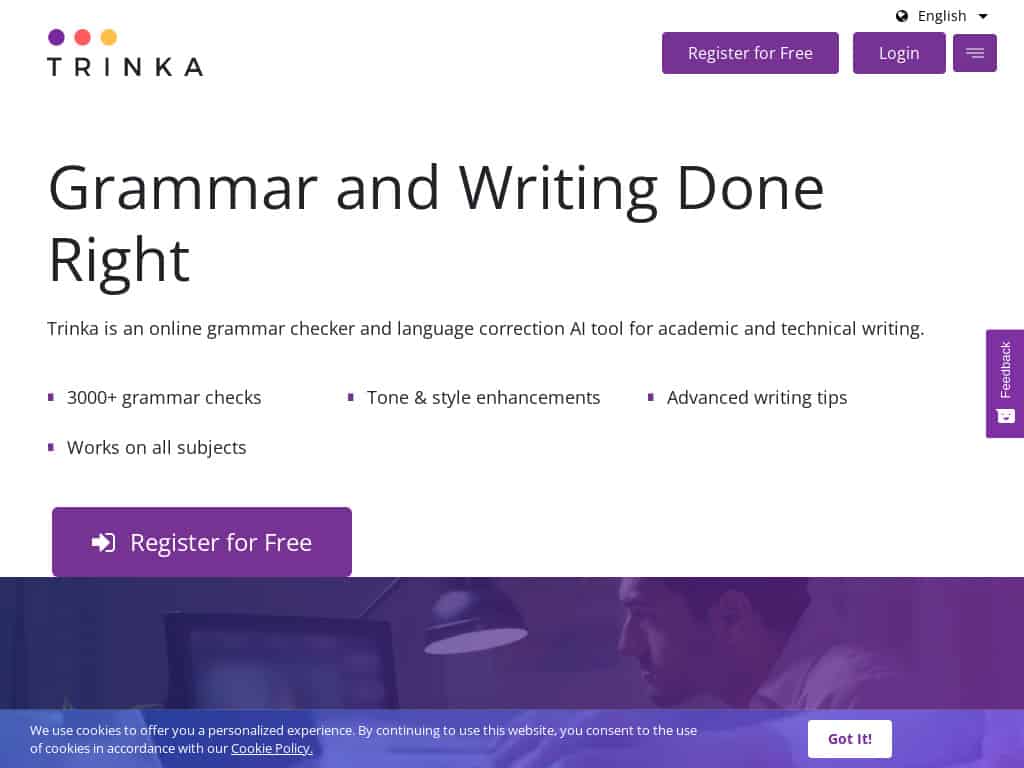 Trinka is an AI-powered English grammar checker and language enhancement writing assistant designed for academic and technical writing. Built by linguists, scientists, and language lovers, Trinka finds and corrects thousands of complex writing errors — so you don't have to. Trinka corrects contextual spelling mistakes, advanced grammar errors, enhances vocabulary usage, and provides writing suggestions in real-time.
Trinka goes beyond grammar to help professionals and academics ensure professional, concise, and engaging writing. With subject-specific correction, Trinka understands the nuances in the expression of each subject and ensures the writing is fit for the subject.
Trinka's Enterprise solutions come with unlimited access and great customization options to all of Trinka's powerful capabilities. Best suited for academic institutions, localization businesses, publishers, and enterprises working with content, they can be easily integrated with Trinka JS, Trinka APIs, or Trinka On-Premise.
4. ProWritingAid
Want to be your own editor? Now you can with ProWritingAid. This app covers most problem areas like readability, overused words, sentence structure, and if you're a fiction writer, bits like pacing, sentence length, dialogue, and more.
Add this to your Chrome browser to help you instantly check for spelling and grammar mistakes, or begin a FREE trial. The best part is that they offer tips, helping you learn from your errors.
5. GradeProof
This AI-powered tool will level-up your writing, no matter what you're writing for. Use it for emails, assignments, research papers, or even your future best-seller.
GradeProof offers its basic features like grammar, spell-checks, and a custom dictionary for FREE. Upgrade to their Pro version and enjoy other services such as their Eloquence Engine, which focuses on improving your phrasing, wordiness, and more.
6. Ginger
Why settle for MS Word corrections when you can step up your game and be a better writer? Ginger can help you proofread your works, suggest smart paraphrases, or even translate your text in 40 different languages. How cool is that?
What's more, download this app today and experience live corrections directly on MS Word or any MS application. Include it as a Chrome extension and have the confidence to write like a pro, from Facebook,  LinkedIn, to Google, and Gmail.
7. Reverso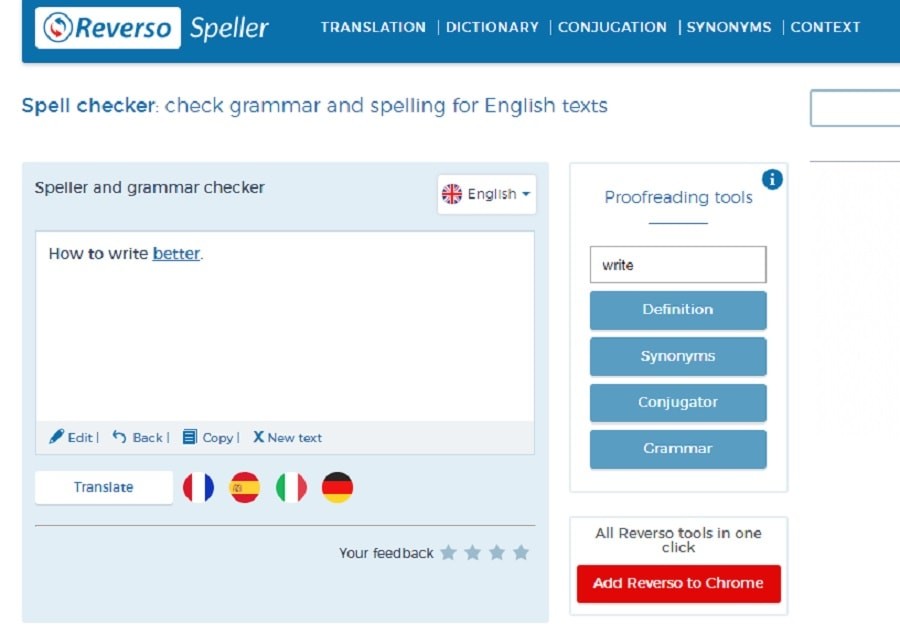 This nifty online translation app can also be useful for non-English writers or people who want to write specific dialogues in another language.
Do spell checks directly on the Reverso interface, or quickly switch from one foreign language to another with ease. Doing correspondence overseas? Then this tool is right on time. Quickly type in what you need and hit Translate.
The online version is FREE to use and also comes equipped with a Synonym dictionary as well as a Grammar and Context Checker.
8. WhiteSmoke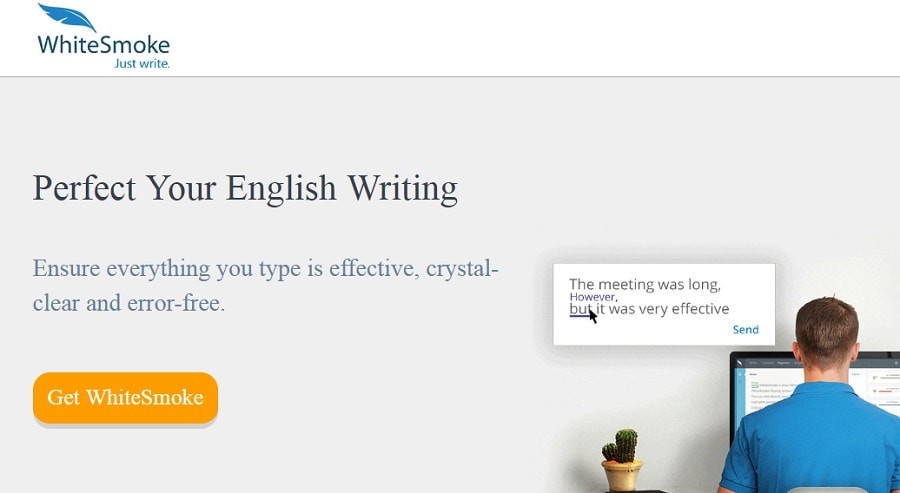 WhiteSmoke offers several writing solutions for every need, from individuals (correcting grammar and spelling on social media and the Web) to business owners (grammar and spell check that can be integrated on all writing platforms and browsers!).
Their technology uses Natural Language Processing (NLP), making it easy to detect errors and analyze text for context, syntax, and style.
9. PaperRater
With tons of content on the Web today, it's all too easy to lose your hard work among all that online noise. What's worse is someone accusing you of plagiarism! For students, teachers, researchers, or post-graduates, make sure your work is not only spotless but also guilt-free by using PaperRater.
This app does spelling, grammar, plagiarism, word choice, and style check, and even lets you send your paper directly to your teacher once you're done. The best part is that all these cool features are absolutely FREE! There's also an option of getting a printable summary report of your paper.
10. Slick Write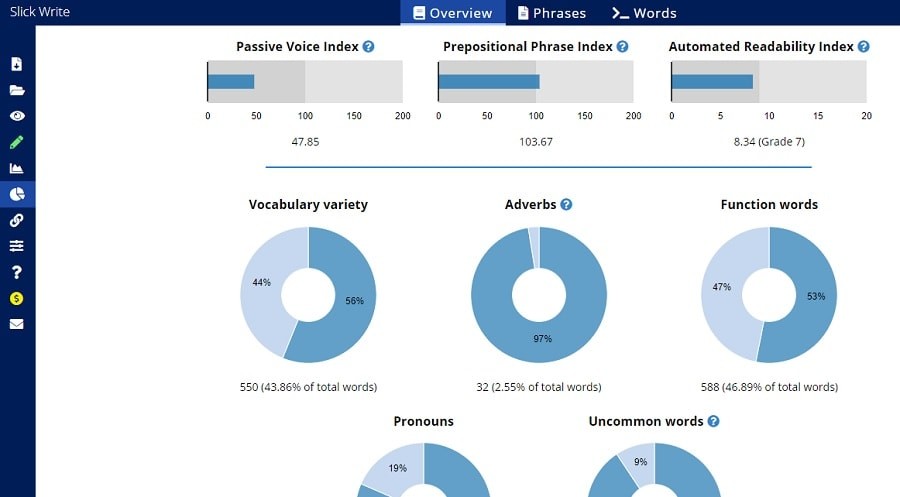 Writer's block? Looking to remove adverbs in your story? Want to know if your paper is filled with redundant words? Let Slick Write help you write better. With tools like Edit, Flow, and Statistics, you'll get a bird's eye view of how your writing truly is.
Check out a graphical breakdown of everything – from sentence flow, vocabulary variety, to sentence types, percentage of pronouns, as well as passive voice index.
Word suggestions are a great feature to help you express your ideas better by giving you several recommendations based on context. Also, add your own preferences to a customizable dashboard.
11. Merriam-Webster
Whether it's on your phone or on your desktop, this handy tool keeps you sharp thanks to its thesaurus, sample sentences, and even trending words. We're talking about Merriam-Webster – a must-have for every logophile.
It's not just a dictionary. Today, it's an essential app for Android and iOS users to stay on top of their word game. Play, learn, and keep your vocabulary fresh in just a few clicks.
What do you think? Whether it's a resume, research paper, or a fiction novel, you know you can always count on these grammar tools.