A home office can look different for everyone. To some, it's a chair and a desk near the window in their kitchen. For others, it's a separate room with a personal library. Regardless of how you want your home office to look like, it should a) help you be more productive at work; and b) give joy so you don't burn out even during overtime.
Recent events have changed the way we work. So don't be surprised if you find yourself wishing you had your own work-from-home set-up. Need ideas to spruce up your workspace? Here are several cool home office design ideas for every taste and budget.
Home Office Design Ideas
Home Office Ideas for Him
1. Extra Space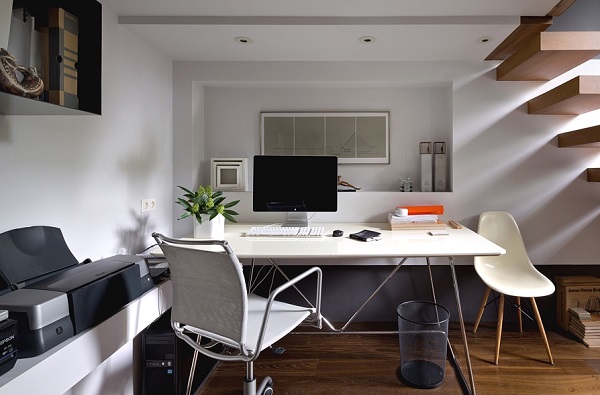 Got extra space under the stairs or in the basement? Transform it into your next small home office.
2. Mr. Grey
Whether you're going for 50 shades – or just three – you can't go wrong with this subtle hue that speaks volumes despite being understated.
3. Light Wood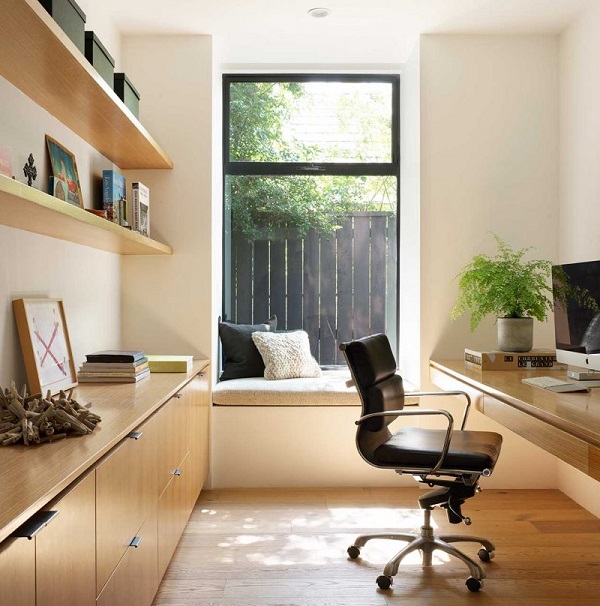 Light tones and plenty of natural light give this room a relaxing ambiance. This look can be copied for small spaces, which works well for apartment dwellers.
4. Old-Fashioned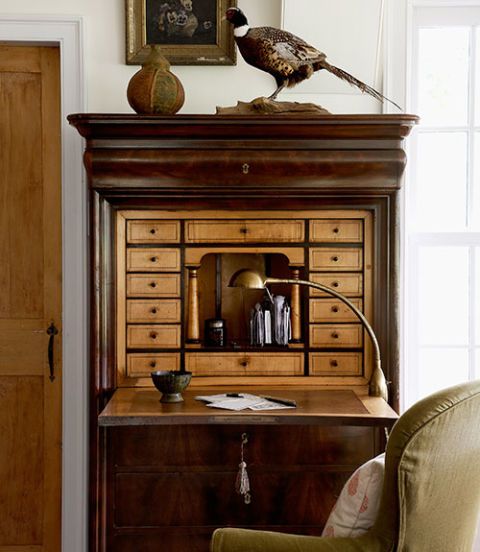 Were you given an heirloom desk? Or perhaps you have some furniture from your parents or grandparents? Put them to good use and retain good family memories right inside your home office.
5. Surround Sound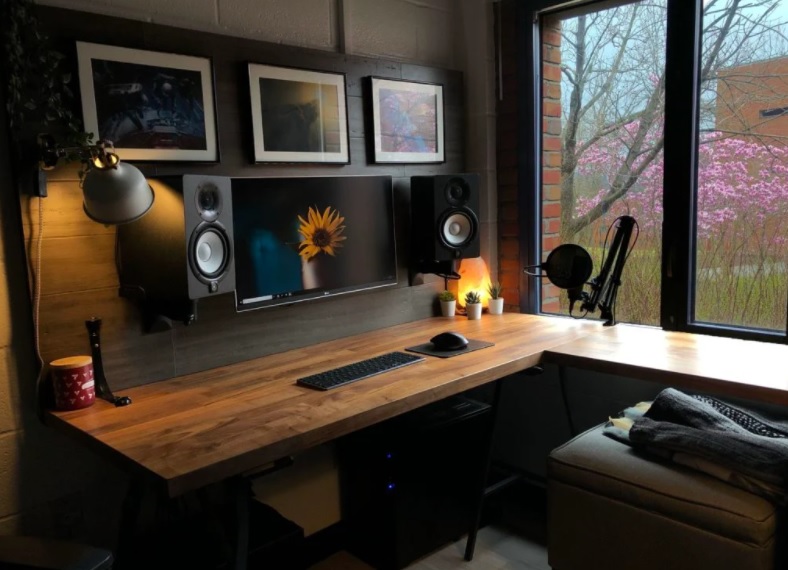 This set-up is great for those who create their own podcasts or streams; while the nearby window offers a bit of fresh air and some nice views.
6. Off-White
Can't make up your mind about which colors to pick for your new small home office? Neutrals are a good, clean, and calming choice.
7. Nature In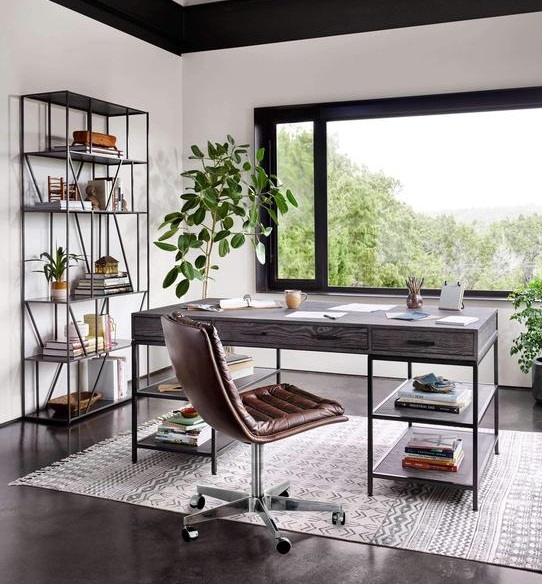 Bring the outside in with a few potted plants. Add organic elements as well through your choice of desk, shelves, rugs, and accent pieces.
8. Don't Be Blue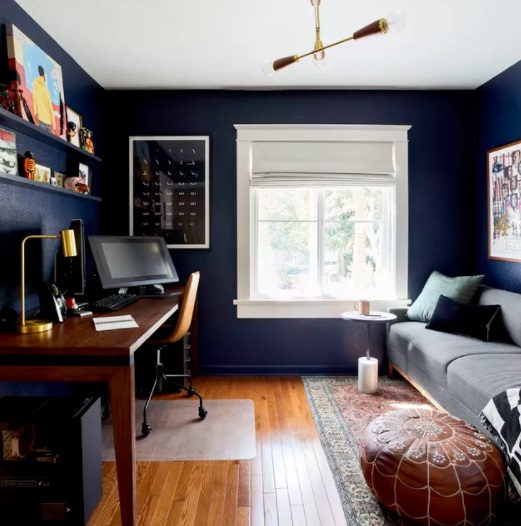 A bold hue on the walls not only changes the entire mood of the room, it can also cheer you up as you stare at your favourite color!
9. Masculine Minimalist
Sometimes, it pays just to keep it simple:  a desk, chair, office supplies – and that one important motivational poster.
10. Sunny Side Up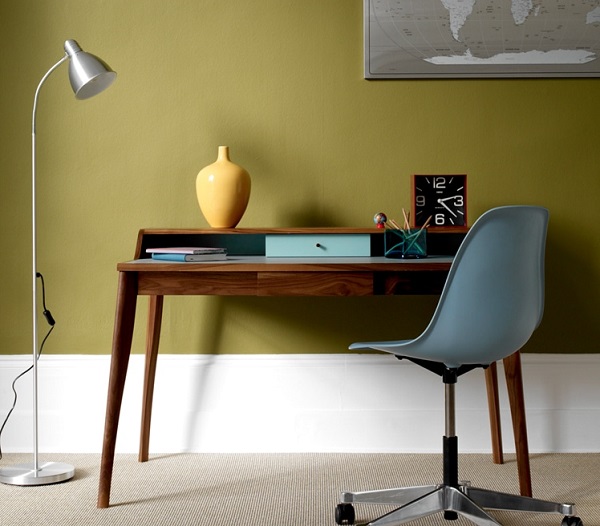 Space too small for your dream home office? Don't worry. All you need is a reliable desk, a good chair, your favourite lamp, and a bright and sunny color to perk you up when you need to pull an all-nighter.
11. Traveler
Show off your passion or interests right inside your office. Love to travel? Display a map with all the places you've visited. Love art? Put up your best pieces on the wall. Or better yet, take your easel inside the office!
12. Wheel It In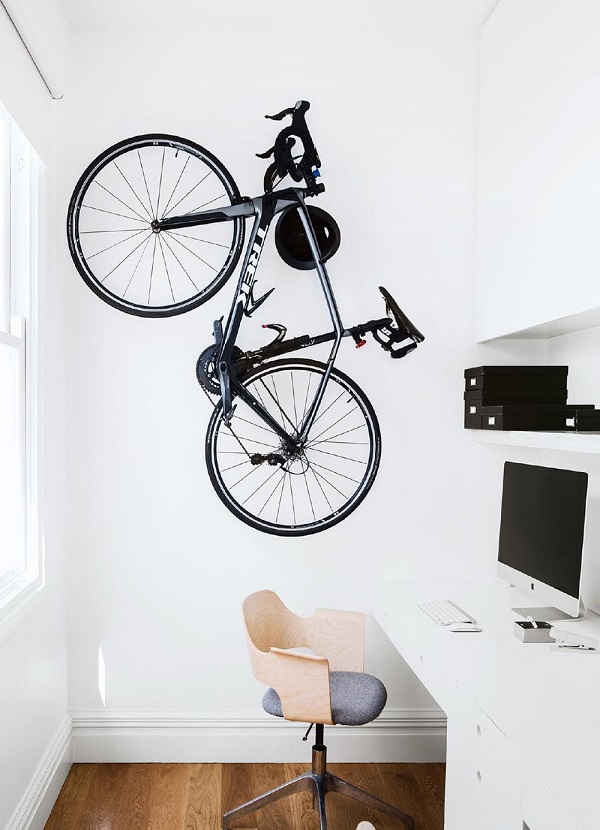 Make a statement with something big, bold, and eye-catching. Who needs paint when you've got an entire conversation piece?
13. Let Light In
Natural light can instantly cheer you up and brighten an otherwise dreary environment. If you have the means, open up your room with windows or skylights.
14. Earth and Stone
Combining wood with hard elements such as stone, granite, cement, or marble can soften the rigidness and make a space feel cozier.
15. Ode to Black
A wall-mounted desk is a great space-saver. To make sure you don't forget any appointments or Zoom meetings, you can go for chalkboard paint on your walls.
16. Rustic
You don't need expensive furniture or a huge budget to overhaul an entire room just so you can have your dream home office. A sturdy and rustic desk, a comfortable chair, and a few accents can be a nice retreat as you work from home.
17. Mix and Match
No time to draw up a home office layout? Just throw in your favourite things – Ma's antique lamp, Dad's books, your kids' drawings, your beloved pillow – and you're good to go!
18. Nice and Warm
For those with the budget, time, and extra space, why not re-do your office in time for the cold season? A fireplace will be just the thing to add warmth when working through the winter.
19. Primaries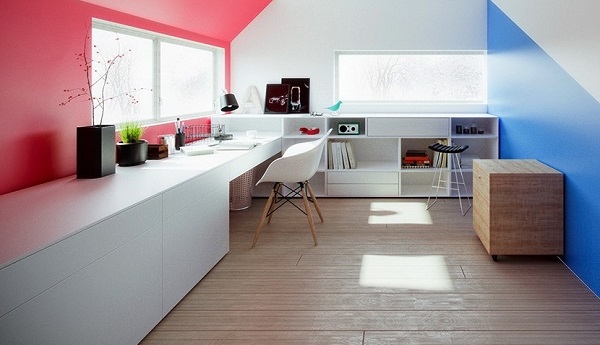 Going for a minimalist look? Start off with the primary colors against white, grey, or beige. Limit your décor or accents and pick furniture with sleek, modern lines.
20. Personal Corner
Turn unused nooks into your personal space with a bit of DIY and some imagination. Whether it's the kitchen, the bedroom, or the living room, anywhere can be a home office if you're creative enough.
Home Office Ideas for Her
1. Royals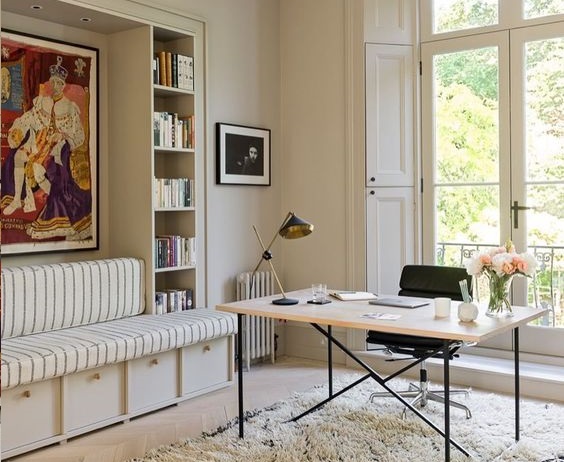 A plush rug, wide desk, floor-to-ceiling windows with balcony, plus a majestic portrait – who can ask for more? This is definitely a home office fit for a queen.
2. Island Getaway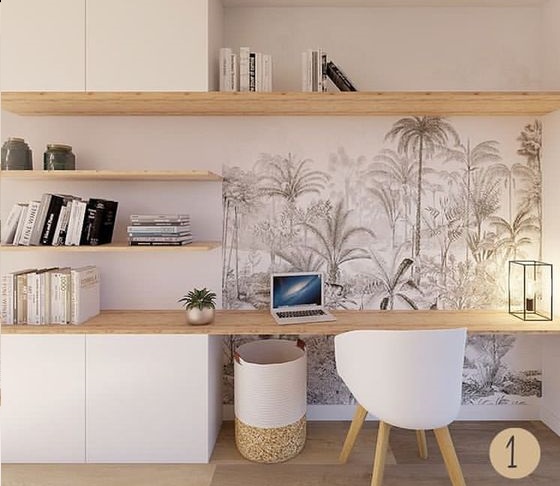 For those who dream of the beach during their lunch hour, this tropical-inspired corner is just the motivation you need to keep working through rainy days.
3. DIY Dreams
Can't find the right desk for your dream home office? Make it yourself! This project was created using two file cabinets and a huge butcher's block.
4. Kitchen Boss
For those who lack space elsewhere in their house, try to look inside your kitchen for a little space you can turn into a personal working environment.
5. Clean and Simple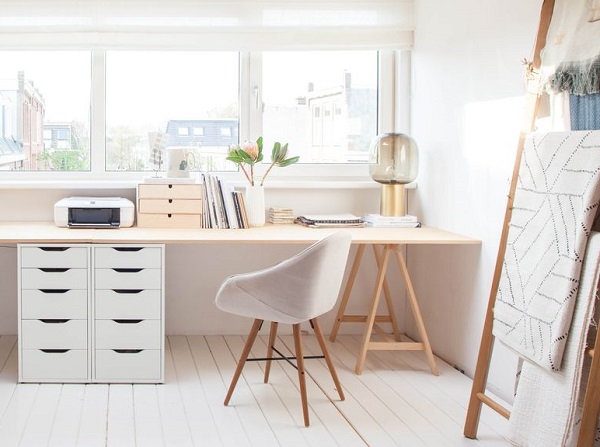 You can't go wrong with neutral colors like white, black, grey, and beige. They can complement almost any other hue, and they don't hurt the eyes either.
6. The Stairmaster
Wondering what to do with that spot underneath your staircase? Put it to good use by transforming it into your small home office.
7. Just Blue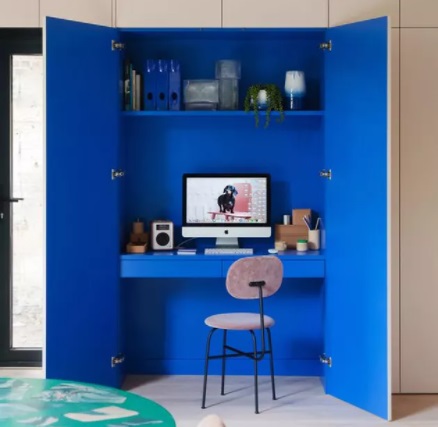 Blue is not just a pretty color; it's also a calming shade that can help reduce anxiety and ease tension.
8. Cozy Corner
Shelves, desk, a few drawers, and an accent chair make this nook a real work-from-home retreat.
9. Oriental Appeal
Your home office setup doesn't need to look like everyone else's. This room may seem bare – but the organic elements and rustic feel make it uniquely enchanting.
10. Writer's Desk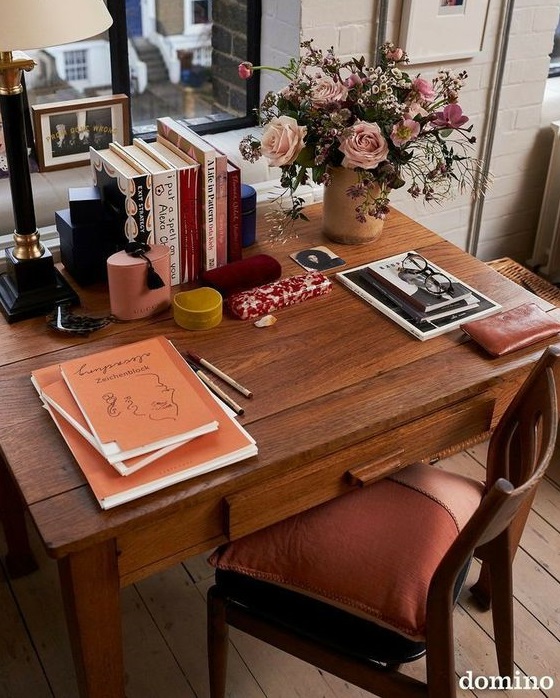 Whether you're working on your laptop or writing on your journal, a trusty desk is all you need to ensure the job gets done on time.
11. Tickled Peach
A dedicated home office should feel like your personal haven. However, make sure it's clutter-free for your peace of mind, too.
12. Black on White
Nothing beats a classic – just like this timeless combination of black-and-white hues. To personalize, try adding a pop of color using décor or indoor plants.
13. Practical Hideaway
Turn an unused pantry or walk-in closet into a simple yet cozy work from home office. Add shelves, a desk, chair, and lamp, for a space you can escape to for that important Zoom call.
14. Domestic Duties
If you have the time and money, you can create an office big enough for you and the hubby – complete with sliding doors and separate desks!
15. Say Yes to Wall Boards
Want to remain on top of your tasks? Never miss a meeting again by including wall boards to your home office set-up.
16. Tone Down
Bedrooms are always a great choice if you want a small work-from-home set-up. Bonus if you have a great view of the outside.
17. Closet Overhaul
Turn that walk-in closet into your ideal home office with a little creativity and some inexpensive DIY materials from your local hardware store.
18. Rustic Retreat
A wall-mounted desk not only saves space, it can add a chic feel to any space as well.
19. Modern Minimalist
A clear acrylic chair, also known as a ghost chair, can instantly enhance your home office with its timeless and clean appearance.
20. Bookworm
Don't be afraid to pile up those books inside your office. After all, where else would be a better place to read them?