Last Updated on October 13, 2023
Do you own a small business and plan to expand? If yes, a trade show can be a golden ticket for your small business to gain more customers in no time. It lets your business expand to new prospects and helps you stand against your competitors. This unique opportunity is perfect to meet your potential customers in person and convert them into life-long connections.
In this comprehensive guide, you will witness the top reasons why small businesses must opt for exhibiting at trade shows and slowly market themselves with the big players in the industry. Let's explore many more convincing reasons that will help you realize the value of participating in trade shows and exhibitions.
Top 7 Reasons Why Small Business Owners Must Participate In Trade Shows
With the increase in digital marketing, some may think that exhibiting at trade shows doesn't yield good results. But this is a great chance for many wonderful things. So, check out all the main reasons below:
Look For New Business Partners
When you open your small business to a new customer base, you get all types of customers. Mind you, some of them are not your regular customers, they are investors and business owners themselves. Yes, you heard me right! Believe it or not, many investors visit the top trade shows and exhibitions to witness all the upcoming brands and out-of-the-box small business ideas. So, this provides you with a chance to woo them with your remarkable product or service and get yourself a business partner. 
Constructive Feedback That Matters
Trade expos offer the best chance to meet eye-to-eye with your customers. Well, to be honest, you will never be able to satisfy everyone. So, take it as a learning opportunity to hear first-hand customer feedback for your products or services. This direct feedback comes from your target customer base so you should keep your calm and respect all types of real-time feedback. Remember all you need to do is prepare yourself through some extensive market research so that you don't face any types of business challenges later. This will allow you to make necessary changes in your business strategy and thrive in all types of environments.  
Network for good business links
Trade shows are a stepping stone to great success for small businesses. They are considered the best destination to make genuine contacts in their niche. Every small business must hop onto this chance to meet fellow business owners who have already built their name in the industry. You can easily communicate with them and gain valuable insights on different aspects. Their perspective may bring a good attitude change and help you focus on building a strong rapport easily. Thus, you should always go there with an open mind that thinks about growth and acquiring new clients and partnerships.
Increase Brand Awareness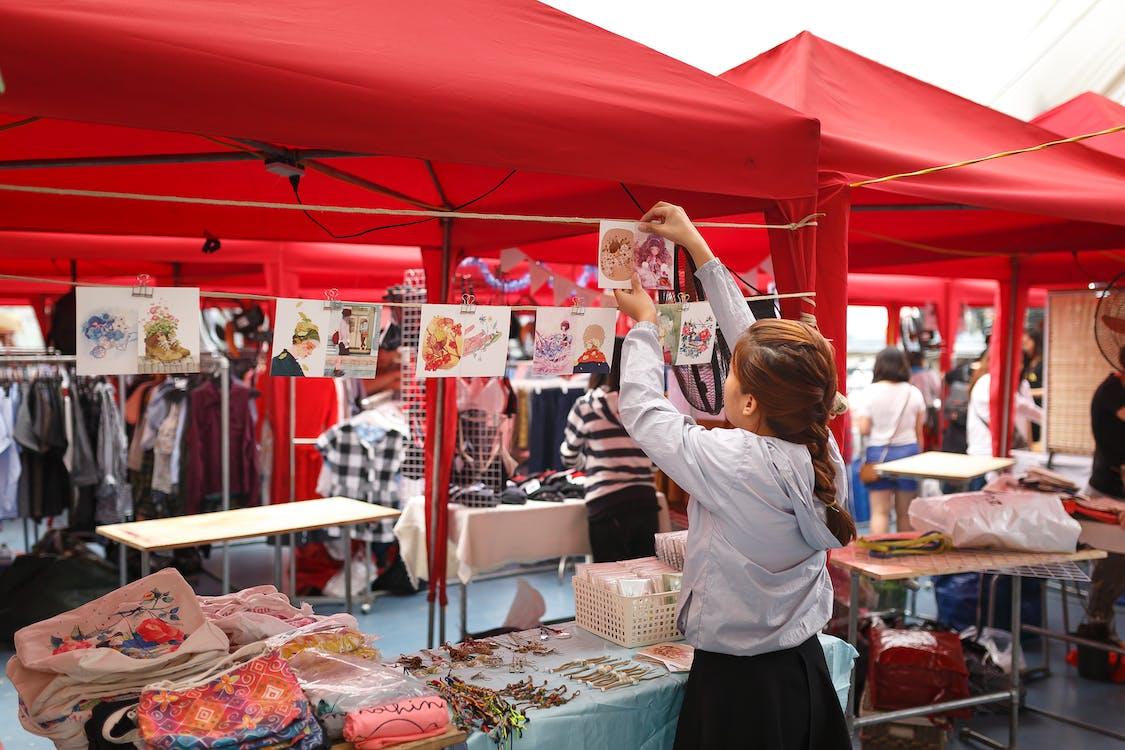 When you opt to showcase your products or services at exhibition displays, you are leveling up and expanding your brand awareness to new heights. This will not only enable your brand to gain name and fame in the market but also strengthen your business ties. You can make a mark in your industry and meet like-minded people from the same industry. But yes, for all this to happen, you must earn a solid position in the market and stand out from all the other exhibitors. This will help you earn a recognizable business position as well.
Close Lucrative Deals Rapidly
When you meet potential customers, you will surely get many leads interested in buying in bulk from you. This offers you a great chance to make lucrative deals easily. It is because most people visit trade shows with the intent to buy. So, it is upon you how you convert these warm leads into happy customers and make decent profits. This is so much better than working countless hours of campaign organizing and getting limited leads that may or may not convert into customers. So, don't underestimate the power of lead generation at trade shows.
Competitor Analysis
You may think that exhibiting alongside established companies in the corporate world can be a challenging task. However, think of it as an opportunity to sneak peek into your competitors to analyze their products and services. You can understand how you need to pivot your business strategies and match customer expectations, just like competitors. You can get the vibe of the audience for the new products launched by your rivals and analyze whether you want to walk the same path or avoid it.
Besides all this, these exhibitions are host to several presentations and lectures from industry experts. You can gain new insights about the whole industry by attending them and using them to grow your small business.
Better Customer Interaction
In the corporate world, it is essential to develop customer relationships to grow and expand your business. So, another prime advantage of exhibiting is that you can meet the clients in person. You can enjoy better face-to-face interactions with the clients which gives you the opportunity to gain their trust and expand the reach of your business. Moreover, you can create a buzz for your new product or services at these trade shows with interested people.
Some Last Words
By now, you must have understood how small businesses can use trade shows as a game-changing opportunity to expand their business to new audiences and step into real-world competition. So, what are you waiting for? If there are any types of exhibitions or trade shows taking place near your area, it is time to register yourself there and complete all the formalities to get an exhibition booth there.