Last Updated on April 1, 2023
Do you have a preferred place to study? Is your room ideal for a productive study? The best studying environment should give you some sense of comfort and peace to concentrate. On killer papers, you can get a paper on how to get better at the management of your study space. We will examine a few types of places to study and the pros and cons of creating spaces.
Library
Almost every college has a fully equipped library with strict rules geared towards a peaceful and enabling study environment. It is the ideal location to find all the material you need and study in peace. A library is a perfect place because it is spacious, and you can have a preferred sitting spot convenient to you.
Luckily, libraries are designed for different study aspects. There are areas near books where you conduct your research. Other areas are cozy for relaxation reading. You will even find space for discussions. Around the library could be a green space where you can do your outdoor reading.
Because of these variations, you will realize that not every space is comfortable or appropriate. The secret is to choose the right space for the task at hand. If you want to study long hours of silence and concentration, take your place at the corner away from traffic. If you are discussing with your peers, the space near the entrance or around the library building will suffice. When you need a lot of reference materials, sit near the bookshelves. It makes it easier to shuffle from your table to the shelves. The choice of space in the library makes all the difference.
Academic Building
The academic building is ideal study areas that offer a safe and suitable environment for study. Others provide dedicated study areas with all the resources and help you may need, such as study lounges and having tutors and professors at your disposal. While preparing for an exam, you could use one of the rooms for study to boost your confidence.
The presence of other students may be a distraction but will also be an advantage. The students could be discussing in high tones that distract your attention. To still concentrate on your work, invest in noise-canceling headphones. You may also take your space at a corner and indicate that you should not be disturbed.
It is an advantage to study at academic buildings because professors and fellow students are around. In case you have a question, they will answer, helping you to study faster or find accurate answers. The chances of finding help when studying at academic buildings are higher.
Miscellaneous places
If you don't wish to study in the library or the dorm, you might consider the student center, cafeteria, or under a tree. It might not be the ideal place since there are several distractions. But if you are comfortable with it, then you can make the best out of it.
Such places create an easy environment for study. It takes you away from the familiar class or hostel. You can read a novel or essay without feeling the pressure of a school environment. The content studied at such places is memorable. It is also one of the ways to relax the mind when you have had a tough session or week. If you still want to study over the weekend yet the body wants to relax, take your book to such places.
How do you still study amidst the noise and commotion? Use noise-canceling headphones. You may also choose activities like discussions that do not require intense concentration. Carry lighter gadgets such as a phone or tablet with all your materials. You will not attract the attention of people around yet you will still study.
Off-Campus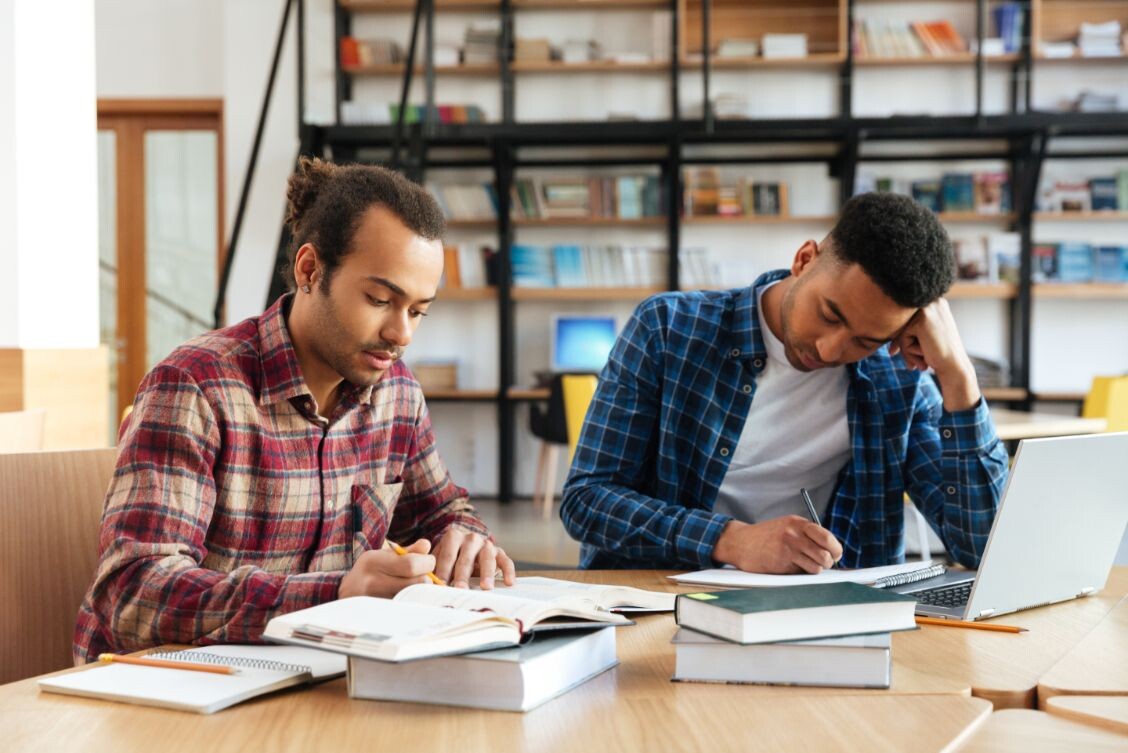 There are several establishments outside the campus that you could use for study, such as a coffee shop in your locality. It is one of the preferred places for people who do reading or completing their assignments. You might also consider a public library if you want more resources, and the campus library is not within reach.
Making your study area suitable
It is not enough that you have a place to study. You must also ensure that you set it up for maximum concentration. A good study space must conform to the following guidelines.
Like any other activity that requires your attention, you will need to get rid of all the things that divert your concentration. Things such as your phone, food, other people, many open tabs, and video games are some of the things you need to stay away from.
Have everything you need within reach
To minimize breaking concentration in looking for an item or two, ensure that you have all you need around you. Identify the books you need for reference. Know the databases or libraries from where you will get your reference materials. By the time you sit to study or draft your paper, there will be no need to rise from the desk.
Make sure you have proper lighting.
It is essential that you are at ease while reading and that your eyes are not straining. Make use of the natural light as much as possible. Sit next to the window if you can. If not the sun, try out different light bulbs and see which one works best.
Set the ideal temperature
The temperature plays a significant role in how comfortable you will be
as you study. Find a room that is well ventilated with cool air flowing in and out. If you have no control of the weather, you might consider a room with an AC or fan to regulate the temperature as desired.
Conclusion
Your study session's success will depend on how well you prepare for is and the choice of location. Different people have differing conditions under which they can attain maximum concentration as they study. Use the above guide to help you create your study space.