Instagram never ceases to amaze us with the possibilities that the platform provides and that anyone can now take advantage of. Today, the main reason many users go to Instagram is to view Stories.
Yes, they have become more popular and mainstreaming than the newsfeed! Well, there's a reason for that: it's easy to access, easy to percept the info in such a way, and easy to browse, and it's also the place where you may know the breaking news immediately.
But there is a catch: Stories are only visible for 24 hours, after which they disappear (or are archived in Insta). Maybe it is another reason for Stories' popularity as many users strive not to miss the Stories of their favorite influencers.
If saving your own Stories is not a problem, this is not the case with other people's stories. After all, no one has forgotten copyright, and Instagram is concerned about preventing other users from quickly downloading their content and using it for the saver's commercial purposes. But if it's for your purposes: motivation, inspiration, or merely useful information that you don't want to lose, then why not keep the Story? Here I'll show handy Instagram Story download online tools and secure apps (if you are more willing to use an app on iPhone or Android than an online service) and answer the question "how to save Instagram Story videos easily?"
But, before that…
Why download Stories?
Keep useful info on a trusted device
It doesn't matter whose story you're reviewing: your competitor's or your favorite blogger's. It's best to store the useful info they shared in a safe place (phone gallery, computer folder, etc.). Thus, you may avoid Instagram access and go directly to the device memory to view the content you need.
Have around-the-clock access
It's more convenient to go to the phone gallery than switch the Internet connection and go to IG to browse the Story again. Moreover, it will still be available after 24 hours!
Well, today, there are more ways to get Stories than an app installation. Although among apps, there are trusted and handy ones. In the article, I'll demonstrate how to get Stories effortlessly and quickly on any device.
You can even download your friends' Stories, and they won't know about it. So there's no need to worry. You can also view Stories anonymously today (stalking competitors and ex-girlfriend/boyfriend is still relevant).
Instagram was created to browse and share content with different people openly. So there is nothing illegal about downloading. Just remember that there is a copyright, so stealing and presenting other people's content as your own in the future and using it for commercial purposes is not allowed.
Online services for Stories downloading to all devices
The cool thing about these services is that they are easy to use (many are only for downloading Stories, and some are for other Instagram content saving). They do not require you to install them on the device and even register. So, it's entirely secure as you don't leave any data.
Story Downloader
Copy the username on Insta to receive his or her Story.

Open the instrument, insert the username into the entry field, and click on "Get Stories".

Pick out desired Stories in case there are several to save them.

To enjoy the stored Stories, switch to a device "Downloads".
Toolzu saver
Copy the nickname on Insta to keep his or her Story.

Visit the tool's online page, insert the nickname into the entry field, hit "Download".

Select the desired Story and press "Download" again to enjoy it later from the device "Downloads".
Story Saver
Again, visit Insta to copy a person's nickname to browse his or her Stories later from your device.

Insert the username into Saver's entry field.

Hit "Download" and mark desired Stories.

Click on "Save as".

Go to "Downloads" to come across the saved Story.
Insta Stories downloading apps
Android: Story Saver
Visit Play Store to receive the tool on your Android without charges. The app is user-friendly with a simple layout and interface.
After the installation is completed, log in to the IG profile via the tool.

Find a user to browse and receive his or her Stories unnoticeably.

Use a search bar to ease the process.

To save a Story, just hit the desired account to active the Story and then "Save".

Open the "Story Saver" folder on the phone to enjoy the Story at any time.
iPhone: Reposter for Instagram
The instrument is free of charge but with a Pro version for $3.99. While using the app, there is no need to log in to the Insta acc but allow access to the gallery to browse Stories there. Be aware that there are ads that can be irritating at times.
Install the instrument.

Visit IG to copy the desired username.

Return the tool and insert it to browse or save his or her Stories unnoticeably.

After you selected the Story click on "Share" then "Save image/Save video".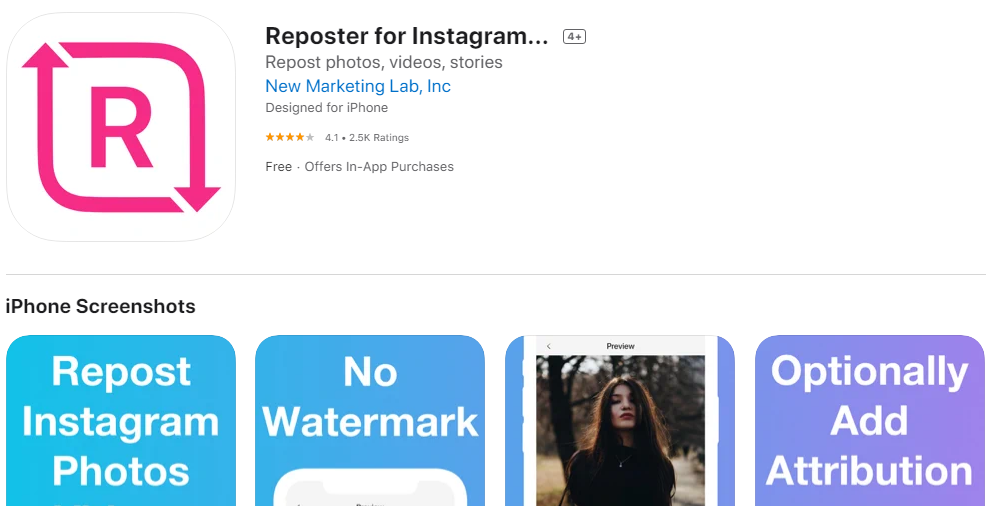 Final thoughts
You are free to choose any way you desire more and enjoy the Stories content anywhere and anytime. But if you downloaded the Story to put it in your profile or Story later, don't forget to ask the real author for permission and tag the profile in the captions or Story. I hope now you are aware of how to save Instagram Story videos/photos in simple steps using handy tools. Good luck!