Last Updated on February 23, 2021
The perfect greenery for your home may mean mixing real and artificial plants in your garden, and strategically inside. Often artificial plants are overlooked when planning either an outdoor or indoor space because they used to look just that – artificial, and were not an attractive addition to any space.
However, times have changed and the huge range of artificial plants that are now available on the market make designing an artificial garden, something that every homeowner can consider.
Artificial plants look so real that even the most discerning eye will struggle to tell the difference and naturally assume that they are real.
Building an artificial vertical garden is also a great way to complement living plants, especially if you have an old or drab wall to cover up.
Benefits of Real and Artificial Plants In Your Garden
Combining real and artificial plants in your garden, home or office offers you some real benefits, let's have a look at some of them:
Unusual plants: utilizing artificial plants means that you can have any type of plant in your space, it doesn't have to be indigenous to your area or able to grow in the climate. Just choose the plants you enjoy and add them to the perfect spot.
Themed garden: create a tropical garden in the midst of Melbourne's cooler climate, be surrounded by pine trees in Queensland's hotter climate. One of the many artificial plant benefits is your imagination is not limited, and you can create the garden you desire.
Save time: one of the crucial advantages of artificial plants is their low maintenance. They are ideal for any household, but especially handy for people who want a great looking garden but don't have the time to maintain it. Real plants need watering, plant nutrition, pruning, and care whereas artificial plants look fantastic all the time and just need the occasional wipe to remove dust.
Maximize all space: there may be an area in your garden that you would like to brighten with greenery but there is not enough light there, or the soil is not great so a real plant cannot be used. Add an artificial plant to any area, there are no restrictions, they enhance even the dullest or ugly spots in your garden.
How do you arrange fake plants with real plants?
There are no set rules when you choose to add fake plants to your garden and incorporate them with your existing greenery. Make a plan before you begin if that helps and map out what you think will work best.
Every garden is different, but here are some suggestions to help you get started for a plants arrangement that works for your space:
Hanging around: do you need some hanging plants without the hassle of dropped leaves, dripping water, and ongoing pruning? Artificial hanging plants are a special addition to barbecue areas, welcoming greenery to front porches, and will brighten up even the dingiest corner.
Flowering borders: artificial flowering plants are ideal for borders that always look fantastic. With flowers 12 months of the year, you always have color to give your garden a lift.
Block a view: artificial trees create an instant green view or block an unsightly one. No need to wait years for trees to grow, you have immediate results with artificial ficus or palm trees, or even bamboo.
Instantaneous fence: do you have an unsightly fence in your backyard? Consider covering it with artificial fence walls instead of the costly alternative of replacing it. Hedge walls act as beautiful artificial plants decoration for your space and look amazing.
The green walls will change the whole ambiance of your garden. They are also ideal to screen off rubbish bins or hot water services that you don't want to look at while enjoying the outdoors.
Combining the artificial with the real is easy, the artificial plants simply blend in and visitors will never know the difference.
Buy High-Quality Faux Plants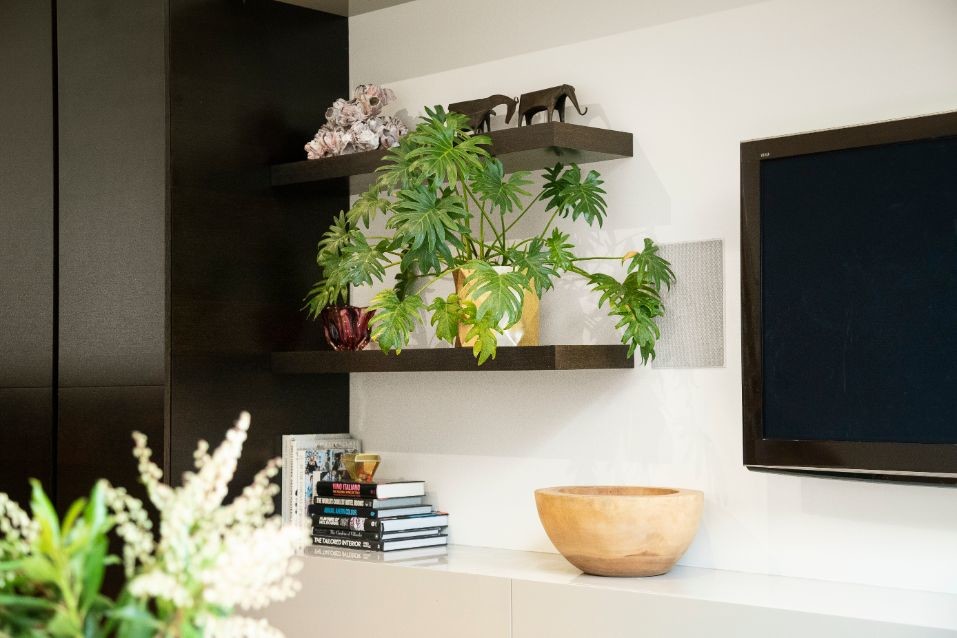 The next question is what type of faux plants do you want to buy? As we mentioned earlier, artificial plants can look tacky and obvious. These are the plants you want to avoid along with artificial plants that will deteriorate quickly, especially under the heat of the hot Australian sun.
Look for good quality faux plants that are UV resistant, that won't fade or crack over time to look drab and lifeless.
Another thing you must consider, especially if you have young children and pets, and care about the chemicals that you introduce into your home environment. Cheap, low-quality faux plants may be constructed using toxic chemicals. The best quality faux plants will be family-friendly with assurances they don't contain these chemicals:
No Lead
No Mercury
No Boric Acid
No Heavy Metals in plastic
No Cadmium
No Hexavalent Chromium
No Polybrominated Biphenyls
No Polybrominated diphenyether
Maintain Artificial Plants Like The Real Ones
Artificial plants are even easier than real plants to maintain. We all know what it's like coming home on hot days in summer and spending hours outside watering plants in the garden as the sun fades knowing that if we don't, the blistering heat the next day may push them beyond life if they don't get a decent drink overnight. This is summer in Australia.
When you purchase heat and UV resistant artificial plants you can arrive home from work and simply relax. Faux plants don't need watering, pruning, or fertilizing to look their best, just an occasional wipe with a damp cloth to remove dust and reinstate their glorious beauty.
No other artificial plant maintenance is required. These life-like plants fit in well with busy lives. When they are combined in areas with real plants, your overall maintenance time is halved as only the real plants need attention 99% of the time.
Final Thoughts
If you haven't considered artificial plants before now may be a good time to look around at the beautiful and practical options available to you, especially if you need a change in your garden and don't know where to start.
Faux plants are no longer ugly and plastic-looking, they have evolved with new technology and appear just like the real thing. Artificial plants give you immediate results, can be incorporated into areas with existing real plants, and look fantastic all year round with very little maintenance.