Last Updated on May 17, 2021
Getting out on the water is a lot of fun for people. Whether it's boating, riding on a Jet Ski or, it's fun to be outside on an exhilarating ride. But all of these people have to look out for each other, Your first time on a Jet Ski might be intimidating.
Suddenly you may realize that there are far more hazards out there and that you need to be looking out for. But Jet Ski's also don't feel the same underneath your body the way you do when you are on land, so you will have to adjust how you balance yourself on the machine in order to stay safe.
To help you have a better understanding of what to expect on your Jet Ski if you are a first-timer, or to make your next outdoor adventure safer if you have one experience, here are some tips to help you stay safe.
Safety Checklist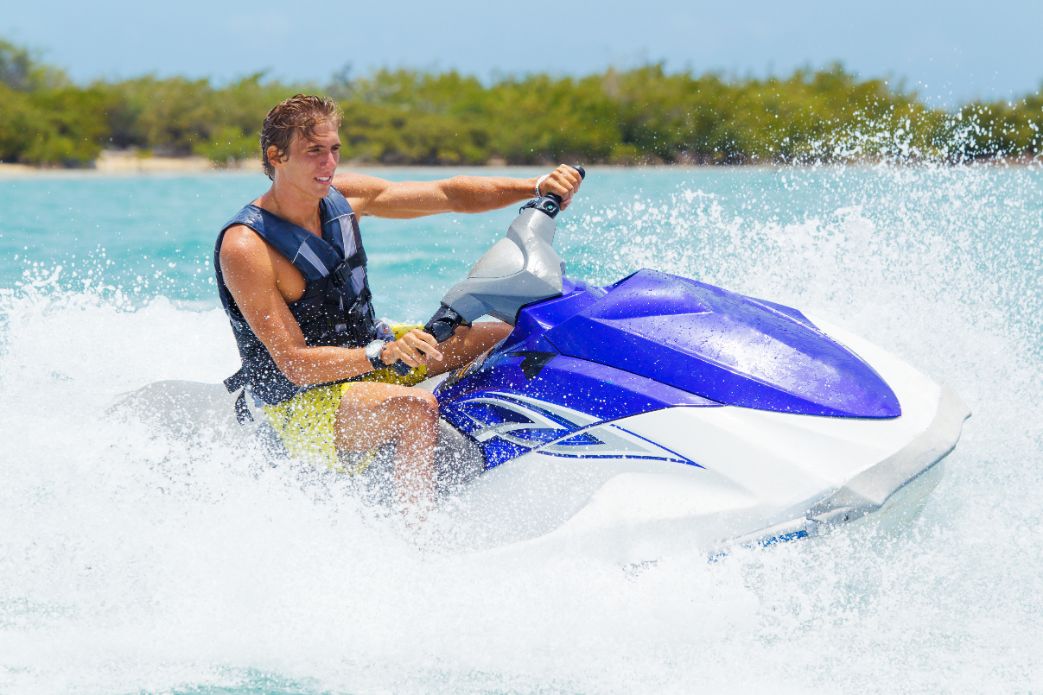 The first step towards having a safer ride is to choose appropriate clothing for being out on the water. If you fall in the water with this clothing will you be able to swim in it? Ideally, you will wear a life jacket to keep you safe in case you fall in the water.
Any type of clothing that is suitable for water sports or the beach can be worn while jet skiing including:
Wetsuits
Board shorts
Rash vests
Goggles
Water socks or aqua shoes
Bathing suit
A tight-fitting hat that will not fly off if you get knocked off your Jet Ski
You may also be given a kill switch or kill cord. This is a vital life-saving device. These are intended to shut off the engine if needed. The key would be attached or tied around your wrist.
Driving Your Jet Ski
To drive your Jet Ski it's best to sit slightly forward and to relax. Start at a slow speed until you are comfortable with the controls, and then slowly go a little faster. Remember not to go full throttle until you were away from the shore and other watercraft.
Not All Water Crafts Are The Same
Being on a Jet Ski is not the same as being on a boat, yacht, or even a canoe. It's small like a canoe or kayak, but it can go a lot faster. In fact, it's a lot quicker than a boat and far more nimble, which is why they are so appealing to people. All of that speeding around looks like a lot of fun, but maneuvering a Jet Ski around boaters and buoys is very different than on a boat.
However, unlike a boat where the captain is steering from my vantage point above the water, a person operating a Jet Ski is pretty much right on the water which can make it a lot harder for them to notice swimmers or dive flags.
When You've Been Injured
After a personal watercraft accident, you may be wondering how you will be able to pay for your medical bills, miss time from work, and how to pay for the property damage if you are the owner of the Jet Ski.
A Jet Ski accident lawyer can help you get the compensation that you deserve after a personal watercraft accident on Jet Skis, Wave Runners, and Sea Doos.