Last Updated on April 1, 2023
Of all the jackets that you may have in your closet right now, we bet there is not a single one that brings in the versatile appeal and rugged durability of a trucker jacket.
A Brief History
For a country, there are very few items that can claim their history going hand in hand and for America, it's Denim Jacket or Trucker Jacket. 
The trucker jacket, we recognize today has a history from the early 1870s. Before that, many work clothes were simple and normal. The work jackets were wide from the shoulders and chests and were in very simple designs. 
In those times, the better-designed clothes for specific requirements were only made in the military and other common workers were only basic clothing and dress coats were the only option for them to wear on work.
Between the 1850s and 1890s, there was high demand for workwear because of farm settlements and the gold rush outside of western borders. This scenario made the new companies produce affordable workwear in bulk that was designed to be more comfortable as well as last longer in harsh work and weather conditions. It was crafted originally for miners, cowboys, and railroad workers in the later 1880s. This jacket has evolved and adapted to new forms and needs just like this country.
The most famous version of the trucker jacket was produced in 1962 and it was titled the jacket "to rule them all". Due to its distinctive shape and design, it was the third generation of jeans jacket.
This classic clothing item was worn by surfers and cowboys but now it can be found in Hollywood and the wardrobes of famous and rich folks as well. This trucker jacket is known for defying convention, representing the anti-establishment cool, and exemplifying individuality.
This is a symbol of American culture and became an iconic clothing item in 21st-century dressing. 
At The Leather City, we are committed to capturing the essence of this cool jacket and keeping the tradition alive with the amazing and modern design with a touch of coolness that only leather can bring.
Many brands and cultures around the world started embracing this but one label that started it all is Levi's. 
The Leather City also brought some of the best men's trucker jackets in multiple designs and a wide range of colors. There are different types of these jackets including Type 1, Type 2, and Type 3.
Type 1

came up in 1905 and it had a yolk across the chest area, single front pocket, shirt style collar, and buckle back for fitting adjustment. 

Type 2

is a short-lived model that was introduced in 1953 and remained till 1962. In this model, one more pocket was added and the buckle back was removed.

Type 3

is the jacket that has been used for a long time now and there have been many updating to it since it was first introduced. It gives more like a rebel or cowboy look.
A Trucker Jacket comes in multiple materials including Denim, Leather, Suede Leather, corduroy, Waxed Canvas, cotton, and Wool. Most common types in regards to the style are hooded, Plaid, and Vintage. We have trucker and leather jackets in different colors like brown, blue, tan, and black. Some jackets have sherpa and some have polyester linings.
How to Style a Trucker Jacket?
If you are wondering if these jackets are in style, then absolutely yes. There are many ways to style yourself with a trucker or leather jacket.
Jackson Brown Trucker Jacket with Checkered Shirt and Black Jeans
For getting yourself a confident look, pair up your cool Jackson Brown Trucker Jacket with a checkered shirt and black jeans. Complete the look with stylish boots.
Dark Brown Leather Trucker Jacket with Grey Shirt and Blue Jeans
Put on this the Dark Brown Lear Trucker Jacket if you are traveling and want to be comfortable and elegant. Get a grey casual shirt and blue jeans. Complete the look with your favorite belt and shoes.
Heritage Denim Trucker Jacket with a White t-Shirt and Blue Jeans
When you preparing for a get-together or a casual gathering at your house, getting yourself in this traditional Heritage Denim Trucker Jacket would be the best choice with a white t-shirt and blue jeans. 
Nate Black Jacket with an Off-White Shirt and Blue Jeans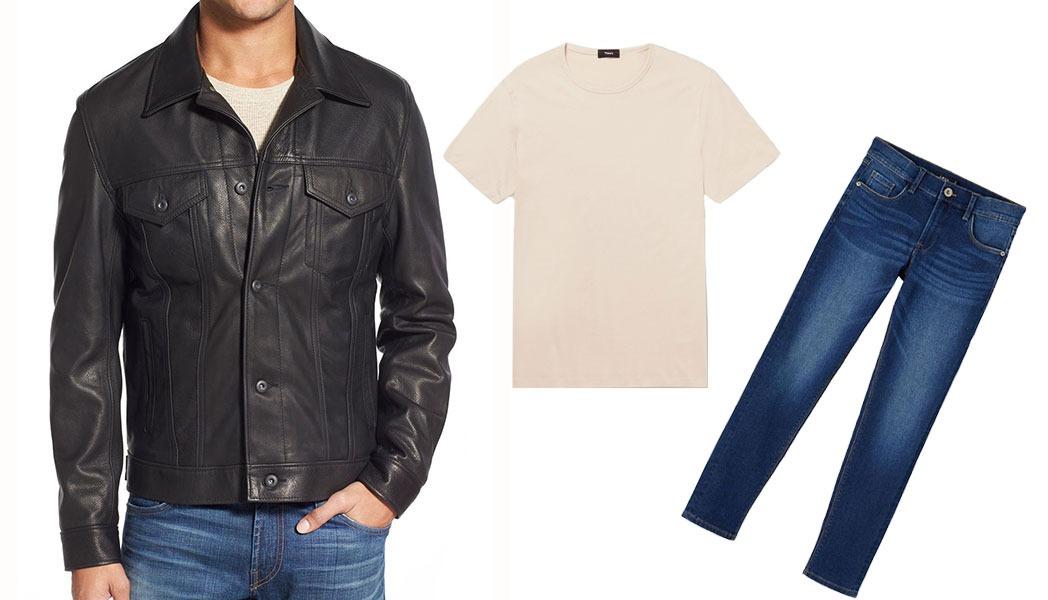 Complement yourself with this decent-looking Nate Black Jacket and complete the look with blue jeans of your choice and an off-white shirt.
Brown Corduroy Trucker Jacket with Black t-shirt and Jeans
For keeping yourself cozy in winters, get this perfect-looking Brown Corduroy Trucker Jacket and style it with fully black clothing; a t-shirt, and jeans!
Donovon Sherpa Trucker Jacket with White High-Neck Sweater and Sweater Pants
This Donovon Sherpa Trucker Jacket can be a staple in your recent wardrobe with its amazing stitching design and material. You can complement this with a white hi-neck sweater and white sweater pants.