Last Updated on May 24, 2021
So, you just got engaged? Congratulations. That's a very big step in life. Perhaps you want to show off your beautiful ring from jewelry stores in Baltimore to the entire world. But this doesn't mean that you post any photos. Make sure that you take a breathtaking photo. Let the world see the best of you. Follow these tips to make your photoshoot amazing.
Mani Up
Get a salon manicure. Let a professional shape your nails and apply your favorite polish. But for this photo, don't focus people's attention on your nail art. Instead, show off your engagement ring. You want your friends and family to see how happy you're to get married, right? Then, do it in style.
Before putting on your ring, be sure to apply a moisturizer to your skin. This will make your skin glow. Applying a foundation primer on your hands will smooth out their appearance. Plus, it will enhance your overall appearance.
Light It Up
Shoot it in an open place. Remember, natural light is your jewelry's best friend. You'll definitely look your best in sunlight. So, go outside and enjoy a classic photoshoot. It's your day and you want to get the most out of it, right?
Find the Right Angle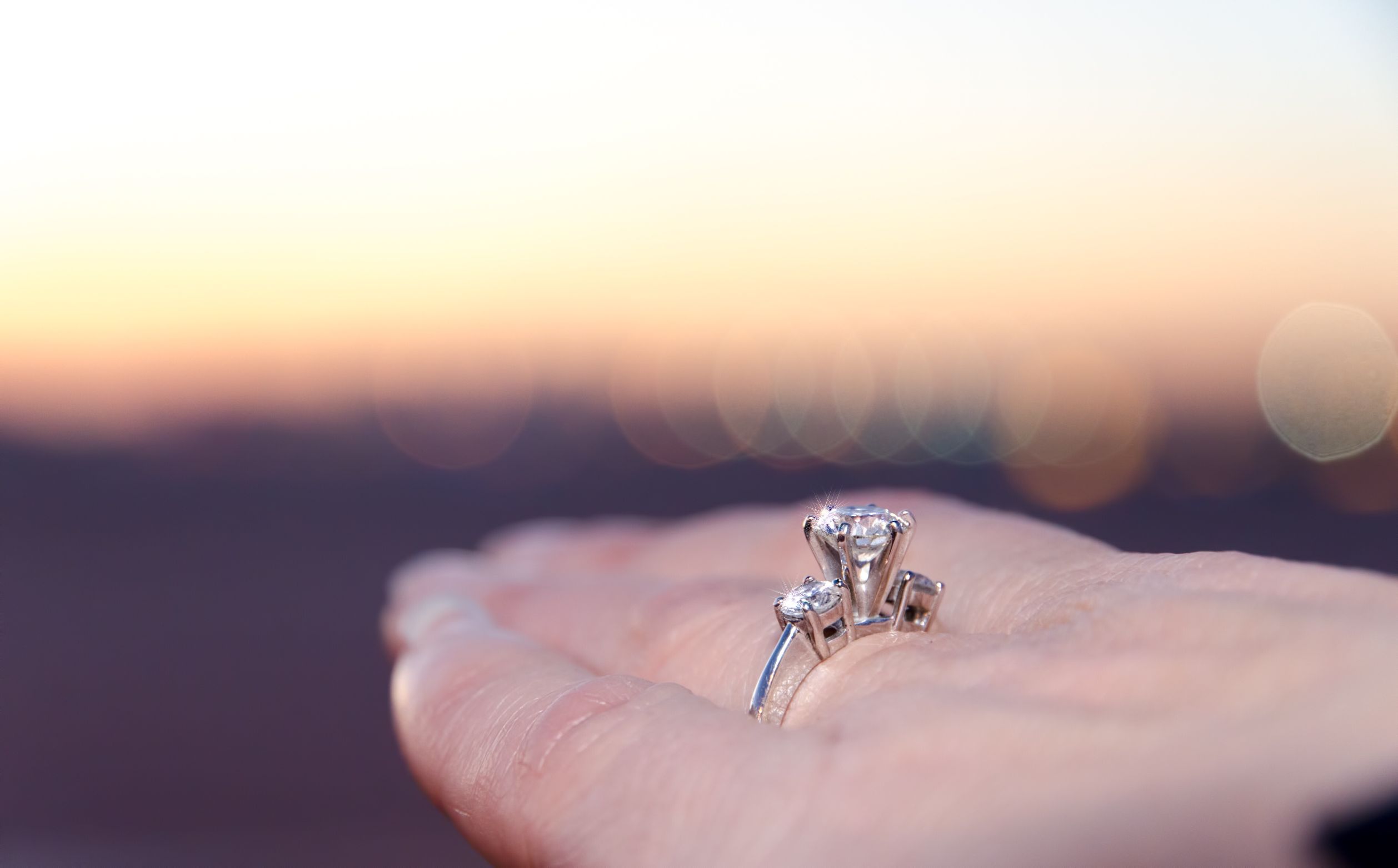 Different angles will attract different amounts of light. Thus, be sure to play around with different angles and take several shots. Repeat this until you find the best photo of your diamond ring. Don't get tired and don't get satisfied with the first outcome. Keep trying until you get the perfect shot.
Relax Your Hand
Relax your fingers. Don't hyperextend them. Knuckles can look weird when your fingers aren't well spread out.
You want to draw people's attention to your ring, right? Well, the right background can elevate the whole picture. In fact, it might look better if you're holding something- a spray of flowers, a bottle of champagne, a bouquet of flowers, or your to-go cappuccino written: "we're engaged". All these can go a long way in making your photo beautiful. You can pose while holding these items and your hand in the foreground. For chicer, you can even ask your spouse to appear in the background.
Avoid the Flash Light
Since you're shooting in natural light, you don't need a flash. However, if it's nighttime and you're shooting indoors, consider getting adequate artificial light on your screen. The flashlight can be too harsh.
Apply Filters
If you feel that the photo needs some editing, go ahead and fix up the imperfections. Edit and apply filters using an app like Instagram. Keep trying out different filters until you find the best shot.
Stick to One Photo
Don't post so many photos- just post one of them. This will create more impact. Plus, you won't overwhelm your target audience. Posting too many photos can infuriate your target audience. It can make them feel like you're trying to show off your achievements in a negative way.
How to Purchase the Best Jewelry For Yourself
As a woman, you need to be independent. You don't have to wait for someone to buy jewelry for you. Don't just sit there waiting for gifts. Whether it's an amazing apartment or a fantastic job, you can always get it for yourself. If there's something you need, go out and buy it for yourself. Being independent is one of the sweetest things ever. So, learn to work for your own money.
But if you're doing it for the first time, purchasing jewelry can be quite disorienting. However, conducting a little research can go a long way in making your shopping experience more fun. So, what are you still waiting for? Step out like a bold woman and treat yourself to something gorgeous. Whether it's a tennis bracelet, sparkly stud earrings, or a gemstone pendant, you can always find something that'll perfectly match your taste.
Remember to do things step by step. You can actually buy one item at a time. Start with the basics and keep purchasing more. At the end of the day, you'll find yourself having a wide collection of jewelry. All you need is to the initiative and start shopping for yourself.
Discover Your Style
When shopping around for a piece of fine jewelry, it's important to start by determining your personal style. This will help you choose something that perfectly suits your taste. Make sure that the jewelry looks great with what you wear. You'll contend with your jewelry if it's purchased with your style in mind.  
Set A Realistic Budget
When investing in fine jewelry, it's important to stay within your budget. Don't spend more than you can afford. In fact, the best way to do it is to save little money every month until you've enough money to purchase that special piece. Since you work so hard to make ends meet, it makes sense to reward yourself with an item that'll make you feel proud whenever you glance at it.
And even if you've limited funds, you can still purchase jewelry for yourself. You can buy a simple signet ring or a chain necklace. Freshwater pearls are also an incredible choice for a stylish, low-priced treat.
Key Pieces to Build An Impressive Jewelry Collection.
As a woman, you should have an arsenal of secret jewelry pieces. These include diamond studs, bracelets, pendant necklaces, a classic watch, as well as, a gemstone ring. With these items, you can rest assured that you'll make a statement. They'll make you look bold and stylish. And that's exactly what you want, right?
Final Thoughts
Do you want to create lasting memories about your wedding day? Well, you need to invest in high-quality photos and videos. In this case, your engagement ring is of utmost importance. It's what signifies your union with the love of your life. So, be sure to take great pictures of it. Above are simple tips and tricks to help you make the best photos.