One good turn deserves another, right? Well, sometimes the best way to return a favor is by writing a thoughtful thank-you note.
A thank-you note is a unique way to express your kind gratitude for a gift or service. You can also do a thank-you note showing gratitude for having been granted an opportunity to work in an organization or pursue a noble cause. The gift, service, or opportunity for which you're expressing gratitude is usually unmerited.
But coming up with the perfect thank-you note isn't always easy. That's especially true if you don't have a way with words.
Well, there's no need to fret. In this article, I'll share some invaluable tips on how to write a thoughtful thank-you note.
1. Determine If Writing a Thank-you Note Is the Appropriate Thing to Do
It's good to be thankful for every kind gesture. However, not all circumstances require that you express gratitude by writing a note.
For instance, it makes no sense writing a thank-you note to a parent or sibling with whom you live under the same roof. A thank-you note would also be unideal for a colleague with whom you work in the same office. A verbal expression of gratitude would suffice in both situations.
Generally, a thank-you note is perfect in any of the following circumstances:
• Where you need to acknowledge receipt of gifts sent to you by someone living out of town or in a different country, such as Christmas packages mailed by a friend from overseas
• After receiving notable professional assistance, such as mentorship
• After getting interviewed for a job, receiving a job offer, or discussing a business proposition
• After getting someone to partner with your company or organization
Timing is crucial too. You can't write a thank-you note expressing gratitude for a Christmas present from ten years ago. Much less if you've received other Christmas gifts from the same person in the recent past. Etiquette experts recommend sending a thank-you note within the first week of receiving a gift.
Also remember that sometimes, a thank-you note doesn't have to be an acknowledgement of a recent favor. You can send a random note thanking someone for their continued friendship and support throughout the years. This is especially recommended for businesses seeking to appreciate their clients, employees, suppliers, and other partners.
2. Prepare a Rough Draft
As with a business proposal, resume, or other writing forms, it's difficult to get a thank-you note right at the first attempt. So, it's important to begin by preparing a rough draft on a separate piece of paper.
A thank-you note rough draft is essentially a plan containing the following basic elements:
• What you wish to express gratitude for
• How you relate with the intended recipient
• Choice of salutation and sign-off
• Choice of words to include in the body
After listing these points, proceed to write your thank-you note. And when done, read the note carefully to ensure it contains the message you wish to convey.
Most importantly, ensure the note conveys your message in the kindest and sincerest manner.
3. Prepare a Structure
Thank-you notes have specific structures to abide by. The layout of a perfect thank-you note should generally include:
• Greetings, such as 'Dear Uncle Bob' or 'Dear Mr. Thompson'
• A short body, where you express your gratitude.
NB: In this section, you can discuss how the gift has been of help to you or how you plan on using it.
It's also important to look ahead by using statements like 'I look forward to your continued support/cooperation.
You can then restate your gratitude before signing off, using words like, 'Thanks again for your kind gesture.'
• A warm sign-off, using phrases like 'With gratitude,' 'Warmest thanks,' 'With love,' etc.
4. Insist On Hand-written Thank-you Notes
Technology has transformed the telecommunications industry tremendously. Today, it's a lot easier to send a message via email or even through live chat. If the recipient happens to be online the same time you shoot them a message, they'll usually receive it immediately.
Unfortunately, typewritten letters usually lack personal touch. So, always consider putting pen to paper if you're keen on sending a thoughtful thank-you note that leaves the recipient inspired.
By sending a handwritten thank-you note, the recipient will appreciate the fact that you took time off your busy schedule to do a letter specifically for them. That's contrary to most typewritten thank-you notes where the sender may simply copy-paste the note online and present them as their own.
The fact that handwritten correspondences are becoming less popular makes handwritten thank-you notes even more special and timeless.
5. Keep It Short
A thank-you note is not a university thesis. The note should be long enough to cover the essentials but short enough to arouse the reader's interest.
Keeping a thank-you note brief ensures you express your gratitude without veering off into unnecessary tangents. It also prevents you from getting too repetitive, which may dilute the message.
An effective way to keep a thank-you note short is to write the message on a card as opposed to a piece of paper. A card offers a limited writing space and can help you figure out what to write using the fewest words possible.
In the same breath, it's important to be specific with your expressions of gratitude. Clearly state what the recipient did for you and how their kind gesture has impacted your life. Even if you relate with the recipient informally, it's best to avoid humor, puns, or anything that might water down the message.
6. Use a Personable Tone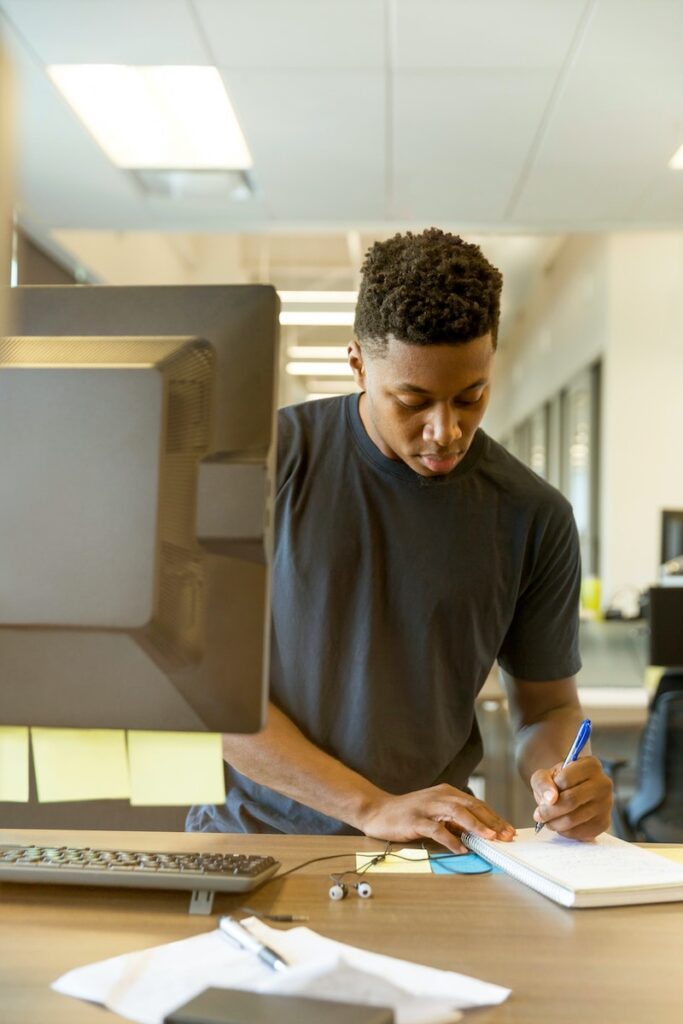 It doesn't matter whether you're writing a thank-you note to a company CEO or your longtime buddy. It's recommended to use an approachable tone.
Now, there will be specific elements in the note that clearly point to the relationship between you and the recipient. However, using an overly formal tone may create some distance with the recipient, making the letter less personable.
The conventional wisdom is to use everyday words and phrases. If you're struggling to come up with the right words, picture the recipient standing right next to you and try to read the note aloud to them.
7. Stay Positive
You've probably received numerous gifts that fell completely flat.
Maybe something was wrong with the packaging or the gift was delivered a little damaged. Perhaps the present came in the wrong size or color. Or, you just didn't like it at all.
The last thing you want to do is let the recipient know that their kind gesture went unappreciated.
When writing a thank-you note, shun all negativity and strive to keep the message positive throughout.
Avoid mentioning any defects in the gift or giving the recipient recommendations on how they should package the gift in future. You can always do this in your subsequent correspondences.
In the same breath, avoid using a thank-you note as a sales pitch or an avenue to solicit more favors. Doing so will most certainly undermine the original intent for which you're writing the note.
8. Proofread and Transfer
If everything looks great to this point, proofread your thank-you note and then transfer it to the final draft.
One way to proofread a thank-you note is to set the note down for a few hours. When you come back to it later, you'll be able to pick mistakes easily and make the necessary adjustments.
Wrap Up
There goes our definitive guide on writing the perfect thank-you note. As a parting shot, remember that very few thank-you notes are usually acknowledged.
So, don't expect a reply to a thank-you note. Just make sure you have the right address so that the letter gets to the intended person or company.