Last Updated on March 8, 2022
Artificial Intelligence (AI) does have all the right attributes that can enhance the cybersecurity of any organization significantly. If we say AI will transform the future of cybersecurity in the coming years, we are right to a certain extent. 

However, companies or businesses should not undermine the importance of keeping their official IoT devices secure. Otherwise, they have to face consequences in the shape of hacking, malware, identity theft, phishing, and other security risks. 
Therefore, companies should focus on updating and protecting their IoT devices alongside using the core concepts of AI. By doing so, they will be in a better position to simplify and improve cybersecurity to the desired level.
This post will discuss how AI and IoT can play their roles in improving cybersecurity in the future. 
How can AI improve cybersecurity?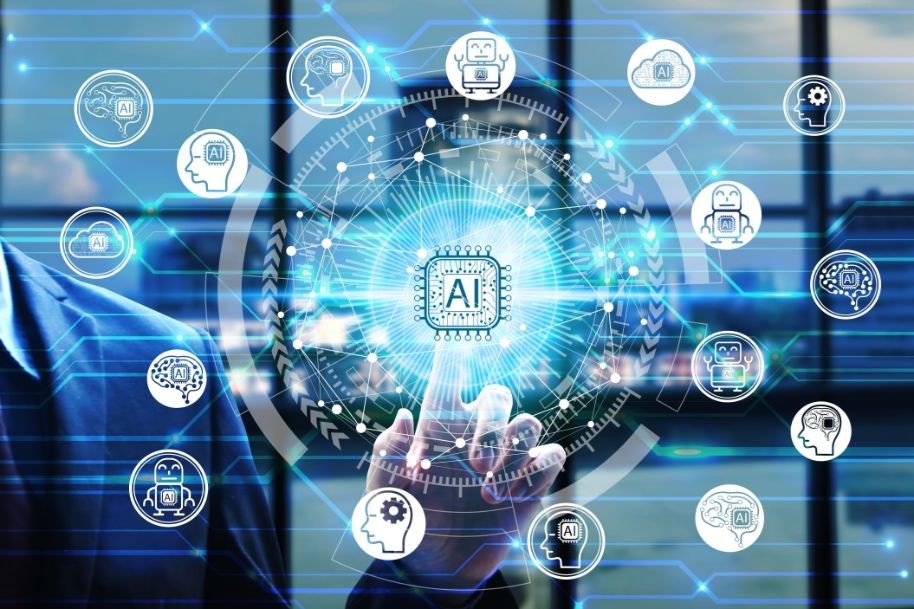 According to recent research conducted by Trend Micro, AI will replace the need for human beings in cybersecurity by the end of 2030. Surprisingly, AI has already started playing its part in improving the cybersecurity of different organizations across the globe. 
Currently, 61% of organizations rely on AI concepts to detect and eliminate possible cyber threats residing in their corporate IT networks. In short, they cannot detect these cyber threats if they do not use AI in the first place. 
Furthermore, 80% of telecom companies are taking advantage of AI to proactively identify and combat various cyber threats like phishing, data theft, malware, ransomware, etc. 
Likewise, 73% of companies are following the use cases of AI to deal with different kinds of cyber issues effectively. As a result, they are taking the right steps to enhance their cybersecurity appropriately. 
Above all, when companies or businesses use AI to detect possible security threats within their systems, they can reduce their breach detection cost by up to 12%. This is one of the major reasons companies are planning to increase their annual budgets in terms of AI research and its application cybersecurity-wise.
The above scenario suggests that the future of cybersecurity looks secure thanks to the advanced and viable concepts of AI. That said, it will largely depend on companies how they use AI to tackle the possible cybersecurity challenges in the future.  
How can companies secure their official IoT devices to improve cybersecurity?  
AI aside, companies or businesses should improve their efforts to safeguard their official IoT devices. For that reason, they can concentrate on following different cyber hygiene practices that allow them to secure their official devices without any hassle. 
Consequently, they can protect their crucial business data and other digital assets from the prying eyes of hackers, scammers, identity thieves, and other cyber goons. 
Here is the list including various cyber hygiene practices businesses or companies can follow:
Use of cybersecurity tools

Provide cybersecurity training to employees
Use of cybersecurity tools
Companies or businesses should not hesitate in using different cybersecurity tools like password managers and VPNs. They should encourage the idea of using a password manager in their workplaces like LastPass. 
The said password manager allows employees to secure their sensitive login credentials all in one place trouble-free. Similarly, they must use a free VPN that ensures cybersecurity and offers them complete online protection. 
This way, companies can use various security and privacy features at no cost ideal for protecting their IoT devices from different cyber threats. If they are satisfied with its performance security-wise, they can consider using its paid plans depending on their budget.    
Provide cybersecurity training to employees 
This is another way by which companies or businesses can secure their IoT devices significantly. You should inform your employees regarding the installation of antivirus software on their official devices. 
Apart from this, employers must provide awareness to their employees about email phishing attacks that can jeopardize their online privacy instantly. Your employees should refrain from clicking any suspicious link or attachment provided in emails sent by unknown people.
As a result, they can protect their work devices from potential security risks like hacking, malware, ransomware, etc. 
Wrapping Things Up
When it comes to improving cybersecurity appropriately, companies or businesses can benefit from AI (Artificial Intelligence) a great deal. Apart from this, they must follow certain cybersecurity practices like installation of antivirus on official devices, regular data backup, use of password managers, email encryption software, etc. 
This way, organizations can enhance their cybersecurity to the next level that will help them combat numerous cyber threats like hacking, data theft, phishing, malware, etc. accordingly.