Last Updated on March 8, 2022
For the people of today, taking some rest from the dull mundanity they face day to day and drawing inspiration somewhere have proven to be quite effective avenues for fortifying and recovering their mental strength. College students who lack motivation and hence order essays for sale, young IT prodigies too afraid get down to building a start-up – people need something to inspire them, and it's often that they find this "food" dynamizing their minds in rather surprising places.

As a bottomless source of motivation and harmony, cinematography has served us as a powerful means of relaxing and having fun. The movie industry has given people amazing tools for enhancing their mental and spiritual capacities, which is the primary essential for completing their undertakings successfully – beautiful uplifting motion pictures.
Through their compelling films, creative directors enliven our mindsets and coach us to nurture motivation and confidence. And, by letting these films infiltrate your comfort zone, you can make the first steps on the path of reshaping your life.
We're inviting you to take a look at the best flicks radiating powerful inspirational vibes that'll ignite oceans of motivation and enthusiasm in you!
1. "Forrest Gump", 1994
Being mentally disabled can't disable one's longings and dreams. This brilliant life-affirming contention is embodied masterfully in iconic Forrest  Gump, the dauntless and good-natured baby boomer whose determination and perseverance, that are rarities not only among the retarded but also mentally healthy people, will prompt you to set in motion your own life ventures.
Portrayed by charismatic and young Tom Hanks, Gump's character demolishes the humiliating stereotypes and stigmas surrounding the concept of mental impairment. Inquisitive and adventure-hungry, Forrest Gump sets his mind on achieving remarkable objectives that subsequently make him a true sensation and an example to follow in the eyes of his contemporaries.
Although slightly too flowery and gilded, this film revamps our perception of living and making the most of it. "Forrest Gump" is a perfect choice for learning to view the world through a more favorable and resolute perspective.
2. "The Basketball Diaries", 1995
Featuring the no less prominent Hollywood idol than the previous flick on our list, Leonardo DiCaprio, and based on a true story, "The Basketball Diaries" provides a discerning and unsettling look at battling severe drug addiction gradually developed by a high school sportie too avidly engaged in street life. Truthfully and bluntly, this insightful and ruthless "kitchen sink" drama displays the lowdown on how the venturesome teenage routine of a madcap adolescent eventually turns into a drug-fueled social and mental collapse.
And later, in the same uncompromising way, this filthy biopic indulges the viewer with the relentlessness and bravery the protagonist demonstrates as he gains mastery over this chemical malice. Also, it's worth stressing that the audience we aim this film suggestion at is not limited to people sharing the malady with the main character – seeing how a debilitated junkie uses the last remnants of his will power and confidence in fighting his demons is something everyone would want to check out for enhancing their endurance and patience when dealing with difficulties.
3. "Black Swan", 2010
"I was perfect" – these are the final and fatal words of a uniquely talented ballet prodigy dragged into a whirlwind of obsessions, fear, self-loathing, and delirium as she desperately and unswervingly pulls out all the stops to do an unequaled performance as the lead actress in the upcoming show. Choreographed by the maestro of spell-binding psychological cinematography, unrivaled Darren Aronofsky, this masterpiece takes you into the benumbing and at the same time astonishing havoc of terrifying determination, boundary-breaking assertiveness, and unsurpassed excellence, all of them manifested in the self-driven and indefatigable ballet dancer.
The thrilling flow of the "allegros" of her malicious, somewhat perverted yet genuinely inspiring tenacity for brilliance and perfection will leave you craving a tiny chunk of what she's accomplished, encouraging you to keep making something of your life.
4. "Whiplash", 2014
Similarly to the electrifying motion picture centering on the aspirations of a sedulous ballerina, this film features a gifted drum player who strains to hit it out of the park of the jazz music industry and gets patronized by an abusive but highly professional instructor. "Whiplash" takes it beyond the traditional standards of portraying the young musician's grand effort and stamina that support his great ambition.
The movie torments the viewer with shocking and repellent "scenery" that presents the solid endeavors of the drummer to earn the genius instructor's admiration and that of the jazz-hungry audience. A suspenseful, beautiful, and motivational film that will motivate you to get started with your ambitious undertakings.
5. "Bohemian Rhapsody", 2018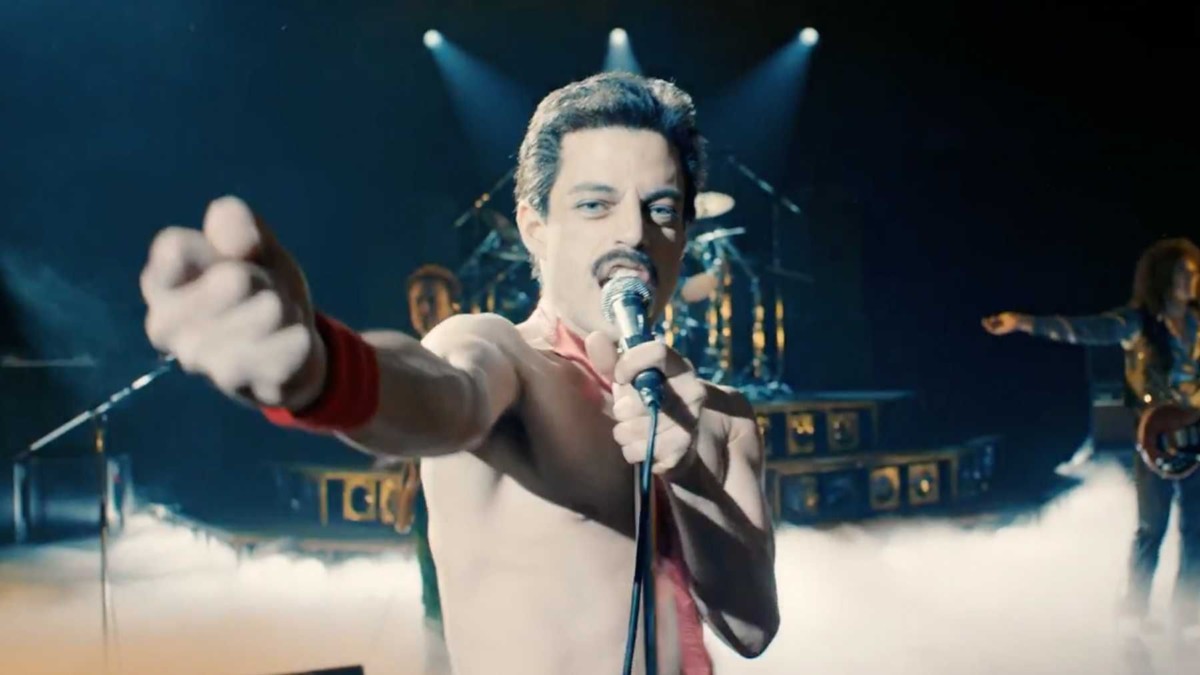 This is another noteworthy biopic on our list, it's only that the persona it revolves around is a worldwide and passionately recognized rock icon whose outstanding cultural heritage is itself inspiring and insurmountable. And, showcased in this extraordinarily architected flick with an 8-year history, Freddie's impressive music career and personal life get even more fascinating and memorable, sparking the viewer's enthusiasm for carving out their own spectacular achievements.
The splendid representation of the idol's remarkable way to his stardom earned this "bohemian" film public acknowledgment and the warmest reception.
The rocker's grand rise to fame, beautifully mirrored in this epic biographical drama, was full of intimidating pitfalls and obstacles, and the masterful way he handled this can't but serve as a unique inspiration for his devoted fans, the people who can't call themselves his admirers but who were utterly thrilled at the movie's storyline, and just the viewers that accidentally got to watch this prominent rock symphony of fame, temptation, and love.
Drawing the Line
Over the last century, the movie industry has established itself as the most influential and significant commercial realm that possesses powerful equipment for making an impact on people who can hardly ever restrain themselves from enjoying another good piece of filmmaking in their spare time. And its colossal influence on the public regarding motivation and the promotion of hard work on one's way to success makes its inspiration-inducing products incredibly valuable and worth giving a careful look at.