Last Updated on March 8, 2022

We all know that Instagram is one of the most popular social networks globally. The platform gathers over a billion users as of this year, while 80% of them follow at least one business account. That's not the only benefit for marketers since studies prove that over 70% of users have bought a product they saw on Instagram.
While the stats really sound impressive, it is crucial to highlight there is a long way between encouraging a prospect to follow your brand on Instagram and convincing him to buy the product on the corresponding landing page.
If you want to make your Instagram account more productive, you need to learn how to seal the deal. In this post, we will present you five secrets of Instagram landing pages.
1. Visual Consistency
When you redirect users to the landing page, you need to ensure visual consistency. There are two reasons to do this:
To let them know they are still engaging with your content and avoid possible confusion
To keep your branding efforts consistent and aligned across all channels
How can you achieve it? The process is simple – use the same visuals elements. Stick to the well-known brand colors and design templates, add a company logo, keep the same typography, formats, etc.
We are not saying that Instagram landing pages don't allow you to be creative. On the contrary, you must come up with a unique design to stand out from the bunch of competitors, but don't forget to use visual components and imagery that your audience is familiar with already.
2. Mind the Content Structure
A landing page has to be crafted so as to allow easy scanning. You should make a logical structure that highlights the most important landing page features and minimizes elements that need to be there, but don't make a big impact on potential customers.
Write short paragraphs using brief and concise sentences. A copy must show users the value of your product instantly, so don't burden them with extensive explanations or product descriptions. Besides that, we recommend adding enough whitespace around each textual or visual element to make the page more beautiful and scannable.
3. Let the CTA Stand Out
A call to action button (CTA) is an anchor of your landing page. Lucia Stevenson, a social media marketer at Careers Booster, says this is the point where the entire Instagram marketing strategy is fulfilling its purpose: "Therefore, a CTA button has to stand out and be the first thing users see when they land on your page."
The point is to leave followers with no extra time for thinking. Don't add any other links and concentrate completely on a single targeted action. Make the CTA aligned with the overall design, but always use a color that clearly highlights the significance of this landing page component.
That way, potential customers will immediately know what to do next and hopefully end up buying your product, downloading content, or signing up for the newsletter.
4. Add Social Proof
Did you know that 85% of consumers trust online reviews as much as recommendations from a friend or a family member? Social proof has an incredible impact on today's buyers, so you better add testimonials to the landing page to support the claims in your copy. You can do it in a number of different ways:
Add testimonials from your former clients
Influencers are famous and people tend to trust them
Display the number of users who already purchased the product
Show user rating such as the average online review
If possible, add images or videos of real people who praise your products or services because that's what makes testimonials much more convincing and authoritative.
5. Change a landing page for different ads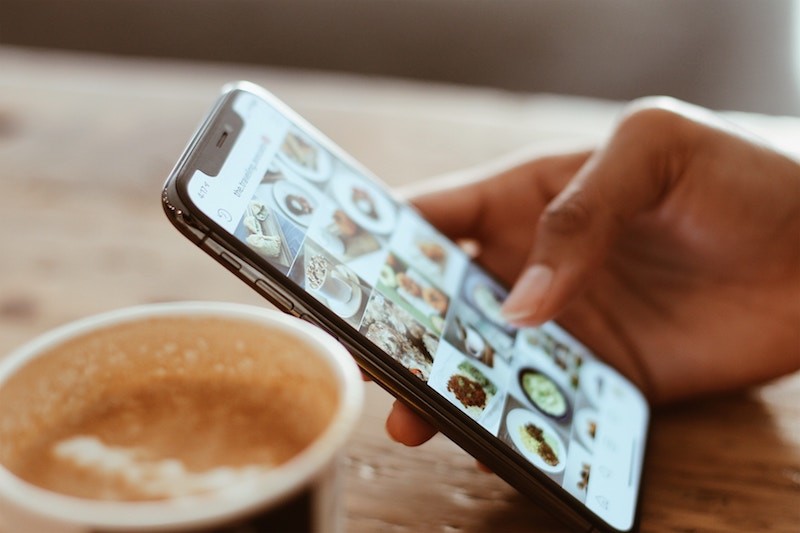 Creating an Instagram landing page is not easy, but it doesn't mean you can keep the same page for all ads. Users will notice it and it will probably leave a bad impression, resulting in lower conversion rate.
For this reason, it is important to change landing pages regularly. We are not saying that you have to re-design a landing page completely. On the contrary, it's enough to adapt a copy so as to fit the new Instagram content while keeping the page design intact.
Conclusion
Instagram is a powerful marketing tool that can generate tons of leads and turn them into full-time customers. However, you need to know how to take advantage of the platform. In this article, we explained to you five ways to make an impressive Instagram landing page. Make sure to test them all and you'll see landing page conversions growing big time!