Last Updated on March 8, 2022
When you realize that your teeth need to get straightened, you will have to start thinking about the right method of doing it. Now, you might already be aware of a method or two and I have no doubts in my mind that you are familiar with the traditional, metal braces. Those traditional tools might even be the reason why you have given up the idea of straightening your teeth or why you have postponed it.

Here's something to help you decide whether you need braces at all: https://www.healthline.com/health/do-i-need-braces
Before you, however, give up on the idea of improving your smile that way, or before you postpone it just because you cannot bring yourself to give those metal products a chance, there's something you should know.
To put things simply, metal braces are not the only method of straightening your teeth today. In addition to those, there are also invisible aligners that you can wear easily and without any trouble. So, if you are thinking about straightening your teeth and improving your smile, you might want to take invisible aligners into consideration.
These are not that new on the market, but some people are still not properly familiar with them. If you are one of those people, then it means that you are probably curious about the actual benefits of this specific product. Well, that's exactly what we are talking about today. In other words, I am going to get you acquainted with those benefits so that you can decide whether invisible aligners are right for you. Here we go.
Easy Brushing And Cleaning
You are probably aware of all the troubles with brushing and flossing that people wearing metal braces have to go through. In fact, this is one of the main reasons why people are increasingly giving up the idea of wearing these particular products. Brushing is a nightmare and pretty much impossible, which can cause a lot of damage to your teeth and your overall oral health.
On the other hand, if you get yourself some clear aligners, you won't need to worry about any such problems. Basically, these allow you to brush, floss, and clean your teeth rather easily. All you have to do is remove the aligners while cleaning your teeth and then return them later. Don't forget that you should brush after every meal you have so that no bacteria get trapped in the aligners. Read more about the reasons why you need braces and orthodontic treatment.
Taking Off Is Allowed
While you shouldn't use this particular benefit in order to avoid wearing your aligners whenever you see fit, it's important for you to be aware of it. If you, for example, have an important event coming up and you might think that you would look better and more confident without these on your teeth even though they are practically invisible, here's what you can do. Take the aligners off and then put them back on after the event is over. Unlike with metal braces, you can definitely do this with invisible aligners. Just make sure not to do it too often.
You Can Eat Whatever You Want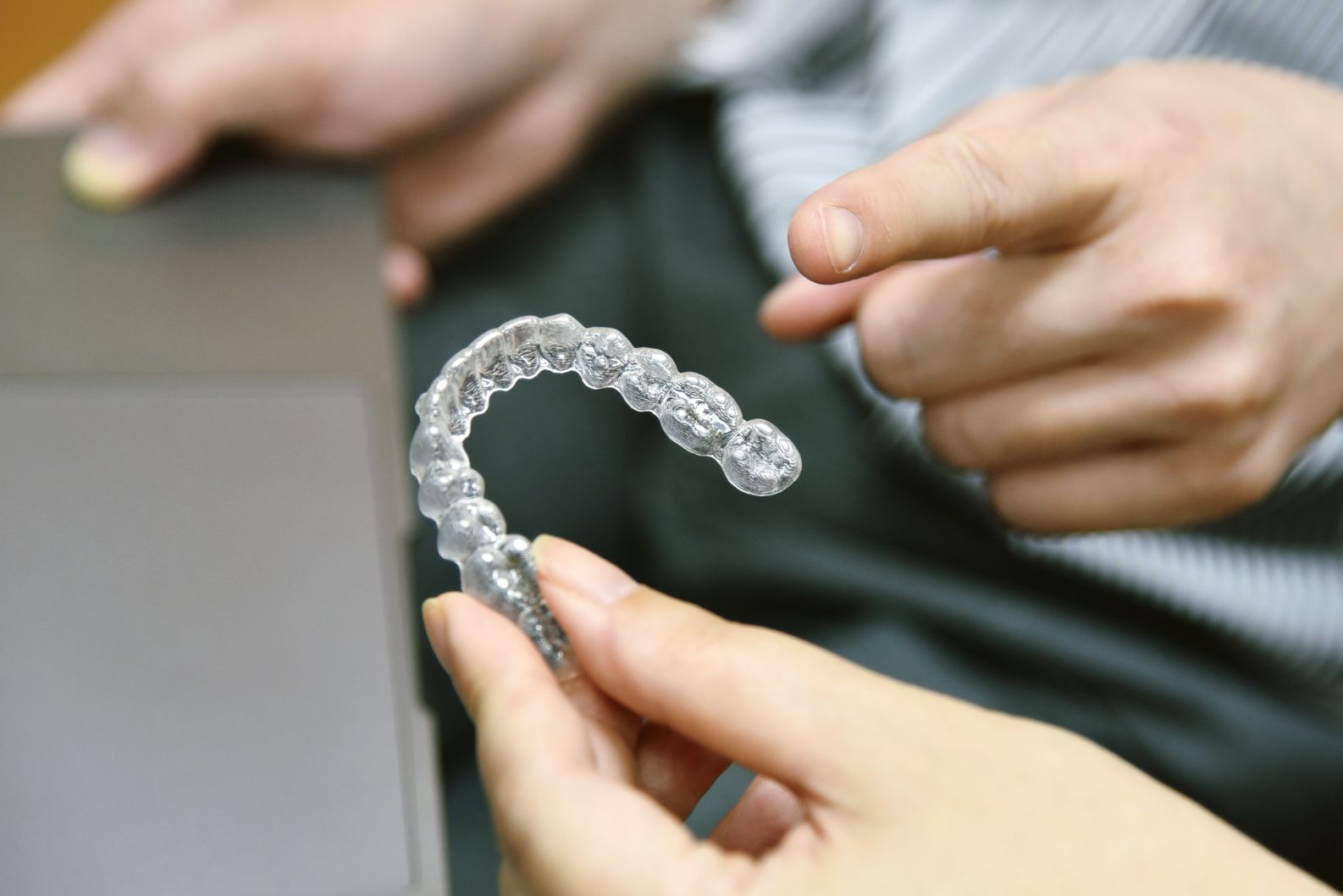 If you have ever done some research on metal braces, then you know that eating certain foods is pretty much impossible once you start wearing them. The worst part is, some of those ingredients that can be difficult for you to consume might just be your favorites. Simply said, you might need to give up some of your favorite foods while wearing metal braces. That's a bummer, isn't it?
Well, luckily, there is something you can do in order to straighten your teeth and be able to eat your favorite foods at the same time. I suppose you can guess that I am talking about wearing invisible aligners. You simply take these off while eating, so you don't have to worry about anything getting stuck in them, which is a concern that metal braces undeniably bring to the table.
They Are Almost Invisible
Now, it's perfectly clear to everyone that these clear aligners cannot be completely invisible. Yet, they are certainly not so easy to spot. People can feel embarrassed when wearing metal braces and that's something that they don't need to be concerned about when it comes to these particular aligners. Basically, they are almost invisible, meaning that other people might not even notice that you are wearing them.
They Work
The most important thing that you need to know about these products is that they actually work perfectly towards straightening your teeth and improving your smile. Their effectiveness is unquestionable. So, with invisible aligners, you basically get to create a perfect smile without having to go through any of those troubles that metal braces would cause.
How To Choose Your Aligners
After realizing that invisible aligners can be the perfect thing for you, there's no doubt that you will start searching for specific ones to get and start using. There are quite a lot of different ones on the market and you'll need to do some comparisons in order to be able to choose the perfect product for you. For example, you can compare smiledirectclub vs byte and any other particular brand that you come across so that you can decide which option is the best for you.
If you aren't quite sure about how to choose the right aligners for you, here's how you should do those comparisons. Find online reviews written about all of the specific brands that you have in mind and then compare their features and qualities. If you dig deep enough on the Internet, you'll even manage to find reviews that actually do those comparisons for you.
It goes without saying that you want to choose high-quality products that have proved to be rather effective. This is why you should check what other people have to say about specific clear aligners. The reviews that I have mentioned can be your perfect tool for finding the right product, simply because they are filled with objective and factual information.