Last Updated on June 1, 2023
Some associate backlinking builders with spam, but the reality is that they are actually an essential part of optimizing SEO and increasing traffic onto your content or website. Gone are the days of link-farming; in modern content creation, the algorithm is more quality-based. Now, building links with better quality is what optimizes search results.
This is where a link-building service can be beneficial. Whether you want to increase your company's online presence or build on your own content creation, utilizing an SEO link builder is now a pivotal way of growing traffic onto your site or your work. This article looks to provide a concise list of 5 link-building agencies that will help you build your brand with far less hassle than if you were to try and do it manually.
What is Link Building?
Essentially, link building is an SEO tool for acquiring backlinks or hyperlinks from third-party websites that end up linking back to a page on your site. It is often seen as a difficult task to do efficiently. Many companies or individuals turn to link-building websites or services to do the work for them.
A link-building service is a market service provided by an agency that aims to optimize your search engine presence through link-building activities. These activities can include outreach, blogging, or podcast guesting, through which you can be booked as a guest on a podcast and gain organic backlinks to your page through the podcast's description.
A company created to help anyone affordably scale their SEO optimization, Rhinorank is arguably the industry leader in SEO optimization. They create unique, curated links that look to make your page stand out against the backdrop of other pages that may be similar.
Perhaps most attractive about the Rhinorank offering is the control that they allow you to have. You can choose the URLs that you promote and how aggressively you would like them enabled. Furthermore, their "guest posting" feature is one of the most comprehensive that I have ever seen.
They specifically tailor their outreach to the niches of your own site or content and look to drive traffic organically through that outreach. Prices for guest posts start at about $90-100, but as their motto suggests, you get serious results from their genuine outreach—a worthwhile investment.
What are guest posts? How does Rhinorank do it best?
Guest posts are a method that SEO optimizers use to bring organic traffic to you from other websites. It is usually an expensive service because it can require a lot of work, but it is often the most beneficial. Rhinorank has a three-step process for guest posting, and I feel that it is the most efficient and comprehensive on the market.
To start, they study your website or page and the niches that it likely fills. Then they create a custom outreach program that will look to secure relevant guest placements. After this, they have a team of optimizers that reach out to bloggers, journalists and business owners within that niche and pitch your content in the hopes that they will promote it.
Once accepted, they will write an article related to your niche or industry and secure placement, thereby promoting your page on the popular site.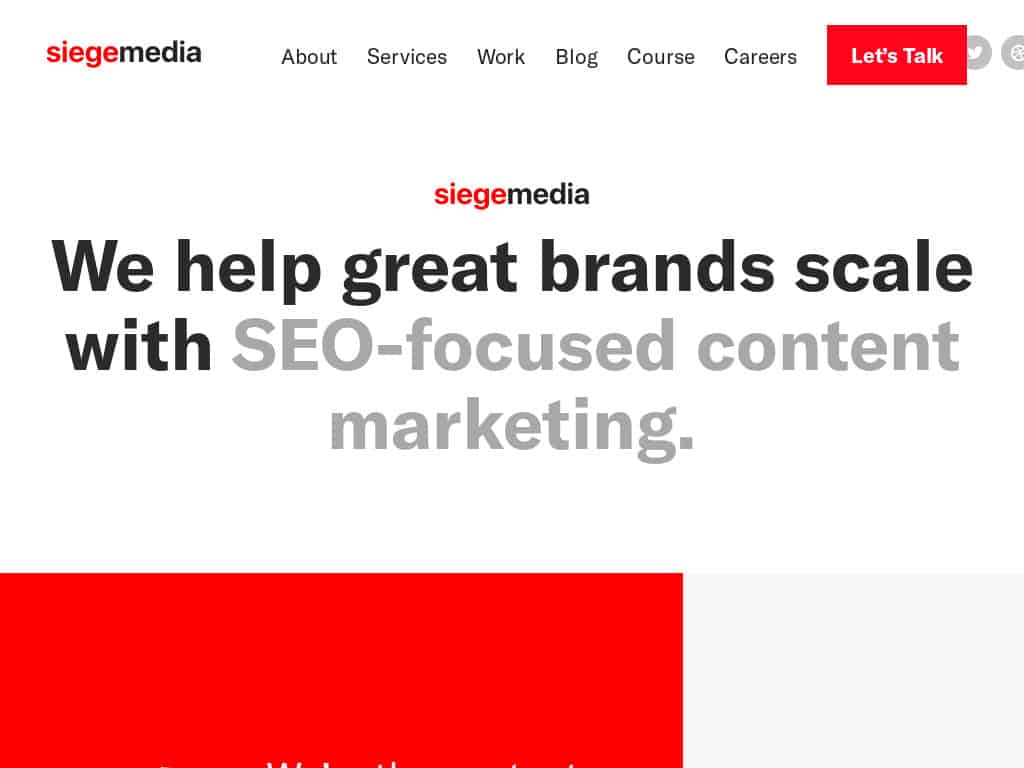 Used by companies like TripAdvisor and Airbnb, Siege Media are specialists in search engine optimization. They offer extensive services relating to keyword research, SEO consultation, title tag optimizing, and content trimming. Core to their offering is a solid content marketing strategy.
Using creative infographics and photography, and video services, they look to make organic traffic come to your site at a much faster rate than usual. Their digital PR is one of the industry leaders. Through regular content promotion, email outreach to clients, influencers, and pages, they look to quickly optimize the number of people visiting your page.
Their services are really underpinned by their comprehensive email outreach plan. Although you cannot get a specific price for their services online, offering bespoke packages that will aim to suit the needs and the budget of your company or brand. Reviews online are positive and only serve to evidence Siege's position as a leader in optimizing SEO for pages or brands.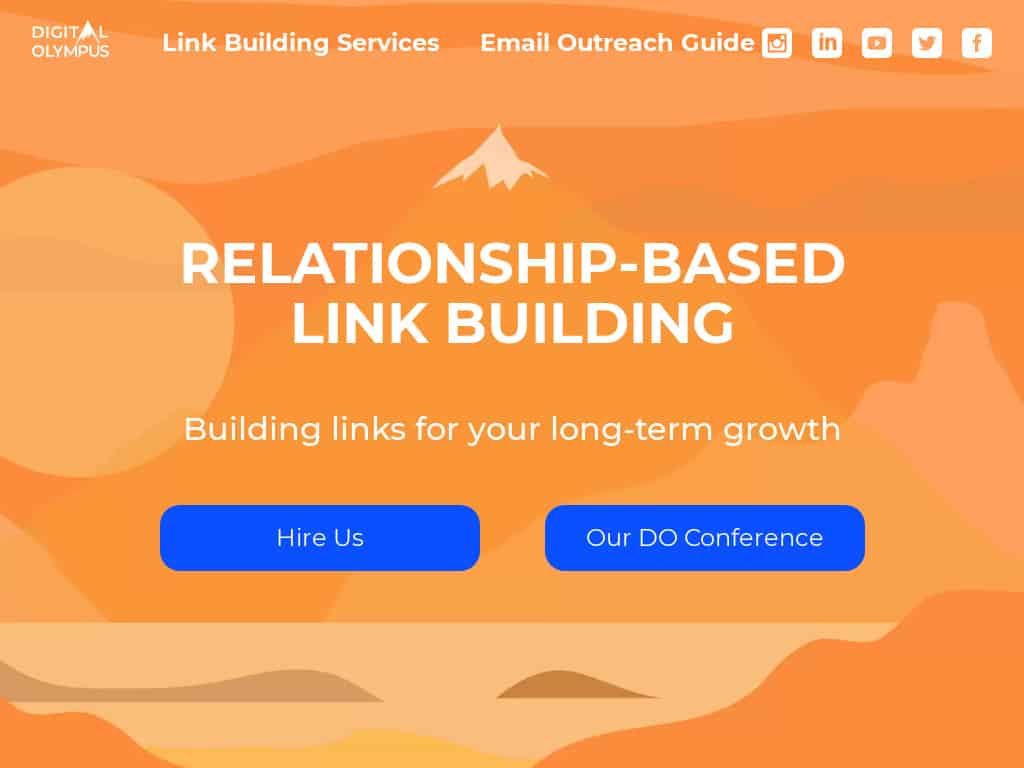 A company that claims to build you links that you would be proud to have, Digital Olympus is yet another quality optimization company. Their pricing system is interesting, offering a bespoke price depending on how valuable the host site they acquire is. In terms of their service, I find it a little more comprehensive yet cautious in their approach.
They focus less on spamming emails to everyone that they can find and spend more time concentrating on fewer links but looks to build a relationship with them. Their more filtered approach allows for a more tailored and relationship focussed optimization process.
This allows the buyer to feel more comfortable that they will get the best results possible. Their website showcases case studies based on successful projects, which I see as a real show of competence. If its focussed approach and host of success stories don't drive you to use their services, then its variety of top-quality recommendations and reviews will.
The next company on our list is wmlinks.net. This is a top-tier link building agency that provides all types of natural links.  The company is located in Ukraine. Their mission is "We have two intentions: to mindfully help our clients with the promotion of the site and to build long-term relationships with each client.
In practice, the company takes into account a huge number of factors in link assessment, while many other companies rank the link value based only on a few metrics (such as DR or DA).
This approach allows the company to use clients' budgets effectively and not to be afraid of Google's updates.
The company is flexible in offering not only packages of links, but any amount a client needs. For example, wmlinks clients can order as many guest posts as they want. Payment for services happens only after the client selected the right sites for him.
Linkology
Based in the UK, Linkology is a small team of ten SEO building professionals. Their line is "we are large enough to cope, small enough to care", re-affirming the idea that they are not simply a large agency that wants your custom; they are genuinely there to help.
Their online blog is also a great focal point through which everyone can learn to optimize traffic on their own content if needed. In terms of pricing, like many link-building programs, it is custom and based on what you need. Their backlink order builder allows you to choose how many backlinks you want, how long you want the promotion article to be, and how many sites you want to be promoted.
Their 100% same-day refund policy if you are unhappy is one of their most potent displays of confidence. With many of its online reviews praising their responsiveness and efficiency, it is no wonder that Linkology is highly regarded.
The final link-building agency on the list is Bibi Buzz. Founded by former social media marketer and website ranker Bibi Raven, the company looks to build on Bibi's already extensive contact list to help optimize your website's online presence. The cost for her services can be pretty steep at $5,000 per month.
However, the links are of the highest quality and will be sure to drive significant traffic your way. The price carries 10 links, as well as all content creation and publishing fees. What I love about this service is the transparency; from the costs to her processes, Bibi tells you what she's going to do and how she will do it.
Using her identification of keyword competitors, an analysis of the competition and their backlinks, and a full audit of your own content, Bibi can create a specific outreach program that will bring you success. The service may be expensive, but as one of the most trusted names in the link-building business, Bibi Ravens' Bibi Buzz, should not go unnoticed.