There are many foods that you can eat to help you lose weight. Some of them include chia seeds, salmon, and eggs. You can also eat Greek yogurt, apple cider vinegar, and edamame.
Diet eggs
Eggs are a great food to eat if you are trying to lose weight. They are a rich source of protein, which keeps you full longer and helps you burn more calories. Besides being tasty, eggs are also inexpensive, which makes them an easy choice for a healthy diet. Read more to get more information.
Eggs are an excellent source of choline, which helps your cells perform important functions. Some studies even show that a high-protein breakfast can help you stay full longer and thereby reduce your calorie intake at later meals.
Eating an egg first thing in the morning is an effective way to keep your weight under control. It will also increase your metabolism. This, along with a low-calorie diet, will help you burn more fat.
Chia seeds
Chia seeds are a nutrient-rich snack that can help you lose weight. They contain protein, fiber, omega-3 fatty acids, magnesium, and potassium. These are all essential nutrients that will boost your metabolism and aid you in weight loss.
Chia seeds are easy to incorporate into your diet. Just add them to salads, smoothies, or baked goods. If you want a little more of a kick, try making chia seed pudding. Or, you can simply add them to water for a caffeine-free beverage.
The high fiber content of chia seeds can help you stay full for longer. This helps you eat less and keeps your blood sugar level more stable. Fiber is also beneficial for your digestive system. It helps eliminate toxins and promotes regular bowel movements.
Greek yogurt
Greek yogurt is a tasty, protein-rich snack that helps you stay full and reduces the risk of chronic disease. It also contains probiotics, which may have beneficial effects on your immune system.
In addition, Greek yogurt has fewer carbohydrates than regular yogurt, making it ideal for those trying to lose weight. Additionally, it is higher in calcium, which promotes healthy bones.
Greek yogurt is also a good source of vitamin B12, which promotes brain function and wards off megaloblastic anemia. Vitamin D, meanwhile, can help minimize belly fat.
Lastly, Greek yogurt is a good source of potassium, which is an electrolyte. This mineral assists with various vital body functions, including digestion and heart rhythm.
Nutritious Salmon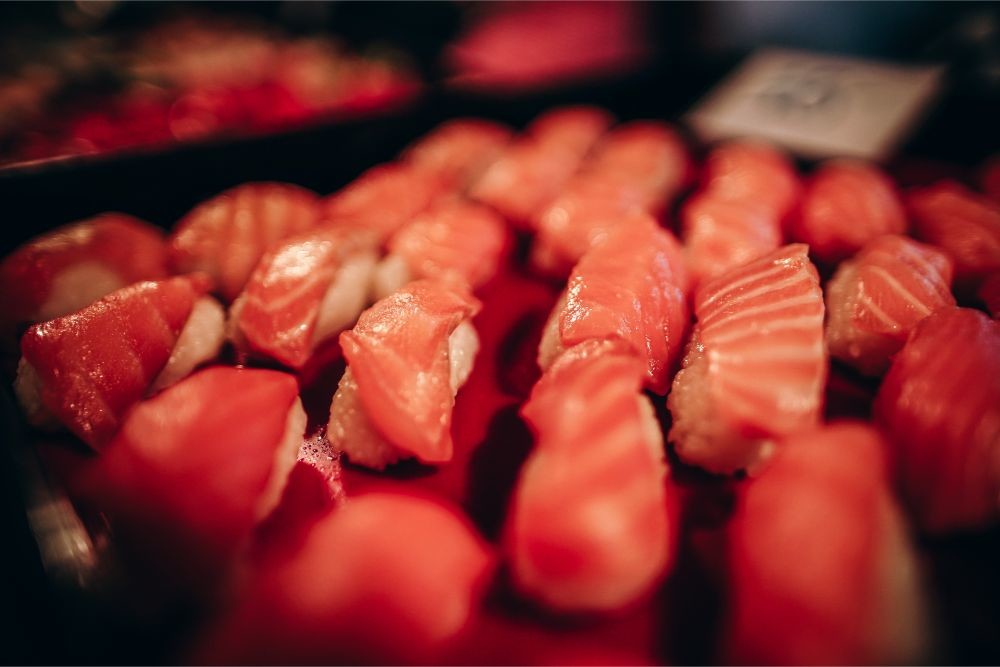 Salmon is a heart-healthy food that provides a wide variety of nutrients. It's high in Omega-3 fatty acids, which can reduce the risk of stroke and heart disease. It's also rich in vitamins and minerals.
It's also an excellent source of protein. When combined with a low-calorie diet, salmon can help you lose weight.
Salmon also helps boost your immune system and improves metabolic function. In addition to these benefits, it can help you maintain muscle mass.
Salmon is high in a nutrient called selenium, which helps your body burn calories more efficiently. Selenium has been linked to some body functions, including
thyroid function, 

fertility

and metabolic function.
Apple cider vinegar
Apple cider vinegar is a beverage brewed from fermented apple pulp. The fermentation process produces acetic acid, which gives the beverage its tangy taste.
Acetic acid can lower blood sugar levels, suppress appetite, and help to reduce fat storage. It also has an antimicrobial effect, promoting a healthy immune system.
ACV may also help stabilize blood sugar, which is important in weight loss. However, the reasons for this are unclear.
Although apple cider vinegar is not likely to be a miracle weight loss drink, it is a good addition to your diet. Drinking it first thing in the morning, as part of a balanced meal, can be a great way to jumpstart your metabolism and burn off some of that fat.
Protein Edamame
Edamame is a very high-nutrient food that can help you lose weight. It contains an impressive amount of protein, fiber, and antioxidants. Moreover, it is low in calories, fat, and sodium.
Edamame is a good source of vitamins and minerals, especially vitamin K, magnesium, phosphorus, copper, iron, and zinc. It also contains valuable phytonutrients. In addition to its weight-loss benefits, edamame can also help protect the heart.
Edamame is considered to be a "complete protein" as it contains all nine essential amino acids. Proteins are the building blocks of muscle growth and tissue repair.
Aside from its impressive plant-based protein content, edamame also provides a healthy dose of fiber, which promotes satiety and supports weight loss. The fiber slows down digestion and releases energy over a longer period.