Setting up an LLC (Limited Liability Company) can be a daunting task, especially in an economy that is frequently changing. Being able to find a way to take the pressure off your shoulders should be top of any potential company owners list of priorities. This is where LLC formation services and their registered agents can come in handy! 
Purchasing the services of an LLC formation tool can be expensive, but in terms of getting your business off to the best start possible, choosing the right service is an invaluable decision. The beauty of these tools is that they are regularly less expensive than going to an attorney, making them the most cost-effective option. This article aims to look at the 5 best LLC formation services on the market, taking a variety of factors into account. Each service has its own benefits and below you will find the right tool to best fit your needs. 
What is an LLC formation service?
As someone who is self-employed and who wishes to grow their business, creating an LLC is the best option to protect your assets and limit the amount of paperwork that you must do and the number of regulations that you must deal with yourself. What an LLC formation company does is provide you with either helpful guidance and information or more commonly, a registered agent to help do that paperwork for you and take the pressure off your shoulders. 
These services have risen in popularity because they are the happy medium. They are not too expensive and look to save you time and effort, therefore saving you money. They give your new company the strongest legal start possible. 
What to look for in an LLC formation service
Solid Reputation
Online reviews and reputation are a really important factor in choosing what service to go with. Look for a service with a proven track record of both customer satisfaction and experienced agents. Research and see if the services have helped many people in your position before, or if they are only quite new in the field. These are questions that you need to have answered, and this article looks to answer it. 
Cost Effectiveness
How much will forming your LLC cost you? Or rather, how much would you like it to cost you? Different services offer different packages, so shopping around to find the right fit for you is always a good idea. Be sure to compare prices and see what benefits are available with certain packages. You want to get the most value for your money. 
Do they have what you need?
You want to be sure that the service you are going to buy can do what you need it to do. If a formation service prides itself on its strong customer service and will work along side you, it is a better bet than joining a service that will leave you clueless and doing a lot of work by yourself. Check and see if they include any add-ons that may benefit your company, if they do, then it may be worth looking further into.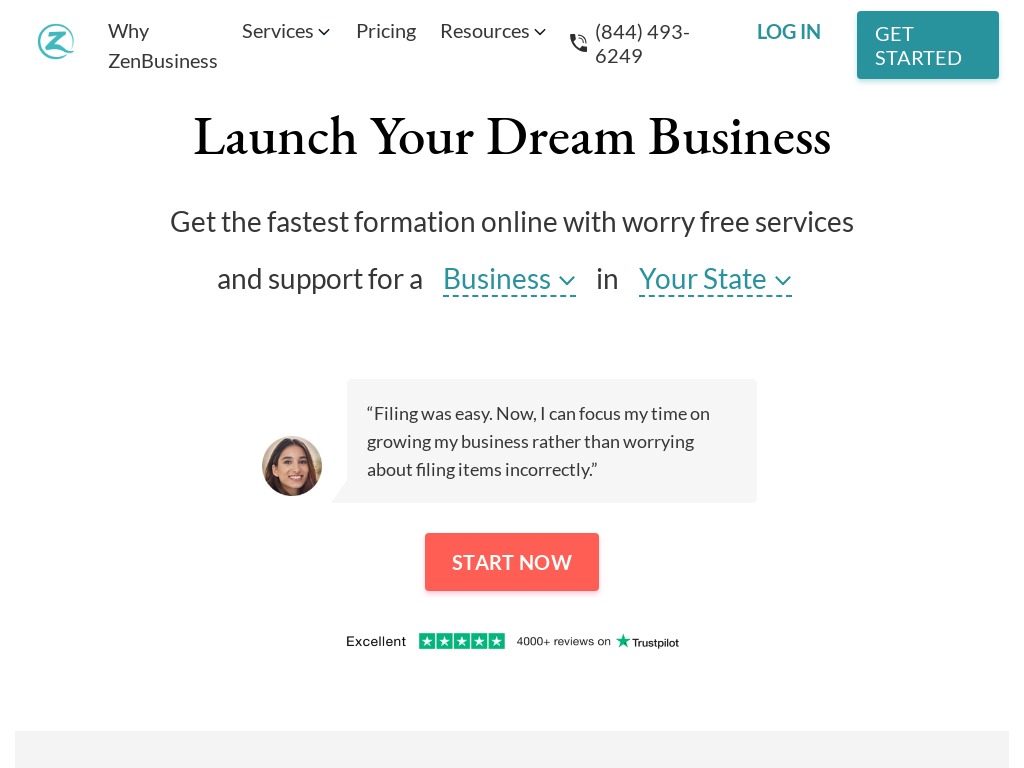 In terms of mixing quality and price, Zen Business looks to strike the balance that you need. It offers a multitude of services, ranging from registered agents, banking, ensuring up to date compliance and can provide you with an EIN for your company. The packages that they offer help to easily form your LLC the benefits in each package are clearly laid out so that you can see which packages benefit you best.
This level of transparency is incredibly attractive for people looking to set up an LLC because it builds trust, you know exactly what to expect from what you are getting. The cost does scale up with each package but so do the benefits and level of service. What I like is that each of the packages ($110 extra with the basic one) come with a worry-free compliance guarantee, meaning while you focus on your business, they focus on both compliance and due dates for you.
Giving you extra peace of mind. One final feature that I love is the ability to let you trademark your company name for later use if you are not ready now, so nobody else can take it. This offers even greater security and peace of mind. Zen Business are all about making conscious efforts to put you at ease while they help do all the work. A quality option. 
Another viable option that you can utilise to help form your LLC is Incfile, who have a few nice features that make them attractive to a wider range of people. For one, it offers LLC formations for free (not including state fees), making it accessible for those who may not wish to pay formation fees with different companies. Secondly, it has the fastest formation speeds on the market.
Incfile prides itself on being able to file all your documentation within 24 hours, a claim that no other service makes. So, it wins on speed and efficiency. After 1 year, they charge $120 per year for the services of a registered agent which is still inexpensive for a second-year fee compared to other services, making it solid on that front too. It does include quite a few upsells and offers from 3rd parties, but that would only be a minor complaint. In terms of helping you to form an LLC at a great price with good service, Incfile is a strong choice.
Third on the list is Northwest, considered by many to be the industries best. And perhaps they are, but you better be ready to pay for their services. It does include a registered agent, but pricing can start from upwards of $200 for the first year, but the second-year fee is a better than average $125 which is good. In my view, if money is an issue, there are services better suited to you.
However, if money is no object and it is quality that you are searching for, Northwest is the best you can get. I particularly love some of its add-ons. For $100 per year, they will guarantee that your reports will be filed on time, giving you extra peace of mind and one thing less to focus on. Also, for $49 per month, you get access to a 'virtual office' including a suite of on-demand secretarial services.
If compared to others on this list, it is expensive, but it offers a more-simple sign up and approach to LLC formation. They aim to make it as simple to understand, yet as comprehensive as they can, which does help to justify the price point. It places a strong emphasis on specialised customer service, but it has less reviews than both IncFile and Zen Business, so do consider that before buying. At the same time, the vast majority of Northwest reviews are positive.
A final benefit attached to Northwest that I do like is that if you apply to more states, you will be discounted for each new state, it offers an incentive for you to sign up if you wish to operate out of more than one state. 
Swyft does not give you a registered agent in its basic $49 package (that add on will set you back $149 per year), but it does give you all the tools you need to form an LLC yourself. They pride themselves on being a company that makes it easy for you to do it yourself without the need to hire a lawyer. It offers solutions for a variety of common business documents like generating reports, how to register for an EIN and report creation.
The software is user friendly, and user focussed, you can see what documents have been filed quickly and easily thanks to its easy to use and navigate interface. Its variety of add-ons are what make it a real contender for the best LLC formation tool to use. Some of my favourite add-ons are, an electronic delivery of your state documents for $25, a customised digital corporate kit for $99, a registered agent for $149 and for $25 you can avail of custom marginalised minutes.
It means that any of the packages can be tailored for each user based on what they need. While the fees for an agent are steep, that is not the main selling point of Swyft, its DIY approach and it's a la carte add-ons offer a unique and individual user experience. 
Betterlegal is the final service on the list. In many ways it is different to Swyft in that its specific focus is not on add-on service but rather the essentials needed to form an LLC, their motto 'Everything you need, nothing you don't' highlights this. It is the only service that I could find that offers a flat fee for all its services, exemplifying its simplicity. $299 covers everything that you need, no extras, no add-ons, no upselling.
On top of that, it provides a quick two-day turnaround, meaning you will have your documents quickly. It contains a helpful and comprehensive info centre that provides the user with a wealth of information. It provides solid customer service, with a trust score of 4.8 from 187 reviews, has no upselling and is easy to use. It is the simple, no nonsense option for anyone looking to form an LLC quickly and effectively. If you have the means to pay $299 for their services, it is worth considering.