Last Updated on January 2, 2023
Have you ever wondered what is the best video player for Mac? While there are droves of app options available to watch movies and videos on Mac, instead of joining a wild fishing expedition with the video player, we've helped narrow down some of the best free video player options for you.

The best video player apps support a wide variety of movie file formats, are easy to use, support 1080p and 4k video, are comprehensive, free to download, and come with no garbage, and are lightweight. We'll go over some of the best options available to Mac OS and Mac OS X users.
Note: most Mac users will catch the QuickTime and Photos app perfectly sufficient for watching their personal videos on Mac, the preferences here are geared towards Mac users looking for a supported third-party video player app. for many video formats often found on the web, downloaded or extracted from your personal collections.
What is the best media player for Mac?
The good news is that there are many applications that fight for the title of "best media player for Mac." There are those who stand out for not consuming much CPU, supporting Blu-ray Disc or streaming content directly from the Internet, etc. So the choice is there. But the problem is: how do you choose the perfect Mac video player for you?
The danger in downloading anything online and trying it out lies in the proliferation of pirated software that often contains malware, which could harm your Mac. So don't do it. Instead, download one of the trusted options discussed below.
Top Best Video Player for Mac 2022
Elmedia Player for Mac
QuickTime Player for Mac
VLC AVI Player for Mac
Plex Media Player for Mac
5KPlayer for Mac
OmniPlayer for Mac
Elmedia Player for Mac
Too often, people who need to download YouTube videos to their Macs simply resort to googling to figure out how to do it. This is generally inefficient and may not even be safe, as most software that advertises the ability to download something is the prime candidate for infecting your Mac with malware.
Then meet Elmedia Player! all-in-one Video Player for Mac Considered by many to be the best media player for Mac, Elmedia supports video downloading and streaming natively. Is that how it works:
When you open the app, click the download icon at the top

In the search field, enter your video URL or click the YouTube, Vimeo, or Dailymotion links to manually search for it.

With the video selected, choose the quality from the drop-down menu below and then click Download; the video will be automatically added to your playlist
Downloading is very easy with Elmedia Player. The next time you're about to take a long flight, just download a whole queue of cool content and enjoy it on the plane offline.
But Elmedia is a simple downloader, it is a full-featured Mac video player. The app supports virtually any video format and through accelerated decoding is capable of smoothing HD videos that would otherwise be unstable. Also, one of Elmedia's secret features is the ability to rip audio tracks and save them as MP3s – get those YouTube singles on your Mac in no time!
QuickTime Player for Mac
If you've only used iTunes before and are looking for the best iTunes alternative for Mac, you might be surprised that another viable option is already pre-installed on your computer: QuickTime Player.
QuickTime Player is probably the oldest Mac video player out there, first released in 1991. However, it does all the basics quite well, playing videos, music, and even pictures. All popular video formats are supported, such as MOV, MP4, MPEG. But if you find yourself downloading videos from the web frequently, you may need to get an AVI player for Mac, a format that QuickTime Player does not currently support.
Additional bother with QuickTime Player is the difficulty of including external subtitles or audio, which is significant for foreign film lovers and language beginner's learner. All in all, if you rarely watch videos on Mac, QuickTime isn't the worst option. But there are absolutely better ones out there.
VLC AVI Player for Mac
Possibly the most common suggestion after you are ready to advance from iTunes and QuickTime Player is VLC.
VLC is not only a good AVI player for Mac but is also usually known for being able to play an extensive change of video formats – so a MKV player for Mac and an MP4 player for Mac, all in one.
While there is no external audio support, VLC offers solid subtitle integration which can change the text size, text color, background opacity, and much more.
General, VLC is a covered option for watching videos every day with all the necessities covered, but not too many pro-level features.
Plex Media Player for Mac
Plex is much more than just a video player, it's a full-fledged media server application that can play almost any imaginable video or movie format that comes your way. In addition to playing videos and handling your movie library, Plex can also manage your music, TV shows, photos, library streaming, has parent control support in the premium version, support for file sharing, and many more. features that make the app similar to how an Apple TV or media center works, except it's just an app that works on your Mac (or even a Windows PC).
Plex is a great choice as a video player, especially if you want to stream video from one device to another in your home or plan to connect a Mac to a TV to use as a media center and watch movies on a larger screen.
Personally, I prefer Plex as a media center app, so if you're looking for something to play video for this purpose, it's a great way to go.
5KPlayer for Mac
Don't be too quick to dismiss it: we only use the term "generic" in its best sense. Imagine watching a movie without interruptions or problems, without having to tinker with settings. 5K is the perfect software package to express this image. It exists and works, and it's very good. The features are very subtle and although they are not noticeable in use, their absence would be very noticeable and uncomfortable.
The perfect image is ruined, no, ruined by advertisements. This is the biggest drawback of 5KPlayer and who knows? Maybe it would easily take the place of the best Mac media player if it weren't for those annoying ads. Until then, it will remain second.
Pros
It supports high resolutions including Ultra HD

YouTube stream

Solid experience complete
Cons
Rads galore

CPU not optimized
OmniPlayer for Mac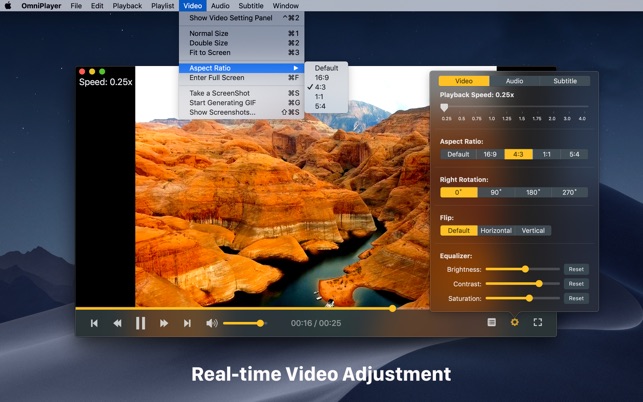 OmniPlayer offers surprisingly high playback quality for almost any format you can use. It is designed on a modern basis, with aesthetics on a par with functionality. It is a true champion among Mac media players, there is not much more to say here. It makes you wonder how the competition manages to stay afloat.
Well, the answer is quite simple: the demo is not sufficient for a detailed and complete overview of the program. At best, it's minimal, so most users, especially those who would like it, can't find out.
Pros
It works well for any format we can imagine

Tastefully designed, it stands out

Numerous side features
Cons
The demo doesn't do the app fully justice

Unpopular, so discussion and support are rather limited
Conclusion
I think you already have the best media player for Mac in mind, download it on Mac and give it a try if that's what you expected. Here I recommend to those who still feel a bit confused to choose, I present Elmedia Video Player for Mac. It is gaining more and more reputation and becoming a constant in the market.
4K video, 5K / 1080p HD video, all popular SD and HD standard video formats that other free video playing tools can't support or add subtitle files, Elmedia Video Player for macOS application can solve it. What is the best I like, it offers a clear and sharp visual image, I feel the video is playing in quite high quality.