If you spend a lot of time at your computer, be it for gaming or work, or streaming, then you should consider investing in a mechanical keyboard. Using a regular rubber dome keyboard is fine, but the mechanical keyboard series offers a far better typing experience and can be adjusted to fit the User's needs. Mechanical keyboards are built with high-quality key switches that vary depending on what you need. I will discuss the three main key switches below. They are superior to rubber dome keyboards in many ways:
They have unique switches that make typing more manageable and more error-free
They are more functional than regular keyboards
They offer more key consistency
They have PCB boards and better-LED capabilities with increased sharpness and brightness.
They also make typing or use of the keyboard for long gaming periods and work less stressful on your hands and wrists. Some even come with wrist rests and are ergonomically friendly. This article looks to assess the best mechanical keyboards for a wide range of activities, from gaming to office work and at a range of prices to suit everyone's needs. It will also look at what the primary key switch types
The All-Important Key Switch
The standout feature of any mechanical keyboard is its key switch. Most keyboards use rubber dome switches, which are responsive, but they do require a lot of force to register and when compared to key switches found in mechanical keyboards, there is no competition. Similarly, over time and after excessive use, dome switches can become less responsive and even mushy.
Mechanical key switches get rid of that silicone found in rubber dome switches. The mechanical switch is more responsive because it operates on a spring that registers what you type and pushes back when pushed. Meaning that it needs far less force. Due to these switches, mechanical keyboards tend to look heavier and are a little larger and thicker than other keyboards.
They are more of an investment and will cost more than regular keyboard types. Still, with their responsive key springs and their superior technology, the key switch mechanism found in mechanical keyboards makes it worth the money.
When you are in the market for a mechanical keyboard, you must be aware of the type of key switch that it uses. There are three main types of key switch:
Tactile Switches – Tactile switches are very popular and provide excellent feedback; when you press the key, you will notice a little bump, and this lets you know that your press registered. Meaning that you do not need to press on each key excessively; a simple tap will be enough. They are highly responsive and idea; for those who want to type fast, not hard.
Linear Switches – Linear switches are the most straightforward. They are not as sensitive as tactile switches or as sensory as clicky switches, but they offer a happy medium of sorts. You will find that you have to press a little harder than on the other switch types, but it is still a highly responsive system.
Clicky Switches – If you are looking for a specific click sound when you hit your keys, this is the ideal keyboard type for you. Similarly to tactile keyboards, they are responsive and have the distinct advantage of being louder so that you know when each key has been appropriately struck.
The Cherry Switch
Most mechanical keyboards today use the Cherry MX key switch. Designed in the 1980s by German company "Cherry", they are the benchmark for excellent mechanical keystrokes in the modern market. There are a few different types of key switches that perform separate roles. Here are three of the most popular:
Cherry MX Black – one of the more popular key switches, the MX Black is linear and requires a full press before you are guaranteed a register. While this does reduce the likelihood of mistakes, it can be tiring on your hands. Those working in offices tend not to utilize the Black switches, but they are popular among gamers. There is also an MX Black Silent variant available which produces even less noise.
Cherry MX Red – Another linear key switch that is popular amongst gamers is the MX Red. This key switch type is similar to the Black variant but has 25% less actuation attached, meaning that it is more responsive with less force. It is slightly better for office workers but is still most popular among gamers.
Cherry MX Blue– A tactile key switch, the Blue variant is ideal for office work because of its responsive clicking sounds. They are also ideal for gamers. However, the Blue series can be quite loud and may distract family or colleagues, so beware of this when purchasing.
1. The All-Rounder: Varmilo VA87M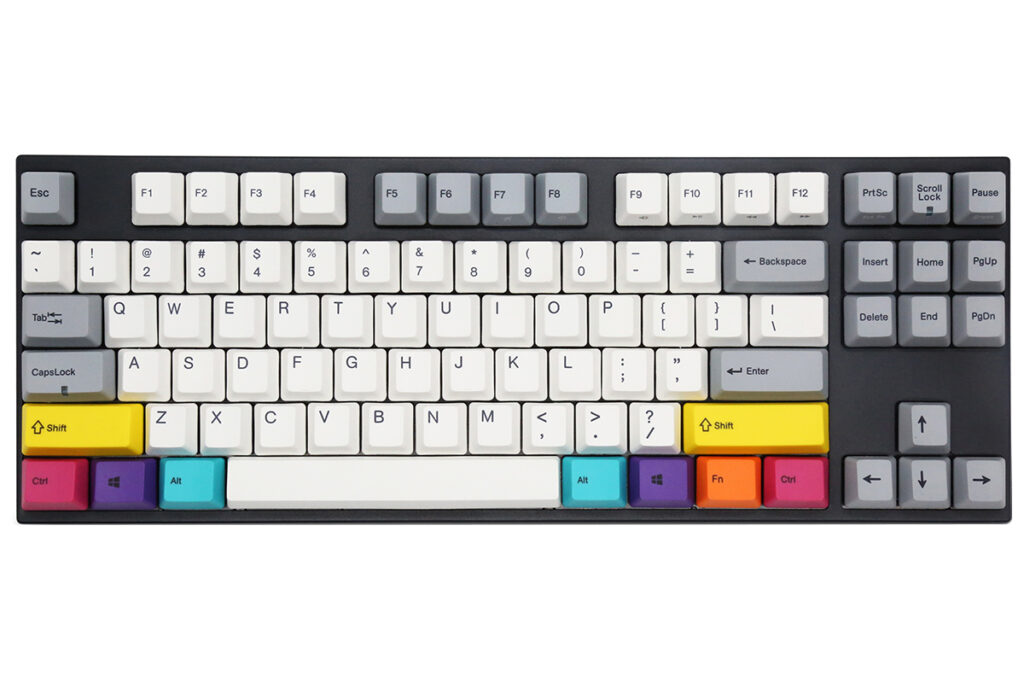 In terms of offering everything that someone would need when buying a mechanical keyboard. I find it hard to look past the VA87M by Varmilo. Its build quality and design are the most attractive of any keyboard on the list; the variety of key switches available and customizing options open to the User make it ultra-versatile.
There is also a Mac version available, optimized for Apple device users which is a nice touch. It utilized Cherry MX Brown switches, which offer an alternative between the Black and the Blue varieties, being both responsive and robust. They are also available without a number pad, making them more ergonomic and minimalist.
They are available for $140 in a host of colors and with customizable keys and media keys. Is it the best on the list? no, but it is ideal for gaming, office work and streaming, for the more advanced User or the beginner, which is why it is the all-rounder pick.
2. The Best for Gaming: Keymove Snowfox RGB Mechanical Gaming Keyboard
Not only is the Snowfox well priced at just $90, but it looks gorgeous, and its minimalist design caters to gamers who want to free up some desk space. It has multicolored RGB lights that make it stand out, and its wired or wireless connectivity make it a functional yet versatile option for any gamer.
The key switches are swappable, making personal customization for specific games easy, and it is also quiet when used, meaning that your gaming will not disturb others near you. The base has non-slip pads that prevent the keyboard from moving on you, and its Bluetooth connectivity allows you to pair the keyboard with up to three separate devices. It is well-priced, reliable and it looks great. Perfect for any gamer.
3. The Budget Option: Keychron C1
It only fits to include a cheap and cheerful mechanical keyboard on the list. The Keychron C1 is the perfect mechanical keyboard for those who have little knowledge of key switches or what makes a good keyboard and want something practical, compact, and that looks good.
It is available in various colors, has swappable keys, and can utilize RGB backlighting, and it contains key options that optimize for either Mac or Windows devices. It is Type-C wired, which means that it connects easily to your computer, and it is also regularly on sale online.
If you want a cheap mechanical keyboard containing a bundle of exciting features that can be found in more expensive models, I strongly recommend the C1 by Keychron.
4. The Most Compact: Obinslab Anne Pro 2
Both wireless and perfect for gaming, the Obinslab has a lot to like about it. It has a 60% compact size and has no function row, arrow keys or a number pad. For that reason, office users could be deterred from using it, but it still has a lot to offer them.
Its solid build and PBT keycaps are easy to use and responsive. Its Gatreon Brown key switches are light and easy to press but do require some force. The RGB lighting is customizable, and you can utilize different key switch types that will make it easier for you to use.
However, because of its compact nature and its lack of proper wrist support, it is one of the less ergonomic keyboards on the list. However, if you do not mind buying wrist support and want a responsive, attractive, and compact gaming keyboard that can wirelessly connect to up to four devices, then the Obinslab is for you.
5. The Best for Office Use: Razer BlackWidow Elite
Ideal for gaming and for office use, the BlackWidow Elite is one of the most well-rounded mechanical keyboards on the market. It is full-sized and contains a function bar, a number pad and dedicated media keys. Furthermore, it has a variety of switches available that cater to every kind of User. For office use, its "clicky green" range is ideal.
All keys are well spaced, which reduces typing errors and is swappable, are also macro-programmable using the Razer Synapse 3 software. Its ergonomics also make it ideal for office use. It has incline settings and a convenient wrist rest that prevents your hands from tiring or cramping. Coming in at only $100, it is affordable, practical, attractive, and multifunctional.
6. The Most Ergonomically Friendly: Dygma Raise
Admittedly, the Dygma is the most expensive keyboard on the list, but there are reasons for it, and in my opinion, those reasons are justified. Made with speed copper switches, the tactile Dygma Raise is ideal for those looking for a fast and responsive keyboard to work with.
It is one of the few keyboards on the list that is optimized for typists and gamers alike. Its split design makes it the most ergonomically friendly keyboard on the list. With its RGB backlighting, its underglow LED strips and hot-swappable mechanical switches, you can customize and reprogram the keyboard in whatever way you see fit, and it will still look great.
Some of its customization software is still unfinished, which may turn some gamers away. Still, in terms of its ergonomic and customization capabilities, the Dygma Raise is one of the best mechanical keyboards on the market. Just keep in mind that the keyboard is only available on the Dygma website.