Last Updated on April 3, 2023
The world is constantly changing, and what we used on the roads yesterday is almost out of fashion by today. Technology is advancing by leaps and bounds with a massive wave of innovation that promises to take us to a completely new world.
Part of this revolution is led by the automotive industry. Car manufacturers invest millions of dollars in the development of technologies that will become part of our daily lives for years to come.
Pushed by the sense of competition among the various automotive industry leaders, innovation has no limit. Large companies such as BMW, Audi, Mercedes Benz, and others are constantly launching new, noteworthy features – especially with respect to safety and collision repairs.
Read on and find out about the latest technological innovations that are making our cars safer on and off the road, so that you and your family can get behind the wheel with confidence.
1. Real-time information on extreme terrain
Driving through difficult terrain is one of the risks drivers are exposed to. Audi, one of the most respected names in the automotive industry, launched its Audi Q8 model, which has a mobile interface that gives you real-time information about the surface your vehicle is driving over.
In addition to the display of important surface data, the Audi Q8 has other mechanical functions that prevent the vehicle from tipping over.
Among them, the most impressive is its slope assistance function, which prevents the vehicle from rolling backward and controls speed as it descends. Both mechanical functions successfully challenge the laws of physics; the Q8 automatically enables them as needed. This is just one high-tech example that might make you want to buy a new Audi. With Seattle auto accident attorney Boohoff Law noting that head-on collisions caused by speeding make up around 25% of all traffic accidents in the USA it's clear that speed assistance technology is a critical investment for the future.
2.  Digital instrumentation
The Audi Digital Cockpit, already applied in numerous models, has now spread to the entire Volkswagen group while other makes and models (such as the Mercedes 3008) are beginning to follow the same trend. The highly sophisticated design allows drivers to read critical information more clearly and more safely.
3. Personal intelligent assistance
Another novelty recently released is the Tesla Model Y which comes equipped with a large tablet so that you can control the entire vehicle system. It continuously updates itself and allows you to configure limits such as maximum speeds, among other functions. You can even adjust it with a remote while inside your home!
4.  Anti-collision system
Cars can't drive alone on the open road quite yet, but they help drivers tremendously with technologies such as automatic emergency braking. This system activates the brakes when the vehicle detects an obstacle. But some technology goes even further in systems that not only brake autonomously but veer to avoid imminent collisions with a heightened sense of awareness.
5.  NVIDIA Drive and self-driving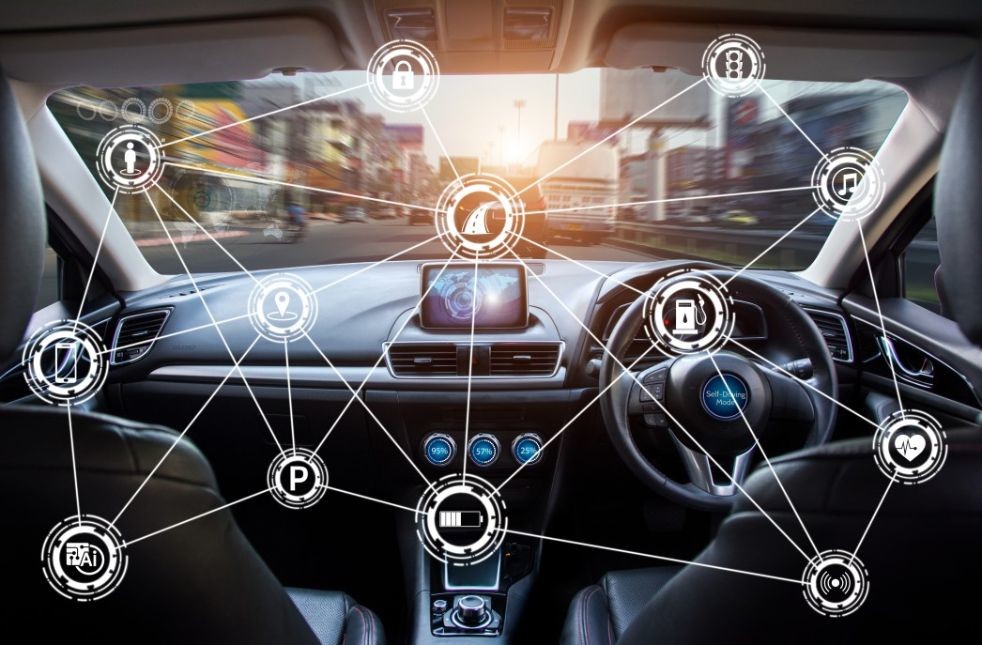 The NVIDIA platform was definitely a standout at the GPU Technology Conference 2019, where autonomous vehicles were able to drive around pedestrians without problems. Pretty soon, we might be seeing these self-driving cars on the streets if they continue to prove their safety.
6.  Invisible-to-Visible (I2V)
Nissan promises to revolutionize the auto industry with this innovative virtual technology. The idea is to capture real-world information (such as traffic, traffic lights, surfaces, pedestrians and other vehicles) and display it in the visual field of your windshield, allowing drivers to "see" around the corner.
As long as the car remains connected to the cloud network with a 5G signal, it will be possible to superimpose the information of the car's sensors and the vehicle's data. Using data stored in the cloud, drivers can see a "mixed reality": some of what's really there, and some of what is augmented reality (AR).
This technology has many possible uses, from warning drivers of hazards, suggesting alternative routes to avoid congested areas, to even making friends or family appear as 3D avatars during lonely drives. A new version of hyper-connected driving may soon arrive thanks to this proposal of the Japanese giant.
In spite of the great reception that these innovations have had in different conferences, the concept of automobile autonomy stays in constant evaluation. Companies are betting on the sale of semi-autonomous models that still need minimal human supervision and the use of autopilot hasn't earned a unanimous vote of confidence. It's clear that change is coming, but more importantly, do you want to be part of it?