Are you the one at work with the funny bone? Then this master list of practical jokes is yours! When timed right, an office prank can decompress your colleagues and sprinkle some sunshine on a hectic day. Alright, no more clowning around – here are the best jokes that are guaranteed to bring some cheer to your workplace!
The Benefits of Office Pranks
Let's face it. Some "jokes" aren't funny. But when you pull a friendly and harmless prank on someone in the workplace, here are the top perks that everyone can look forward to!

Less stress and worry.

A better-functioning team.

More productivity and creativity.

Making better decisions.

Fewer absentee days. 

Creates a less toxic office culture.
Grab these tips to de-stress at home after work.
The Drawback of Office Pranks
Keep in mind that people have their own ideas about what is funny and what is annoying. It's important to steer clear of pranks that might be offensive to some individuals because, in some cases, pulling the wrong joke on the wrong person could get you fired. Also, don't go for pranks that interfere with someone's work, cross personal boundaries, are based on revenge, break the law, or damage property. 
1. Swap Their Photos 
Many people keep photos of their loved ones on their desks. See how long it takes for them to notice that you have swapped their spouse and kids for a picture of Shrek or a weird celebrity family! Just make sure that you keep their family photos in a safe place until you can return them. 
2. Create a Fake Computer Update
Imagine the look on your colleague's face when they return from an errand and their computer is busy with a surprise update! One that never finishes, too – not until you let the cat out of the bag. To do this, wait until you are sure you won't get caught, hop onto a site called fakeupdate.net, choose the computer's operating system, then "maximize" to make the update cover the whole screen.
Top Tip: Avoid computer jokes in a workplace where computer security is taken more seriously than normal and also don't use them if they might interfere with your co-worker's job and time.
3. There's a Head in the Fridge
This one requires a bit of effort, but the results are worth it! Before you begin, make sure that you have all the following. 
Photoshop skills.

A high-quality camera.

Lamination machine.

A color printer. 

A gallon jar. 

A hair wig. 

Food coloring (yellow). 
Take three photos; one from the front and two from the side. Get an accomplice to pose for the pictures! Using your Photoshop skills merge the three images into one continuous picture. Print the high-resolution image on 11×17" paper and laminate. 
Fill the jar with water and add enough food coloring to turn the water a light yellow. Place the photo in the jar, and then the wig. The latter will add more realism to the prank. Finally, place the jar in the office fridge and watch your co-workers react!
4. The Bathroom Spider
This joke is perfect if you don't want to do something too complicated. All you need is a black marker pen. Go to the bathroom and draw the most realistic-looking spider you can on a roll of toilet paper. Even better, visit each stall and add an arachnid to each toilet roll! 
This prank works best when your victim doesn't spot the spider as soon as they sit down. To ensure that the element of surprise stays intact, roll some paper down, draw the spider and then roll it back up. 
5. That's a Wrap, Folks!
For this hilarious prank, you need time, lots of wrapping paper, and a co-conspirator or two. Once you know that your target is taking the day off, grab your paper and friends and start wrapping the victim's office like a gift. Wrap the chair, the computer, and the desk. Wrap every item on their desk individually to create a slew of presents and place them where they had originally stood. 
6. Sticky Note Attack
For this easy prank, one that is guaranteed to get you at least an eye roll from your victim, all you need are lots of sticky notes. Once the person leaves their cubicle, grab the notes and stick them everywhere like you're trying to wallpaper the cubicle, desk, and furniture. Just make sure that you use your own sticky notes and not the company's!
7. Organize a Flash Mob
This prank is perfect when you have like-minded friends who also love to pull pranks. You need to commit to a good deal of organization beforehand but once again, the results will be priceless and worth it! Choose a song, a dancing style, and the time. Surprise your unsuspecting colleagues with a sudden flash mob on the office floor or during a Zoom meeting!
Get the best tips on how to organize a flash mob.
8. Zoom Background Pranks
This prank is only limited by your imagination. The idea is to have something weird and unexpected happen in your background to provoke a reaction from your co-workers. This can be an alien peeking around the corner or a burglar traipsing past. 
If you have the time and skills, why not follow in Dan Crowd's footsteps? He scared the pants off people when he created a virtual background where, apparently caught in some strange time warp, he walked into the room and saw himself at the computer holding a Zoom meeting!
9. The Permanently Occupied Stall
This prank works best if you can slide out from under the bathroom stalls. This sounds weird but bear with us. You'll see why in a moment. To pull this one off, you need an old pair of jeans and shoes such as hiking boots or sneakers. 
Go into a stall and lock the door. If it's the type of door that shows "occupied," that's even better. Place the shoes at the foot of the toilet where your feet would be when sitting down. Lift the seat of the toilet and clamp the top of the jeans securely.
Arrange the bottom of the jeans on top of the shoes to make it look as if somebody is sitting there (people are going to start peeking underneath the door at some point with this prank!). Once you are done, slip out from underneath the stall – this is to keep the door locked. Now, all you have to do is to wait and listen to everyone discuss the weirdo hogging a stall in the bathroom!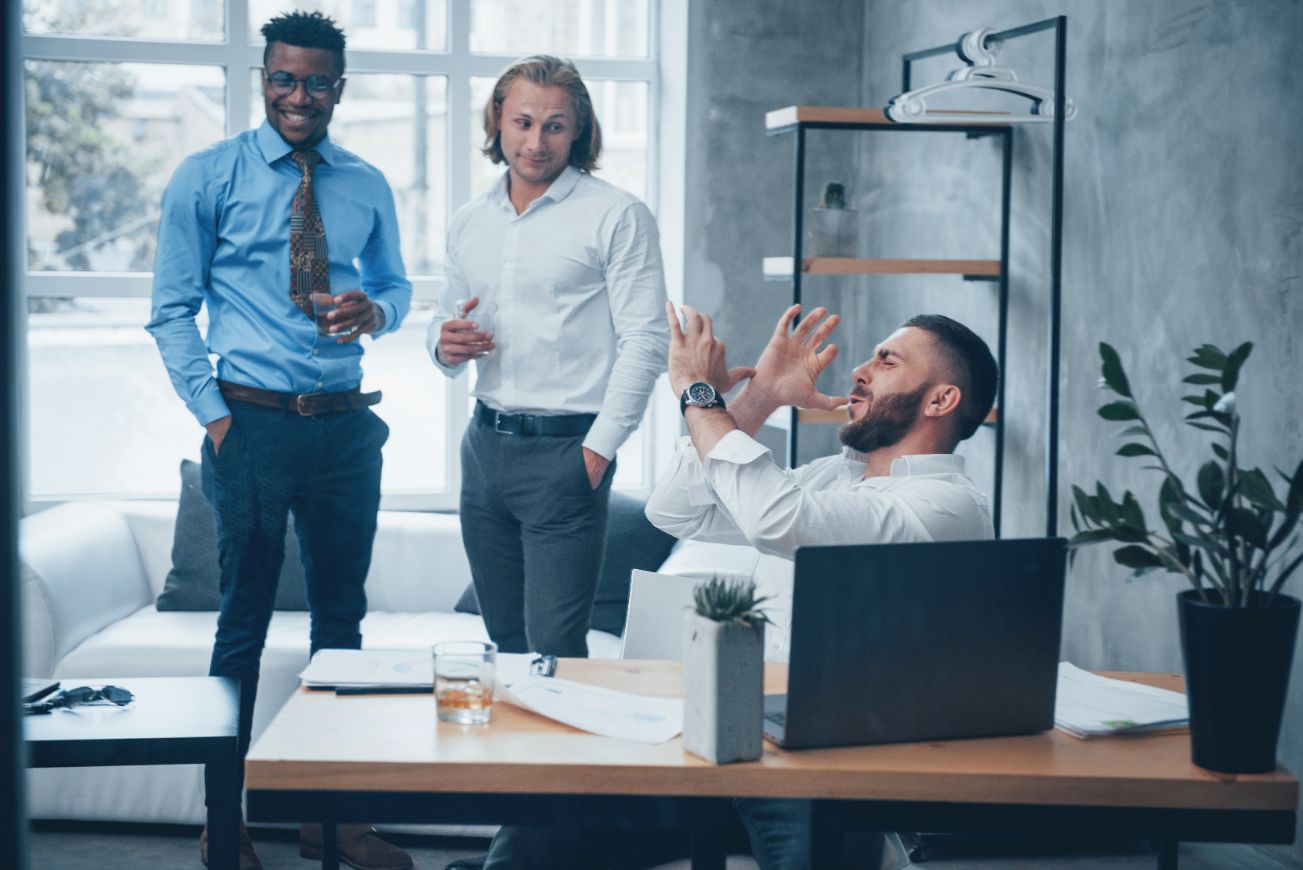 10. Balloons… So Many Balloons…
You're going to need an extra few pairs of lungs or a machine that blows air into balloons. Because for this fun trick, you're going to need a lot of balloons. This prank is simple but it brings a light, party atmosphere to the workplace that everyone will appreciate. To prank someone, simply fill a conference room with enough balloons to reach a person's shoulders. You can also stuff a hallway or the kitchen with balloons. If you have an understanding boss, you can hit their office too!
FAQ
Q: I'm not sure a friendly prank will be well received. Should I still try?
If you feel uncertain, rather hold off for now. The trick to a successful prank is a trusting relationship between the "victim" and the prankster. If you prank a total stranger or someone you're not on good terms with, things can go wrong. 
Q: Is someone's birthday party at the office the right time for a prank?
Absolutely! Providing that the joke is light-hearted and fun, pranks at an office birthday party are perfect because the atmosphere is already more tolerant towards pranksters than on a normal office day. 
Q: My office prank went wrong. What should I do?
If you upset a co-worker with a prank, own up to it. Sincerely apologize and admit that you never meant to upset them. Tell them you also understand now that you went a little too far. Don't ever make someone feel bad for not appreciating your office humor – if you pull the prank, be mature enough to take responsibility for it.
Q: I feel that my co-worker is bullying me with "pranks." What should I do?
Many bullies disguise cruel behavior as "just a joke." If you feel humiliated or upset, then it's not a prank, it's workplace abuse. Keep a record of the incidents and talk to someone you trust, a co-worker, an understanding boss, or someone in human resources.