Do you teach English online for a living? It must feel better working from home, right? No morning commute, saving bus fare, and setting flexible schedules that let you attend to anything at any time you feel like.
There's just one problem with teaching English online; it can take forever to scout for opportunities online. With the internet being full of scams, once in a while, you end up in a bad alley full of con artists. But don't worry, we are going to save you the hustle by listing some of the best online English teaching companies that you can work with.
Top companies that let you teach English online
Here are a few choices worth looking at:
DaDaABC stands out for two reasons. First, their pay is great-up to $25 per hour. Secondly, anyone who proves to be worth his/her salt can apply (native English speaker or not). Unfortunately, they will decide you pay during the interview. So make sure to prepare thoroughly so you can nail it.
Like other online English teaching companies, DaDaABC lets you choose your available hours upon which they'll assign you students. Most of the time, you'll be teaching Chinese learners so it's good to learn a bit of their culture for better lesson delivery. Lastly, signing up with them is as simple as ABC. 
If you are a busy person, possibly working elsewhere or studying, VIPKid offers the most flexible working environment. You only log in and adjust your availability. The pay is not that bad as they go as high as $22/hour. There are incentives too for punctuality, frequency of teaching, and when you refer a helpful tutor.
The platform has an affinity for registered English teachers. However, they are also open to those with a higher education degree. While they prefer English natives, anyone across the globe can apply. Understand that this is a Kid teaching service and therefore your students will mostly be in the elementary or middle school stage.
Palfish is a mobile app that links Chinese students to tutors across the globe. One of the best things about this site is that everything is ready; you just need to present it to students. Another huge pro is that anyone can apply and set their own available hours.
The issue here is, you must market yourself to students. This usually involves giving free demo lessons and if students like it, you get hired. One more thing; there is a point system where the more you earn, the bigger your hourly pay gets. Points are awarded for proficiency and timeliness amongst a few other things.
Another greatly rewarding platform worth checking out is GoGo Kid. Their tutors earn anywhere between $14-$25/hour. What you earn get depends on the number of classes, your interview performance, and credentials. Here, you'll be your own boss and set your availability hours.
GoGo Kid is based in Beijing, China. Therefore, most of your students will be from the region. Lessons and materials are provided. You just need to show up. Unfortunately for others, the website only allows Americans and Canadians to apply. 
You really should be able to discuss your rates with clients. This lets you provide the best value to all your students. Unfortunately, most English teaching websites already have rates that are set in stone making it hard for you to reap the full benefits of your skills.
Thankfully, iTalki is a commissioned based platform that lets you set your rates and then they charge you a commission for each earning. Through this site, you can teach any language from English, Japanese, French to Russian. Opportunities are open to anyone from any country.
Your success on iTalki depends on three things; your credentials, previous experience, and student feedback.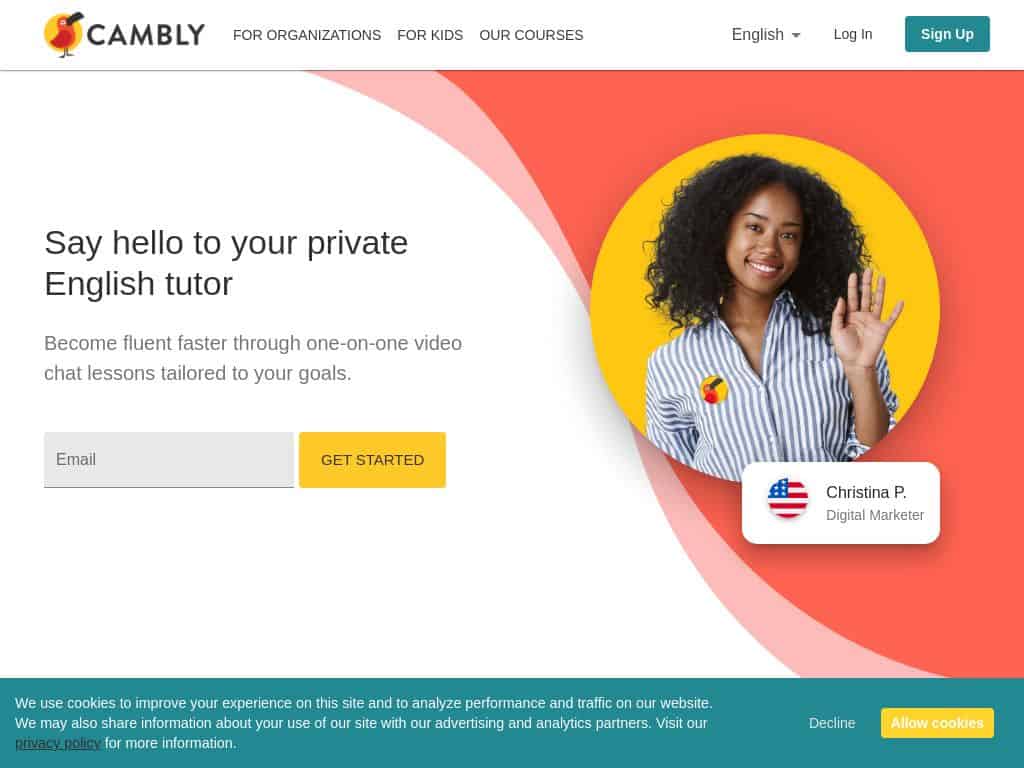 Cambly enrolls students from all over the world. They have a platform for both kids and adults. Tutors will decide which level they want to teach. Unfortunately, they don't pay as well as some of the online English teaching platforms. Their rate is $10.20 per hour.
The company mostly hires native English speakers. So if you come from other parts of the world, you may want to try other websites on our list.
Looking to work with a highly reputable online English teaching company that's been around for a long time? Then there no better option than EF Education First. 50 good years in service and the company is still going strong.
Like other sites, you get to work from home, set your own schedule, and enjoy payments of up to $20/hour. Requirements are a little strict. First, you must be from the US or UK. Secondly, you need a bachelor's degree and higher in any subject. Lastly, you need to work during the daytime when students are awake.
Do you thrive in plenty? Of course, we all do. Like a few other online tutoring companies, Preply lets you teach not just English but other languages as well. Consider this a marketplace for tutors where students get to browse thousands of profiles and pick ones that interest them.
This is a commission-based workplace where the company charges a percentage for every payment you receive. The more hours you cloak, the less the commission you part with. The most popular profiles on the site make upwards of $550 a week.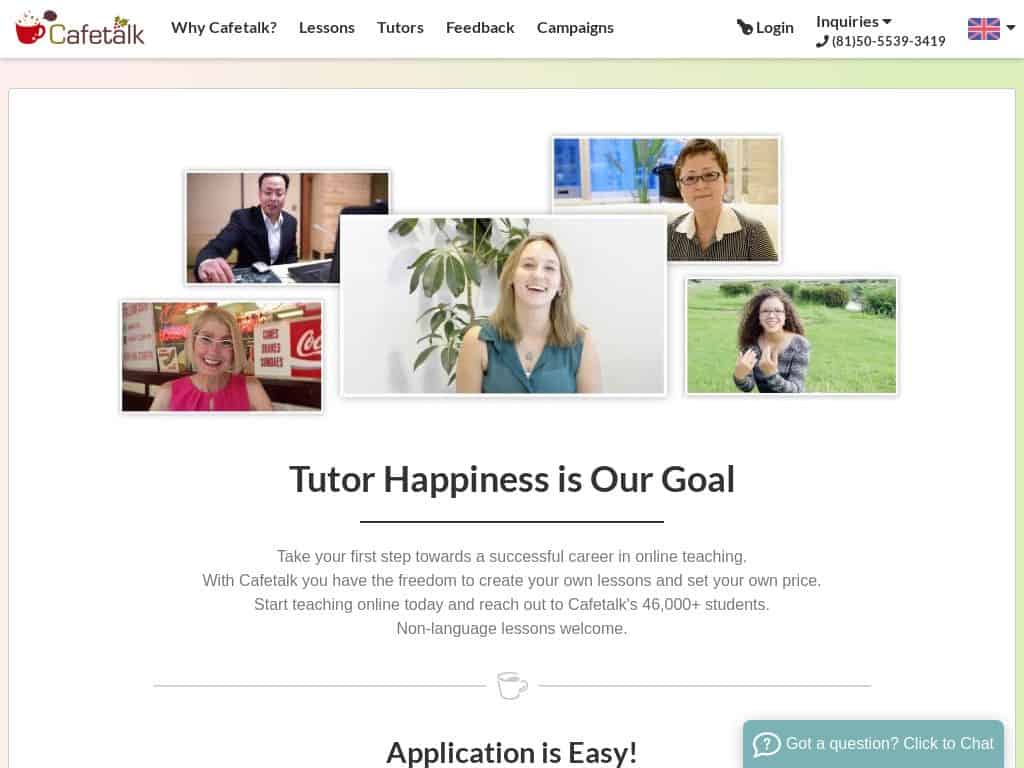 Café Talk is another company that lets you teach English online in a fun and engaging way. What we love about this site is that you can teach anything as long as the lesson is interactive and in English.  Lessons duration ranges from 20 -120 minutes.
Anyone from anywhere can apply for a teaching position. However, they have a liking for tutors who speak Chinese, Korean or Japanese. So if you are from Eastern Asia and possess strong English language skills, you can easily get accepted.
If you would love to teach English to Japanese students, you can launch your online career at English Hunt. Most of the students spring from South Korea and Japan. All the online materials you'll ever need to teach are available. Lessons span from 12-20 minutes.
On this platform, you'll be teaching either young or adult students. Lessons are awarded based on your availability. English Hunt agrees with tutors differently concerning compensation. This could be a great platform to set up competitive pricing. The biggest con-you must be from the US.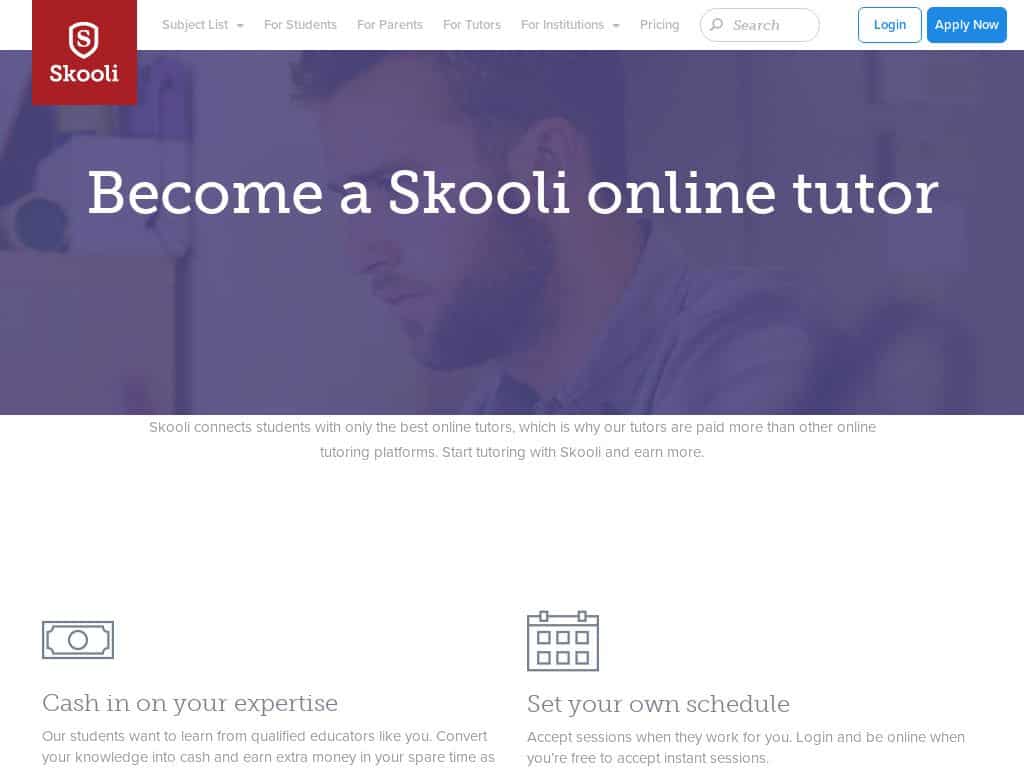 If you are really good at teaching English, Skooli is the place to be. This platform offers competitive rates but you must have an English-teaching certificate or any other degree they are interested in. You have a choice of teaching university, high school, or middle school.
Whether you have a job and want something to supplement your income or are retired but still got fire in you, try out Skooli. Here's the best part; you work only when you want to.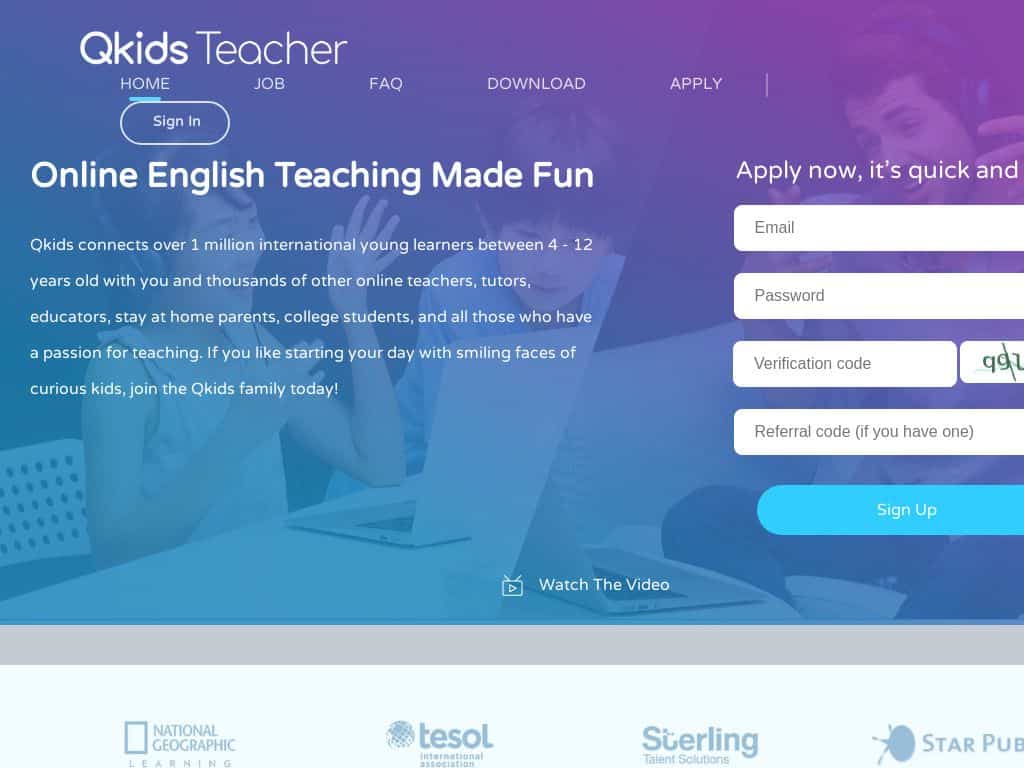 Qkids is not that different from the other choices mentioned. However, there are a few noticeable differences. First, you don't need a degree to enroll. However, anyone in a higher education institution can secure a spot with them.
Secondly, they set you up with several kids to teach instead of one like other platforms. As you can already imagine, that cuts down on what you would originally earn tutoring a single kid. Lastly, their pay ranges between $16-$18/ hour. They seem to prefer tutors from the US and Canada.
Lingoda
This is one of the best language teaching platforms in Europe. Besides English, students are also taught French, Spanish and German. So if you are proficient in any of those languages, then you qualify for enrollment.
To teach at Lingoda, you must possess an ESL teaching certificate and be a native speaker of the chosen language. They also demand that you have a 2-year teaching experience. Their remunerations range from $7 to $12.34, which is not attractive compared to some choices here. However, if you want a full-time or part-time job, you can try them out. 
Are you a kid person? Do you fancy teaching kids between the age of 5 and 12? If you answered yes to both questions, then you should sign up with SayABC. The company is based in Beijing and pays around $19 for a 40-minute lesson.
While the platform prefers English literature graduates, they also tend to settle for anyone with a college degree or even current college students (in their last year) looking to make a few bucks on the side.
If love the freedom to market yourself and set your own rates, SkimaTalk is the place to be. This platform is similar to Palfish in that your previous performance sets you up for either success or failure. Meaning, you need to strive to get positive reviews that make you an attractive tutor.
This Japan-based website has both young and grown-up learners. It's up to you to pick your ideal clients. SkimaTalk prefers to hire from the US, Canada, the UK, Ireland, and New Zealand.
There are still many options out there with flexible working hours and great remunerations. Sometimes it takes a little bit of digging and guessing before you can find a dependable remote employer.
If none of the above choices work for you, try out the following: Magic ears, Gogokid, Whales English, Ginseng English, HiTutor, Hellokid, Hugo English, Panda ABC, 51Talk, Amazing Talker, Zebra English, Eio Biz, XploreAsia, Eine Teacher, GMNY, PAGODA, and Tutlo.
Note: Make sure to pick a platform that fits both your expected rates and schedule. Also, it would be great to know the available payment methods so you don't get stranded on payday. 
Wrap up
As you can see, there are multiple online English teaching companies that employ tutors. First off, if you have a degree in English literature, your chances are high. Secondly, if you are a native English speaker, consider yourself lucky as well.
In short, anyone with strong English speaking skills can teach online from the comfort of their couches. Before you rush in your application, find out where most of the website students come from. This way, you can learn a bit about their culture in order to use relevant examples familiar to their everyday lives.
Lastly, make sure to have a strong internet connection. You can't teach when the internet keeps buffering. One more thing; you know how many hours you are willing to spend teaching online and the age bracket of your students. Now, make sure to sign up with companies that match those needs. Happy tutoring.