Introducing Video Editors
Creating engaging videos that aptly capture the history and aspirations of your brand is not a walk in the park. Initially, that would require shelling out huge bucks on high-end camera equipment and professional video editors. Fortunately, those days are long gone, thanks to the introduction of numerous reliable online video editors.

But choosing a suitable tool for your video-editing needs isn't easy either. At the very least, you want a service that gets the job done without putting a dent in your pocket.

The following is a rundown of the top video making services that will help boost the quality and preventability of your videos.
Pricing: Monthly plans start at $19. A Trial version is also available. 
Motionbox is an online video editing tool that exists to help creators and teams make better videos, faster. Huge props, Motionbox added animated text, automatic subtitles, trim video, and much more. It saves time by having high-quality content available at all times.
Pricing: Free

Movie Maker Online may not be the perfect online video editor in terms of user interface. It also features annoying ads that may affect the overall user experience. But the software has a way of making up for those drawbacks.

First, Movie Maker Online is completely free to use and works exceptionally fast. You simply upload your videos onto the tool's dashboard, apply your desired filters and effects (which include text and titles), and save your projects in MP4 format. Also, there are numerous copyright-free images and audio files that you can use to optimize your videos further.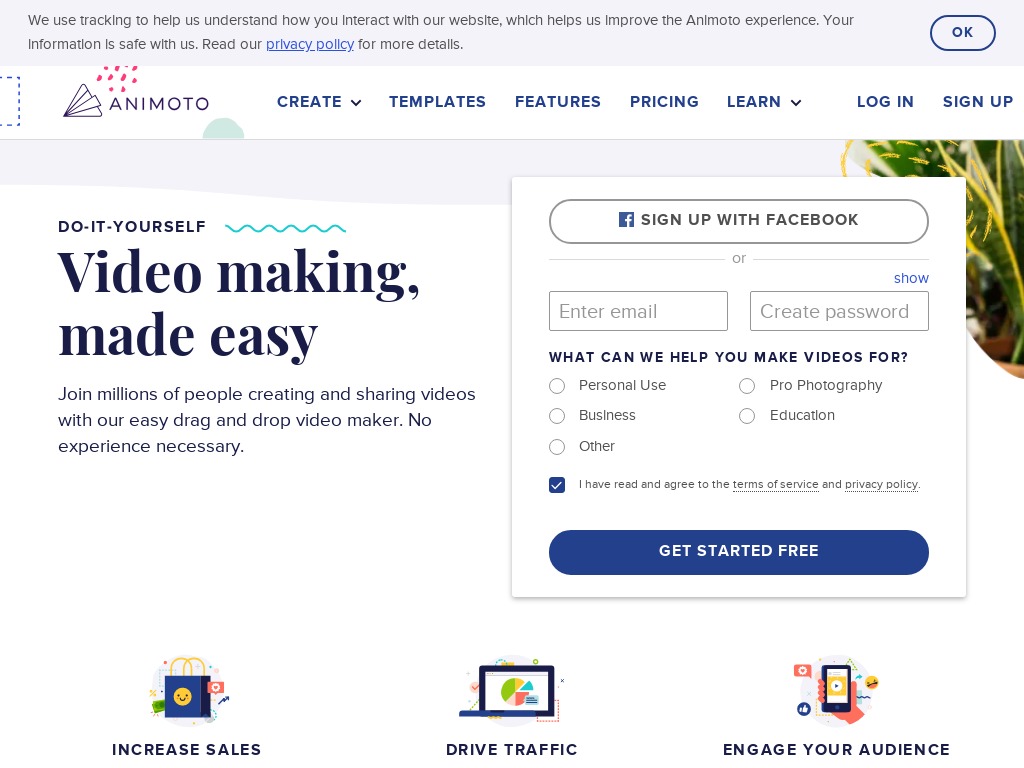 Pricing: Free version and free trial available, paid plans start from $8.00/month

If you're looking to whip stellar promotional or motivational videos that you can upload directly to your website or social media platforms, look no further than Animoto. Like many top online video editors, Animoto offers a range of ready-to-use video creation templates, as well as the option of making and editing your videos from scratch.

The site also maintains a vast library of copyright-free background music, stock-free images, and voice-overs that you can apply to make your videos more outstanding.
Pricing: Free version available, paid plans start from $8.99 per month

One of the things that set FlexClip apart from other popular online video editors is its affordability. With FlexClip's free version, you can access 480p SD downloads, as well as 1 stock video for every project and a maximum of 12 projects a month. Or, simply pay $8.99 per month and unlock all the other exquisite features of the software.

The tool supports 1080p HD video quality (for paid versions), offers an extensive stock library, and is remarkably easy to use. When you log into your FlexClip account, you're welcomed by tons of simple how-to guides that aim at making your experience on the platform fast and enjoyable. After learning the basics, you can proceed to upload your video, apply your desired effects, and then export the finished product directly to major social media or publishing platforms.
Pricing: Free version available, paid plans start from $9.90/month

Although Renderforest comes with up to four paid plans, the tool is generally considered a free online video editor. That's because the free version allows you to enjoy many of the app's video-editing features.

Renderforest will help you to create all manner of videos, ranging from intros and slideshows to promotional videos, explainer videos, etc. It maintains numerous templates that you'll find especially beneficial when making or editing presentational and whiteboard videos. Plus, there are thousands of HD royalty-free stock images to help you add more value to your videos.
Pricing: Free version available, paid plans start from $9.99/month

If you're already familiar with Adobe, you'll have an easy time using Adobe Spark online video editor. But even if you've never tried any Adobe products or have limited video editing experience, you'll still find this tool fairly easy to use. The fact that Adobe Spark is designed by the same makers of Lightroom, Photoshop, and Illustrator already speaks volumes about Spark's credibility.

The tool offers you direct access to tons of copyright-free images and icons, plus thousands of ready-to-use templates. After editing your videos, you can immediately store them in the cloud or upload them to other secure platforms like Dropbox and Google Drive.
Pricing: Free version and free 7-days trial available, paid plans start from $9.99/month

ClipChamp comes with both free and premium packages. With the free version, you can edit up to 5 videos as well as 5-minute webcam recordings per month. The free version also lets you export your videos in resolutions of 480p, which is high enough to stream videos even on slow internet.

But if you find the free plan a bit restrictive, you can always pay $9.99 per month to enjoy ClipChamp's more advanced features.
Pricing: Free version available, paid plans start from $9.99/month

Magisto is a top online video editor that's renowned for its powerful integration of artificial intelligence. Using its AI technology, Magisto can highlight the best parts of your video and match them with suitable effects. You'll find the tool remarkably easy to use too.

Video editing using Magisto is a simple, three-step process. You begin by uploading your clips, select from the list of effects, themes, and soundtracks, then allow the app to do the rest. Another thing to love about Magisto is that it's a cross-platform online video editor, which makes it compatible with both desktop and mobile devices.
Pricing: Free version available, paid plans start from $9.99/month

WeVideo is another top video editor that's famous for its fast editing speeds and user-friendliness. The service is cloud-based, which means you can seamlessly export and store your finished projects safely in the cloud.

Another unique feature of this video editing tool is that you can use it to collaborate with your team, using space from the Google Drive app. You can apply a host of effects on your videos, as well as rotate the videos vertically or horizontally. The tool is also available for Android users.
Pricing: Free version available, paid plans start from $14.95/month

Placeit is a video editing software by Envato, which comes with a wide array of video marketing and graphic design features. The service provides thousands of templates that you can use to create scintillating videos from scratch or edit your already created projects.

Placeit's templates are tailored to suit specific platforms that you'd wish to host your videos on. After creating your videos, you can access the tool's vast library of over 1300 different audio tracks to choose suitable sound effects.
Pricing: Free version and free trial available, paid plans start from $20/month

InVideo's free account may not be the best option if you're looking to use your videos for commercial purposes, as the videos come with watermarks. But as you shall find, upgrading to the tool's premium plans is worth every penny.

By paying $20/month, you'll have unhindered access to InVideo's feature-rich functionalities, such as thousands of templates. There are scores of other cool elements that enhance the visual appeal of your video, including vector shapes, masks, and stickers.
Pricing: Free version available, paid plans start form $39/month

Wave.video is a video marketing platform that lets you make, edit, share, as well as host your videos. The website features an intuitive interface that any aspiring blogger, entrepreneur, and social media enthusiast can take advantage of. There are numerous demos and educational articles that will clue you in on how to use the website.

Wave.video also maintains one of the most extensive stock libraries of any video editing service, with more than 400 stock images and videos. After editing your videos, you can export them directly to various platforms, including Facebook, Twitter, Google Drive, Vimeo, Dropbox, Wistia, and HubSpot.
Pricing: Free trial available, paid plans start from $99/month

This is probably the most expensive video editing app on this list. But before you pay the $99 monthly subscription, VideoToolbox gives you a free trial that lets you experiment with all of its features. Some of the software's defining features include supporting file uploads of up to 1500 MB and the possibility of converting your videos between formats, such as 3GP, AMV, FLV, M4V, MP4, MPEG, etc.

VideoToolbox also allows you to add a custom watermark to your videos, which is crucial to your video marketing campaigns. Other things you can do with VideoToolbox include combining multiple clips, embedding or extracting subtitles, and cropping unwanted images.
Wrap Up
Evidently, there are tons of online video editing tools that you can take advantage of to add more value to your videos. As a general rule, always choose a video editor that's user-friendly, comes with numerous effects, and is easy on your budget.