Last Updated on July 27, 2021
What Is An Image Resizer?
An image resizer, also known as an image resizer tool, is a software that changes the size of your photos to enhance their visual appearance. Image resizer tools have become a crucial requirement in product photography as they add extra visual appeal to your images.

For your peace of mind, an image resizer doesn't resample your image. Which implies that it only changes the physical dimensions and not necessarily the pixel information of the image.

This post shall review the top 10 fast and affordable image resizer tools.
WebResizer is one of the fastest and most reliable image resizer tools out there. The service allows you to resize your images without needing to set up an account. To get started on the platform, all you need to do is go to the website's homepage and click on 'Resize Photos Here'.

Although WebResizer can only resize one image at a time, the tool comes with tons of redeeming features, such as the ability to rotate, crop, or sharpen your photos. Plus, you can even adjust your image's contrast, exposure, tint, and saturation. After adding your preferred effects to an image, click on 'Apply Changes' to save all the changes or 'Start Over' to begin the resizing process afresh.
Shrink Pictures is another image resizer tool that takes pride in its incredible speeds. In a few seconds, you can resize your photos and apply a raft of other effects to them, including Grayscale and Sepia.

Shrink Pictures is also remarkably easy to use. In fact, the tool was designed with the needs of beginners in mind. The entire image resizing process (from image uploads to saving of the resized files) takes five steps. But like WebResizer, Shrink Pictures only allow you to resize one image at a time.
Many standard image resizer tools only allow you to resize one image at a time. But with PicResize, you can resize multiple images simultaneously, which saves you the time you'd have otherwise spent working on the photos separately. You can upload photos directly from your PC or using a URL in different file formats, including PNG, JPEG, BMP, and GIF.

The 'Add Multiple Files' button lets you add as many pictures as you wish. You can choose to select a preset image size using the software's 'Resize Your Picture' functionality or select the 'Custom' option to insert your personalized image size. In addition to image resizing, PicResize comes with additional features, including the possibility to crop or rotate your photos.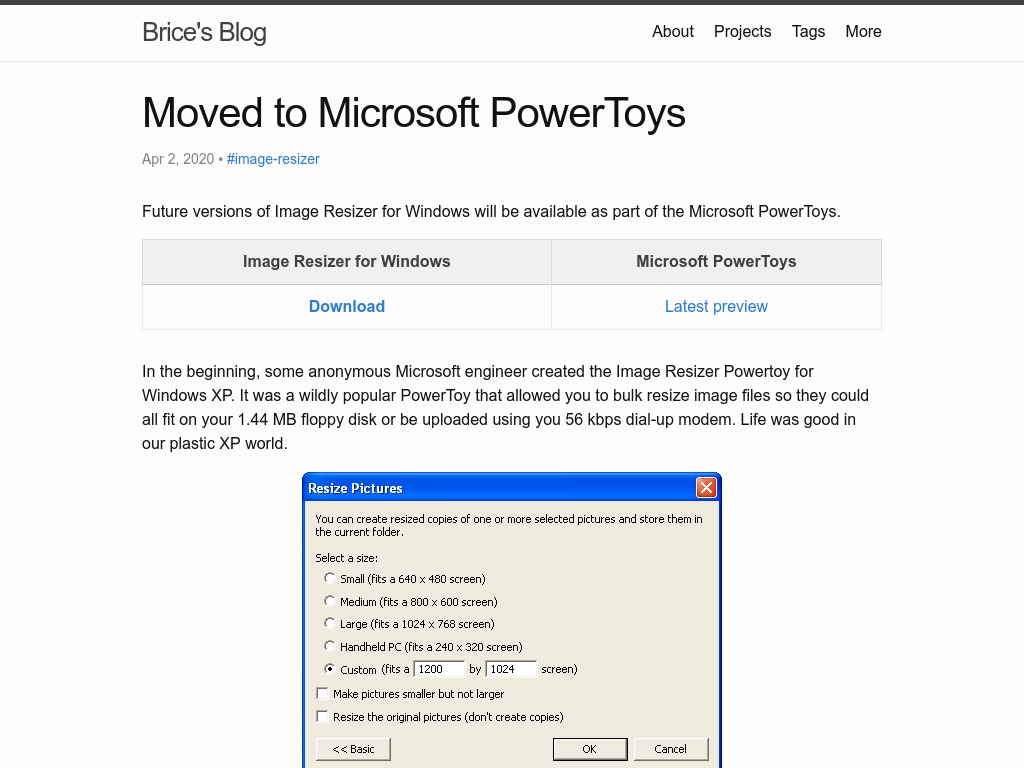 Bricelam Image Resizer is a free photo resizer tool designed for Windows, which is highly popular for its ease of use. The software comes with a clean and minimalistic interface, with no frills. It supports various image upload formats, including PNG, JPEG, JPG, and BMP, and works on all Windows platforms, including the older versions.

With Bricelam, you can resize images in different preset standard forms or in your own custom sizes. Like PicResize, Bricelam also supports bulk image resizing. Feel free to deploy the software's 'Batch Mode' and resize multiple images in one go.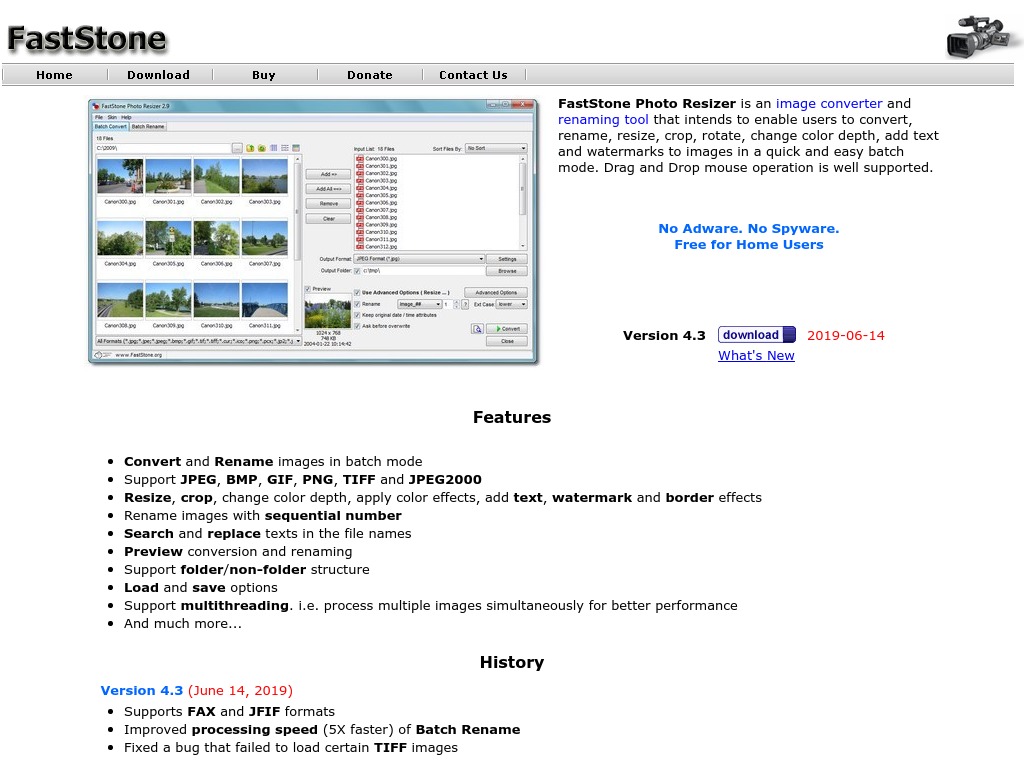 FastStone Photo resizer truly lives up to its name. Considered one of the fastest photo resizer tools, FastStone can resize your images in a matter of seconds. The software is also free to use and works on all Windows versions. It supports basic image file formats like JPG, JPEG, PNG, and even photoshop PSD files.

You have the flexibility of resizing your images one at a time or in batches using FastStone's 'Batch Resizer.' All resized batches are systematically renamed to avoid confusion. Besides image resizing, you can also use FastStone Photo Resizer to crop, edit, and rotate your images, as well as change their color depth, brightness, contrast, and saturation.
One of the best things about BeFunky is that it offers both free and premium options. The free version allows you to leverage all the tool's basic image resizing and editing features. But if you're looking to unlock all of the software's photo resizing features, you'll need to upgrade to the subscription plans.

The image resizing process is fast and simple. You simply upload your images in any of the supported file formats, click 'Edit', apply your preferred dimensions, click 'Apply', and finish up by saving your image. In addition to image resizing, you can also use BeFunky for graphic designing and collage making.
ResizeImage is another image resizer tool on this list that only works on one photo at a time. But the software makes up for that drawback with its long list of features, some of which allow you to optimize your images further.

Not only does the tool resize your images fast, but it also lets you rotate your photos or remove undesirable backgrounds. Needless to mention, ResizeImage is also relatively beginner-friendly. However, note that ResizeImage may not be very effective for too large file sizes.
B.I.R.M.E is an acronym for Batch Image Resizing Made Easy. Which speaks to the tool's efficiency in resizing bulk images. B.I.R.M.E comes with two versions, namely Version 1 and Version 2. You can choose either version to resize bulk images and add several other effects to your photos.

For instance, there's the possibility of adding a border to each image by simply selecting how many pixels thick you'd wish the image to be. It's also worth noting that B.I.R.M.E lets you preview your images during the resizing process and effect any changes on the go.
Fast image load speeds, an intuitive user interface, and a variety of resizing options are some of the top selling points of Resizing.app. Another thing to love about this app is that it offers you several image file output formats, including JPG, PNG, BMP, WEBP, or TIFF. Resizing.app is also available via a Chrome extension, allowing you to access it on the go.

To resize your images, you can cut out the parts you wish to keep using the crop tool. There are lots of preset image sizes that you can experiment with, especially if you're looking to publish your photos on your social media platforms. However, Resizing.app has two major drawbacks – it doesn't support bulk resizing and you can only upload files from your PC and not the web.
Landscape is an image resizer app by giant social media growth service, Sprout Social. When you upload your images on the software, you can choose the social networking platforms where you'd want to publish the photos.

Landscape lets you select standard image sizes for various social media websites, ranging from Facebook and Twitter, to LinkedIn, YouTube, Instagram, and Pinterest. You even get to choose how you'd like the image to appear on your social media profile, including as a profile picture, post, etc. And if you're averse to the idea of preset image sizes, you can always resize the image to your individual dimensions using the app's 'Custom Resize' option.
Final Word
A subtle internet search for the best image resizers will yield hundreds of services, with each tool marketing itself as the real deal. To avoid losing yourself in the maze of recommendations, you should consider choosing an image resizer software that's easy to use, fast, affordable, and supports numerous file upload formats. Better yet, you can kick-start your search for a reliable photo resizer by bookmarking the above list.