What Is A Podcast Hosting Site?
Have you been toying with the idea of launching a successful podcast? Well, you've probably bumped into the phrase 'podcast hosting site' and wondered what it means.

First up, it's important to note that podcasting isn't exactly similar to creating audios and marketing them on music discovery platforms like iTunes or SoundCloud. With podcasts, you'll need to host your media files on certain platforms before you can begin sharing the content to listeners all over the world.

Such platforms constitute podcast hosting sites, or simply known as podcast hosts.

One of the best things about podcast hosting services is that there are tons of them to choose from. However, choosing a suitable podcast host isn't as easy as finding one. That's primarily because most of these sites offer near-similar features.

There's no need to fret though, as we've trawled the internet to present to you the twelve best podcast hosting sites that are worth your time and money.
But Why Consider A Podcast Host In The First Place?
If you're only now making your foray into the intricate world of podcasting, you could be wondering if podcast hosting services come with any significant perks. After all, you can simply create your podcast media files and host them on your website or social media platforms, right? Wrong.

While it's possible to host your podcasts on your website or social networking sites, it's not recommended.

As you shall find, podcast files tend to be fairly large because they contain numerous episodes. One podcast recording can be as long as 1 hour and a single file can contain as many as twenty of them.

When you host these large media files on your website, you risk slowing down the website's server. And as you probably already know, slow website load speed is one of the top causes of high bounce rates. Which means that visitors to your website will leave in a flash and probably never return. Worse yet, the heavy files could cause your website to crash, particularly if you have numerous listeners downloading or streaming at the same time.

Besides their ability to host large media files, podcast hosts also come with a variety of nifty features both to podcasters and their subscribers. Some of these features include podcast analytics, embeddable media players, and feed generation.
12 Best Podcast Hosting Sites
Pricing: Free version available, Paid plans start from $14/month

PodBean is both a freemium and premium podcast hosting platform, which allows its users to submit their podcasts to various directories, including Spotify, Apple Podcasts, and Google Podcasts.

The platform's free plan supports up to 500 MB of storage, or about 5 hours of audio files. To unlock PodBean's advanced features like unlimited storage, you'll need to upgrade to any of the paid plans.

PodBean is also one of the few podcast hosting websites that let you earn some bucks on the side from your podcasts. Using the marketplace, you can connect with various advertising channels and incorporate monetized ads into your episodes. E-commerce businesses can also take advantage of the host's sales model that lets them sell bonus episodes.
Pricing: Plans start from $15/month with a 14-day free trial

Simplecast doesn't have a free plan, which may be a drawback for some podcasters. But for $15/month, you can benefit from the platform's truckload of features, which include a one-click publishing functionality, advanced podcast analytics, and different web players.

Podcasters can leverage the Recast™ tool to schedule and share clips of their podcasts on social media. There's even the possibility of collaborating with multiple podcast managers in a single account.

Plus, Simplecast supports unlimited storage and uploads of podcast media files.
Pricing: Free version available, Paid plans start from $12/month

If you're a beginner podcaster and are struggling to find a suitable podcast host, you might want to give BuzzSprout a try. The service sports an intuitive design that comes with a simple analytics dashboard to boost your podcast sharing and marketing campaigns. Some of the insights you can get from BuzzSprout include discovering the demographics of your listeners and the apps that most of those listeners use to stream or download your podcasts.

For maximum flexibility with your podcasts, you can add episode chapter markers to allow your listeners to scan each episode. The platform also makes it remarkably easy to publish your episodes on reputable podcast channels like Spotify, Alexa, and Google Podcasts.

However, note that BuzzSprout's free plan supports only two hours of content every month and hosts files for 90 days before deleting them automatically. Also, the free plan also features annoying ads.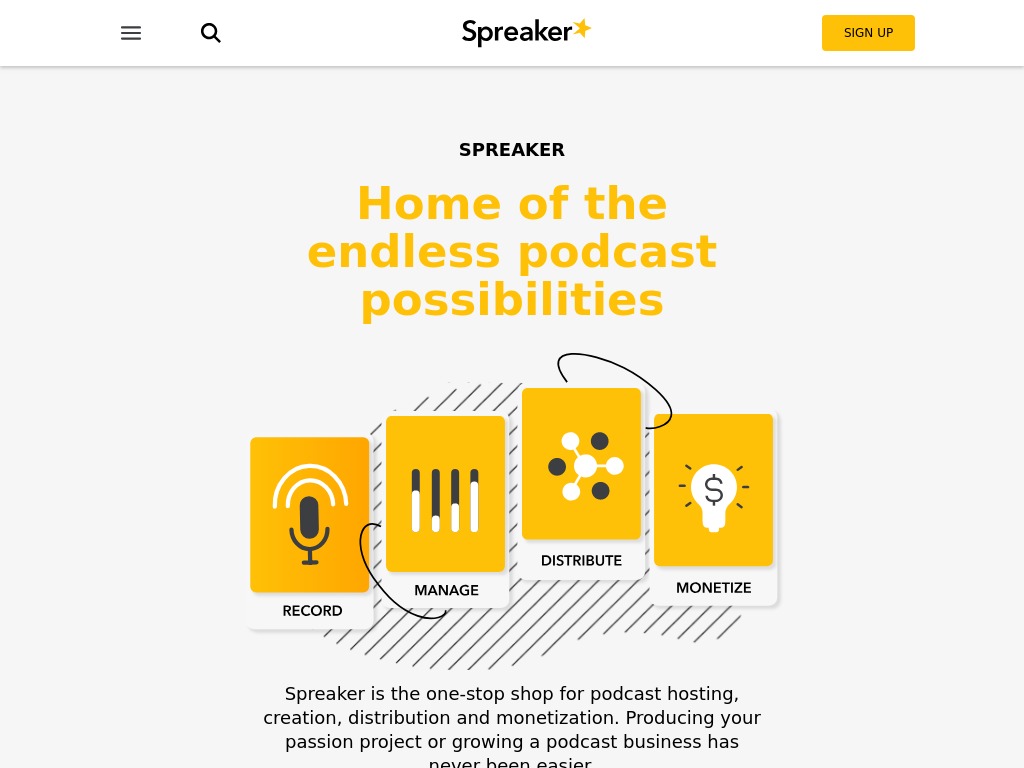 Pricing: Free version available, Paid plans start from $6/month

Spreaker is one of the most affordable podcast hosting services out there, offering a free version and paid plans as low as $6 per month. The platform also implements a unique approach to pricing, where plans differ by total audio storage as opposed to monthly podcast upload limits.

Even so, all plans come with many of Spreaker's fine features, such as embeddable players.

But one thing that sets Spreaker apart is the ability to manage numerous podcasts from a single account. The service also runs a monetization program where you can liaise with advertising firms to insert ads into your podcast episodes.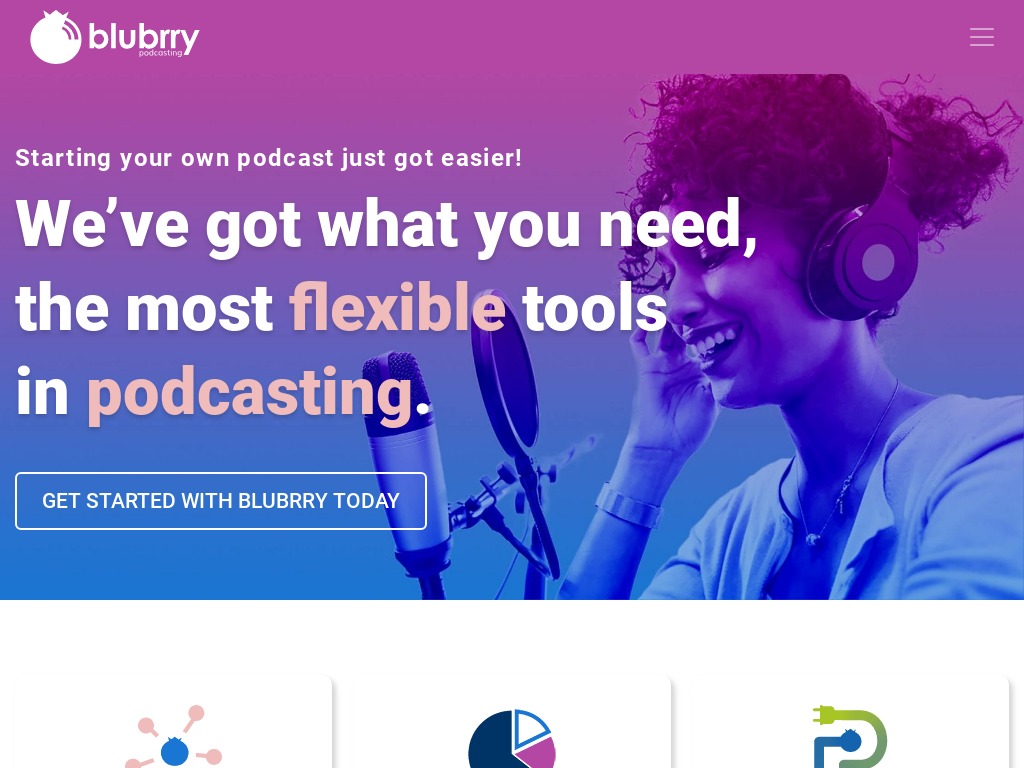 Pricing: Plans start from $12/month

If you're a WordPress user, you'll find Blubrry quite useful for your podcast hosting needs. Besides integrating with WordPress, Blubrry is also compatible with numerous podcast distributors, such as Apple Podcast and Google Podcast.

Other Blubrry's standout features include powerful podcast analytics, social media marketing features, and a variety of plans that all come with impressive bandwidth and insightful podcast statistics.

And just like Spreaker, Blubrry's plans differ fundamentally on the amount of storage you require as opposed to the number of uploads.
Pricing: Plans start from $12/month

SoundCloud is a music streaming and discovery platform that needs little introduction. It also happens to be one of the top podcast hosting websites. The platform has over 170 million active monthly listeners and registers 12 hours of audio uploads every minute.

Podcasters can benefit from SoundCloud's array of nifty features, including an embeddable audio player that lets you share your podcasts on your website and social networking platforms.

There's also the 'timed-comments' feature, which your listeners can use to attach their comments to specific areas of your podcasts.
Pricing: Plans start from $19/month with a 7-day free trial

Captivate is a podcast hosting website that's recommended for podcasters seeking to grow their audience. Once you sign up for Captivate, the service will automatically set up a website for you, which you can customize as per your needs.

The website contains premade call-to-action links that encourage your audience to subscribe to or share your podcasts. There are even links through which your audience can sign up to your mailing list.

Captivate also comes with various plans and regardless of the plan you subscribe to, you get unlimited storage, insightful podcast analytics, and the provision for additional team members.
Pricing: Free version available, Paid plans start from $8.09/month if billed annually

There are various reasons we recommend Smart Podcast Player besides just offering basic tools like the ability to embed podcasts to your website or social media platform.

For starters, the service is so ingeniously designed that it adopts the same appearance on all operating systems and screen sizes. Even better, you can customize its colors to suit your website or brand.

Smart Podcast Player also contains on-screen control features that your listeners can use to browse through an episode, share your podcast, and even subscribe to your email list.
Pricing: Plans start from $19/month

Transistor is the go-to podcast hosting service if you're looking for a tool that offers truly advanced podcast analytics. The platform is designed with a clean dashboard that displays statistics across various parameters, including the average downloads per episode, the total downloads over time, and the number of subscribers.

Transistor also integrates with various marketing services like Drip, ConvertKit, and MailChimp. Its ability to distribute your podcasts to platforms like Google Podcast is instrumental in growing your audience.

And regardless of the plan you choose, you get unlimited uploads as well as the ability to manage multiple users on one account.
Pricing: Plans start from $19/month with a 14-day free trial

Castos may not be as popular as many other podcast hosting websites on this list, but it's still one of the most resourceful platforms.

First off, Castos integrates with WordPress through the Seriously Simple Podcasting plugin, making it highly suitable for WordPress users. The platform also lets you create and upload unlimited podcasts and doesn't impose restrictions on downloads.

Other excellent features include the option for creating private podcasts, the possibility of outsourcing your editing work to Castos Productions, and the provision of a transcription service.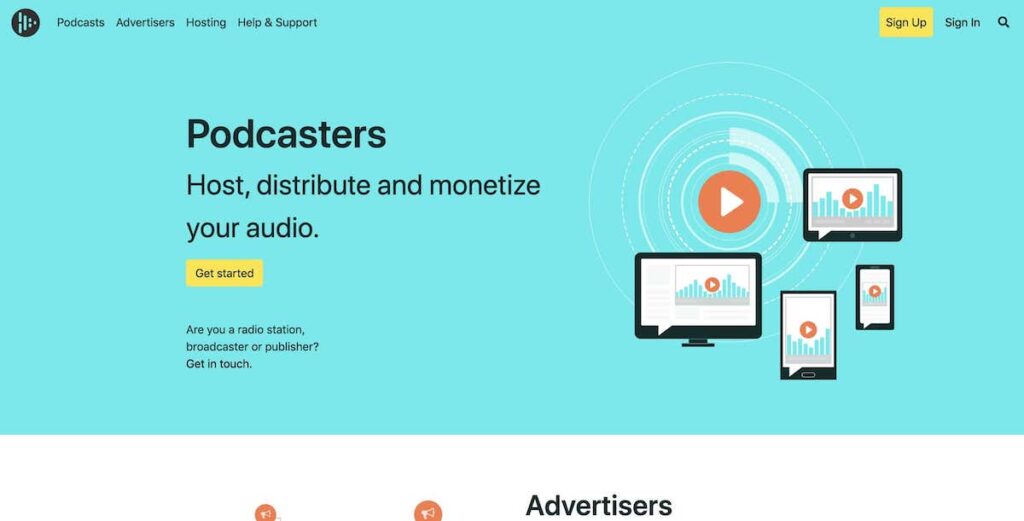 Pricing: Plans start from $9.99/month

The first thing you'll love about AudioBoom is its relative affordability. For as low as $9.99/month, you can upload unlimited podcasts and up to 10,000 plays each month. After achieving over 10,000 plays per episode, you can monetize your content through dynamic ad insertion.

You also benefit from the platform's advanced podcast analytics which offer useful information about your audience, such as their geographical location as well as the devices and apps they're listening to your podcasts from.

What's more, AudioBoom integrates with podcast sharing services like Google Podcasts, Apple Podcasts, iHeartRadio, and Spotify.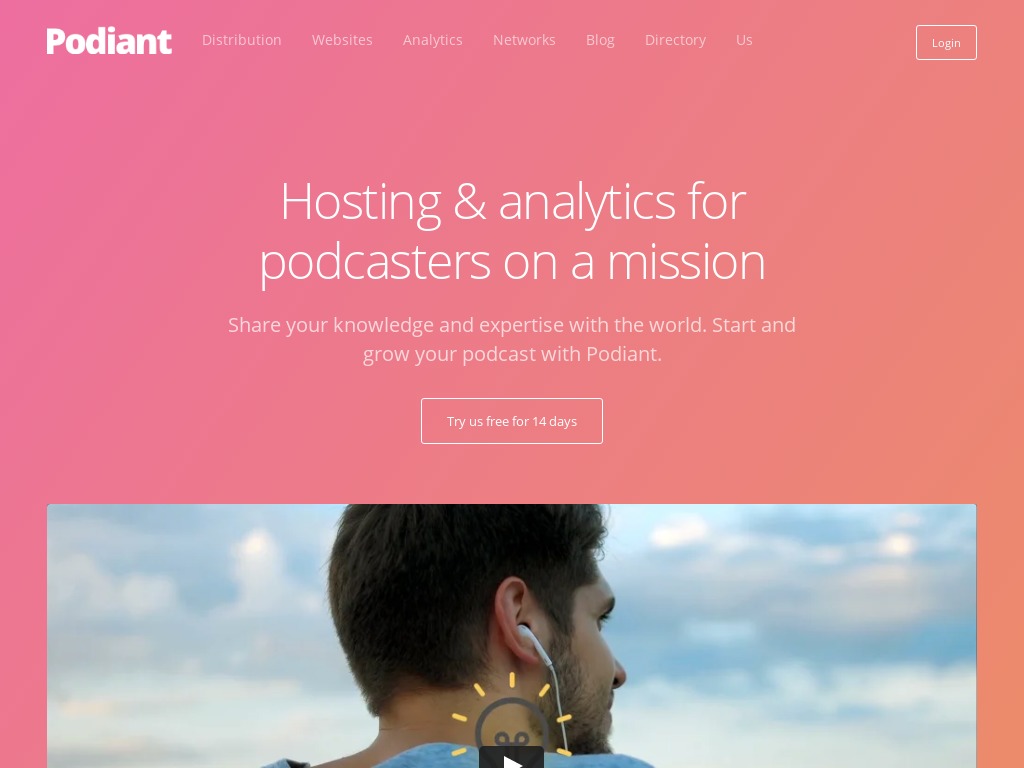 Pricing: Plans start from $12.99/month

Many podcast hosting services charge you additional fees as your listenership grows. Well, that's not the case with Podiant. In addition, Podiant provides truly unlimited storage and bandwidth that ensures you upload unlimited podcasts and grow your following.

The service is also renowned for its great analytics tool. Once you sign up, you get a different website where useful information on the performance of your podcasts is displayed.

But what truly stands out about Podiant is the Production Assistant, a program that podcasters can use to script, review, and edit their media files before making the files available to their audiences.
Conclusion
Podcast hosting services are crucial to the success of any podcast marketing campaign. Even if you're simply creating podcasts for informational or entertainment purposes, you'll find these tools to be truly resourceful. Feel free to use any of the above-reviewed podcast hosts and watch as your listenership grows beyond measure.