Last Updated on June 10, 2022
What Is A Print-on-Demand Service?
As the name implies, print-on-demand (POD) services refer to e-commerce websites or tools that allow you to design and print products in small quantities, depending on your order. Using these websites, you can print anything, ranging from books to home décor materials, clothes, mugs, etc., whenever the need arises.

Plus, you can set up an online retail outlet or get a link to share your custom-made products on your social media platforms. That allows you to make extra bucks without owning any inventory or having to take care of shipment.

POD websites are the go-to services for startups that may not have the requisite funds to afford bulk printing. Compared to companies that do bulk printing, print-on-demand websites offer services that are tailored to their clients' needs. Plus, their rates tend to be considerably lower.

As they mostly handle small orders, print-on-demand companies usually operate on shorter turnarounds. For the most part, the entire design, printing, and shipping process takes a week tops.

But since there are hundreds of print-on-demand companies out there, choosing the right one for you may not be a walk in the park. To help you narrow down your search, we've prepared a list of the top eight print on demand services that you might consider engaging for your business.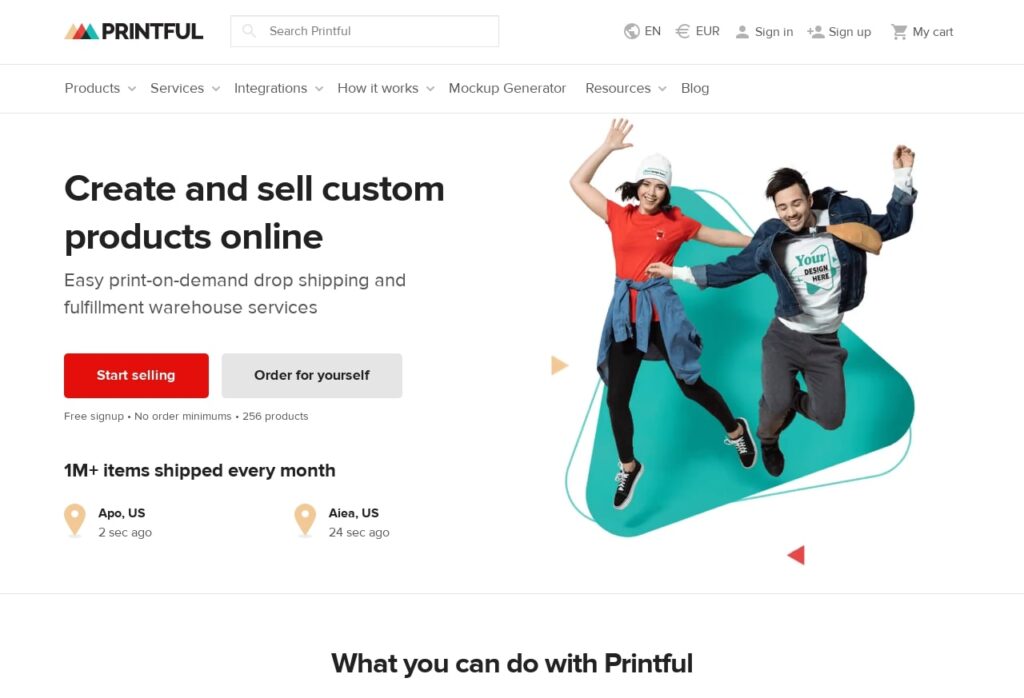 Printful has been ranked by hundreds of reviewers as the preeminent print-on-demand service for individuals, creatives, and entrepreneur's alike. The website offers a variety of print patterns that allow you to craft your products to your desired specifications. Examples include white label, embroidery, direct-to-garment (DTG), cut & sew, sublimation, or a  custom t-shirt.

Printful implements a mock up generator that's incredibly easy to use, making it a top recommendation for beginners. The service also integrates with different utility websites, including Shopify, Wix, and WooCommerce, not to mention Etsy (the top online marketplace for handmade products). It has four fulfillment locations, including Charlotte in North Carolina and Riga in Latvia. So, whether you're located in America or Europe, Printful ensures you're always closer to your customers.
Shopify is a software service that was designed with the interests of e-commerce websites in mind. You can use the service to design your own e-commerce website, manage your online products, as well as facilitate shipping. It's also one of the go-to platforms if you're looking for print-on-demand services.

As a POD tool, Shopify helps you to tailor-make e-commerce themes that you can use on your online store to grow your brand. And after creating your designs, you can either sell them on the Shopify website or share them on your social media platforms using a simple, free plugin. Just remember that Shopify isn't free. Prices start from $29 a month, but there's a 30-day trial period that lets you experiment with all the website's features.
Unlike many print-on-demand services out there, Printify isn't a single entity. Instead, it's a conglomerate of independent printing companies under one roof. So, you might consider this POD website if you're looking for variety. The service offers its clients a wide range of product catalogue and utilizes various print patterns, such as DTG and sublimation.

It has printing partner networks spread across over 90 locations, including in the US, UK, Germany, China, and Australia, which translates to fast and hassle-free delivery. Like Printful, Printify integrates with various productivity software, such as Shopify, Etsy, eBay, Wix, and WooCommerce.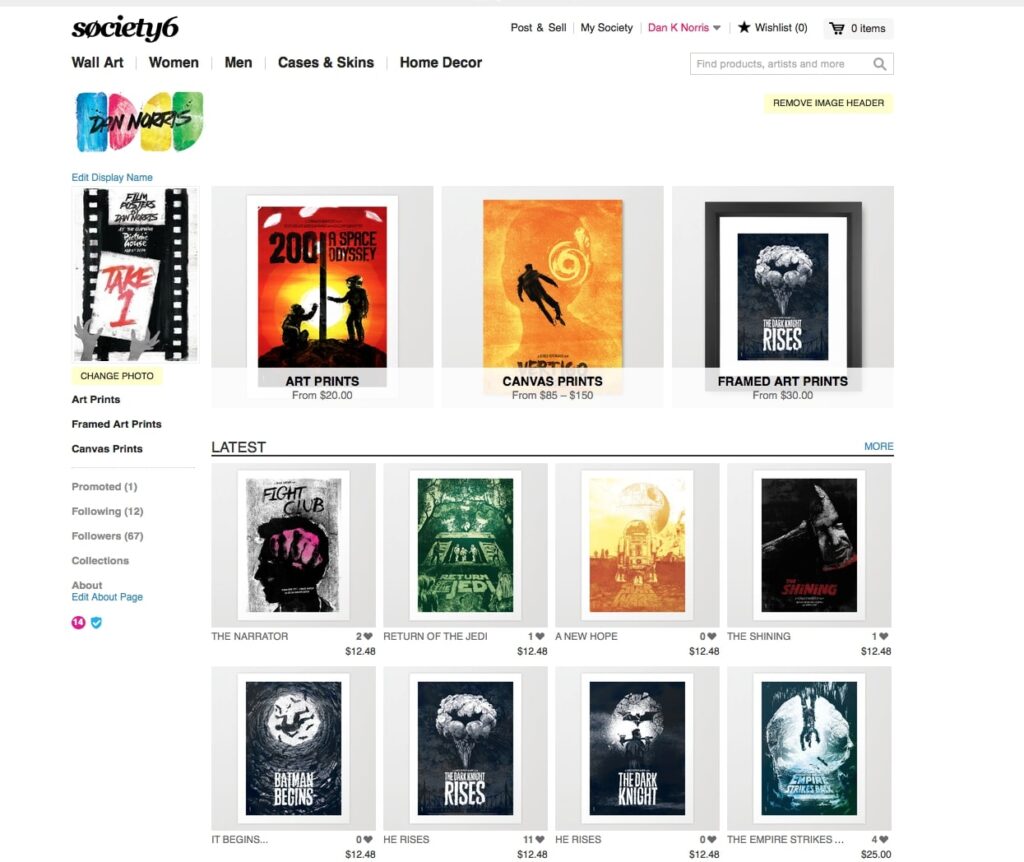 If you're looking for a POD service that comes with no geographical limitations, your search ends with Society6. The website allows people from all over the world to upload their art and determine how they would want their works to be designed. It caters specifically to art prints, which makes it the top platform for creative artists.

Besides art prints, you can also order various other products from the Society6 website, ranging from gifts to furnishings, apparel, stretched canvases, etc. For those who would like to sell their products on the Society6 website, it's reassuring to note that the service lets you determine your sale margin. Even better, you retain copyrights to your designs.
One of the best things to love about Zazzle is its incredible customization capacity. Using the website, you can create more than 1300 items and customize them further to achieve your desired levels of uniqueness. Some of the things you can print on Zazzle include tote bags, mugs, business cards, apparel, buttons, and stickers.

The platform maintains tons of artworks by various artists, which you can choose and customize to your needs. There's also the provision of designing items from scratch. If you ever experience problems designing your product, you can always take advantage of the many tips and tutorials on the Zazzle website. And like Society6, Zazzle also lets you set your own royalties.
SPOD is a POD website owned by Spreadshirt, which speaks a lot about its credibility and reputation. The website prides itself on its fast turnaround, with up to 95% of all orders shopped within 48 hours. You also get a user-friendly product designer and a huge product catalog. A product customization tool allows you to personalize your orders using your own images and designs, or the over 50,000 designs offered on the SPOD platform.

Another thing to love about SPOD is its competitive prices, with rates as low as $3.57 for domestic shipping. However, note that the costs depend on the order value as opposed to individual products. Fortunately, there's a shipping calculator that enables you to computer how much your orders will cost.
Like many reliable print-on-demand websites, Redbubble offers you a wide selection of design products, including apparel, custom t-shirt, business cards, posters, notebooks, etc. There are even products that you'll hardly find elsewhere, such as duvet covers. The website gives you the freedom of setting your own prices and pays royalties on the 7th to 10th of every month.

Redbubble has fulfillment centers located around the world, including in the US, Canada, Europe, and Australia. That takes away the worries of paying additional markups on shipping. If you ever run into any hassles with your project, you can always reach out to Redbubble's highly-responsive customer support.
Teelaunch is another go-to print-on-demand service that offers scores of amazing products in exceptional print quality. The website contains some of the most unique product catalogs, including wood-burned cutting boards, speakers, dog bowls, pillows, mouse pads, and more than 550 other products.

Teelaunch mostly uses DTG as well as cut and sew printing options, and prices are highly competitive. It integrates with Shopify and Etsy, which ensures that your projects receive higher visibility. Delivery is usually done within 3 to 6 business days of making your orders. Needless to mention, the company has worldwide fulfillment centers, including the US, UK, and Canada.
Final Word
The above-reviewed print-on-demand websites made the list due to their low-cost entry to markets that were previously considered difficult to penetrate, such as the creative arts niche. The websites are also preferred due to their ease of use, reliable customer support, and favorable shipping policies.