Last Updated on September 27, 2021
Remote desktop tools, or remote-control tools as they are often referred to, serve the basic function of allowing you to control one computer from another computer or phone, as long as both devices have the software installed. They were built with IT administrators and managers in mind so that they could have access to and control other computers via Bluetooth or local network using a master computer, however, in the modern world, they serve to have more functionality and are actually a useful tool for businesses.
The advent of Covid-19 put a lot of businesses under immense pressure and many offices were required to close, the convenience of having remote control software meant that workers could access their work files from home and as a result, time and money was saved by companies who could let their clients work efficiently and safely from home. Not only that, but employees can utilise the tools if they are unwell and cannot reach the office or if they are away.
The tools give not only the employee, but the employer a greater sense of control over their work. This article looks to assess 6 of the best remote desktop tools that can be utilised by both businesses and individuals for a number of purposes, but first, it is important to know what to look for in a remote desktop software. 
What to look for in a Remote Desktop Tool? 
Good Price 
As with any service, the goal for the user is to get value for money, each service will have different perks and offer different benefits, it all comes down to which benefits you feel most apply to you. Most of the tools on the list below will have a monthly fee, but some, including tools not on the list are free, and should be explored too. 
Features 
Usually, the number of features linked to a service will depend on the price that they charge. The very basic features like remote access should be available, as well as a smartphone app that you can use to access a computer from a phone. Other tools will have better features like file and audio transfer, as well as screen recording and additional users hidden behind a paywall, what is important is again to do research and find out what services have the features that you need. 
Versatility 
Thankfully, each of the tools on the list are versatile in their own way, but universally, they all work on different systems like Mac, PC, Linux, and Chromebook. Versatility if features is also important, but if you pay for a remote desktop service, it needs to be able to run equally as well on each desktop that has installed it. 
How to use a Remote Desktop Tool? 
You do not need a degree in IT to use a remote-control tool, the process is simple, install the software on to your office computer, this will make the computer the "host". Then simply connect your home phone or laptop to the software and connect to the host, after that you will have access to the computer and be able to control the mouse and keyboard. 
The List 
In terms of cross platform capabilities and versatility, you will have a hard time finding a better tool than Team Viewer. With over 600,000 global customers and a fast and secure system and cloud platform, they are in my view, the industry leaders in this area.
The service connects computers, phones, tablets, or laptops through its "Global Access Network" and has packages and scalable solutions that cater for each individual company that wishes to use its features. Its website gives a great in-depth look into the service and its capabilities.
The only downside is the $50 per month price point, so for smaller or medium sized businesses, this may not be the best option, but for larger companies, I think that TeamViewer offers excellent value for money in terms of its features. 
One of the leading names in the remote desktop access business thanks to its cloud technology is Remote PC. What I love about remote PC are its collaboration abilities, and its unique features. It allows for file transfer, easy access to the host computer or to client computers, voice chat as well as a native mobile application and desktop software too.
Access is simple, just share your access ID and key, and your colleagues will be able to control your computer at any stage. No installation is required as well and with its TLS 1.2/ AES 256 encryption, your privacy is well and truly secured, with your personal key acting as a secondary password to access each machine, meaning that no third-party devices can access any material.
Prices usually start at $30 per year, but sales are regularly run on their website offering 90% off for a year membership for you and 10 computers. 
Another quality service that offers the user a variety of features and value for money is Any Desk. It is feature packed allowing for both audio and regular file transfer, it lets you record remote sessions for added security, it has a convenient and easy to use mobile app, allowing for smartphone control and it updates regularly, allowing for its users to benefit from its new features.
Connecting to the host requires a 9-digit code and permission is required by the host to access the computer, meaning the host has to be online for access to be granted. However once access is granted, you can sync the clipboard, transfer any files, take screenshots, and screen records and even restart the host computer.
It is the ideal tool for an IT service looking to fix computers for their customers and is made for such use. It is highly secure, containing TLS 1.2 encryption technology that completely blocks any third-party access. The website contains a host of video tutorials also, which is extremely convenient when learning how to use the service.
There are different tiers, so be aware of this when using the service, starting at $10 per month for the lite package and ranging up to $20 per month for professional, which they recommend for small businesses because it allows access to multiple devices. There is also a $45 per month Power Package which is ideal for larger corporations. 
If simple is what you are looking for, then you can keep scrolling because Lite Manager is one of the most comprehensive and feature packed tools on the entire market, let alone on the list itself. For one it allows you to store access information for up to 30 computers, whereas many services will only allow for access to between 1 and 10.
You can transfer files and even open files without the need for screen control, it runs on Windows, Mac, and Linux, supports text chat, and has a host of tools that the host or client can avail of when using the service.
The service itself allows you to connect to the host or a client through IP address, computer name or a specific ID, and although the service itself does not update often, it has so many features that work in its favour, that updates are rarely needed.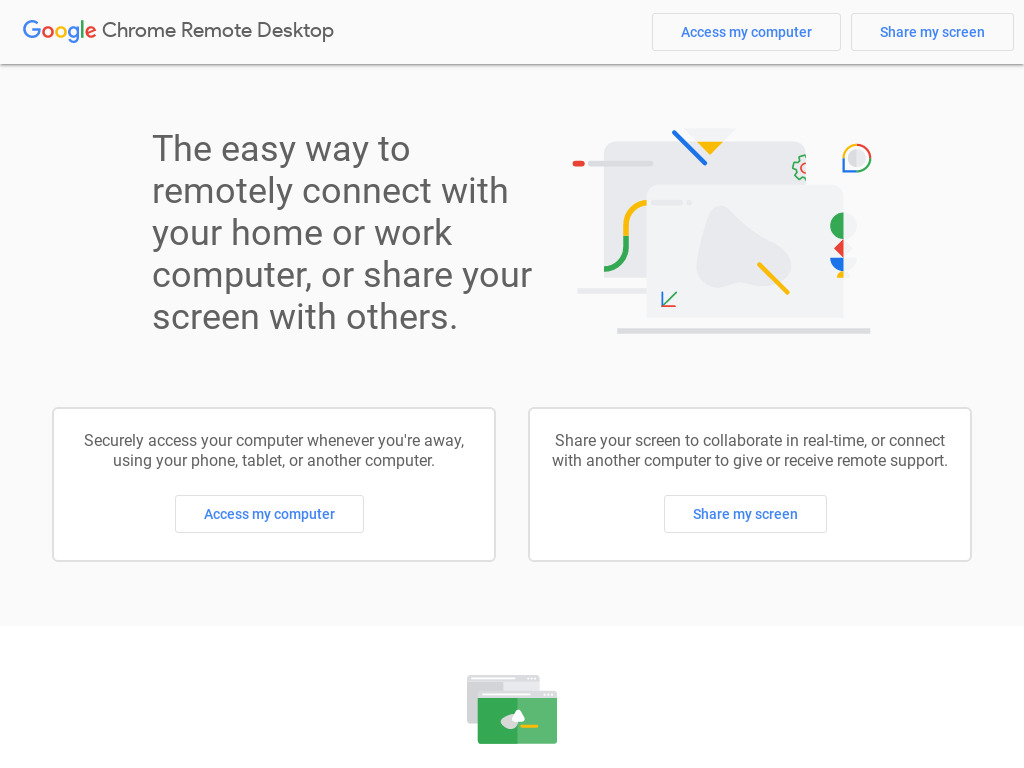 There is a lot to like about this Google Chrome extension, for one it is free, but is also very easy to install, can be used quickly and is secure, allowing you to access or share a screen with confidence. One of the standout features is that you can access a computer even when a user is not logged in, meaning that at any time, you can easily access files. It has a file transfer tool and has multi monitor support also.
To use it, simply put in the PIN sent to your google account when installed and then you are connected as the host. Connecting to the host is simple, sign in using the same google credentials on a different browser or use an access code generated by the host computer for access. It works on any operating system that uses chrome, so can be used on any PC, Mac, Chromebook, and Linux device.
What I also like is the ease at which the website allows you to use its features, there are two main options, "access my computer" which lets you attempt to access your main host device using a tablet, phone, or another computer. And "share my screen" which as the name suggests, allows you to collaborate with other users and receive remote support. Considering the fact that the service is free, easy to install and is easy to use, it is the perfect tool to use for beginners