Working remotely from the comforts of your home is simply marvelous. Talk of the freedom to come up with your own work schedule, dress the way you want, set your own rates, and hire and fire clients as you see fit. Amazing, isn't it?
If this is your first rodeo working remotely, you are probably wondering…
What are the best remote job boards for freelance employees? Well, guess what; there are plenty of them. Let's go over a few widely recognized choices.
Best Websites to find remote work
Because some websites offer jobs specific to a certain skill, we will start with general websites and finish up with those listing: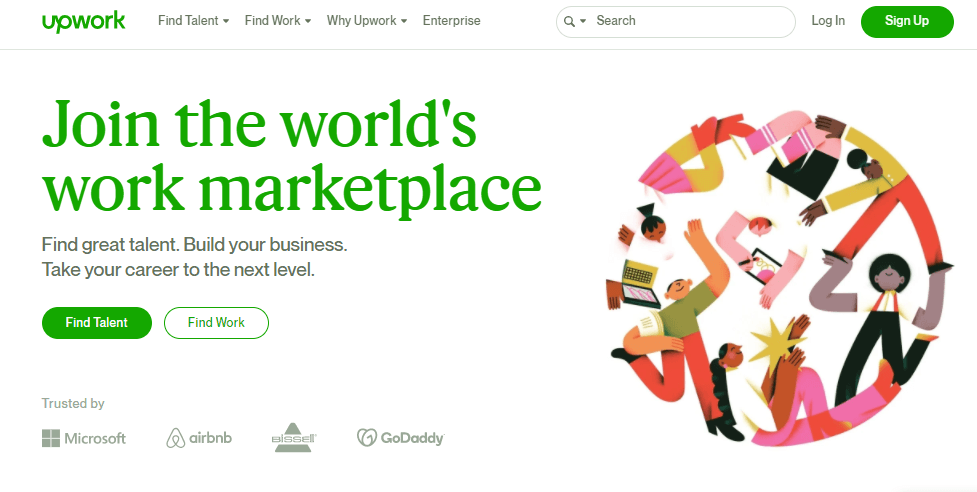 Upwork is hands down the most sought after platform for outsourcing talent. Companies, agencies, and individuals flock to the site in search of remote professionals. And thanks to its ever-growing fame, it can be really easier to land gigs as jobs are posted nearly every minute.
One of the reasons why Upwork comes top is because it supports professionals of all backgrounds. Their job listings span from commonly known careers like freelance writing, programming, and accounting to other less known vocations you can think of.
Upwork is a bidding platform. This means you will need to apply for a job, attach your portfolio and state the rates. So yes, you need to possess some skills in order to succeed on the site. 
Tip: Being at the top of the list, Upwork gets a lot of visits from remote job seekers. So be sure to submit your bids as fast as possible in order for them to appear at the top.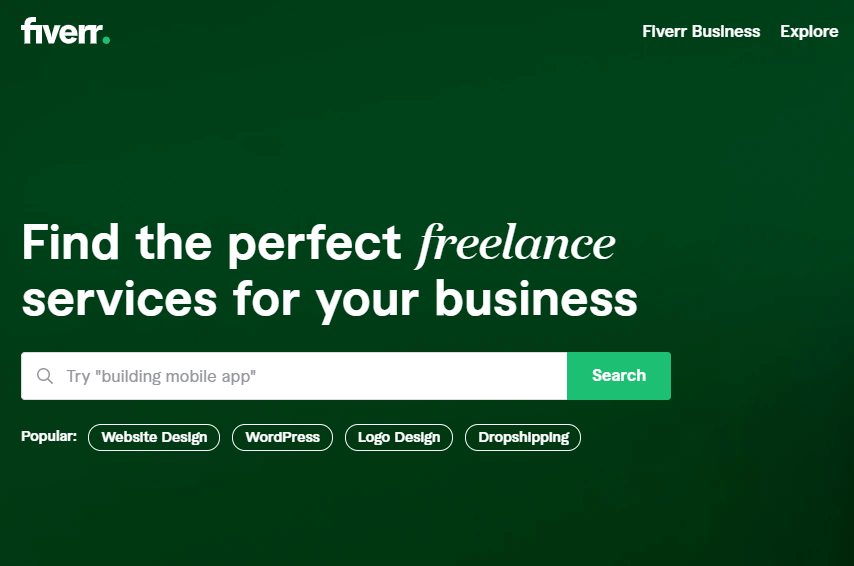 Fiverr is the closest competitor Upwork has ever had. The one thing separating them is how they work. On Upwork clients post jobs for freelancers to apply to. However, on Fiverr, you basically sell yourself through something called gigs.
A gig is a listing of services you are selling. So, let's say you are a marketer with graphic design, SEO, link building, and video editing skills. You can set up a gig for each of these services and clearly tell your potential employer what they are going to get. Like on Upwork, Fiverr too allows you to set custom rates.
One of the best aspects of using Fiverr is that they allow you to share your gig links to other social media sites so you can be discovered by individuals not using the platform.
Whether you are looking for full-time, part-time, or freelancing gigs, be sure to look at Flexjobs. It's one of the sites like Upwork that lists jobs for practically all professionals. And here's the best part; even those with zero skills will find the platform to be quite helpful.
If you loath scammers, Flexjobs will definitely appeal to you. The platform vets every job posting to ensure it is legit. This is something Upwork seems to be grappling with. There's a bit of a bummer with Flexjobs (a blessing to some-depends on how you look at it); the site is not for free. You will part with a minimum of around $7 a month to upwards of $50 a year.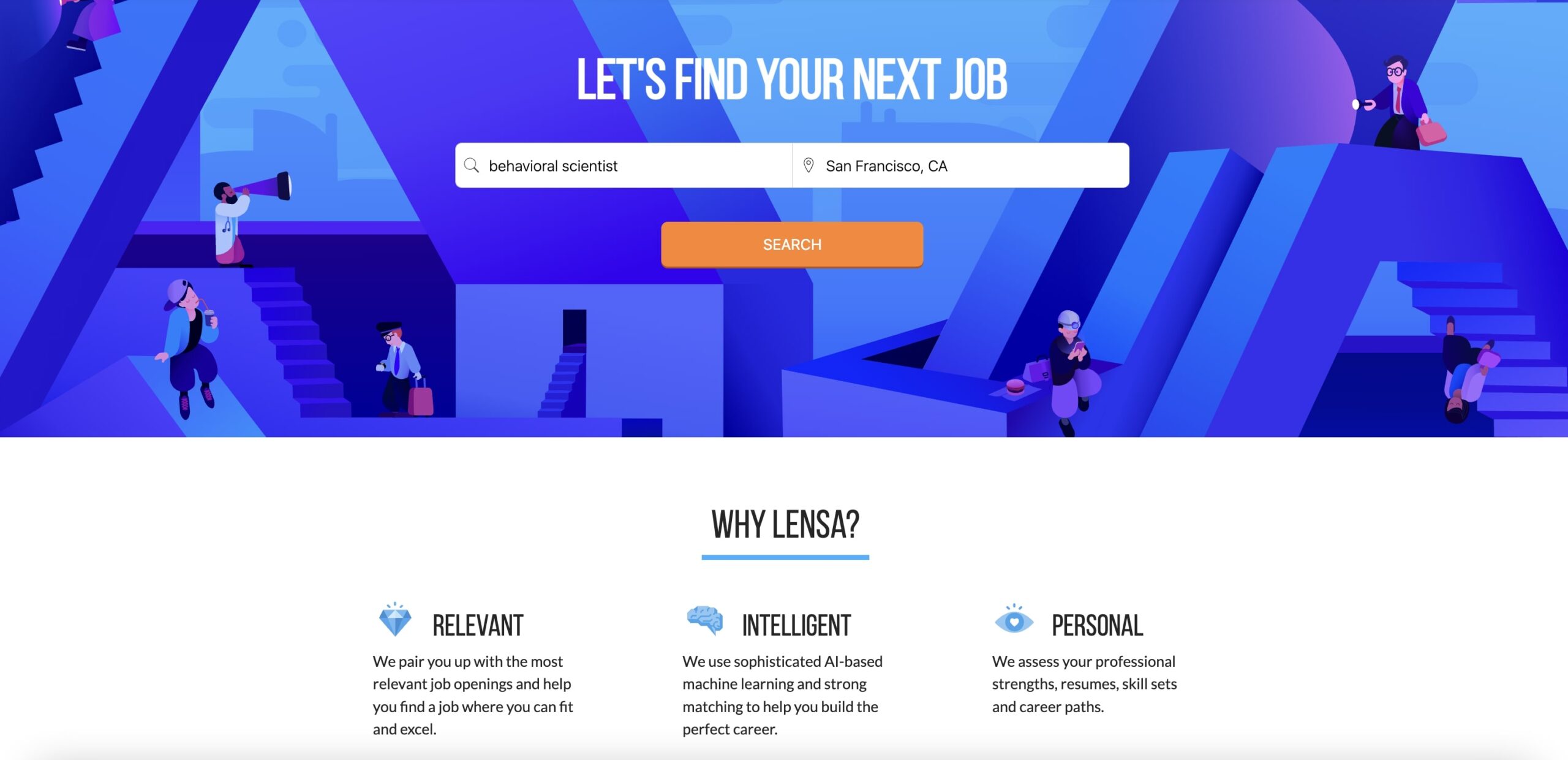 Lensa uses AI and machine learning to instantly match job-seeking freelancers with the best opportunities. Additionally, as a career advocacy platform, Lensa supports millions of job seekers to make better career decisions. On Lensa, freelancers have a variety of remote opportunities at their fingers tips.
On Lensa, freelance job seekers can find gigs in photography, accounting, copywriting, web design, programming, graphic design, and more. All in all, Lensa gives job-seeking freelancers a complete picture of their job search and predictions for their career paths.
This enables them to realize their full potential in the most suitable position. All of this is thanks to strong AI-based job matching, quick and clean job searches, tailored job alerts, and job seeker assistance.
If you are a first-rate programmer, designer, or marketing wizard, it's obvious you want to work with the best companies. Well, hear this; Remote Ok has a very powerful filtering system that lets you jet straight to checking out opportunities from top companies.
You can also filter jobs based on title, position (senior/junior or categories (tech/non-tech). This saves you all the trouble of sifting through jobs that are irrelevant to you. One more thing; you can set email alerts that notify you of the latest job postings in your interested niche. There are many other pros that make Remote Ok one of the best websites for remote jobs.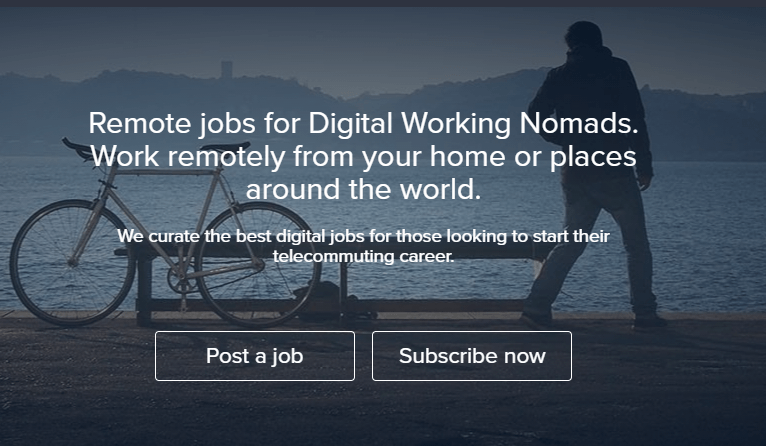 Working Nomads also comes in handy for those looking for both temporary and full-time work from home jobs. Since the platform sends out job alerts, daily, weekly, and monthly, it could be ideal for those who don't want to spend an entire day scrolling job boards. Rather, you can go about your business and only log on to the site once you get a scintillating email.
There are no scams here as Working Nomads doesn't offer free job posting. This means only serious companies willing to be connected with talented remote workers post on their site.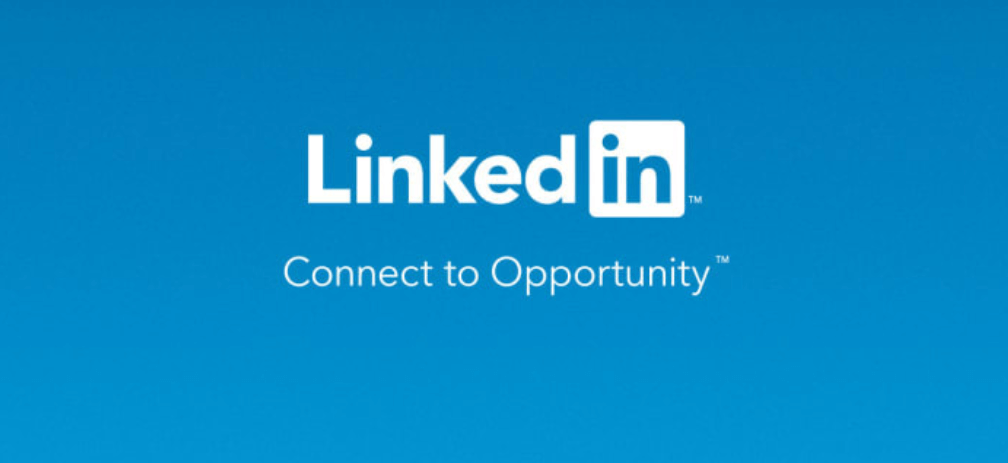 This might be unexpected for some people but LinkedIn has always been a place for professionals to interact. The thing is, unlike other remote work job boards, the platform doubles up as a social media site for business individuals.
LinkedIn has a job section where you specify what you are looking for and set daily or weekly alerts. You can also actively use the platform to connect with potential employers and then start sharing meaningful posts that position you as an authority at what you do. 
Angelist is a 'match-making' platform. It's the one place for remote workers looking to connect with startups. If you think about it, this site is pretty convenient as startups usually have more than one position and may hire right away unlike established brands that will drag you through unnecessary red tape. 
To make job searching easy for freelancers and companies, Angellist has a category of A-list companies and an A-level pool of freelancers that make match-making easier. Every company and job posting is thoroughly vetted for legitimacy. Be warned, this website lists professional jobs that might demand one to show not only portfolio but academic qualifications as well.
Indeed is one of those remote job search engines that have been around for a very long time. It is ideal for researching companies with remote employment opportunities. Job postings are listed based on metrics such as industry type, salary scale, location, and experience level for better site navigation.
Unfortunately, Indeed doesn't require employers to pay anything to post a job. So yes, it's possible to hit misses before finding the right company. Gladly, there is an option for a company to pay some fees for their jobs to be moved among top searches. Now those are the ones remote workers need to target.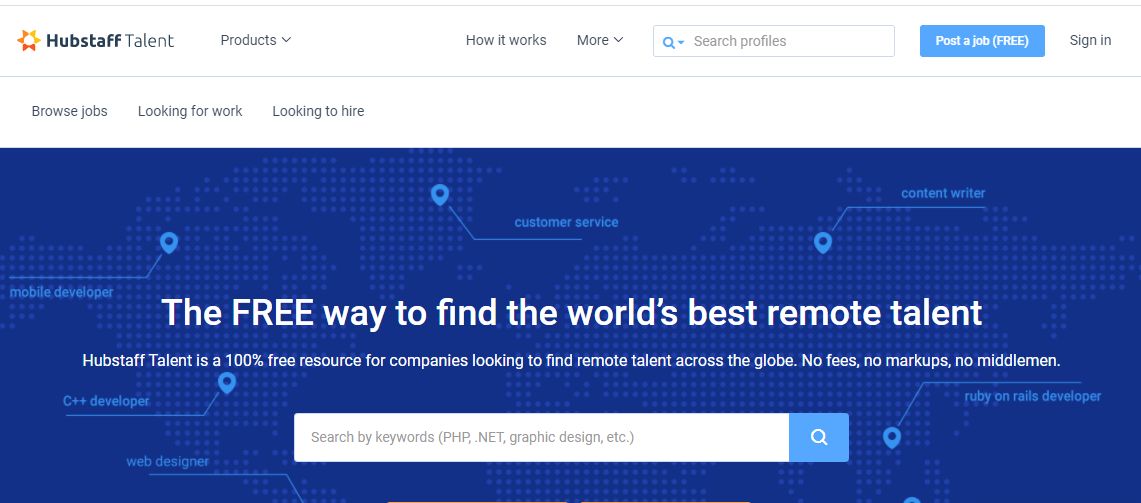 Quick question; what's the best superpower to have? Invisibility. Think of it; if you can be seen then you cannot be harmed…right? You might be wondering, what's this got to do with Hubstaff Talent? Let's lift the veil.
You see, being a fledgling, Hubstaff Talent is still unknown to many. Don't frown just yet. The site is already generating so much buzz and will soon be as big as other remote job boards. For the moment, its invisibility from other freelancers means there is less competition 
Like other remote job websites, their job postings come from all industries around the globe and are posted based on experience, location, industry type, and other common categories you can think of. 
Thousands of remote establishments and startups are hiring through Outsourcely. To begin with, they don't mark up prices or charge commissions like other websites. This means employers get to save a lot of bucks in the hiring process.
Forget the likes of Upwork where money has to be kept in escrow accounts and takes forever to get to you. On Outsourcely, companies work with employers according to their own agreement-no micromanagement from the site. Also, the website seems to list mostly part-time and full-time opportunities from multiple career fields.
As we said earlier, the best work from job boards are not for free. Paid platforms like Virtual Vocations need users to cough up a few dollars for subscriptions. This practice keeps cheapskates away and competition is reduced. You don't believe this? Try UpWork or Fiverr-it will be quite a while before you land a gig-let alone a part-time career opportunity.
Virtual Vocations is an outstanding choice for skilled remote workers who want to earn a bit above the minimum wage salaries. Their job categories span from travel, technology, tourism to others like copywriting, administration, and social media management.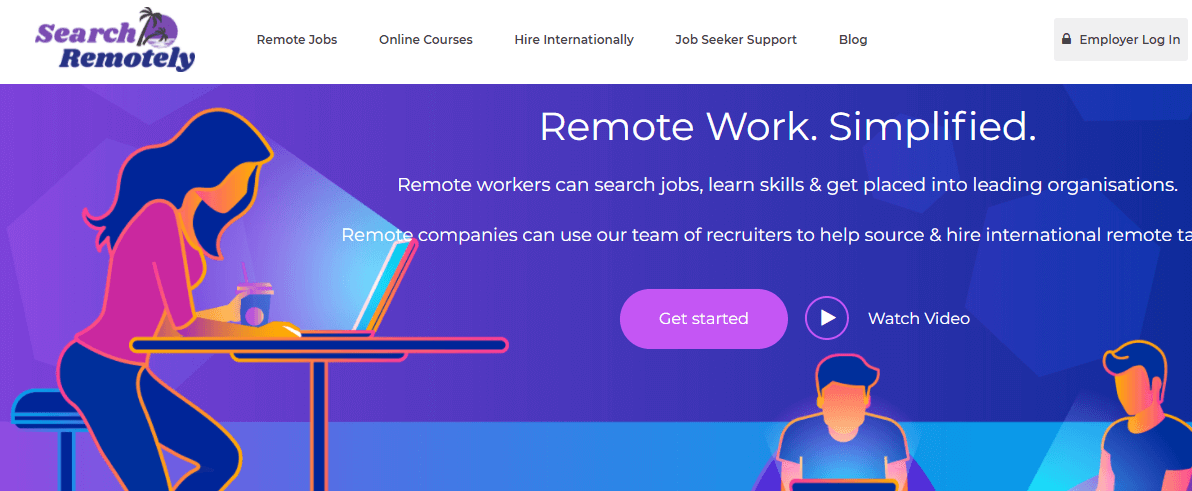 This blog comprises all kinds of remote opportunities from digital marketing, customer service, copywriting to design. The job types vary from full-time, part-time to internships and contract positions. Just one hiccup; the platform is not entirely free to use. You'll need to subscribe to a plan that lets you access their jobs and resources.
Are you a talented professional worth his or her salt? If you said yes, then sign up at Toptal. This is a fast-growing website that recruits only top talent. So yes, it's really hard to get accepted but if you do, then be sure of a steady stream of remote jobs.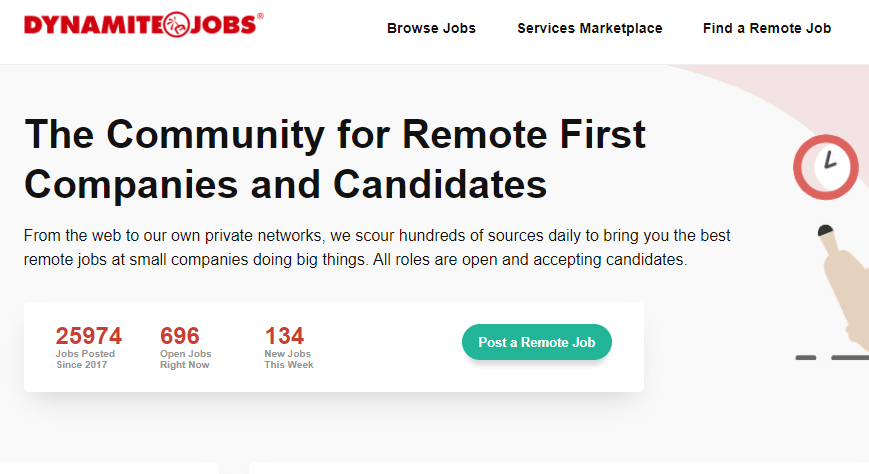 Many of the companies that link remote workers to employers rarely follow up with the recruitment process. So they won't know whether you got hired or ran into problems. Dynamite Jobs, however, checks in on the hiring process to ensure neither the client nor freelancer runs into trouble.
The platform screens every job to ensure it's not just legit but fully remote as well. Like a few other remote work sites, you get daily, weekly and monthly alerts for newly posted jobs within your area of interest.
Note: Most of the remote work websites mentioned above post jobs from practically all industries. The next listings will focus on those that offer market-specific careers. So keep on reading.
Market-Specific remote job boards
If you are a freelance writer/copywriter, one of the best places to scout for remote gigs is Problogger. The website gets quite a good number of job postings from individual bloggers, marketing agencies, and companies.
We love the fact that the site lets freelancers work/send their applications directly to employers. However, a majority of the jobs will require you to attach a portfolio of your previous work.
Studied tourism? Do you have a knack for anything travel-related? Here's the good news- Travel Massive Marketplace lists multiple offers within the travel niche. The opportunities range from travel blogging, film making, video editing, product testers, speakers, and a lot more.
Note: not all of their job postings are remote-oriented. 
Dribble is a world of designers. It's a place where web developers, illustrators, graphic designers, software developers, and programmers flock for work. Both top and startup tech companies flock to this platform to look for worthwhile candidates.
Get this; Dribble has a satisfaction rating of 93% from its users-that's a lot. To ice the cake, their charges are not exorbitant like other platforms.
Ladies, why join the cutthroat competition happening on other platforms when PowertoFly is there to help you? This is a platform geared to connect companies with talented women in the technical field. Most of their opportunities are full-time while the rest are part-time. So before you give up on your quest to find a remote job, give this site a spin.
If PowertoFly doesn't cut it, you can check out Werk or Apres.
Are you a top business mind who is always tasked to lead departments and companies to greatness? Then don't waste your precious time on Upwork, Fiverr, Outsourcely, and other sites. Instead, you should be camping at Business Talent Group's website.
This is a website dedicated to helping firms hire independent C-suite personnel for both remote and office duties. Heads-up, being a top-talent platform, be ready to undergo extreme vetting.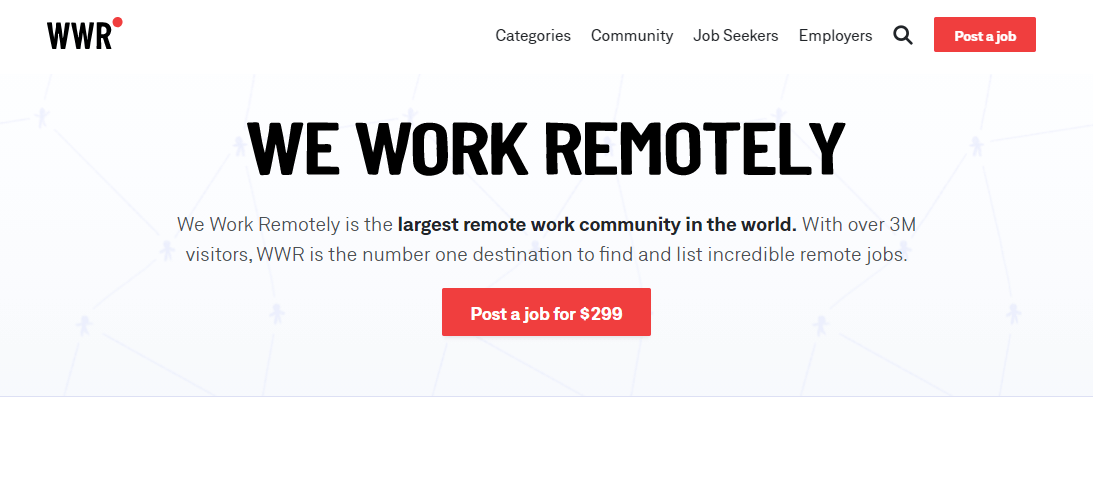 You see, Upwork and Fiverr may be basking in so much glory but sometimes they are mostly considered to be 'gig' platforms. Gigs are temporary jobs that can end in as little as a day. But if you are really up for lucrative jobs from some of the hottest companies, then you need to hope over at We Work Remotely.
On this platform, you can land high-paying clients that offer fulfilling careers. And like Flexjobs, most of their jobs will demand that you showcase some samples and academic credentials to verify your expertise.
Since employers are expected to part with close to $300 for a job posting, you will rarely deal with scams. Your Portfolio is to be forwarded straight to the advertising company for consideration.
A few pointers worth mentioning
There are so many remote job boards for folks who want to work remotely. A good number of them are legit. In fact, many will require you to upload verification documents before or right after the first few contracts.
While some sites like Upwork are admittedly reputable, scam jobs pass through every once in a while. Before you rush and spend your tokens/credit (called Connects on Upwork), make sure to review client details. 
Check their reviews, ratings, number of jobs posted, and whether their payment method is verified or not. You wouldn't want to work with someone completely new…that road can get disappointing real quick unless you demand upfront payment.
Next, we can all agree that remote job websites that don't charge anything to sign up can be pretty competitive. There can be so much competition to the extent that potential clients are forced to pick those with low rates and ignore bigshots like you who are extremely good at their craft.
Lastly, you might need to put in some leg work to get jobs. Yes, we know how valuable you are but you still need to be present on job platforms sending proposals and where possible, doing some email follow-ups. Alright, go out there and give your absolute best. Toodles!