Last Updated on April 5, 2023
Sometimes, we tell a joke because we feel silly. But did you know that laughter comes with a host of health benefits? This unusual fact is all the reason you need to tickle your kid's funny bone! We compiled a list of 50 jokes and riddles that are wholesome and funny enough to keep them asking for more.
What do You Call…
Amuse your kids with these unusual answers that are as funny as they are silly.
What do you call a boomerang that won't come back? A stick.
What do you call a droid that takes the long way around? R2 detour.
What do you call a funny mountain? Hill-arious.
What do you call an alligator in a vest? An investigator.
What do you call a sleeping bull? A bulldozer.
What do you call a bear with no teeth? A gummy bear!
What do you call a sad strawberry? A blueberry.
Weird and Wonderful Wordplay
Do you have a kid with a great imagination? They will love these unusual answers!
What does a cloud wear under his raincoat? Thunderwear.
How does a cucumber become a pickle? It goes through a jarring experience.
Why does a seagull fly over the sea? Because if it flew over the bay, it would be a baygull.
What do you call a dinosaur that is sleeping? A dino-snore.
Why is six afraid of seven? Because seven eight nine.
Why couldn't the pony sing a lullaby? She was a little horse.
What do you call a fake noodle? An impasta.
Not-So-Serious Space and Science Jokes
Strap on your cape and tell a cosmic joke like only a superhero can!
What do you think of that new diner on the moon? The food was good, but there really wasn't much atmosphere.
What is a computer's favorite snack? Computer chips.
How does the moon cut his hair? Eclipse it.
What was the first animal in space? The cow that jumped over the moon.
What do you get when you combine a Christmas tree with a computer? A pine-apple.
How do you stop an astronaut's baby from crying? You rocket.
Funny Animal Jokes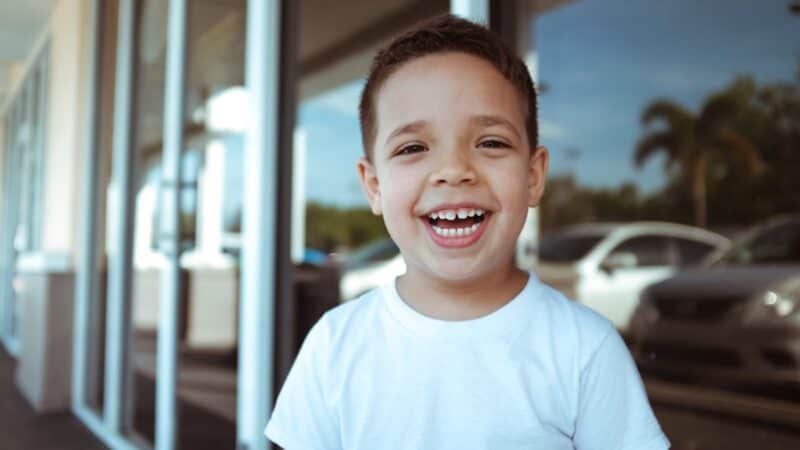 These quips are perfect for kids who love their pets and other animals.
What do you call a dog magician? A labracadabrador.
How do you get a squirrel to like you? Act like a nut.
What do you call two birds in love? Tweethearts
What animal is always at a baseball game? A bat.
Why do fish live in saltwater? Because pepper makes them sneeze.
Why are fish so smart? Because they live in schools.
Where did the school kittens go for their field trip? To the mew-seum.
What kind of kitten works for the Red Cross? A first-aid kit.
How do you make an octopus laugh? With ten-tickles!
How does a penguin build a house? Igloos it together.
Crack These Riddles
Encourage your kids to think creatively in order to solve these riddles (before you dazzle them with ridiculously funny answers!).
What has ears but cannot hear? A cornfield.
What is brown, hairy and wears sunglasses? A coconut on vacation.
Why couldn't the bicycle stand up by itself? It was two-tired.
What type of tree fits in your hand? A palm tree.
What is brown and sticky? A stick!
What has four wheels and flies? A garbage truck.
What gets wetter the more it dries? A towel.
Why can't your hand be 12 inches long? Then it would be a foot.
What can you catch but not throw? A cold!
Pirate Jokes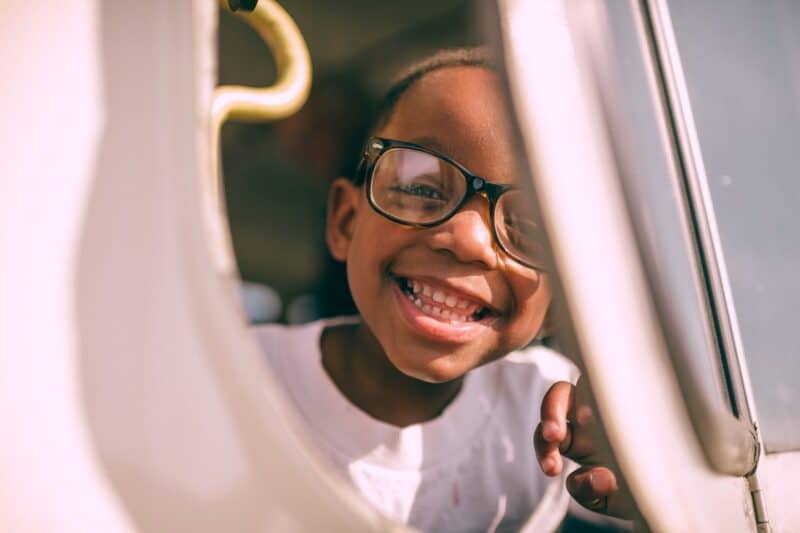 Is your kid dressing up as Bluebeard this Halloween? Follow them everywhere and tell them these funny pirate jokes!
Why don't pirates shower before they walk the plank? Because they'll just wash up on shore later.
How did the pirate get his flag so cheaply? He bought it on sail.
How do pirates know that they are pirates? They think, therefore they arrr.
Monster Jokes
Kids are fascinated by things that go bump in the night. But some things can be too scary or gory. We picked clean jokes to entertain your offspring with the best monster humor.
What is a monster's favorite dessert? I scream.
How do ghosts wash their hair? With sham-boo.
What kind of dog does Dracula have? A bloodhound.
What monster plays tricks on Halloween? Prank-enstein.
Where do baby ghosts go during the day? Day-scare centres.
Where do vampires keep their money? The blood bank.
What is the witch's favorite school subject? Spelling!
Why are ghosts such bad liars? Because you can see right through them.
FAQ
Q: My Kid's not Really a Joke Fan. What Can I Do?
An older child who dislikes jokes should not be forced to listen to them. But younger children often love colorful joke books rather than listening to a joke.
Q: What if Nobody Laughs at My Jokes?
This is a risk every joke-teller takes! You never know how someone will react, so you just have to make peace with it. A good tip is to time the joke well. For example, tell it when the mood is light.
Q: What are the Benefits of Telling Jokes?
Laughter has been shown to decrease the levels of stress hormones in a person's body and boost their immune system.
Q: Which is the World's Oldest Joke?
The oldest recorded joke dates back to 1900 BC. This slightly dirty joke was written by the ancient Sumerians.