Last Updated on March 8, 2022

Online advertising has really exploded to its real potential over the last several years. There are a number of ways by which you can advertise your products and services online. Amongst the notable ones are Google Ads, Bing Ads, Twitter Ads, and Facebook Ads.
If we talk about the given 4 modes of advertising, Facebook Ads stand out in a way that there are no keywords in Facebook Ads. One thing more to be kept in mind is that users searching on Google and Bing are more inclined to purchase any product directly as compared to Facebook or Twitter.
Users on Facebook and Twitter also buy your products but there are very fewer chances that they see an advertisement on Facebook, click it and directly purchase it. They might revisit your website and then buy the product from you.
I too have been advertising online for quite some time now with Facebook being the main advertising platform which I focused on. My enterprise deals in WordPress plugins and web development and we have been promoting our services via Facebook successfully. From experience, I can tell you that Facebook advertising is not an easy nut to crack but it is also not an impossible task to optimize your Facebook ads according to your business goals.
Here are some insights I would like to share with everyone along with the reasons as to why Facebook marketing is a must for every business ranging from small to large.
1. Marketing objectives
It totally depends on your business and the product that you are selling as to which objective you will choose for your Facebook Ad campaign. Facebook categorizes your marketing objectives into 3 broad categories for Awareness, Consideration, and Conversion. We will check them one by one.


Awareness- The two types of campaigns which you can run under awareness are Brand Awareness and Reach. As the name suggests, brand awareness is to increase the popularity and awareness of your brand amongst the masses and with reach, you can show your ads to the maximum number of people worldwide.
Consideration- This is the most used objective category for Facebook Ads. Here you can create ads for traffic, engagement, app installs, video views, lead generation and messaging. Traffic is for bringing a lot of people to your website or online store. Engagement is my favorite where you ask for maximum engagement of your ads such as likes, shares, and comments.
Conversion- This category covers for conversions, catalog sales and store visits. You can decide certain actions on your websites which will count as a conversion like a purchase or a newsletter sign-up. Catalog sales are specially designed for the sale of products under a catalog you create in your Ads Manager.
Initially, I used to run ads with "awareness" being my marketing objective as I wanted to spread a word out for my brand and let the people know about the kind of products and services we deal in. It worked. And then, I switched over to more mainstream objectives such as post engagements, link clicks, messages etc. through which our potential customers could directly interact with us.
Post engagement is the most popular Facebook Ads marketing objective as depicted below.
In a nutshell, Facebook allows you to really diversify your objectives making you understand your business goals and objectives better and thus allowing you to advertise for it properly and specifically which results in more sales.
2. Interests to target
This one is my personal favorite. A very effective and useful feature of Facebook is that you can choose the interests and hobbies of the people you want your ad to reach.
That means you can choose some topics beforehand and when your ad goes live, it will only be shown to people who have listed those topics as their interests. This is where Facebook takes away the advantage as compared to all other advertising platforms.
In my case, I had to sell WordPress plugins. So as you would assume, I listed topics like WordPress, WooCommerce and Envato as my target interests.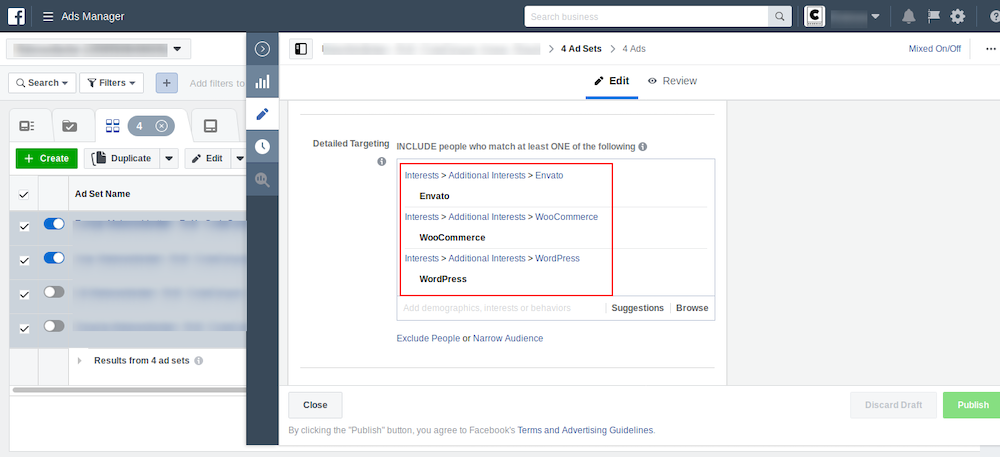 As compared to Google Ads ( where we have in-market segments ), Facebook's interest targeting is more filtered and much better.
If you use interest targeting after proper research, it can work wonders for you. You may also want to A/B test with interests which work for you.
3. Facebook Pixel
Every marketer today realizes the importance of remarketing and understands how crucial it is for your business to track customer behavior. Remarketing alone boosts up your ROI( Return on Investment) and revenue to such an extent that you cannot ignore it.
You do not have to worry about remarketing when you have the Facebook Pixel at your service.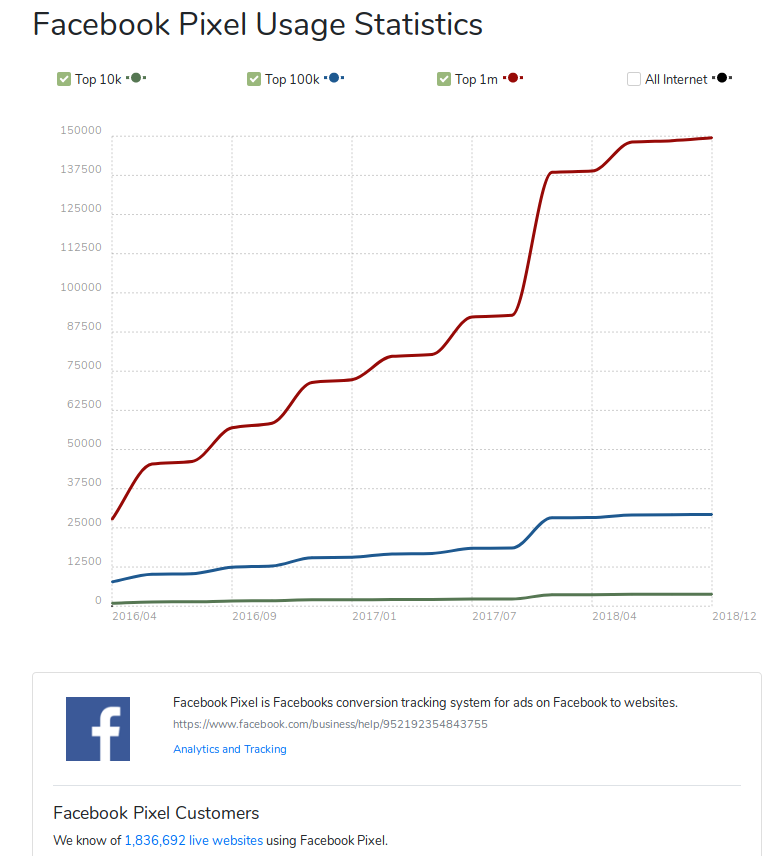 It allows you to track different user activities on your website and create remarketing audiences so that you may easily retarget people who showed interest in your products but did not convert.
I created custom audiences for my main plugins like WooCommerce Gift Card and WooCommerce Variation Master. This way I was able to show my ads to people who visited the product pages of these two items or had shown interest in these products in some way.
4. Facebook Attribution and Analytics
Facebook Attribution is a great inbuilt tool in the Facebook Ads Manager which aids you in comparing your different Facebook Ad campaigns as to know which one is underperforming and which one is delivering. The advantage with Attribution is that you can add as many ad platforms as you want to ( means which you use like Google Ads, Bing Ads etc.) and get an integrated performance report at one place.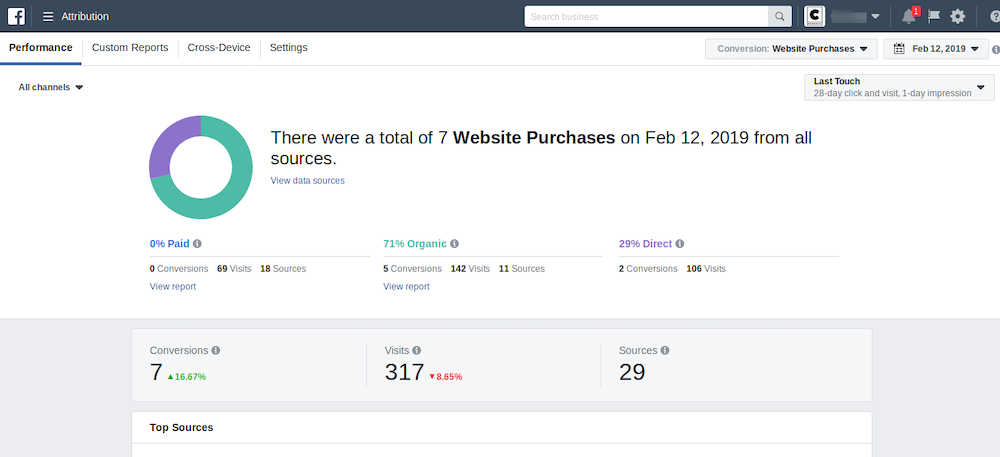 As the name suggests, Facebook Analytics is the place where all your Facebook Pages, Pixels, Groups, Applications etc. are listed with a detailed report about every entity. From growth metrics to user activity, Facebook Analytics tells you everything you need to know.
Both of these tools help you to make better business decisions and strategies according to your past performance. For anyone who is using Facebook for advertising, these tools are a must.
I have been analyzing the Facebook Attribution and Analytics for quite some time now and am always looking forward to some first-hand data statistics which is provided by these tools.
5. Instagram placements
 With 1 billion users using Instagram around the globe, the platform does provide you the exposure for marketing and advertising. People nowadays consider Instagram scrolling a daily chore and are quite consistent in doing that. A large audience base with the surety that people do check the application almost daily sums the story for Instagram.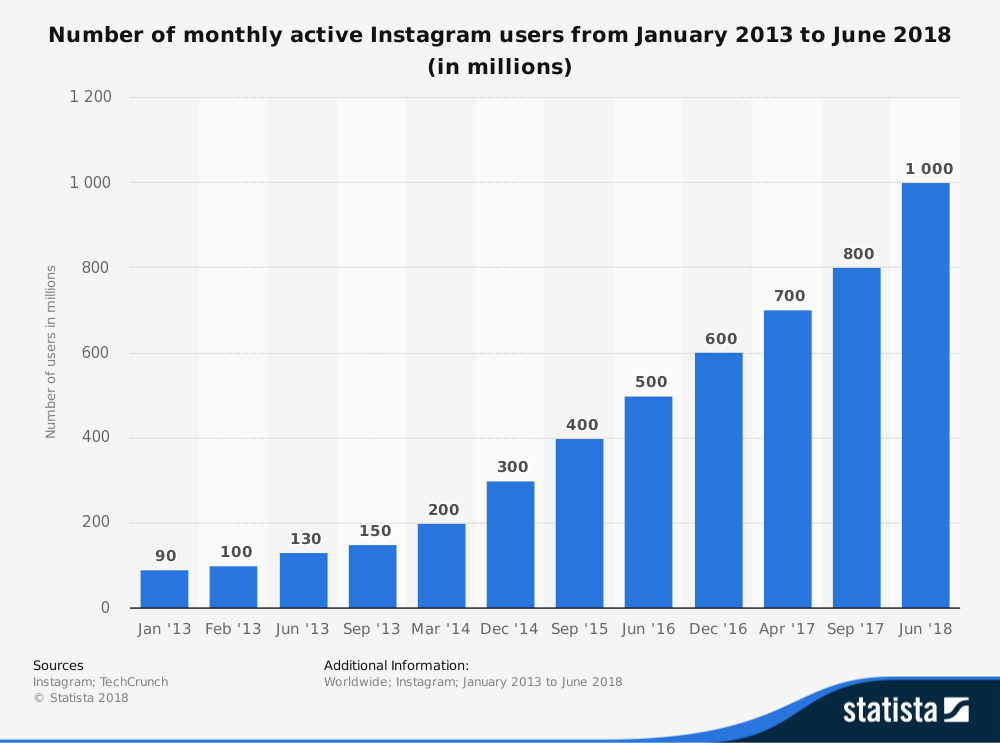 Although I do not consider this as a big advantage, it is of paramount importance for industries like food and clothing. You get to run your ads on Instagram as well and reach out to the people.
We can say that industries, where graphics on display play an important role, are best suited for Instagram advertising.
The advantages of using Instagram ads are:-
As far as the organic reach of Instagram posts is concerned, it has the greatest unpaid reach out of all social media networks (Facebook, Twitter, etc.) as long as you use proper hashtags and create useful content.
We can use up to 30 hashtags per post in the captions, 20 in the comments, and 10 in stories.
Instagram's new shopping feature is very good. You can tag your products like you would tag a person and the tags can redirect users to product pages.
As both Facebook and Instagram are linked to each other, you can use Facebook's data to target customers and you do not have much to learn about Instagram ads once you have used Facebook Advertising account and its features.
If you are a verified account or have 10,000+ followers then you can add a swipe up feature in your Instagram stories.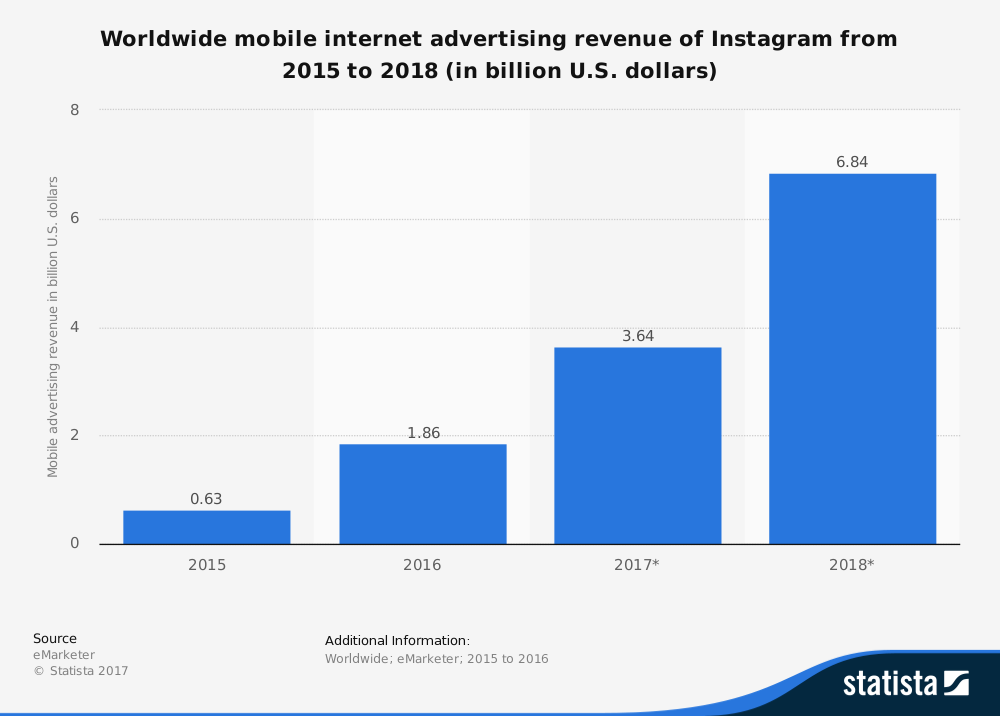 I find some limitations to Instagram ads as well. They are:-
According to me, Instagram is best suited for the fashion and food industry and can drive in a lot of revenue. It works for other fields as well but not as efficiently as the above two.
Like Facebook, the purchasing intent on Instagram is far less as compared to Google and Amazon.
We cannot place active links in a post which will not allow you to drive traffic to your external website.
A lot of A/B testing is required before you can finally make out the best ad which works for you.
Instagram advertising is mobile-focused.
As far as I am concerned, I do not use Instagram placements for my advertisements as my business niche is not the best suited for Instagram advertising.
6. Global reach and use of Facebook
This does not come unsaid but yes, we all know that Facebook is used all over the planet with an inevitable reach and an amazing potential to influence people.
Using Facebook has now become a daily routine task for us and that is the very reason for Facebook advertising reaching new heights year after year. Most importantly, Facebook ads do deliver and help in increasing conversions and sales for businesses worldwide.
Wrapping up
In my opinion, Facebook advertising is a must, even for small businesses. Although you may have to start on a low budget ( as I did ) but gradually, you will start seeing results.  Some points to be kept in mind while advertising on Facebook are:-
Build ads around your business objectives
Target audience specifically and accurately
Monitor and track your advertising efforts
Create new and trending content
A/B test and optimize your Facebook Ads regularly