Last Updated on June 17, 2022
What Is An Instagram Scheduler Tool?
One of the most common challenges faced by regular Instagram users is determining a suitable frequency with which to make posts on their Instagram profiles. Like other social media networking sites, your popularity on Instagram largely comes down to how often you make posts on the platform.

You want to encourage engagement by posting fresh and unique content consistently. In the same breath, you don't want to bombard your followers with new posts even before they've had time to digest the previous ones.

The best way to gain control over how regularly you post on Instagram is to consider scheduling your Instagram posts. Scheduled Instagram posts allow you to maintain a degree of consistency while ensuring that there's no content duplicity. To properly schedule your Instagram posts, you'll need to invest in special software known as Instagram scheduler tools.

An Instagram scheduler tool lets you schedule your Instagram posts so that the content can be automatically posted on your Instagram profile. Using these apps, you can plan your Instagram content ahead of time and post it automatically, saving you the time you'd otherwise spend posting the content manually.

Read on as we unpack the eight best scheduling apps for Instagram.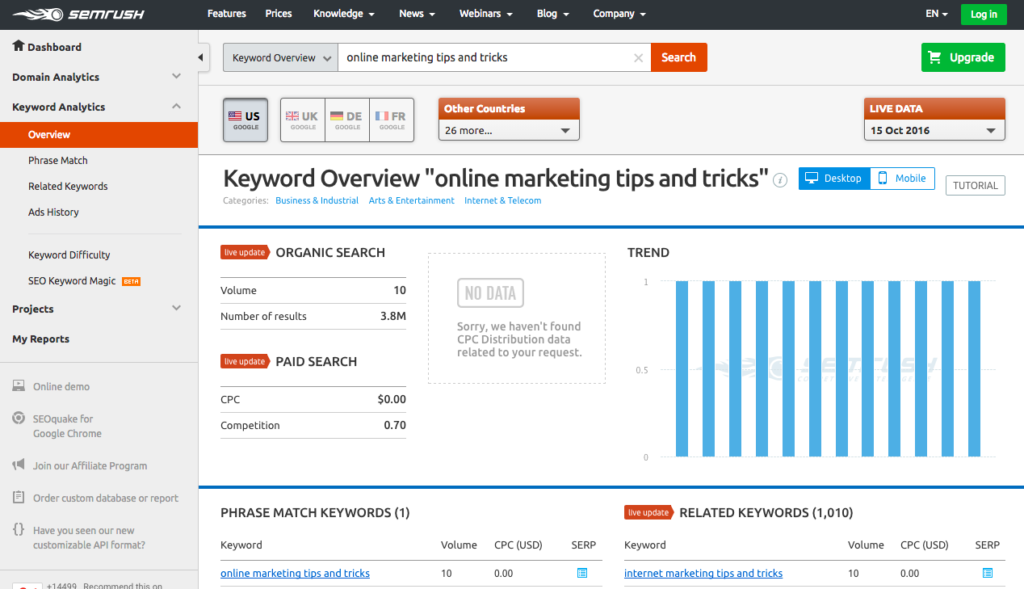 Supported Platforms: Web-based

Pricing: Free version available, paid plans start from $99.95/month

SEMrush is a perfect Instagram scheduler for freelancers and small-to-large businesses. Using this tool, you can automate your posts on up to five social networks, including Instagram, Facebook, Twitter, LinkedIn, and Pinterest.

The app comes with numerous cool social media management tools, including image editors, UTM builder, and link shortener. It saves posts as drafts, in case you wish to reuse them in future.

But here's the best part – SEMrush can track your social media publications and unearth your best-performing content. Plus, it's web-based, so you don't need to download and install the app to use it.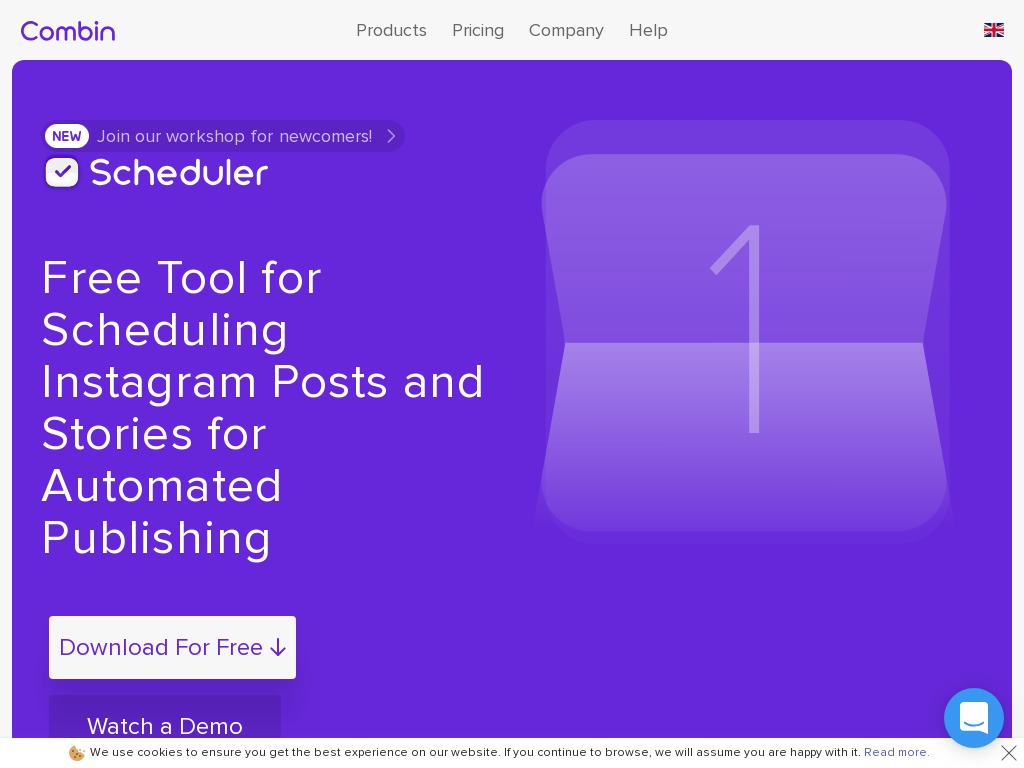 Supported Platforms: Windows, Mac, and Ubuntu

Pricing: Free version available, paid plans start from $10/month

Combin Scheduler is a fully-automated Instagram scheduling service that comes with stellar features, such as the ability to edit the image sizes on your Instagram posts as well as upload bulk images.

It also packs other exquisite features, including location and users tagging, hashtags management, accounts mentioning, incorporation of link in bio, to mention but a few.

With the free plan, you can manage one Instagram account and schedule up to 15 posts per week, which is more than enough for individuals and small business owners.
Supported Platforms: Web-based, also available for Desktop, Mobile, Android, and iOS devices

Pricing: Free version supports 30 posts (except for video and carousel posts) per Instagram account per month, paid plans start at $9/month

Later is an official Instagram partner that enjoys the approval of over one million top global companies and social media influencers. The tool comes with a 'Preview' feature that gives you a sneak preview of how your Instagram posts will look like. That way, you can fine-tune every content before eventually posting it.

The scheduler also integrates with a calendar that allows you to drag and drop your posts onto the actual dates and times you'd want them to be posted.

Other notable features of Later include bulk uploads, tracking of Instagram analytics, and the ability to sync photos from your PC, Google Drive, or Dropbox.
Supported Platforms: Windows and Mac

Pricing: Free trial available, paid plans start from $15/month

Many Instagram scheduler apps simply let you automate your posts. However, Buffer takes the experience a notch higher by offering a range of functionalities that you can use to craft stellar Instagram content.

For instance, Buffer comes in handy when drafting your Instagram posts, as well as enhances collaboration with your team members. The app also undertakes in-depth social performance analytics and provides valuable recommendations, which can help to optimize your Instagram marketing campaigns.

And besides Instagram, Buffer can help to automate posts as well as assess the performance of your other social networking platforms, such as Facebook, Linkedin, Twitter, and Pinterest.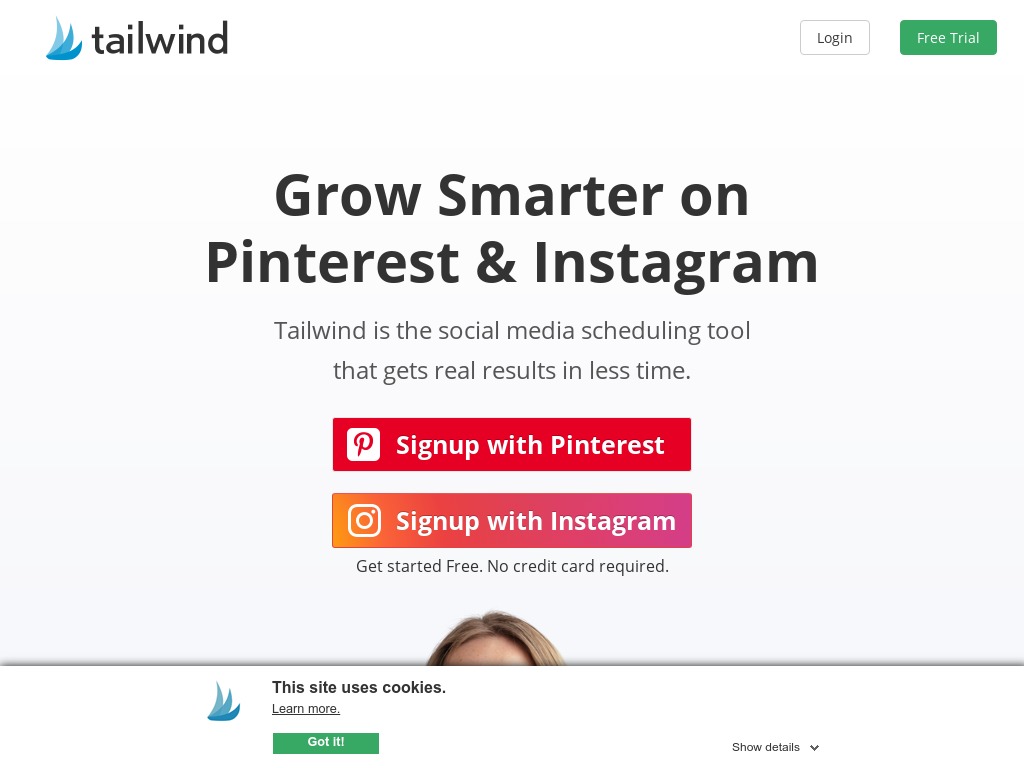 Supported Platforms: Windows, Mac, and iOS

Pricing: Free trial available, paid plans start from $9.99/account/month

One of TailWind's defining features is its compatibility with numerous operating systems, ranging from Windows to Mac, and iOS. It's also as efficient on mobile devices as it is on desktop and tablet.

You can use this tool to plan your Instagram posts through nine grid preview. A drag-and-drop smart calendar makes your Instagram scheduling even easier. Using the calendar, you can plan your postings down to specific dates and times.

There's a Hashtag Finder that recommends the most effective hashtags to incorporate into your Instagram posts. TailWind also monitors your social performance by highlighting some of your most successful Instagram posts.
Supported Platforms: Windows, Android, iOS, and Mobile

Pricing: Free trial available, paid plans start from $29/month

Hootsuite not only helps to schedule your Instagram account. The app also lets you connect with more than 35 popular social networks. Plus, it comes with a cocktail of other social media capabilities, including social analytics, content curation, and social performance assessment.

Hootsuite's content curation tool is of special interest as far as Instagram scheduling is concerned. Using this tool, you can create search streams using hashtags or by location and content library.

Like other powerful Instagram schedulers, Hootsuite also supports bulk scheduling. You can upload or edit your posts in various formats too, including PowerPoint, PDF, Excel, and CSV.
Supported Platforms: Windows

Pricing: Free trial period available, paid plans start from $9.99/account/month

Autogrammer comes with many of the features any powerful Instagram scheduler should have, including automating your Instagram posts, managing several accounts, and bulk image uploads. It also offers a host of editing features, such as the ability to crop, rotate, filter, or color-correct your Instagram photos before uploading them.

Although Autogrammer is mostly considered a paid app, there's a 7-day trial period that allows you to test the services offered before you can purchase your first subscription.

One glaring drawback with Autogrammer, however, is that it doesn't support video uploads.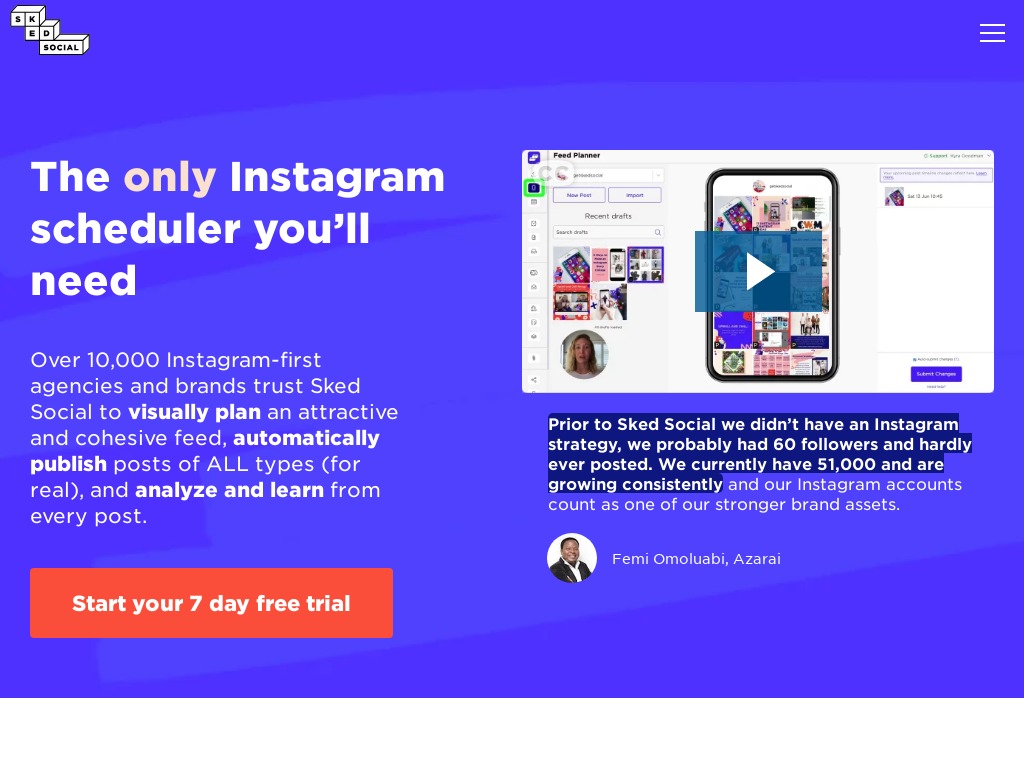 Supported Platforms: PC, Mac, Android, and iOS platforms

Pricing: Free trial available, paid plans start from $25/month

Sked Social changed its name from Schedugram, and it appears that the name change also heralded major changes in how the software schedules Instagram posts. Unlike before when it offered limited features, Sked Social now lets you auto-program your Instagram posts and track the social performance of those posts.

The tool even measures your return on investment, making it particularly ideal for businesses on Instagram. With Sked Social, you can post all kinds of content, ranging from images to videos, carousels, feed-posts, etc.

There's the provision for bulk uploads and a host of photo-editing features, including the ability to add filters, stickers, text, and overlays to your pictures. Not to mention, the provision of a free link in bio tool.
Final Word
Scheduling your Instagram posts isn't a walk in the park. But it's even harder to find a reliable Instagram scheduler app. The above-reviewed Instagram schedulers are some of the best in the market based on overall performance and the range of features each app offers.