If you rummage through your wardrobe or closet, you'll definitely find a few clothing items that you no longer need. Perhaps because you've outgrown them or they no longer suit your taste.

Also, the chances are that many of those clothing items are still in crisp, wearable condition, which is probably why you continue holding on to them. As you add newer clothes to your closet, you'll eventually begin to wonder what to do with the unused clothing.

You may be tempted to chuck these clothes into the trash. But considering the price you purchased them for, this may not be the best way to part with your unused clothing. Plus, the clothes could end up in the already choke-full landfills.

Another viable way of disposing of your unwanted clothing would be to offer them for free to your friends, relatives, or local charity organizations. But then again, you may not always find people that are ready to accept pre-owned clothing items.

Fortunately, there's the option of offering your unused clothing for sale and tons of apps to help you with that. Read on as we uncover the top eight apps to sell clothes.
Android Download Link

iOS Download Link

Pricing: A final-value fee of about 12% or lower, plus an additional $0.30 transaction fee

eBay is arguably the largest platform for selling unused clothing items online. To get started on eBay, you'll need to sign up for a seller account, take great photos of your clothes, and set an asking price.

Once you're duly set up, there's no limit to how many clothing items you can list on the eBay platform.

eBay generally doesn't charge listing fees. Instead, the bulk of the fees are charged when you make sales. However, you can enjoy up to 20 free listings every month. There's an option for donating part or your entire sales to charity.
Android Download Link

iOS Download Link

Pricing: $0.20 listing fee and 5% transaction fee

Etsy is the most popular website for selling handmade or vintage items. So, it's definitely an app worth considering, especially if your unused clothes fall within these two categories.

Besides vintage and handmade clothing, Etsy is also a great platform for disposing of special clothing items like wedding gowns, graduation gowns, and bachelorette shirts, as well as clothing accessories like wristwatches and jewelry.

Etsy fees are incredibly lower than eBay's. The site charges a paltry $0.20 listing fees and 5% transaction fees.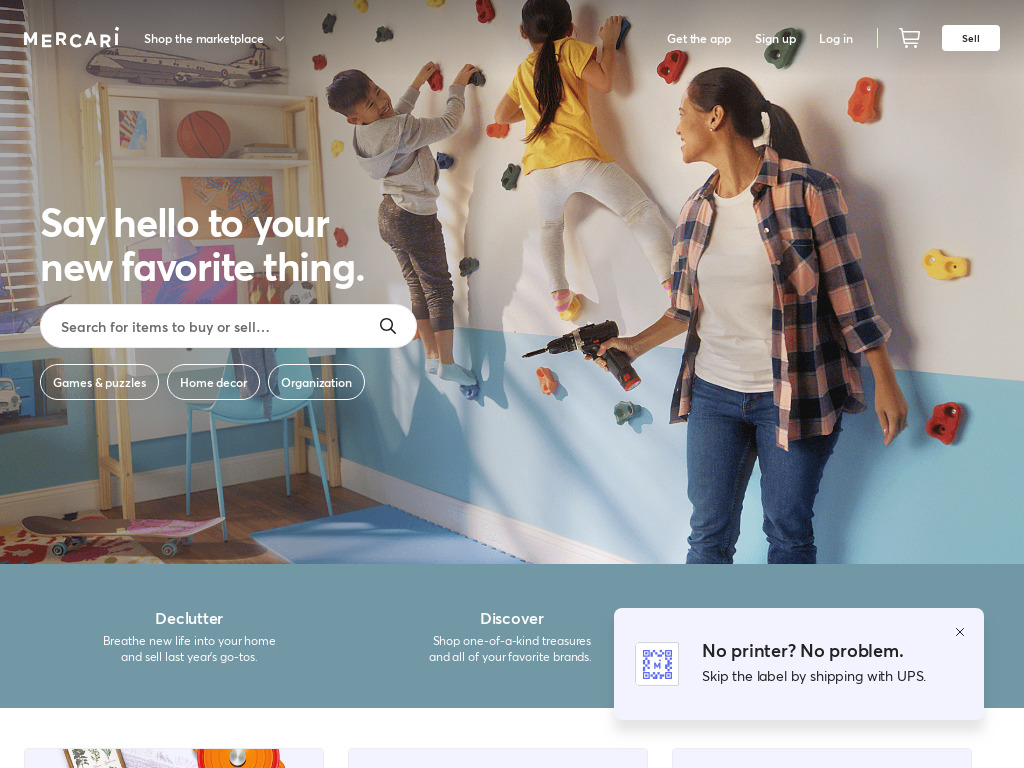 Android Download Link

iOS Download Link

Pricing: 10% commission on sales and $2 processing fee for direct deposits under $10; an additional $2 fee if your bank rejects a direct deposit

Mercari is another top online platform that allows you to sell your unused clothing plus tons of other products, including sporting goods, toys, electronics, handmade products, and beauty supplies. The platform also prides itself on its relatively lower sales commissions compared to websites like eBay.

The Mercari app is easy to use and available for download for both Android and iOS devices. Getting started on the app is simple and straightforward. All you need to do is take a clear photo of your clothing items, add a brief description, and set your price.

You can then list your items for free as the app only charges you a commission on sales and a transaction fee. However, ensure that your bank is duly linked with the Mercari service. Otherwise, you may incur an additional $2 fee in case your bank rejects a direct deposit after sales.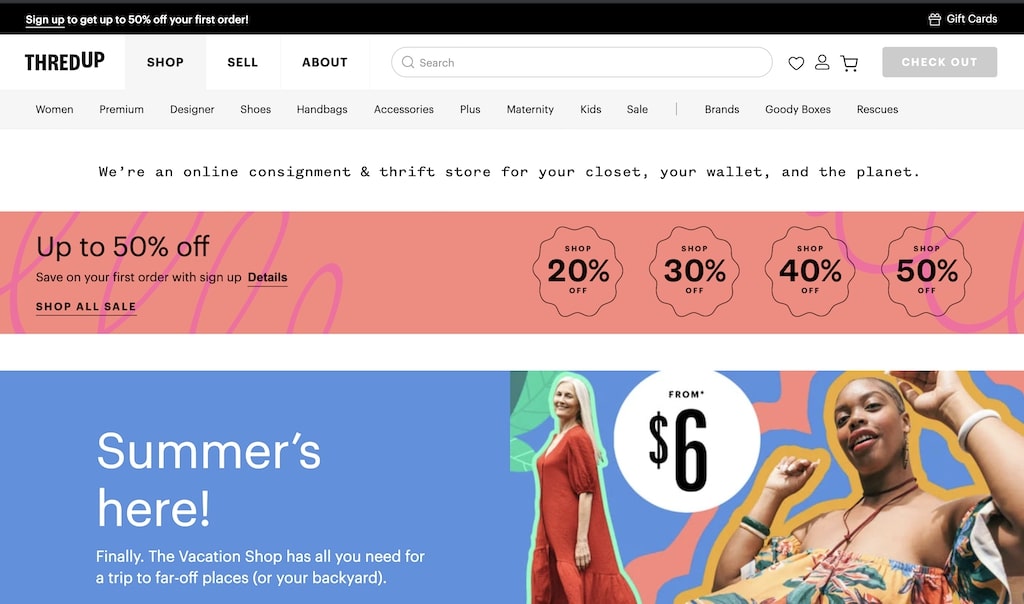 Android Download Link

iOS Download Link

Pricing: 5% to 80% of an item's listing price

One thing that sets ThredUp apart from many yard sale websites is its insistence on quality. ThredUp doesn't accept clothing items with stains, holes, creases, and other signs of wear.

Another admirable quality of ThredUp is that the company takes care of all the hard work. After downloading the app, ThredUp sends you consignment bags. You then fill up these bags with your old clothing and send them back for listing free of charge.

Once ThredUp receives your consignment, they either pay you upfront or sell the items on your behalf and share the proceeds with you.
Android Download Link

iOS Download Link

Pricing: A flat commission of $7.50 for sales less than $50 and a 19.8% commission on sales more than $50

Tradesy charges ZERO listing fees. Getting started on the website is as easy as downloading and installing the app, then taking a clear picture of your clothing items and setting your anticipated selling price.

Users receive a free shipping kit each time their items get sold. You can transfer your earnings directly to your PayPal, debit, or checking account.

However, note that like ThredUp, Tradesy will only accept clothing items in crisp condition. So, avoid listing clothes with holes, stains, or dents on them.
Android Download Link

iOS Download Link

Pricing: A flat-rate fee of $2.95 for sales under $15 and 20% for sales over $15

Poshmark is another app on this list that charges ZERO fees for listing pre-owned clothing. You only part with a small commission when your items sell. After downloading the app and setting up an account, you'll need to post clear photos of your clothing accessories with brief descriptions and selling prices for each.

Poshmark sends you a shipping label whenever your items sell. This makes it easy to drop the item off at a USPS drop box.

The company conducts virtual parties known as Posh Parties. You can attend these parties and invite your friends or relatives, then use the opportunity to sell your clothing to the attendees.
Android Download Link

iOS Download Link

Pricing: 10% commission on sales

Depop is an online consignment store designed with the interest of mobile users in mind. The app lets you list all your unused clothing items, including the ones you'd like to sell in person as well as those you'd prefer shipping directly to the buyer.

Depop is intuitively designed, with a main feed in-app that resembles Instagram.

The procedure for selling your pre-owned clothing items on this platform is also simple and straightforward. Just take clear photos of your clothes, fill the listing form, and you're good to go.
Android Download Link

iOS Download Link

Pricing: A flat commission of 17% for sales below $170 and 25% for sales between $170 and $2,300; after which higher sales attract lower percentages

True to its name, Vestiaire Collective is an app meant for selling designer fashion items. You'll have better luck listing your pre-owned designer clothing items on this platform.

The website teems with millions of high-fashion lovers drawn from over 50 countries. So, your listings receive wider visibility from people spread all over the world.

Vestiaire Collective is also one of the most affordable platforms to list your unused clothing items. It pays up to 75% of the selling price.
Wrap Up
Discarding unused clothing items is no longer a fashionable idea. Not when there are numerous apps which you can use to convert your pre-owned clothes into real cash.

As a general rule, always consider listing your clothing items on an app with the highest number of active online users. Also, go for websites that charge competitive sales commissions.