Picture an island paradise, and it would look a lot like Sicily, one of Italy's finest gems. With its relaxed atmosphere, flavorsome cuisine, volcanic landscapes, and sandy beaches framed by high rocky cliffs, this sunny, tri-cornered island off the toe of Italy's boot is one of the best Mediterranean destinations for a chilled-out holiday.
2022 is starting to look optimistically like some degree of normality might be on the horizon, and it's time to treat yourself to that well-deserved luxury villa holiday you have always dreamed of.
After two years of Covid, nothing sounds better than gathering together your nearest and dearest at a luxury sea-view villa with an outdoor pool and private garden, where you can truly relax, let go, slow down, recharge, enjoy al fresco dining, drinking and chatting in a panoramic veranda, and spend effortless quality time with friends and family.
Here is why planning a villa holiday in Sicily is the way to go in 2022.
Ultimate privacy and remote exclusivity
It's safe to say that holidaymakers in Sicily have always loved the privacy and comfort of a villa holiday, and the coronavirus pandemic, if anything, has grown this demand further.
The pandemic has changed the concept of vacationing, with privacy, seclusion, social distancing and cleanliness now being the new luxury. In a Covid-19 world, renting a vacation home is definitely safer than staying in a hotel, tourist resort, guesthouse, bed and breakfast, or camping site.
The safest choice at the moment, renting a holiday villa means that you can enjoy all the comforts of a hotel, but without any other guests to make noise at night, scoff the buffet, and shamelessly hog the sunloungers from 5am. The whole property is exclusively for you, with no shared facilities such as crowded hotel pools, elevators, lobbies, spas and buffet areas – not to mention shared showers, laundries and bathrooms.
Renting a holiday house offers a much greater sense of space, peace and privacy, no direct contact with strangers, and the luxury of enjoying your vacation at your own pace.
One of the best aspects of a villa holiday is that you can set your own personal timetable, which includes mealtimes. Self-catering makes villa rentals the perfect option for a socially distanced, safety-conscious holiday away from anyone outside the group of family and friends you are traveling with. Holiday villas come with a fully functional kitchen with everything you need to whip up your own delicious meals, including state-of-the-art appliances and quality utensils.
Breath-taking panoramic views, free Wi-Fi, a barbecue pit for BBQ parties, and the first-class facilities and high-spec amenities you'd expect in a lavish hotel all make for a top-quality experience.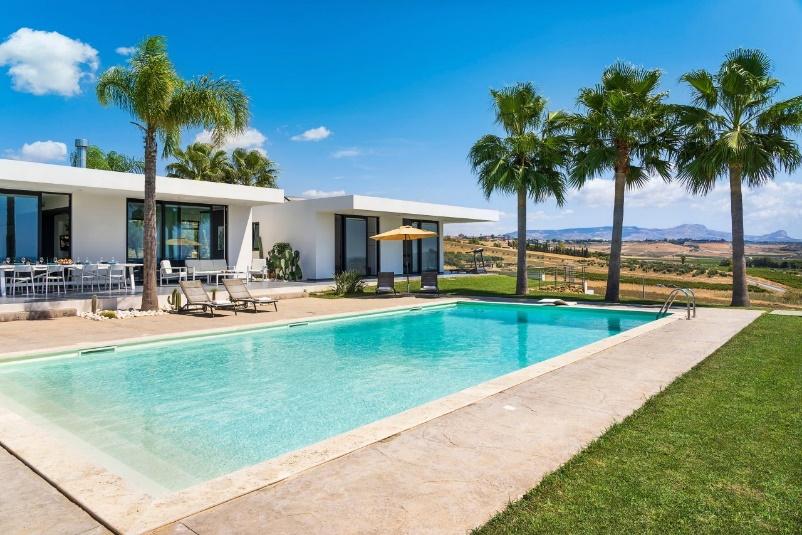 Art, history and culture at your doorstep
A private villa is the perfect base to explore the real Sicily in all its glory. From some of the world's finest ancient Greek ruins to extraordinary cliff-side villages, glamorous hilltop towns, and impossibly picturesque fishing hamlets, the Italian island of Sicily offers a superb menu of unmissable destinations to visit.
An absolute must-see on Sicily's eastern coast are the fabled town of Taormina, with its impressively preserved, horseshoe-shaped Greco-Roman Theatre dating back to the 3rd century B.C., and the lovely coastal city of Siracusa, the birthplace of the eccentric inventor, physicist and mathematician Archimedes.
The historic walled urban island of Ortygia, the oldest and most fascinating part of Siracusa, still charms with its maze of twisting narrow alleys, centuries-old palazzos and marvelous Baroque churches.
Admirers of ancient Greek ruins will hit the jackpot with the mythical Valley of the Temples, just outside Agrigento, on Sicily's bewitching south-western coast. Dating from the 5th century B.C., the Valley of the Temples is the world's largest archaeological park. Listed as a UNESCO World Heritage Site in 1997, it includes the ruins of seven magnificent Doric temples, an agora and Roman forum.
No visit to sun-drenched Sicily would be complete without visiting the picture-perfect fishing village of Scopello, a 45 minutes' drive west of the Sicilian capital of Palermo.
This tiny coastal hamlet in the province of Trapani is so photogenic that it should come as no surprise that it inspired Homer to write about the stunning beauty of Sicily in The Odyssey. The picturesque beach town of Scopello has also long been popular with magazine photographers and film directors, and has starred in many TV series and movies, including Ocean's Twelve, and an episode of the hit Sicilian detective series Inspector Montalbano.
Spectacular beaches
Did you know that Sicily, the largest island in the Mediterranean Sea, has hundreds of wonderful beaches? Just off the southern coast of the Italian peninsula, Sicily's coastline stretches for more than 900 miles on the Ionian, Tyrrhenian and Mediterranean seas, and covers a dozen offshore islands.
From secluded coves hugged by steep-sided limestone cliffs and sheltered bays only accessible by boat, to surreal rock formations and pristine beaches with fine, golden sand lapped by crystal-clear waters, this balmy island at the very south of Italy really has something for everyone.
Imagine coming home to your own private pool villa after exploring Sicily's unmissable attractions or soaking up the sun at the beach all day.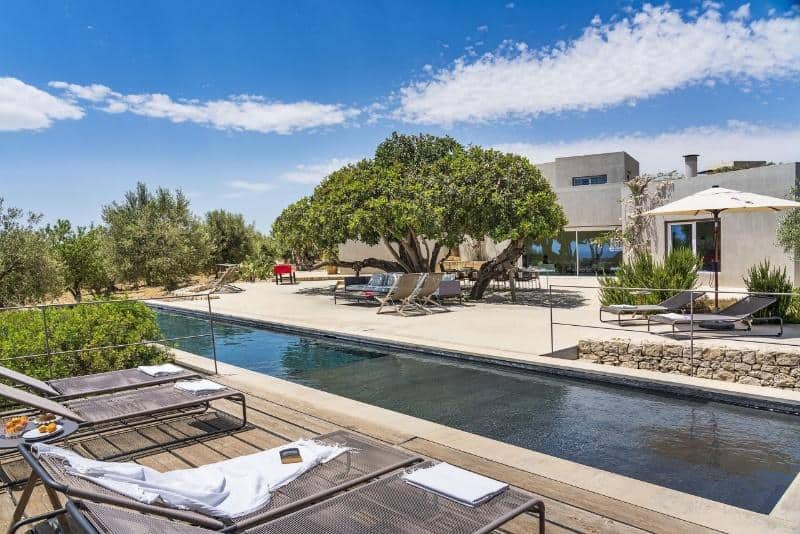 Whether you are after a modern sea-view villa with an infinity pool, a golden-stone farmhouse overlooking picturesque vineyards, an ultra-luxe cliffside villa with panoramic jacuzzi, or an eight-bedroom mansion in the countryside to accommodate multigenerational family reunions, you can find it in sun-kissed Sicily.
There's no shortage of spectacular private properties to rent in this gorgeous island in the middle of the Mediterranean, some of which are available exclusively through Select Sicily Villas, one of the island's leading and most exclusive vacation home rental agencies. Founded in the mid-2000s, Select Sicily Villas boasts an impressive collection of great rental properties for all tastes.
Have a look at the company's website www.selectsicilyvillas.com, and make sure to book well in advance.