For people who work in offices or who are predominately desk-based in work, you may find that over time you begin to suffer from back pain or discomfort. This could also affect those with previous or current back injuries regardless of how much time they spend working at a desk. 
One way to alleviate the bank pain or discomfort caused by prolonged sitting is to invest in a sit-stand desk to give you the option to adjust your posture and position without impacting your productivity. As an employer, they can be extremely beneficial to the comfort and productivity of your workforce too.
But what is an adjustable standing desk? How much space do they need? And are they worth the cost? We will take you through the details below. 
The Basics
An adjustable standing desk is, at a basic level, exactly what it sounds like, a desk that can be adjusted with buttons on the front. This means that the desk can be used by anyone within the full height range for sitting to standing. This type of desk is often recommended by health physicians for people with musculoskeletal conditions and also for those who are particularly short or tall. 
An adjustable standing desk can save employers a considerable amount of money over the long term as this type of desk is suitable for the majority of employees. So, by purchasing these desks as standard, the company will not need to buy specialized desks for employees. This also means being able to get new employees into the workplace more quickly without waiting for specialist equipment to be delivered. 
Regarding the space needed for this type of desk, the models do vary, so it is always best to measure up correctly to ensure that you have adequate space to have the desks installed. Due to the electric mechanism controlling the height changes, you will need to ensure that you have enough outlets for the number of electric desks you are purchasing. 
In our experience, adjustable standing desks are often slightly bigger than standard non-adjustable desks. However, the outlets needed are often the least considered aspect of these desks. In addition to an outlet for the desk, you will need to consider the number of outlets you will need for the remainder of your IT and desk setup. 
Cost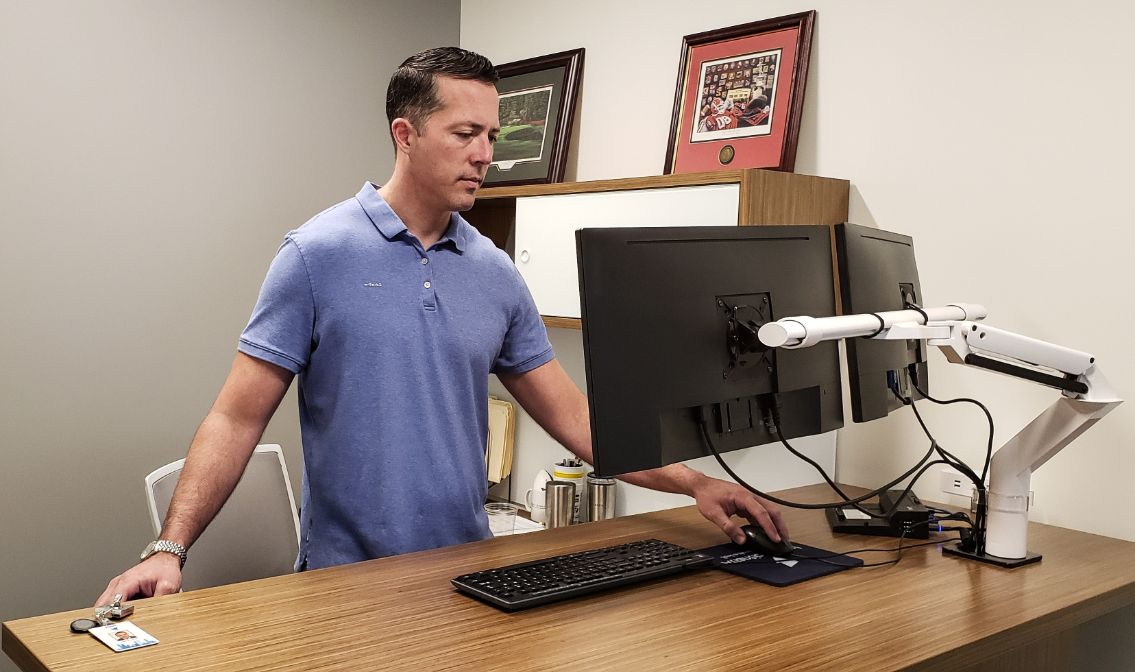 The cost of this type of desk will vary depending on the model that you buy. Most desks of this type will have a price range depending on a number of factors. You can choose the material type, color, and size of desk for your workplace. You can change the options and adjust the price to fit your needs and budget. 
We think this type of desk is more than worth the initial investment you will pay for the comfort and physical health of employees. The additional benefit of enabling employees to continue working while standing when they would otherwise have needed to take a prolonged break away from their desk is beneficial too.