There are plenty of reasons why some people need to track time.
Project managers for instance, want to make sure an assignment isn't going to cost more than the budget allows because it took more time to get done. Freelancers on the other hand, will need time trackers to create invoices for their clients. While the rest may simply be tracking time to ensure they don't spend too many hours on an unproductive task.
Regardless of the situation or what you're working on, there's a time tracker for you. Below are some of the best tools to help you stay on schedule.
Best Time-Tracking Tools
1. Indy Time Tracker
Measuring how much time you put into your work is hard, but it really shouldn't be. The folks at Weareindy created a Time Tracker to help you stay focused on your tasks and not the clock. Once you start tracking you may be surprised how many hours have previously escaped your invoices.
Main Features Are:
Track time with a single click, hit the pause button to take a break, and jump back in when you're ready.
When you're in the midst of multiple projects you can filter your timesheets based on a variety of factors.
Link your hours directly to an invoice, add in your rate, and send it off to your client for payment.
2. ezClocker
ezClocker is a highly rated time tracking app for freelancers and small teams. It's simple design allows you to record your hours per job, add notes, and send an invoice email to your customers with a touch of a button.
The team version of the app allows employees to download the ezClocker app on their phone and clock in with a touch of a button, view their schedule, and total hours worked. Employers use ezClocker to view timesheets, create schedules, view overtime and export time entries to process payroll. 
If the employer wishes employees to use one device then ezClocker offers a kiosk app where all employees can sign in using a PIN number. Ideal if you have a group of employees working at one job location. ezClocker also has advanced settings where you can restrict employees from clocking in early, report overtime and labor job cost calculation.
3. Toggl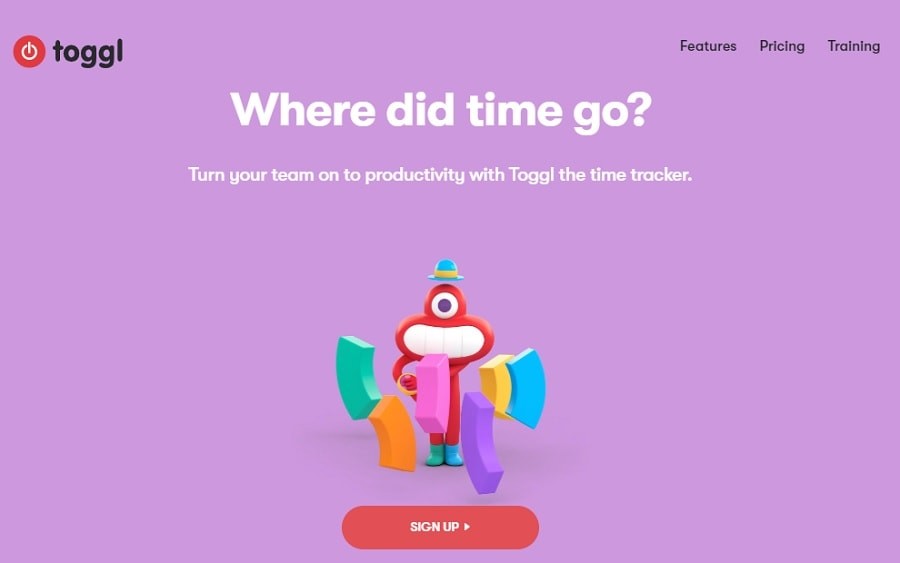 Aside from track time, this popular app can also be a project manager's best friend thanks to advance features such as a team dashboard, creating time estimates for projects, as well as exporting detailed weekly reports.
Use the Pomodoro timer to know if it's time to take a break; or install it on your Chrome or Firefox browser so you always know how productive you are. Basic plan is FREE, which already includes everything you will need to get started. Toggl is also available as an app for desktop users, as well as for Android and iOS.
4. Harvest
Whether you're a project manager or a freelancer, this tool will help you make the most of your time and expenses. By letting you track several projects at once – as well as see different tasks associated within them – you can get a bird's eye view of money involved in the hours you've worked.
You'll also be able to create invoices, know which projects are profitable, and integrate your favorite apps (e.g. Basecamp, Github, Trello, etc.) all inside this time tracker. Sound's cool? Harvest has a FREE 30-day trial, so grab this opportunity while it's hot.
5. Tick
You know what they say: time is money. And in no industry can that be truer than in the world of freelancing. Let's be honest, the reason why you quit that job and started hustling for gigs was because it paid more for half the time – but only if you had been productive.
Make sure the hours you spend turns into revenue with a little help from Tick. Just don't open a lot of projects at once, and you may be able to get away with basic pricing.
In case you want to take it for a spin, they also offer a FREE 30-day trial. What do you say, ready to see whether your time is costing you money?
6. Everhour
For folks who are mostly online, you'll find Everhour a lightweight companion to help you track time spent on different projects. Sync it with existing productivity apps such as Asana, Trello, or Basecamp, to start recording hours spent per project.
The app also has collaboration features, like setting up exact times per day to work on certain assignments. It doesn't work offline though.
7. Bonsai
This unique app is more of a freelancing companion with a built-in no-nonsense time tracker. The best part is that you can connect the time tracker with client proposals and contracts. This helps you instantly get started on work without re-entering data each time.
Plus, Bonsai can also automate invoices. Just select unbilled hours and send a bill right away. This tool works on the Web, as well as for Android and iOS users.
8. Calendar
If you're more comfortable with calendars, then this app is for you. Powered by AI technology that learns your moves the more you use it, Calendar is more of a virtual assistant that helps you track your hours, keep yourself from booking conflicting appointments, and know how much of your time goes to which tasks.
Sign up for FREE, or pay $10 for automated transcriptions of your meetings.
9. OfficeTime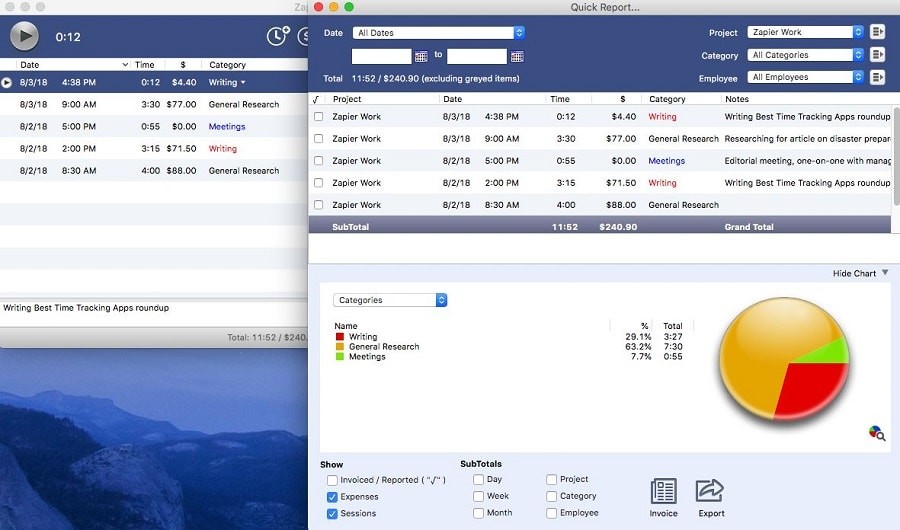 Not everything we do is online. For people who prefer or have work offline, then this time-tracking tool is for you.
With a single payment (just $49 per license), you can download OfficeTime to help you stay on track – even if you're not connected to the Web. That means NO recurring subscription fees, and it still does the job (i.e. time-tracking, invoicing, and reporting).
10. Timely
Business owners may often feel like there's so little time in a day. With meetings, product research, customer outreach, and client dinners, there's a never-ending stream of activities! Why spend on several apps when you can have just one?
That's what Timely aims to be for entrepreneurs everywhere. A scheduler and time-tracker in one, it lets you see tasks and hours spent on each all in one convenient dashboard. And with a drag-and-drop interface, it's a breeze to use.
11. RescueTime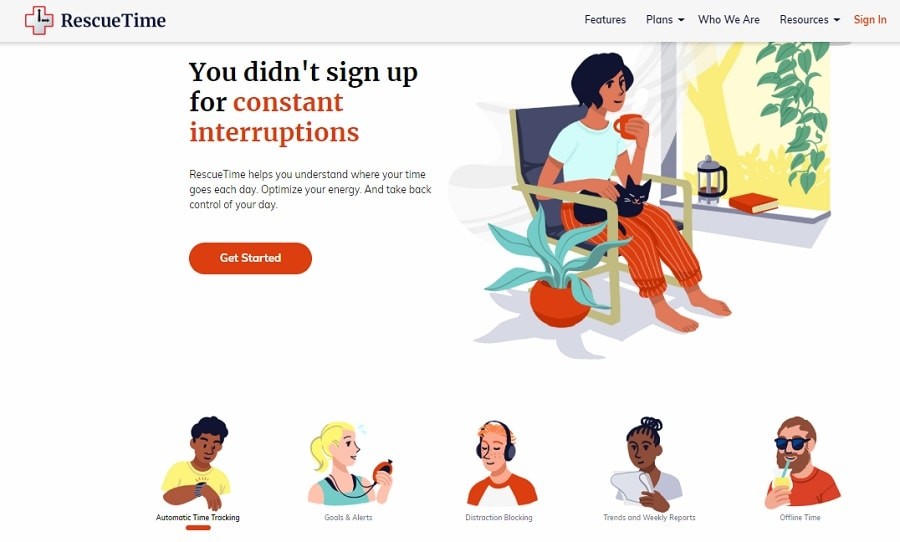 Looking for a simple, no-fuss time tracker? Then RescueTime may just be what you need. Created for individuals AND freelancers, this tool is all about helping you manage your hours – without overloading you with data.
Block distracting sites, set your most productive time, get alerts for when you're working too much, as well as input offline activities (e.g. nap, meetings, gym) for a detailed report later on. This app works for you, so you can finally feel in control of your day.
12. Klok
This time-tracking tool looks and feels like a calendar, so you know exactly what you had been doing throughout your day at a glance. It's ideal for anyone handling multiple things at once.
Up to your head in meetings or presentations for work? No need to manually copy your to-do list. Simply import them directly into your dashboard, and Klok will do the rest. Get started with a FREE trial today, or get their desktop suite for $19.99.