Last Updated on January 2, 2023
One of the most common challenges faced by remote workers is managing time zone differences.

With clients and co-workers spread all over the world, you simply cannot make a phone call or convene a Zoom meeting without establishing what time it is where your clients and colleagues are.

Fortunately, there are several websites and apps that can help you to keep track of time across multiple time zones.

This post reviews the 10 best time zone converters to use in ramping up your productivity in 2021.

How Many Time Zones Are There?
The world is broadly divided into 24 time zones. These zones are arrived at by breaking down the course of a day into individual hours.

The 24 time zones are theoretically represented by longitudes (imaginary lines running vertically across the globe).

In addition to the 24 major time zones, the International Date Line (IDL) identifies three additional zones.

It's also worth noting that certain regions are less than an hour apart, with some locations sharing a time zone difference of as few as 30 minutes. Therefore, the total number of actual time zones is way higher than 24.
How to Calculate Time Zone Differences Manually
It's possible to calculate time zone differences manually. First, you'll need to familiarize yourself with the concept of longitudes.

Start by noting the following:

> That a 15-degree longitude difference equals a 1-hour time zone difference
> Therefore, a 1-degree longitude difference equals a 4-minute time zone difference

Now, assume you're trying to calculate the time zone between city A located at longitude 50 degrees and city B located at longitude 175 degrees.

The first step is to find the longitude difference. You do this by adding the two numbers, i.e.
50 + 175 = 225.
You then divide the sum by 15 degrees which represent a 1-hour difference, i.e.
225/15 = 15

Therefore, 15 is the time zone difference between cities A and B.

But you're not done yet. You should now add or subtract the time zone difference to establish the actual time it is in the two cities.

If city A is located to the west of city B, you can tell the time in city B by adding 15 to the current time in A. And if city A is to the east of city B, you can compute the time in B by subtracting 15 from the current time in A. To avoid confusion, be sure to do these calculations in the 24-hour system.

While you can compute time zones manually, the process is quite tedious. Fortunately, there are numerous tools that make time zone conversion a breeze. Not only are these tools over 99% accurate, but most of them are also free and incredibly easy to use.
10 Best Time Zone Converters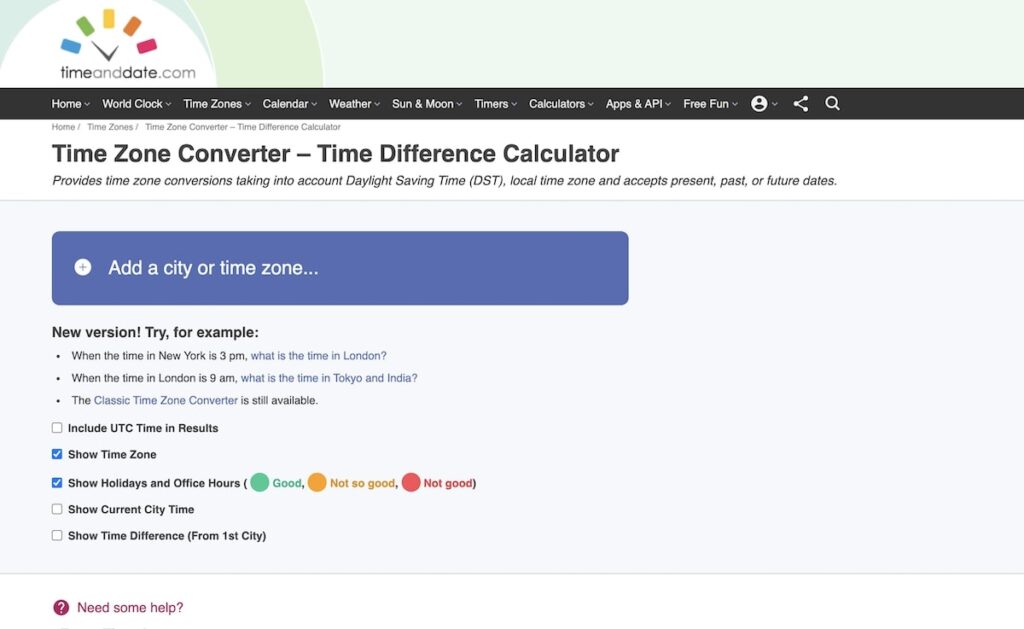 TimeAndDate is an online tool that provides numerous time-related services, including a time zone converter. The tool offers time zone conversations in like with Daylight Saving Time (DST).

TimeAndDate also supports present, past, and future dates, making it a highly accurate time zone converter. It's 100% free to use and doesn't require any download and installation.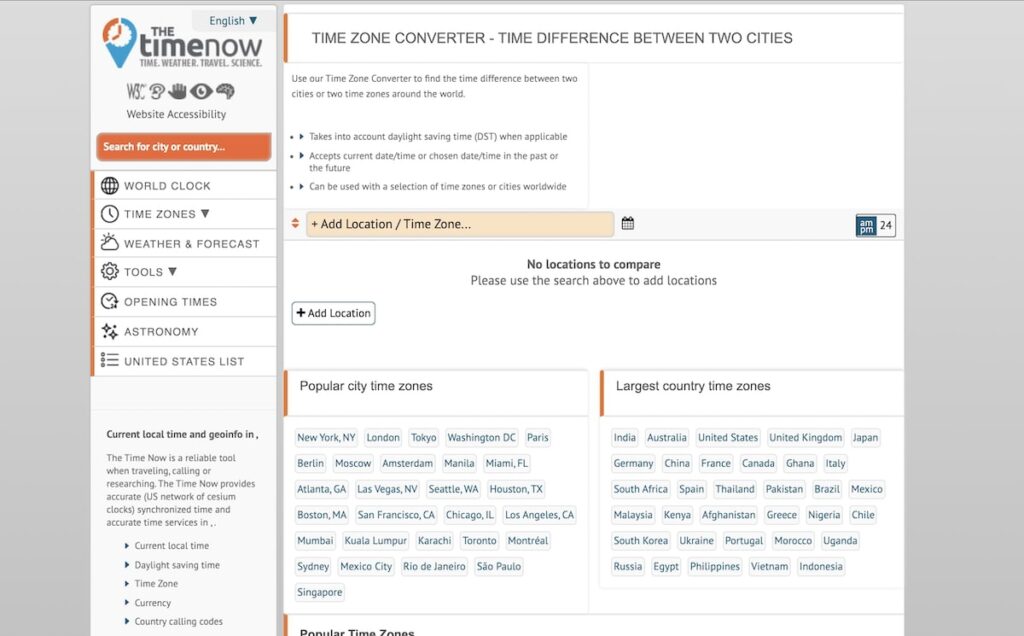 TheTimeNow shares a lot of features in common with TimeAndDate.

First, TheTimeNow is a free time zone converter tool that requires no prior download or installation. Also, the service takes into account daylight savings.

And just like TimeAndDate, you can convert between past, present, and future dates. A bonus feature is the inclusion of preselected major cities, which you can readily click on to know the time in relation to your location.
World Time Buddy is yet another time zone converter that offers full daylight saving time support. The tool is designed to auto-detect your home location, making the time zone conversion process a breeze.

World Time Buddy also functions as an online meeting scheduler. The service can display time in the 12-hour clock system or the 24-hour clock system, depending on location.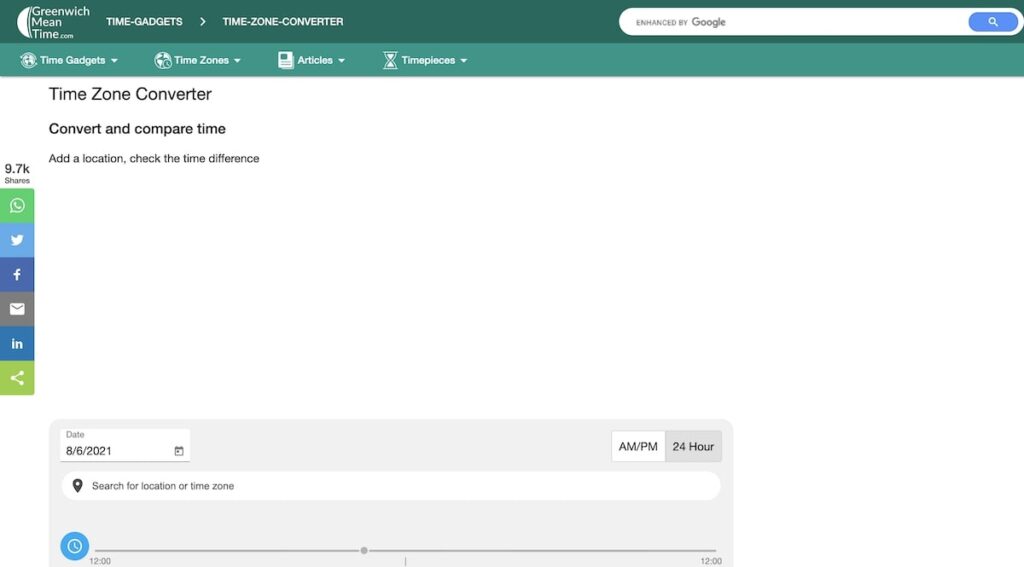 GreenwichMeanTime.com is a time zone converter that also doubles up as a meeting planner.

One outstanding feature of this time zone converter is a conversion table that you can keep for reference.

The website also implements a powerful location search function and the option of viewing the converted times in the form of wall clocks.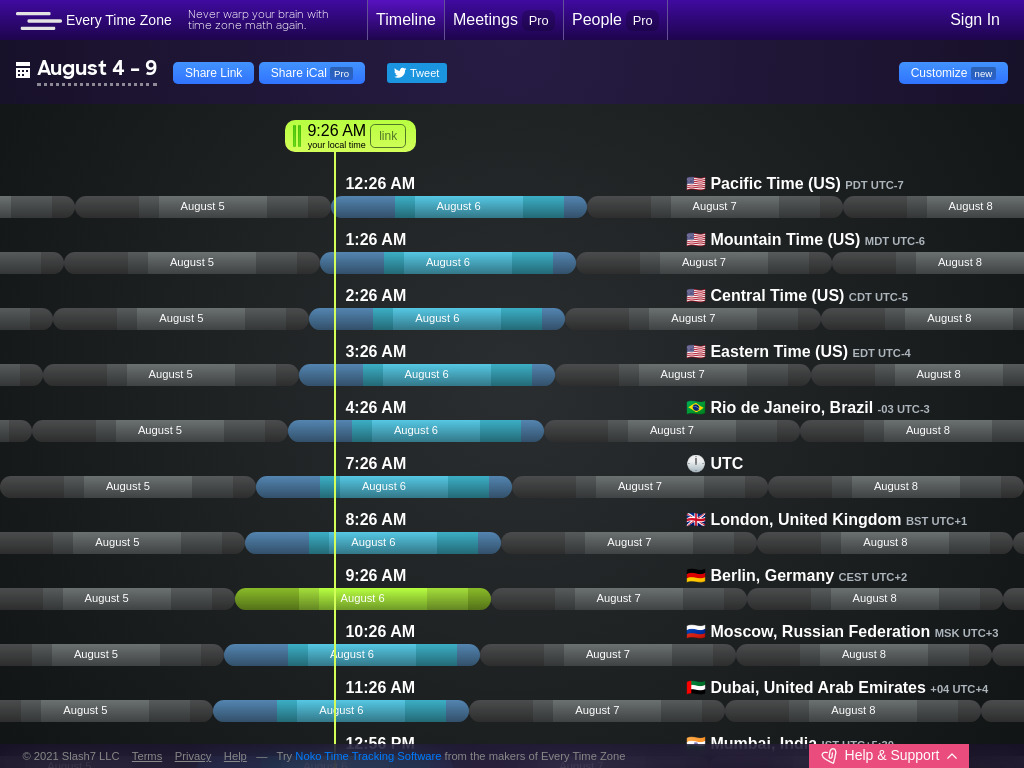 This time zone converter tool lives up to its name – allowing you to know the time in virtually every zone around the world.

The website includes an intuitive slider that lets you know how a time zone in one city corresponds to everywhere else. That can be instrumental where you're seeking to coordinate two or more time zones.
The first thing you'll love about Time.Is is its user-friendly interface. Another cool feature about this web-based time zone management tool is the option for displaying the time as a table, from where you can easily choose which times to convert.

The tool is also 100% free. However, it lacks advanced features compared to many time zone converters on this list.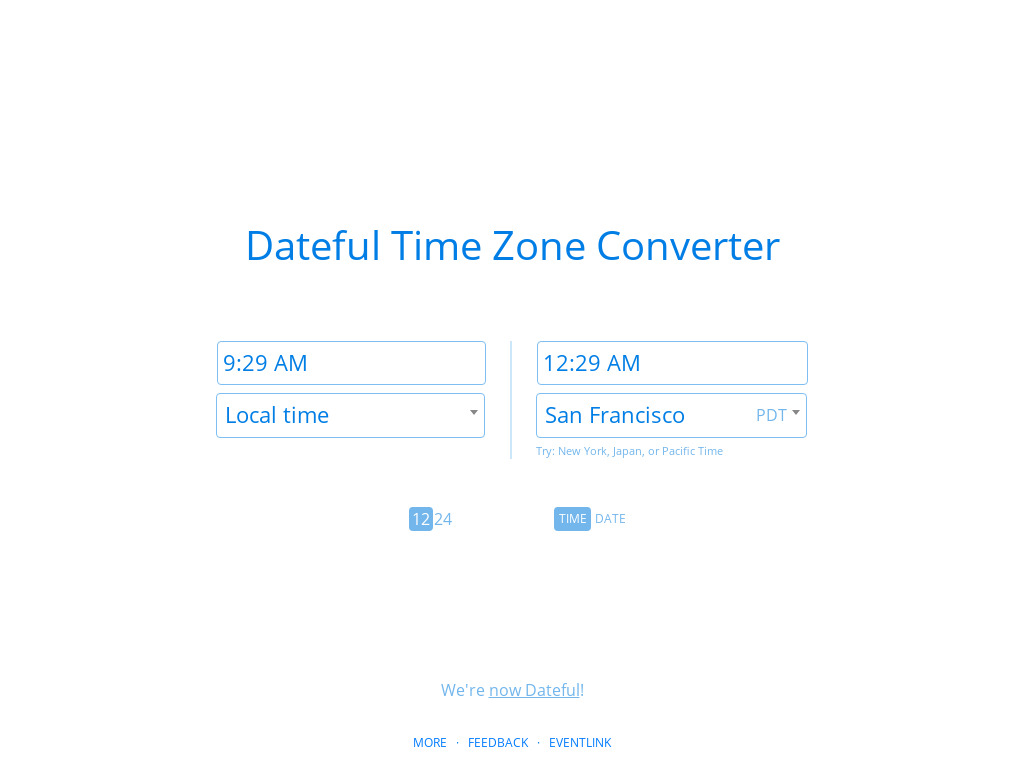 TheTimeZoneConverter comes with two options for quick time zone conversion.

On the left side of this web-app screen is where you enter the time zone you wish to convert by simply typing it. And on the right is where you choose the target location you're seeking to convert the time to.

There's also the option for switching between 12-hour and 24-hour clock systems.
TimeTemperature is a productivity tool that comes with a slew of time management features, including a meeting planner and a time zone converter. The tool converts time between past, present, and future dates.

TimeTemperature also includes a UTC converter that enables you to convert your local time to UTC or GMT Time. Other cool features include a world clock, custom world clock, and the provision for adding or subtracting dates while doing the conversions.
The WorldTimeServer website displays your local time as well as your time zone and the current date. From there, you can check the time zones in virtually any city around the world. You can also take a quick view of the world clock to find out the current time in major selected cities.

Besides offering time zone conversion, WorldTimeServer also features an integrated calendar and other productivity tools you can use to schedule virtual meetings.
Unlike the other time zone converters on this list, Timezone.io doesn't have a free plan or a free trial. However, there's a lot to gain by subscribing to a paid account.

This cloud-based service lets you track the current time in any city for the efficient running of your business. The tool was designed with remote workers in mind. So, there are many nifty features to enjoy besides time zone conversion.
Final Word
Keeping track of time manually across multiple time zones is never a walk in the park. Less so for entrepreneurs managing huge teams of remote workers.

Fortunately, you can take advantage of any of the above-reviewed time zone converters for better management of remote teams. Most of the converter tools on this list are free, user-friendly, and let you check the time across multiple cities around the world.