Everyone feels stress and anxiety to some extent at some time or another. What's interesting is recent research that shows the link between some songs and a reduction in anxiety. This article explores this link and provides the top 10 songs that relieve anxiety according to neuroscience.
Music and Anxiety
Listening to music can act as a conduit to our emotions, which means that it can become a powerful too to manage stress. With the right song, we can become so enraptured by the sound that we stop thinking about what's causing us stress. Studies show that sleep meditation songs can relax the mind and the body and helps us fall asleep at night. Music was also found to lower distress as well as chronic and postoperative pain.
Music, as we know, is a mix of many different elements including pitch, tempo, and dynamics. The speed of the music as well as the volume plays a part in how music affects our brains. When you listen to music next, think about how it's making you feel, and try different genres of music. This will help you see for yourself the link between your brain function, your mood, and your physical health. You can also feel the beat on your car. Check out Marcus Ford's opinion on best door speakers for bass.
Music Therapy
A study by the American Music Therapy found that therapy through music has many benefits for individuals from managing stress to reducing anxiety and even pain. As Maggie Chaswick, a lifestyle writer at Last Minute Writing and Writinity explains, "a music therapist will guide the individual to understand how to better express emotions, improve their cognitive and motor functions, and also process negative experiences and trauma. The individual uses musical instruments and their voice to go through exercises in a way that will help them express themselves."
Health Benefits
When you suffer from high stress levels, you can enter a state of anxiety or depression. By listening to anxiety-reducing music, you can lower these stress levels. Relaxing music can help improve your memory and recover lost memories.
It can help you in you healing process after an operation, both in reducing pain and anxiety. It's even been found to alter your brain function to the same level as if you were taking anti-anxiety medication. Lastly, music's been found to increase your quality of sleep by lowering your heart rate and stress so you can drift off to sleep faster and more deeply.
Different Types of Music and Their Effects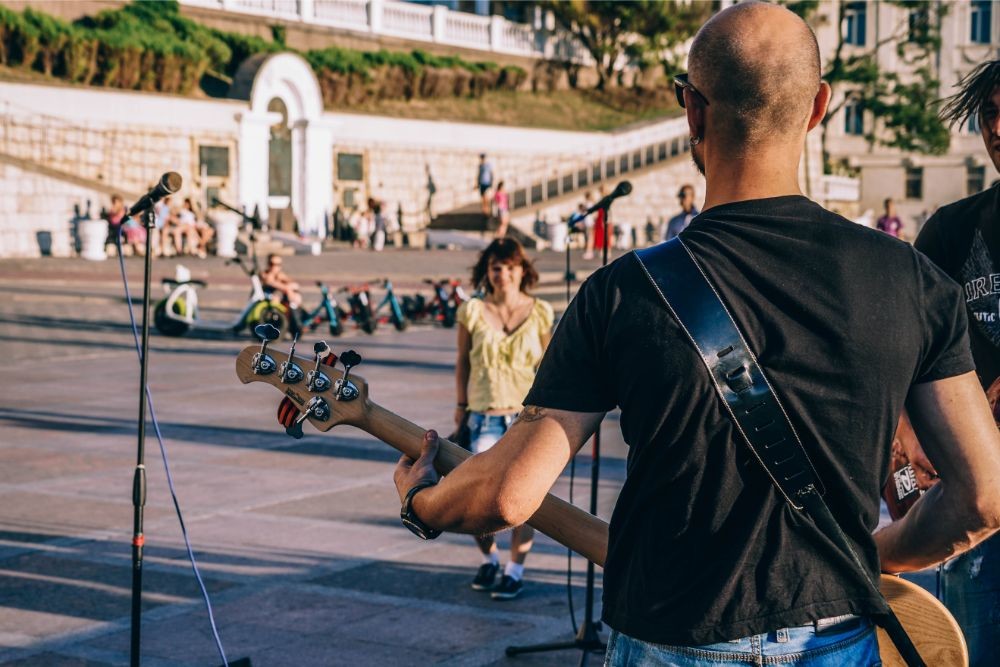 Research actually shows that listening to different types of music will affect you in different ways, not just with relaxation and anxiety. A slow tempo jazz song can actually generate alpha brain waves which help you relax when you're awake. For added effect, combine jazz music with sounds of nature. Classical music is also linked to feelings of calm and interestingly, an increased feeling of community with those around you.
On the other side of the spectrum, pop music can help you get more energy when you're working out. The pop music can help you forget the pain and fatigue and will see your workouts improve. Country music, specifically upbeat tempos, is a type of music that is associated with a very positive physiological response. Finally, rap music was found to help fight depression because many rap songs are about people who overcame personal obstacles and improved their lives.
The different volumes of music also affect you, whether you're playing music at a low or high volume. Some studies have shown that listening to soft music makes you more likely to choose healthier foods, even if it's just playing in the background. Loud music is useful when experiencing stress because it releases endorphins in your bloodstream which fight stress. Louder music also makes you feel more awake and alert, unlike relaxing songs which can put you to sleep.
How Does It Work?
In music therapy, playing meditation music soothes your senses and reduces anxiety. It will also improve your health and well-being. Music therapy in a group setting is also helpful because it lets people feel more confident and open about sharing their feelings through music. Whether you're feeling anger, anxiety, or stress, music is a conduit to sharing that with the group. Music interventions were also found to help deal with patients that have mental or personal issues by calming them.
According to Dale Holloway, a psychology blogger at Draft Beyond and Research Papers UK, "the soothing qualities of music actually reduce the levels of cortisol, the hormone that causes stress, in our system. Some particular rhythms and music arrangements are better for reducing the systolic and diastolic blood pressure to normal levels, lowering risk of coronary heart disease."
During meditation sessions or yoga, specific music is played to calm your heart rate and reduce stress. It's important to choose the right type of music specifically for how you want to feel. It's clear through these studies that listening to music has a major impact on our feelings, and specifically on stress and anxiety.
Not only does it calm your anxiety or concerns during a medical procedure but it can also help you with your recovery time afterwards. If you're in this situation, try to experiment with different types of songs and different volume levels to see how they improve your mood.
With all that being said, neuroscientists have conducted many studies and established a 10-song playlist that they claim reduces anxiety up to 65 percent. This playlist is as follows:
"Weightless," by Marconi Union
"Electra," by Airstream
"Mellomaniac (Chill Out Mix)," by DJ Shah
"Watermark," by Enya
"Strawberry Swing," by Coldplay
"Please Don't Go," by Barcelona
"Pure Shores," by All Saints
"Someone Like You," by Adele
"Canzonetta Sull'aria," by Mozart
"We Can Fly," by Rue du Soleil (Café Del Mar)
The next time you're feeling stressed about something going on in your life, or you suffer from anxiety, try playing these 10 songs and see how they help soothe and relax you. The number one song, "Weightless," was found to be so effective that it's available online in a 10-hour loop.