It doesn't matter how diligent we are when planning our vacations, there are always crucial aspects that we tend to overlook. When feeding items into our bucket lists, we mostly give due consideration to our accommodation facilities. 
We spend a great deal of time examining the kind of amenities offered in our hotels or apartments of choice, as well as the location of the facility in relation to nearby points of interest.
Some of us even go the extra mile to establish the general state of security around the destination we wish to travel to. All these are crucial to having a successful trip. But there's one more thing you should never skimp on – the need for local tour guides. 
As you're probably traveling to an exotic destination, you want to explore the local cultures as you uncover the country's hidden gems. And a perfect way to do that is to go on tours by locals. By virtue of their experience, local tour guides will help you to plan excursions that follow the less-traveled paths into some of the most enchanting spots. 
But as you shall find, finding competent and reputable local tour operators isn't a walk in the park, especially if you don't know where to look. In this post, we shall unpack the top 12 apps that you can use you locate local tour guides in any destination that your wanderlust spirit takes you.  
The Best Apps to Find Local Tour Guides
Available on: Android and iOS
Airbnb is arguably the best online company that provides apartment rental services to travelers all over the world. The company has an intuitive app that helps you to peruse through its over 7 million property listings spread across 81,000 locations around the world. 
Besides connecting you with local tour guides, the Airbnb app also allows you to read reviews by previous participants as well as compare prices across multiple tour operators. That way, you can explore numerous neighborhood gems without worrying about your budget.
Available on: Web
ShowAround has a rather unique business model where its clients book local tour guides by the hour. ShowAround's model is ideal for travelers who are looking to learn more about local cultures but aren't interested in traditional tours. 
The arrangement is also resourceful for travelers who are low on budget but still keen on making the most of their sightseeing tours. Activities could range from visiting museums and wine-tasting tours to experiencing the town's nightlife and going on safari walks. 
Available on: Android and iOS
The name of the app gives it away. BlaBlaCar connects you with drivers or motorists in your destination who have empty seats, and are ready to accommodate travelers that are looking for rides. 
The only challenge is finding a guide who is chatty enough, as you don't want to be driven around by someone who is more of a personal bodyguard than a travel companion. Thankfully, the app has a BlaBla index feature, through which you can gauge the chattiness of your local tour guide before choosing them.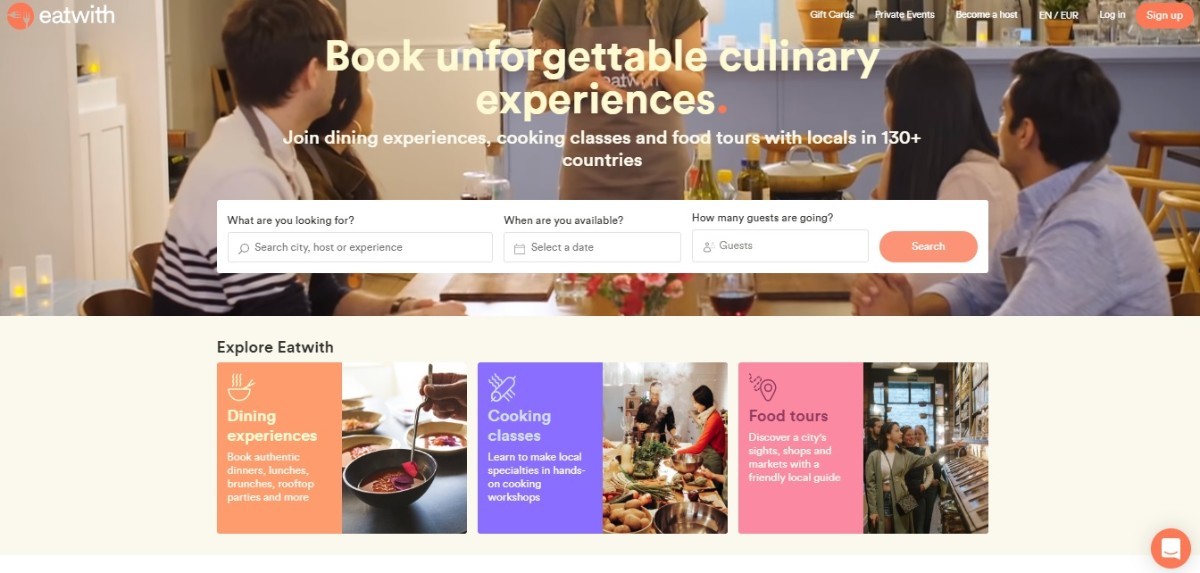 Available on: iOS 
One of the best ways to explore the cultural heritage of a place is to sample its indigenous cuisines as you seamlessly interact with the locals. Eat With is a meal-sharing app that allows you to share home-cooked meals with someone in their private homes. 
Hosts offer to prepare meals at a fee while travelers determine the best place and time to have their meals. And in the meantime, your chef might double up as your local tour guide, showing you around the neighborhood's best-kept secrets.
Available on: iPad, iPhone, and Android
Vayable is a platform that prides itself on offering real-life travel experiences to its clients. To that end, they have an app that you can use to connect with professional tour guides who will facilitate your trips to any destination you wish to visit. 
Through Vayable, you can get in touch with filmmakers, chefs, teachers, designers, and people from all walks of life. 
If you're planning a vacation and are interested in tours by locals that guarantee holistic experiences, then make Vayable your preferred tour guide locator.
Available on: iPhone, iPad, and iPod touch. 
Rent-A-Guide boasts more than 5,600 local tour guides spread across 81 countries, a variety that you hardly get with most local tour guide locators out there. 
Unlike other apps that simply provide listings and repositories, Rent-A-Guide walks with you throughout your entire vacation. The app allows you to book a guide hassle-free. 
You don't have to worry about paying any hidden fees or encountering unprofessional conduct. That's because the company pulls all the tops to ensure their guides are professional and the packages affordable.
Available on: Web
Embark is ideal for travelers who love the thrill and adventure of the outdoors. Through the app, you can book and go on all kinds of tours, ranging from hiking, mountain climbing, trekking, rafting, and even camping. 
To make your experience enjoyable, you'll need to specify your travel destination, how many of you are going on the vacation, and your favorite outdoor activities. 
After that, the app will display all the options available, listing them by duration, outdoor activities, maximum group sizes, and local guides to facilitate your trips to those locations.
Available on: iPhone and iPad
Like Embark, Viator enables you to sample through its vast collection of travel guides depending on your travel destination. You can also sift through the long lists by your activities of interest, size of travel groups, and the duration you intend to stay. 
The app features elaborate descriptions of local travel guides, including their portfolios and reviews. These are crucial details that will help you to hone in on a tour operator of your choice. 
After locating a suitable tour guide, you can take it up from there by shooting them a direct email.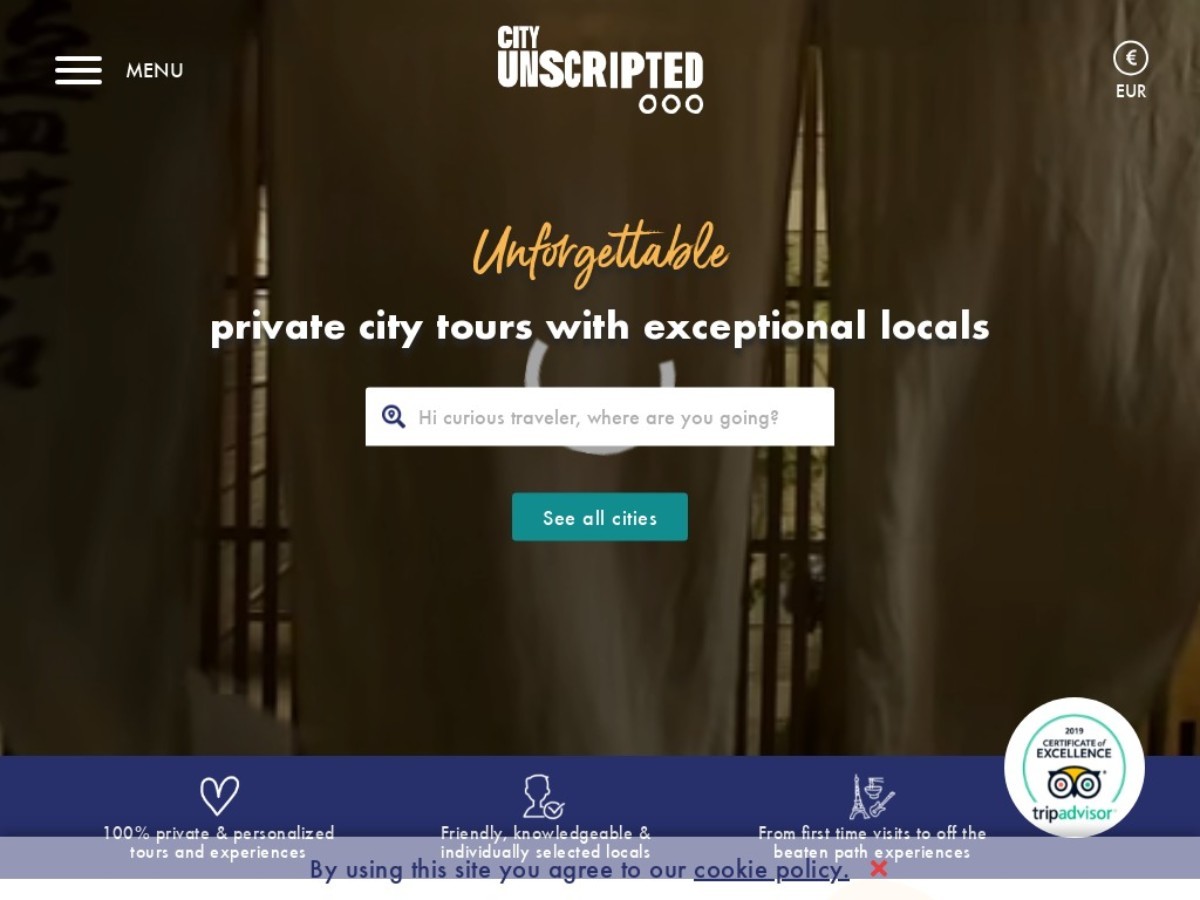 Available on: Web
One of the best selling points of City Unscripted is the huge volumes of information it provides on each local tour guide. The app allows you to read through comprehensive reviews of tour operators, in a bid to find the most suitable guide for you. 
The guides listed on the app are highly knowledgeable, super friendly, and multilingual, just the right way you need them for your local sightseeing experiences. 
Also, the app focuses on some of the world's most exotic travel destinations, such as the Pyramids of Giza, the floating markets in Bangkok, etc. That way, you're not only linked up with tour operators, but you also get expert recommendations on some of the top destinations to consider.
Available on: Android and iOS
Field Trip connects you with travel guides that promise to take you on exhilarating excursions along the least-traveled paths. You only have to select your location and activities of interest, then allow Field Trip to do the rest. 
The app will pull up several suggestions about the most popular points of interest, including eateries, recreational centers, architectural landmarks etc. 
As long as you have Field Trip installed in your iOS or Android device, the app will notify you each time you get close to major tourist hotspots.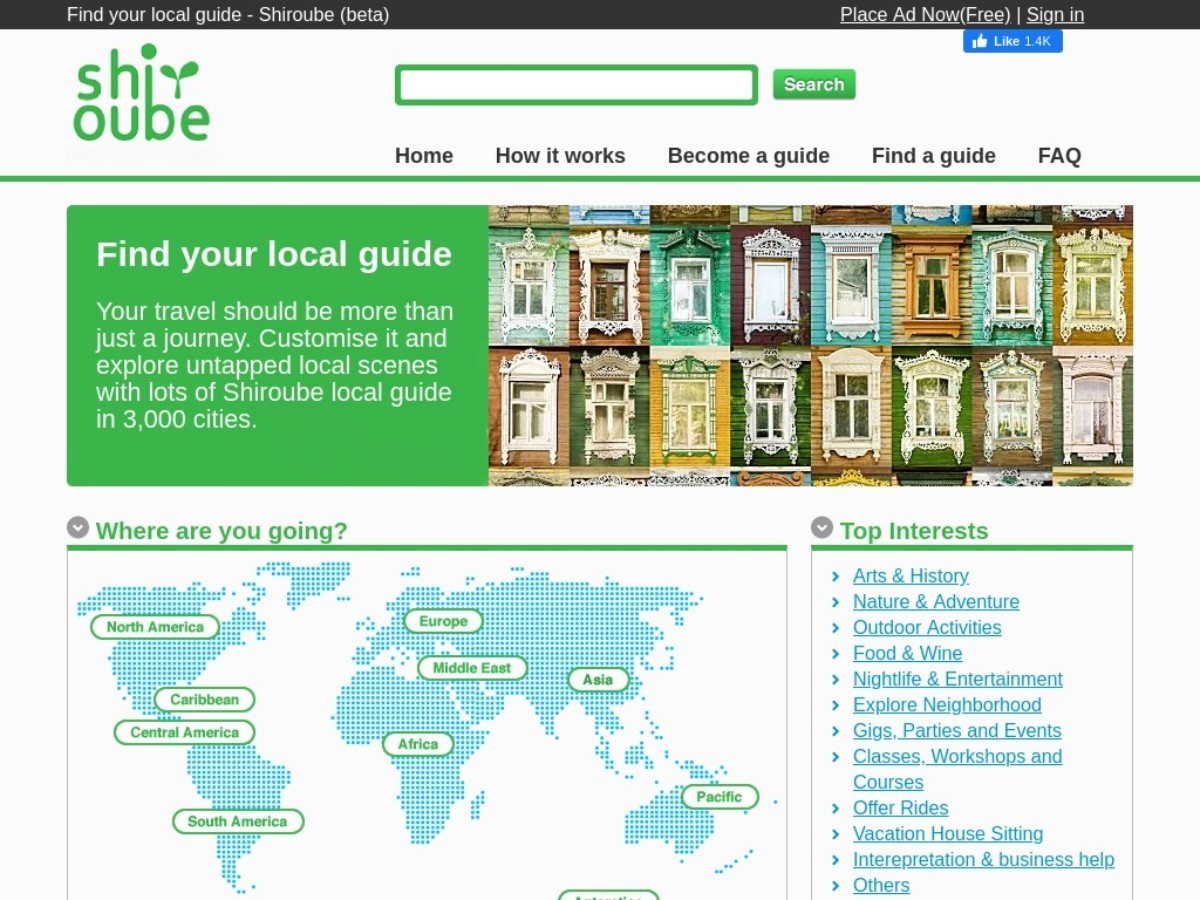 Available on: iPhone
Shiroube understands the hassles that travelers go through in finding professional tour guides, especially when planning a trip to some of the world's most remote regions. That's why the app offers guides that are located in over 3,000 cities around the world. 
You can choose a local tour guide depending on your travel destination as well as preferred activity. 
Also, Shiroube has an FAQ page that addresses some of the common challenges which travelers go through when looking for tour guides. 
Available on: Web
Now, this is the ultimate tour guide locator for budget travelers. The app links you up with local guides in selected cities that offer their services free of charge. 
These volunteers are mostly retired locals or people with extra time to spare and are interested in meeting new people. As such, they don't charge any fee but are only keen on having a wonderful time showing you around. 
Just ensure you're an easygoing person as there will be a lot of socializing to do.
Final Word
The best way to uncover a region's most hidden gems is to go on guided tours. Tours by locals offer the perfect opportunity to explore the least-known spots as you seamlessly meet and interact with indigenous communities.
Needless to mention, it's the surest way to stay safe by avoiding security hotspots. The apps we've reviewed here have already helped millions of travelers around the world to find local tour guides, and each app has numerous positive reviews to show for it.
Take advantage of these locators to find professionally-trained, super-friendly local tour operators.