Sometimes, there's nothing more freeing than a solo trip to your favorite destination, but how do you take those amazing shots for your Instagram feed? Ever wondered how some solo travelers have their Instagram profiles full of fun and beautiful travel pictures?
It may be tough for a solo traveler to constantly ask strangers to take their picture. There's an easier way to do it right. All you've got to do is take your selfie-taking skills to the next level. Taking the best travel selfies can easily be mastered by following a few simple tricks.
Below, we list some selfie tips to take the best travel selfies while traveling solo.
Use A Tripod
One of the easiest ways to get a great shot of yourself without having to ask someone to take your picture is to use a tripod. Tripods are not only meant for heavy-duty DSLR cameras but for smartphones too. Choose a compact and lightweight, a good quality tripod that is easy to carry.
Use A Selfie Stick
Most selfie sticks are designed in a way that allows you to take a perfect shot of yourself by holding them at the right angle. Many selfie sticks can be used alternatively as camera holders too. This is ideal for taking a perfect wide shot.
Set Your Camera's Timer
An easy way to get a good shot is to set your camera on a tripod and set the timer. To ensure that you get the perfect shots, use the burst mode if available on your camera as it lets your phone take multiple shots in a matter of seconds. One of the advantages of getting multiple shots is that you can try different poses and angles, and see what comes out best. This is an easy and convenient way to get good pictures of yourself on your solo travel trips.
Get A Remote Controller
While taking selfies, it's a good idea to have a device that can control your phone's shutter once it's set on the tripod. Setting a timer is a great way to take a picture by yourself, but this often leads to running between shots and you may not always have enough time to get the right shot. Using a remote controller can give you enough time to get the right angle, position yourself appropriately, and get the right pose.
Use A Reflective Surface
While taking a selfie, use reflective surfaces like a mirror for taking a selfie. Mirror selfies have been popular among celebrities in the past. You can get creative and use some not-so-common reflective surfaces like car mirrors or water on the ground.
Use Wide Angle Lens For Close-up Shots
If you're not comfortable with carrying a selfie stick around, opt for buying an add-on lens for your smartphone. These lenses can give you a much wider angle than your phone camera's lens. You can set your phone on a flat surface with a wide shot and strike a pose for that perfect picture.
Take Photos Of Your Body Parts
Every time you decide to take a picture, it doesn't have to be your full portrait. Composing pictures with just your feet on a beautiful floor design or your hands holding a beautiful artifact are fun and creative ways of taking selfies on a solo trip.
Take A Full-face Selfie
Taking a full-face selfie is an easy and classy way of taking pictures of yourself while traveling. While taking full-face selfies, try to get an expression that reflects your mood, it's a classic way to make a photo alive and personalized. You can also try new angles. This way, you can discover certain angles that work well for you. Here's a guide to taking perfect full-face selfies.
Take Action Shots
If making pseudo expressions is not your thing and you prefer keeping it natural, action shots would work well for you. Action shots capture moving objects or persons in an image. These shots are the way to go when capturing moments in a busy street for instance.
Ask Someone To Take A Photo
One of the oldest and easiest ways to get clicked while traveling solo is to simply request passers-by to take your photo. Often, pictures taken by strangers don't always come out well. Find someone who's carrying a DSLR camera or has a tripod.
This way, you can at least be sure that the person taking your picture knows what they're doing. Plan your desired shot beforehand and tell the person exactly how your camera should be positioned to get a perfect shot.
Wake Up Early
This is especially helpful if you plan to visit natural reserves or public places that tend to get busy during the later hours of the day. In the early morning hours, not only is the lighting soft and perfect for taking pictures, but not many people are around so that you have enough space to experiment with poses, angles, and backgrounds without being judged.
Learn How To Pose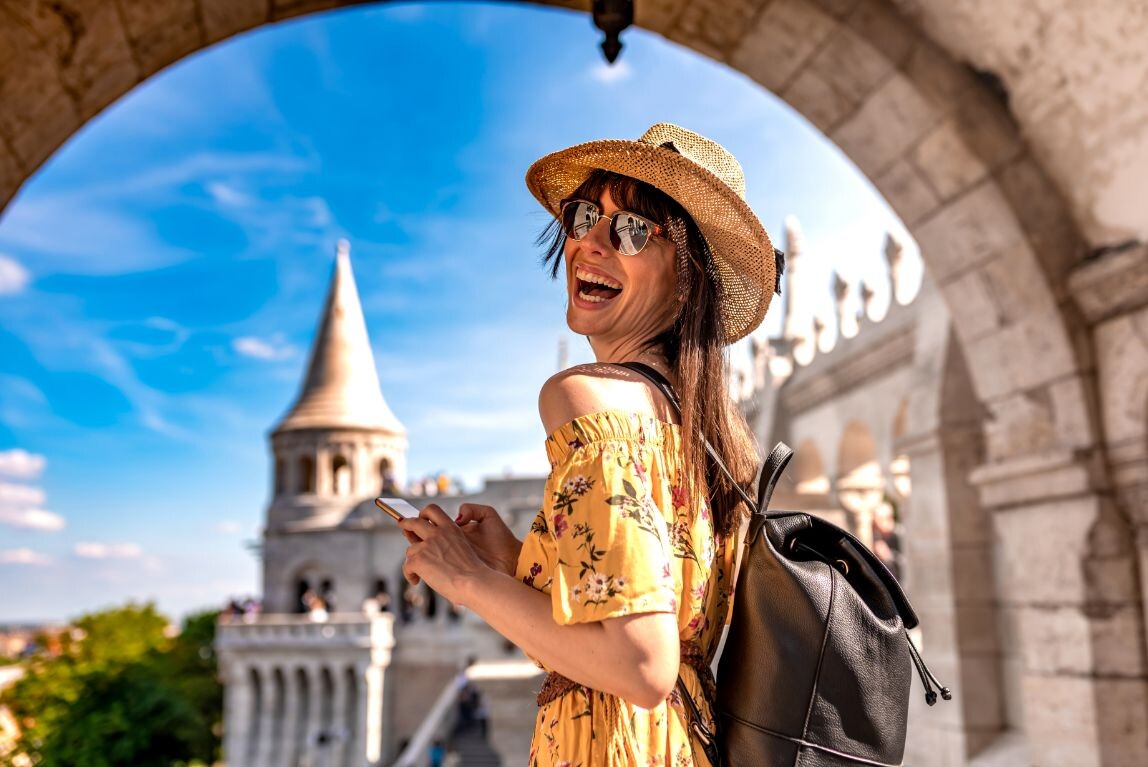 Getting a perfect candid selfie is rarely candid. Chances are, the subject is posing in a manner that looks comfortable and candid. One of the easiest ways to get beautiful shots is to know how to pose in a manner that will fit with the composition of the image. This could mean being a tiny human against a large landscape or laughing freely for a fun shot.
Conclusion
Like with everything else, good selfies come with practice. One of the best ways to ensure a good selfie is to know your angles, plan the exact shot you want beforehand, and also know how to pose in a manner that fits well with the overall composition of the picture.
Following the tips above, it won't take you long before you become adept at taking the best travel selfies on your solo travels. These tips are also helpful for anyone looking to improve their selfie game for creating better Instagram feeds or improving their social media presence.
The next time you travel solo, remember to fill your feed with some amazing selfies!